The power and charm of plush home interiors are quite vehement to reckon with. From being great conversation starters to influencing others' home mood boards, they make our abode truly reflective of our personality. And amidst all the state-of-the-art furniture and fittings, decorative accents and other furnishings, walls dressed up in eloquent wallpapers become the silent scene-stealers.
Renowned interior designer Barry Dixon once said, "A room should start a conversation before people actually start exchanging words." And wallpapers truly have that captivating energy to communicate with people like no other aspect of interiors can. They stitch together the aesthetics of your space with their kaleidoscopic showreel of hues, patterns and designs in a tasteful way. This is exactly why it is essential to choose them wisely and maintain their gorgeousness over the years with utmost care and thoughtfulness.
How to choose the best wallpaper for your home?
When it comes to choosing wallpaper, there's a sea of options available to take your pick from.
From fashioning the most eclectic and sublime designs to partnering with varied personalities and brands, design houses have been constantly upgrading their wallpaper collection with the most avant-garde designs ever. And if you're planning to buy wallpaper online, here are a few things to consider before investing in one.
The material
Wallpapers are made of different materials like vinyl, fabric and paper. Because vinyl ones are more durable and easy to clean, they are among the most popular picks, especially for places like the kitchen or the bathroom.
Fabric and paper wallpapers look equally stunning. However, they are more suitable for rooms where the chances of them getting soiled are less.
Types of application
Wallpapers are available in three different application types — spray and stick, peel and stick, and unpasted. The peel-and-stick wallpaper has adhesive at its back. All you've got to do is remove the protective layer from the adhesive and stick the wallpaper on the walls.
The spray-and-stick kind is one of the easiest and only requires you to spray water to activate the adhesive. Whereas, unpasted wallpapers would require buying a separate wallpaper glue to put up the wallpaper.
Design and colour
Because wallpapers can actually make or break the look of the room, choosing the right design is essential. If you want your room to look bigger and spacious, opt for wallpapers crafted in soft cool colours and minimalistic design. If bold patterns and bright hues are your thing, decorate just one wall with such prints. Known as an accent wall, it makes for a great way to incorporate strong and vivid patterns into the interiors. However, the wall should complement the rest of your interiors.
How to maintain wallpapers for a long time?
If maintained with proper care, wallpapers can last you for years and look as bright and fresh as the day they were put up. From washing and dusting them to removing stains, wallpapers demand a dedicated care and maintenance routine. Here are a few things to do to preserve your wallpaper.
Always opt for high-quality, durable wallpaper for your home. Although it might be expensive, it enhances the aesthetics of your space and makes it look opulent if done right.
Wallpapers for home must be cleaned according to their materials. For instance, while Vinyl wallpapers can be cleaned with water, fabric and paper wallpapers cannot be washed and would require to be dusted.
Dusting the wallpaper every week is essential to avoid build-up over time, as it is the main reason for the damage and fading. If you wish to do it manually, put a clean cloth over a floor brush and clean in vertical creases from top to down. You can also use the brush attachment of a vacuum cleaner and clean your wallpaper, but remember to be gentle.
Avoid using harsh chemical-based cleaners or bleaching agents as they can damage the wallpaper. When cleaning with water, do not get it soaking wet.
Now that you're well-versed with the hows and the whys of all things wallpaper for home, it's time to get acquainted with some of the best designer wallpapers that can amp up any otherwise mundane home setting.
Check out some of the best designer wallpapers to spruce up your home
Graham & Brown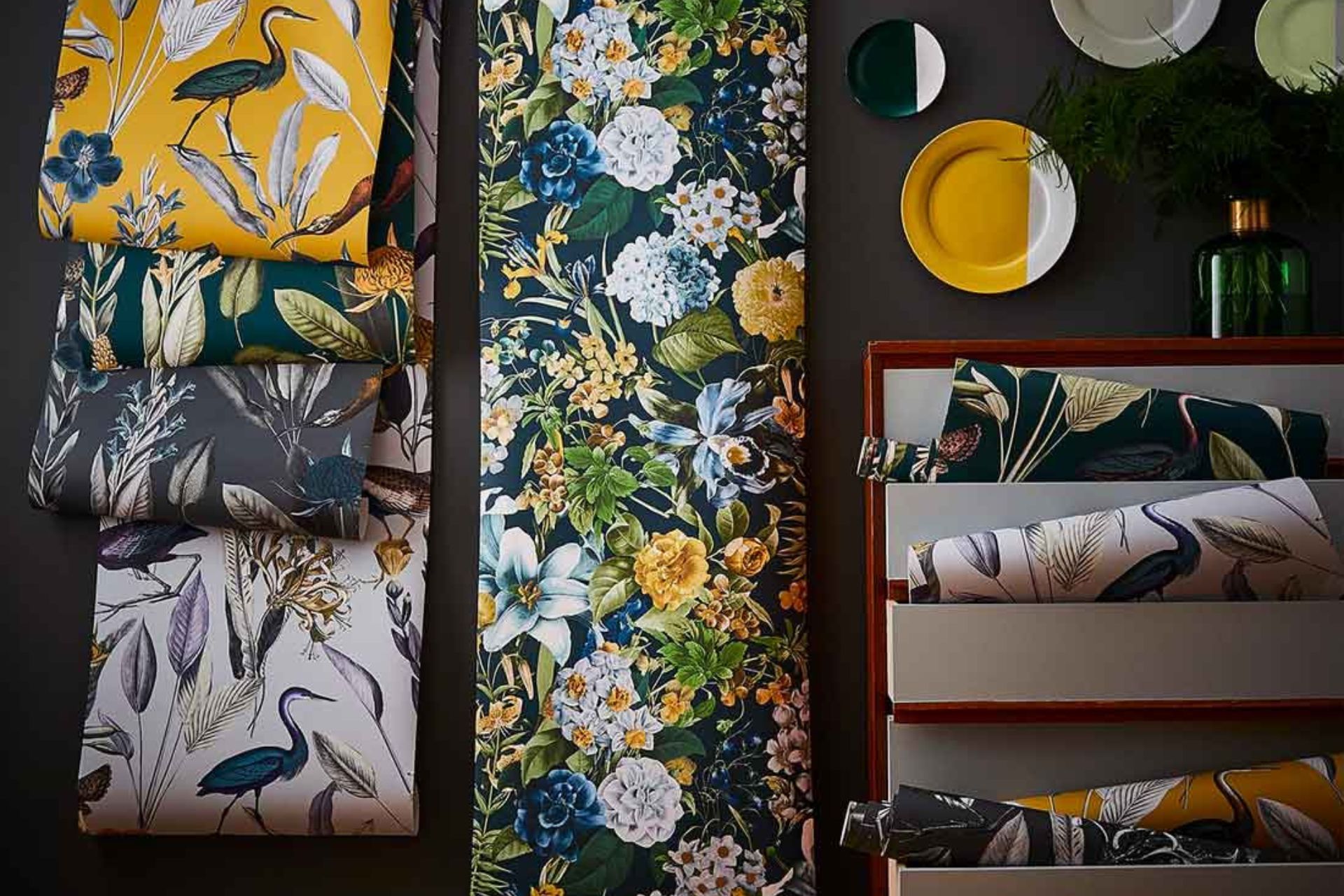 Founded in 1946, Graham & Brown is one of the leading wallpaper designers and manufacturers known for their spectacular designs. A torchbearer of sustainability with consistent efforts to reduce its carbon footprints, the brand aims at beautifying spaces without damaging the environment. Their massive collection of wallpapers (over 500) offers something for every space and every style. With hues ranging across the colour palette and designs to suit every mood, their collections are an artistic blend of continuous innovation, creativity and expert craftsmanship.
Their wallpapers come in the stick-on form and can be easily installed and removed. To make choosing a designer wallpaper from their sea of options easy, they also offer a sampling service wherein you can order a sample of the design you like. And while you're at it, their range of wall art, murals, paint and cushions is also worth checking out.
Harlequin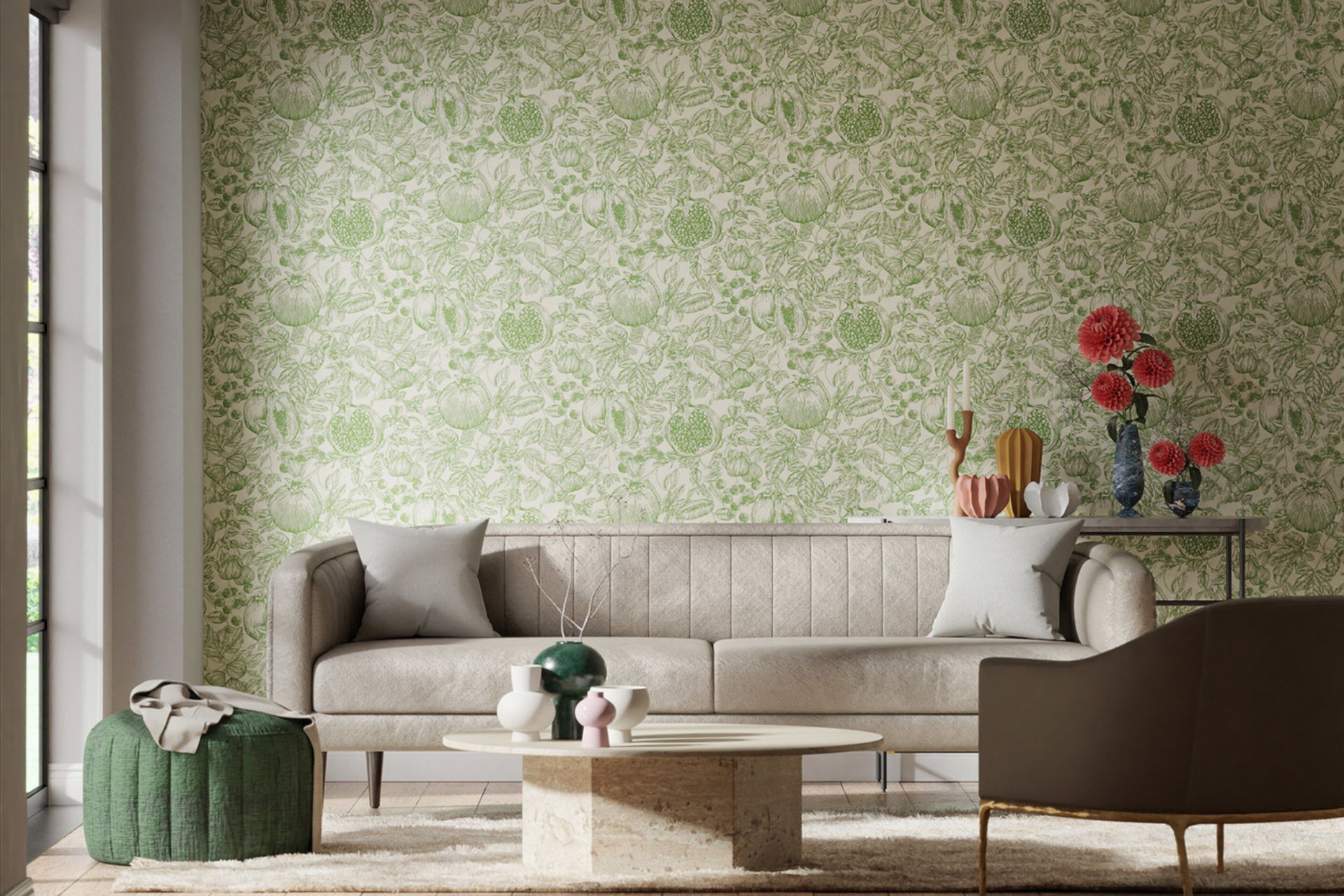 Part of the Sanderson Design Group, Harlequin is known for its bold and expressive patterns and luxurious production techniques. Fashioned in vivid and confident colour palettes and prints, their designs celebrate the freedom of self-expression that's enough to liven up any space. With 'Own The Room' as their guiding mantra, the brand aims at creating wallpapers and even upholstery fabric that quite literally own whichever room they're incorporated into.
Their designs are categorised into four signature looks — Rewild (perfect for maximalists who prefer daring, dynamic and bold designs), Retreat (for someone who likes the interiors calm yet glamorous with a laid-back vibe), Reflect (contemporary, edgy and organic patterns with architectural influences for a statement look) and Renew (combining relaxing hues and intricate patterns in subtle and regenerative detailing).
Sabyasachi for Nilaya by Asian Paints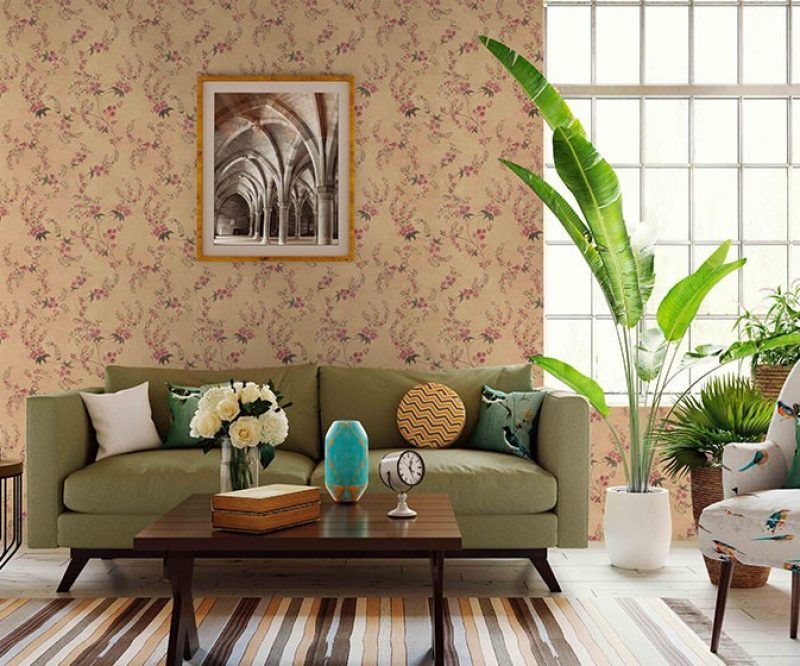 Nilaya by Asian Paints is one of the top brands for luxurious home wallpapers. Sabyasachi, on the other hand, is one of the leading bridal couturiers who's set a benchmark in the global fashion industry. And when the two partnered to create a range of wallpapers, the result was a beautiful mix of contemporary finery and vintage luxury.
Offering an extraordinary range of wall coverings fashioned on luxurious textured paper, their collection is a direct reflection of vintage gorgeousness. With artworks handcrafted by the artisans of the Sabyasachi Art Foundation, each design features a sublime colourway and eclectic designs over plush mica paper. The patterns are an ode to traditional India, its various textiles, splendid art and magnificent architecture of the palaces and forts.
Gucci Décor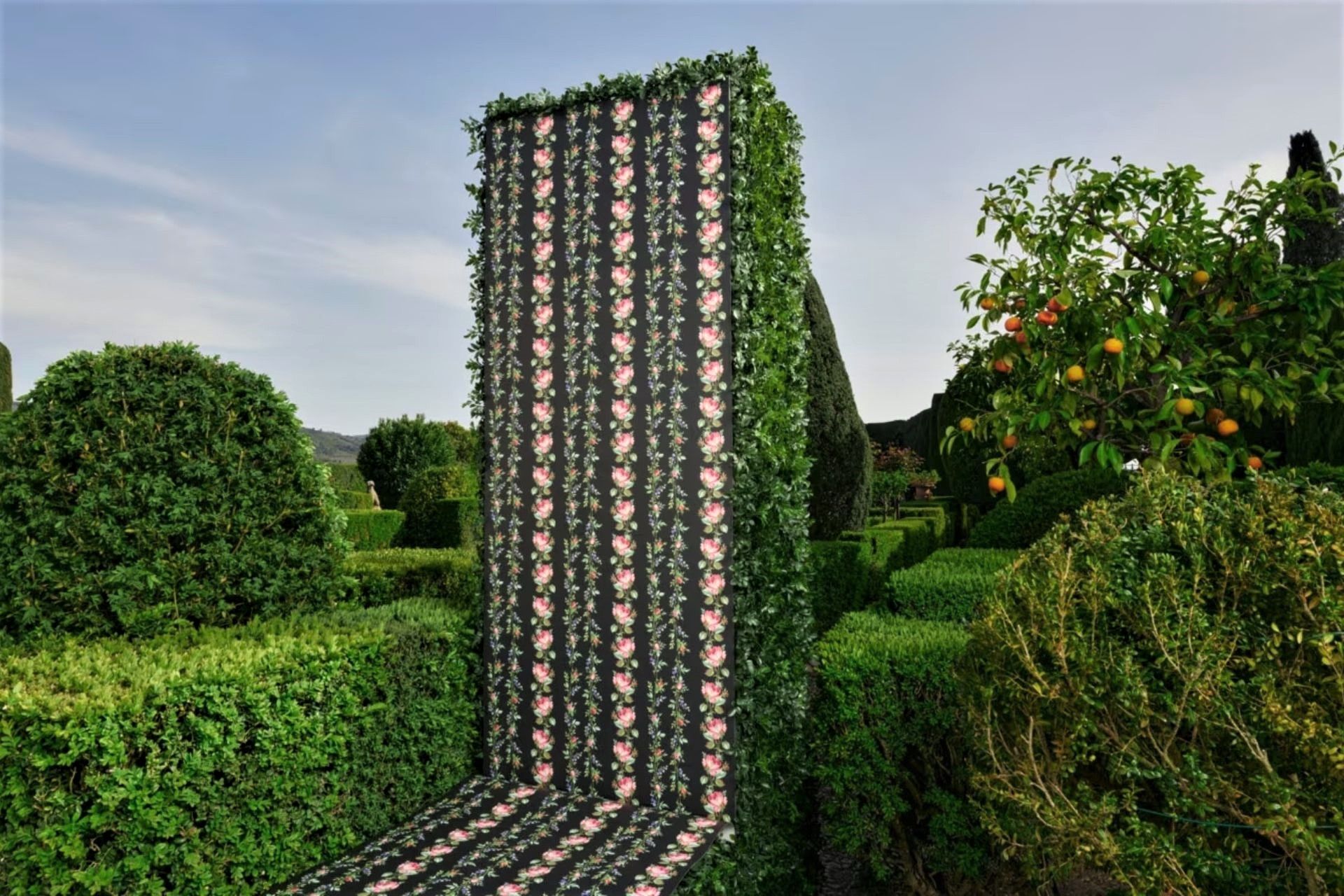 With an array of unconventional and remarkable designs and patterns fashioned in materials like silk, vinyl and paper, wallpapers by Gucci Décor are truly a masterpiece in themselves. Featuring a quirky blend of archival symbols and contemporary House codes, Gucci's entire range of decor and lifestyle pieces ooze with stunning patterns and exuberant hues.
Currently under the vision of creative director Alessandro Michele, Gucci exemplifies Italian craftsmanship and attention to detail. Designed in ethereal botanical motifs, symbolic patterns and edgy illustrations, their collection of wallpapers for home has something for everyone.
India Circus by Krsnaa Mehta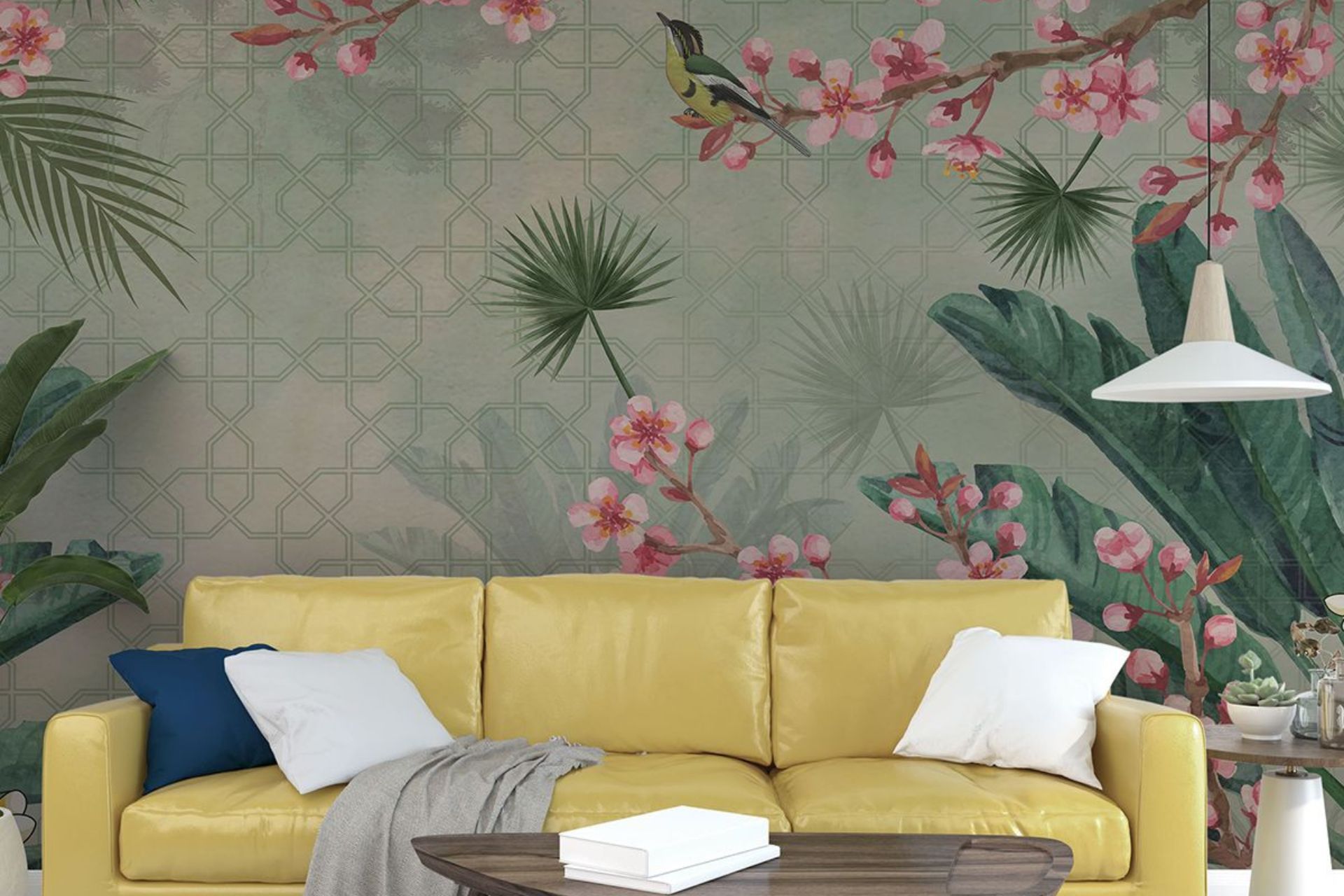 Crafting a diverse range of home and lifestyle products with a theme of life in India, India Circus by Krsnaa Mehta aims at adding an effervescent touch to our homes. Vivid designs in contemporary style showcase an array of tones and moods. Inspired by Mughal royalty and the intricacies of Indian culture, their sophisticated craftsmanship is something you can use to jazz up your home interiors without overdoing it.
India Circus' range of modish wallpapers will revamp your space in an instant. Featuring geometric patterns, gorgeous botanical motifs and the wilderness in sublime hues, these attention-grabbing wallpapers lend a mystical vibe to the space. They add character to the interiors, taking the feel of your home a notch higher.
Lelièvre Paris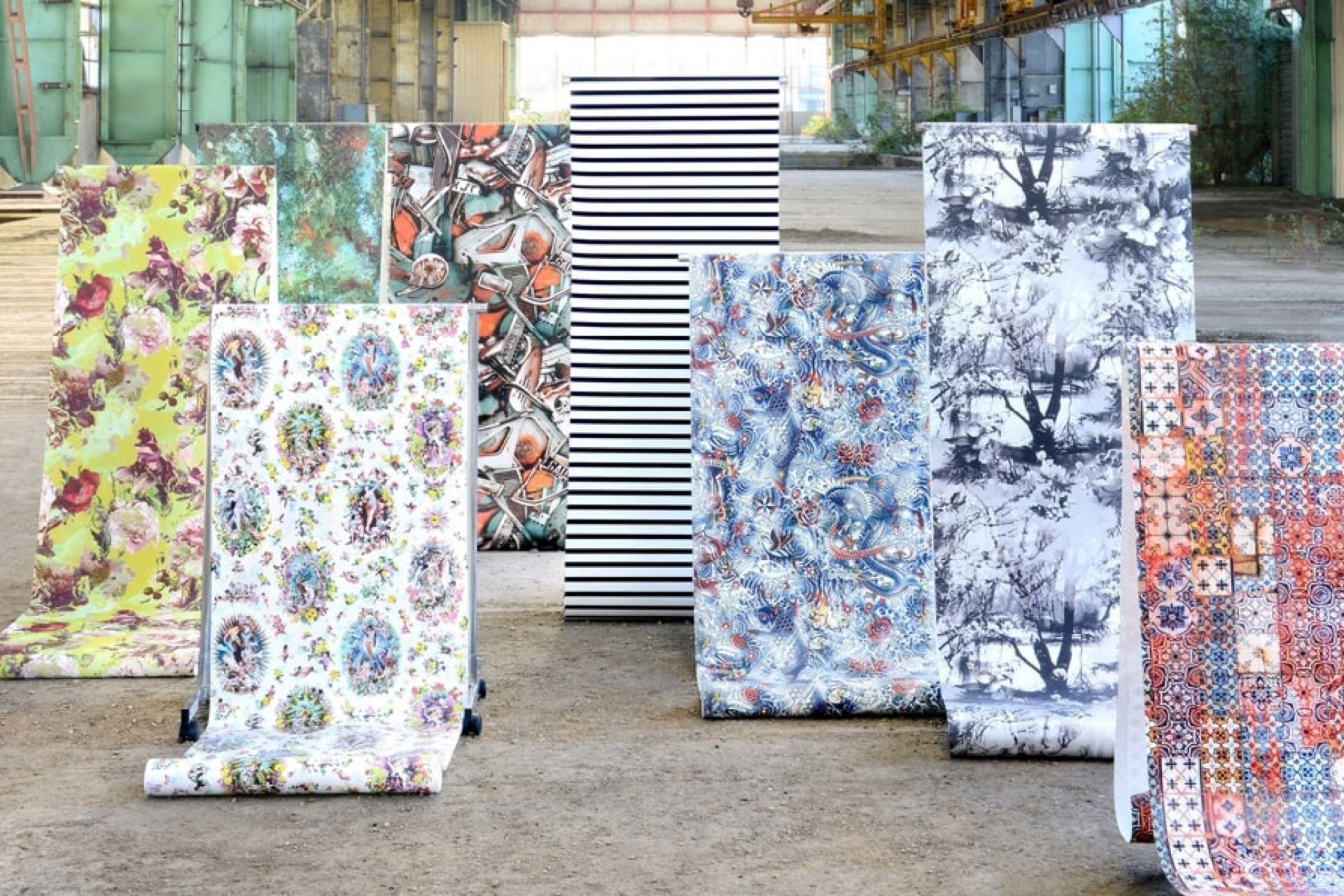 Established in 1914 by Henri Lelièvre, Lelièvre is a design studio that creates stirring designs that are timeless to their very core. A purveyor of fabrics, the brand takes pride in its contemporary character coupled with a French approach for curating pieces that can be cherished forever.
While their range of fabrics can be used for upholstery, curtains and all sorts of furnishings, it was only in 2017 that they launched their first-ever wallpaper collection in a collaboration with the French haute couture and prêt-à-porter fashion designer, Jean Paul Gaultier. Their range of perfectly coordinated fabrics and wallpapers blend in with your home interiors. So, you do not have to worry about finding the right match on your own.
Morris & Co.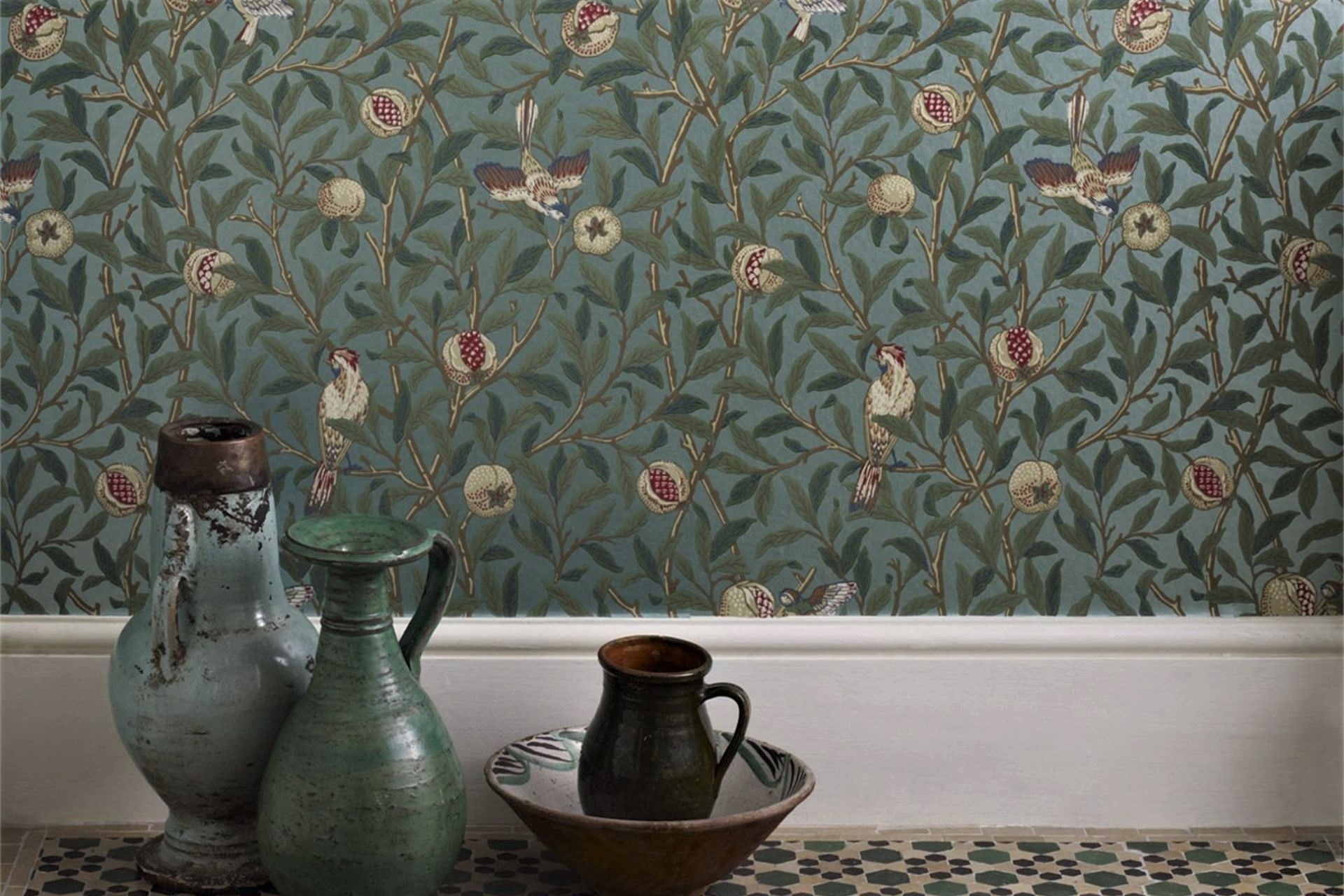 Yet another brand of the Sanderson Design Group, Morris & Co. offers a distinct range of impeccably crafted products that uphold the legacy of William Morris, a British textile designer, poet, novelist, environmental campaigner and political theorist. From paint and fabrics to wall coverings, this brand caters to everything that dresses up your home in the most magnificent way.
Crafted in a range of fresh and inviting colour combinations and intricate floral detailing sprawling across the wallpaper, the designs can amp up the ambience of any space they're incorporated into.
Josephine Munsey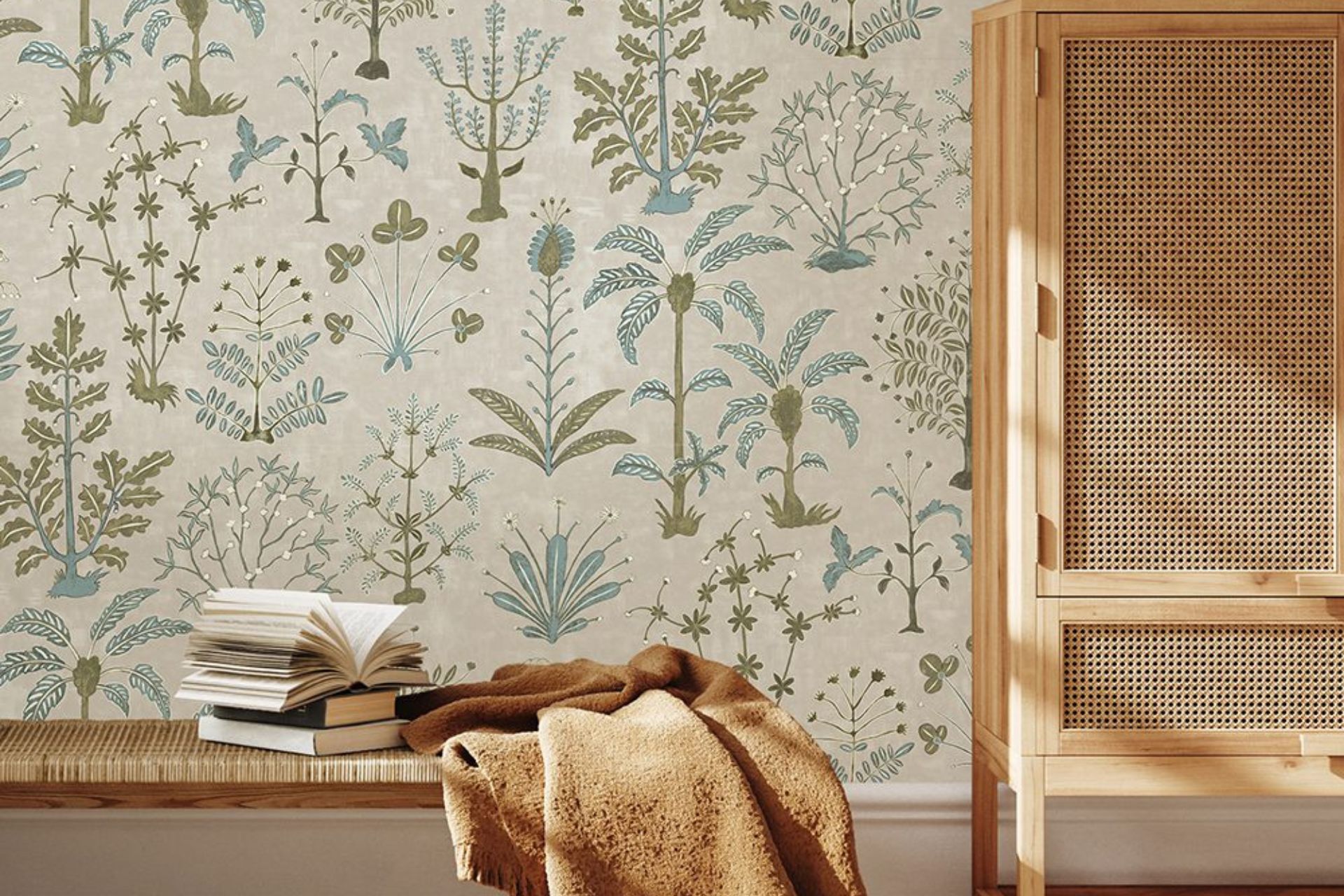 Founded by textile designer Josephine Munsey, the eponymous brand aims at filling homes with colour and pattern that makes one happy. Taking ideas and inspiration from her personal sketches made over the years, travelling, exhibitions and much more, Munsey's intricate process of creating designs helps her bring out the best in each print. The brand also offers custom services that allow you to get an existing design customised as per your requirements or get yourself an entirely new one made.
Versace Home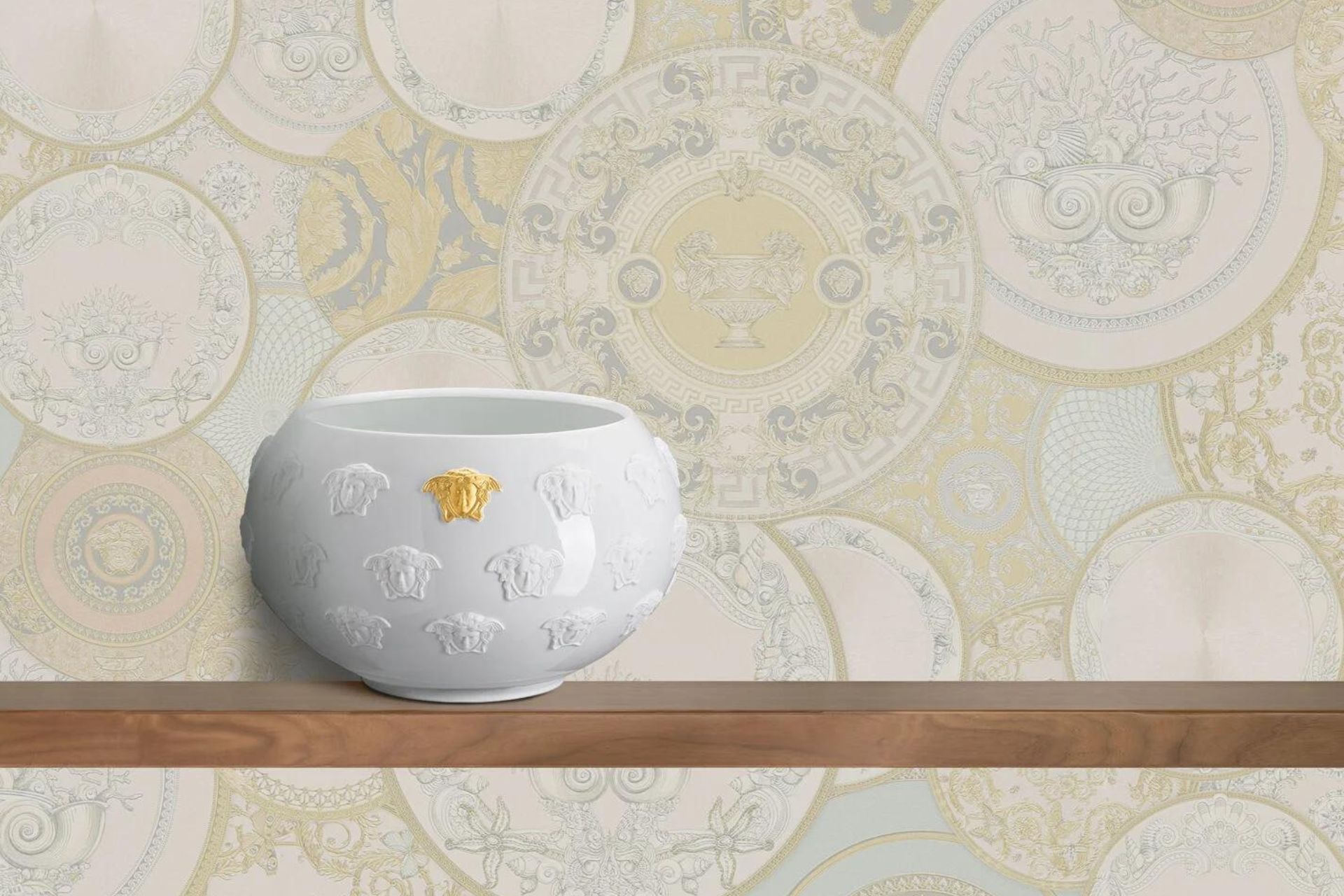 A symbol of Italian luxury and craftsmanship founded in 1978 in Milan, Gianni Versace S.R.L is a leading design house that retails in fashion and lifestyle products. It also is equally sought after for its diverse and distinct range of home furnishings. From bed and bath linens to accent decor and tableware, the brand's repertoire is brimming with the most tasteful pieces that reflect luxury in all their glory.
To add an opulent touch to your home interiors and spruce up the home setting with a distinctive edge, Versace's range of wallpapers is what you should be checking out. Crafted in iconic prints that are a beautiful mix of royal essence and eclectic design, their wallpapers for home would be an eternal addition to your space.
(Main and Featured Image Courtesy: Graham & Brown)