Enter a world of hyper-saturated imagery and conceptual curiosity at the TOILETPAPER Magazine's Mumbai exhibit that redefines the boundaries of creativity in a digitally-driven world. Conceived by Italian artists Maurizio Cattelan and Pierpaolo Ferrari, the display showcases thought-provoking pieces that are certain to strike a chord with the vibrant pulse of India's cultural forefront.  
"India needed this!" resonates Soumya, our youthful gallery guide, as she leads us through the captivating Art House wing of the Nita Mukesh Ambani Cultural Centre (NMACC) in Mumbai's uber-chic BKC area. In a world increasingly dominated by digital noise, the surreal landscape before us feels like a momentary respite—a discordant symphony of imagery inviting us to question and reflect. 
A gun drops into the toilet. A woman reclines next to a gigantic lobster. People are accosted by food: A couch is buried under spaghetti; a man is force-fed Corn Flakes. A cat peers apathetically out from between two burger buns.  A whole lot of spaghetti. A whole lot of bananas. Well, these images—and countless others, rendered with hyper-saturated colour and a deranged sense of humour—are part of the course for Toiletpaper Magazine's latest exhibit, 'RUN AS SLOW AS YOU CAN,' beckoning us into a realm of imagination.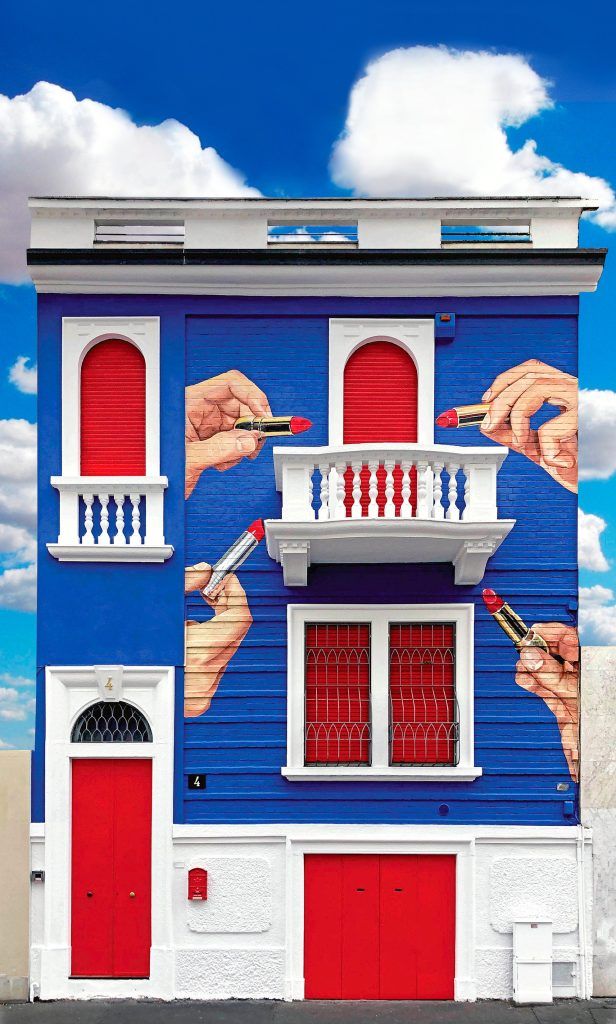 Breaking the Mould: Curatorial Brilliance
Curated by Isha Ambani Piramal along with Mafalda Millies and Roya Sachs of TRIADIC, the first-of-its-kind exhibit signals a departure from linear formats of showcases—where art is no longer about one-sided interaction between the exhibit and the visitor, but a vivid exploration of imagination through a deeply immersive experience. Navigating a maze of creativity on a Thursday afternoon, the exhibit ushers us into the artists' most expansive presentation to date—an ever-evolving, oversaturated, hyperreal universe.
Demonstrating the boundless frontiers of artistic expression, embodied by the unique and unconventional world of TOILETPAPER—an exclusively visual magazine and creative studio born in 2010, founded by Cattelan and Ferrari. The duo skillfully employs photography, design, and architecture to challenge how we perceive homes, possessions, and connections in a society saturated with visuals. As the title suggests, the exhibit is both disorienting and deliberately nonsensical, paying homage to the central themes of their work. Amidst a modern society flooded with stimuli, how slowly can one truly move? 
Challenging Boundaries: Questioning Narratives
As we traverse different dimensions—TAKE A LEFT, RIGHT?, IS THERE ROOM IN THE SKY?, A HOUSE IS A BUILDING THAT PEOPLE LIVE IN, and THE CONTROL ROOM—we encounter the limits of perception. An invitation to question the narratives that constrain us, urging us to reassess the confines we've built around our understanding of reality.
"The show delves into how we're impacted by an increasingly virtual world or become desensitized to living in a world overloaded with images," articulates curator Mafalda Millies, underscoring the universal relevance of the exhibit. In a society where visual stimuli pervade every corner, the exhibit reflects our shared experience—a world straddling the virtual and the tangible, the profound and the superficial. 
Within the exhibition, unusual objects are arranged in intriguing juxtapositions, each narrating its own surreal tale. Spanning four chapters across four floors of the NMACC, we're compelled to confront our interactions with an increasingly digital existence. Our gaze meets models who maintain unwavering eye contact with the camera, unmasking the absurdity of our reality. Envision this Toiletpaper aesthetic being lifted from its pages and transferred onto architecture.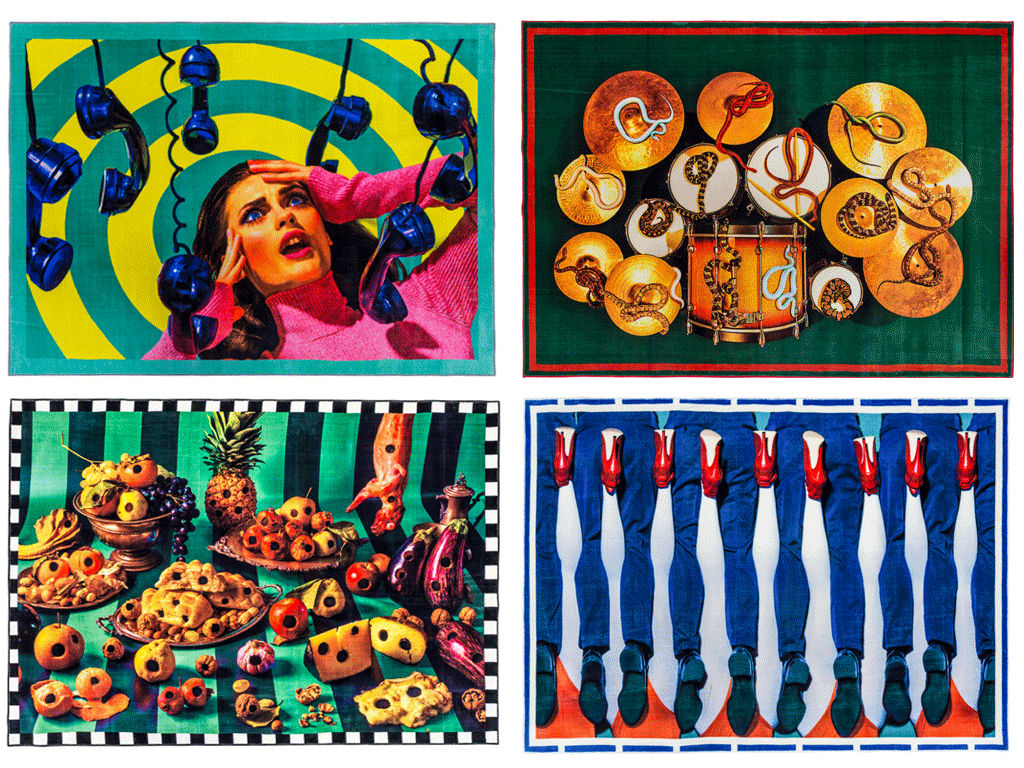 Seletti's Fusion: Where Art and Design Converge
Intriguingly, the Italian brand Seletti has crafted an array of cabinets, rugs, wallpapers, and more adorned with these attention-grabbing graphic images sourced from Toiletpaper magazine. This collaborative effort transforms art into an integrated experience within our living spaces, casting ordinary objects in an entirely new light. 
The artists' surreal images transcend the realm of decoration, permeating armchairs, sideboard tables, and stools, infusing each piece with a captivating charm. It's as if we've been granted access to the artists' personal universe, where rockstars, pop culture, and the ordinary converge, giving rise to a narrative that surpasses expectations. Cabinets boast orange and black polka dots and lips emblazoned with the word "shit."
Rugs, more audacious in their statements, feature dismembered fingers and cheekily inserted cards. The Seletti Wears Toiletpaper collection is, to say the least, more than just an amalgamation of art and design; it's an exploration of how visual imagery infiltrates our day-to-day existence, weaving itself into our perception of the commonplace.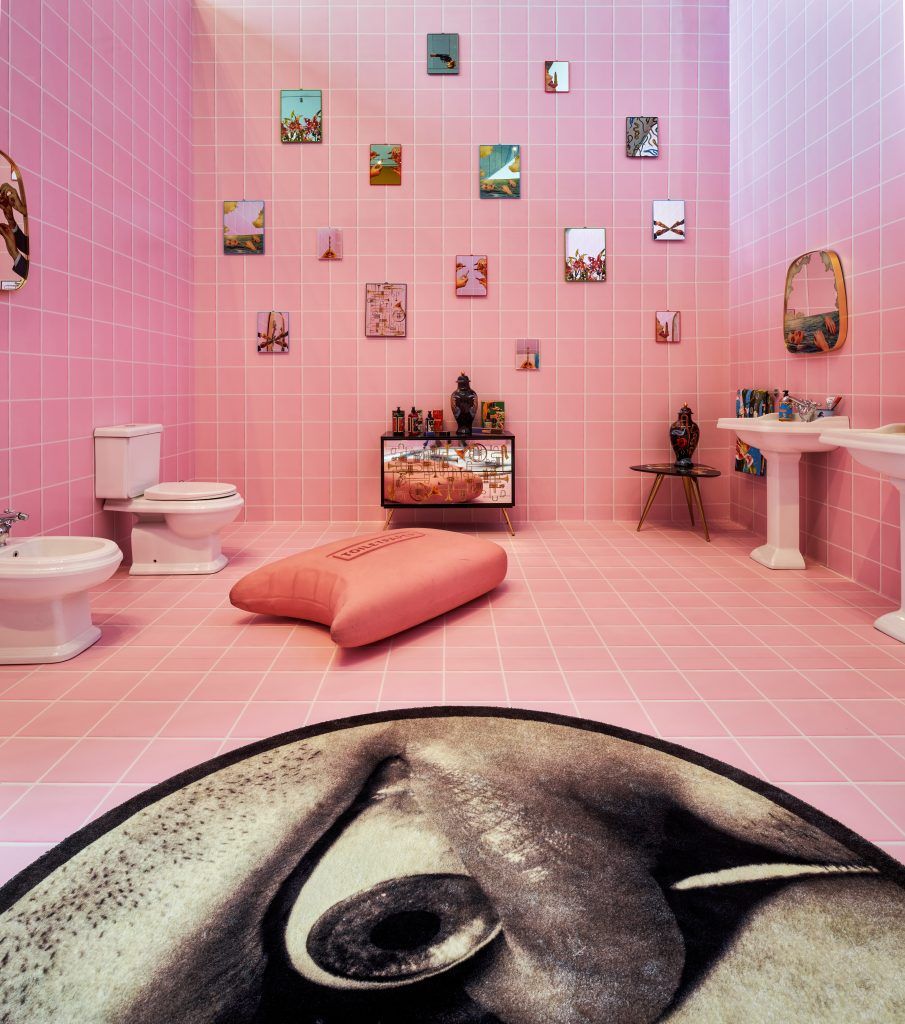 THE CONTROL ROOM: The Heart of TOILETPAPER
In the culminating chapter, THE CONTROL ROOM is the beating heart of TOILETPAPER. The Lynchian monochromatic space sets a stark contrast to the visually saturated lower floors, and highlights the craft and inspirations of the artists. Sprinkled with objects, images and works from the studio's HQ in Milan, this space is the beginning and the end, the soul and essence of the artist's work. TOILETPAPER: RUN AS SLOW AS YOU CAN is free of any constraints and rules, it is defined by you, it is inhabited by you, it is set free by you.
It's this duality of experience that makes the exhibit compelling. Whether you're delving into contemplative discourse or simply seeking a visually immersive experience for your social feed, the exhibition caters to a multitude of perspectives. As twilight descends outside, the NMACC transcends its physicality, beckoning us to navigate the boundaries of imagination and reality. 
In answering Saumya's call, we embark on a transcendent odyssey—a journey that doesn't just acquaint us with artistic brilliance but transforms our very understanding of it. The NMACC's Art House wing, through TOILETPAPER's exhibition, becomes a portal—an invitation to embrace the boundless expanse of human creativity and contemplation that India much needed, indeed!