Concept: Seema Sreedharan • Illustration: Reshidev RK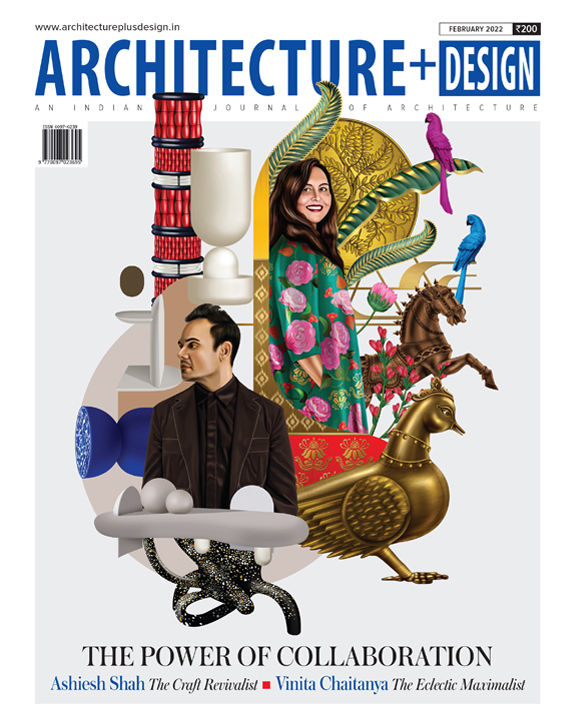 The year 2020 witnessed some of the most interesting, unexpected and intriguing collaborations. From Pritzker-prize winner Frank Gehry teaming up with Hennessey, to architect David Adjaye's collaboration with Aston Martin to design residences inspired by the iconic brand. In a fashion first, H&M announced their collaboration with fashion designer Sabyasachi, their debut collection with an Indian designer; Hermes unveiled its collaboration with architect Bijoy Jain at Salone Del Mobil 2021: closer home we witnessed an increasing trend of designer-brand and interdisciplinary partnerships. Fashion designers Raghavendra Rathore and Tarun Tahiliani teamed up with Obeetee, Jaipur Rugs added designer Vinita Chaitanya to their already impressive repertoire of designers, West Elm's launch in India with a capsule collection by architect Ashiesh Shah.
What is so enticing about collaborations? What is so intriguing about creative minds coming together to create new design typologies, or write a new design narrative? Well, we got together with two of India's biggest names in the industry– Ashiesh Shah and Vinita Chaitanya to engage in a freewheeling conversation about their design philosophies and ethos, collaborations and the future of design in India.
Vinita Chaitanya; Interior Designer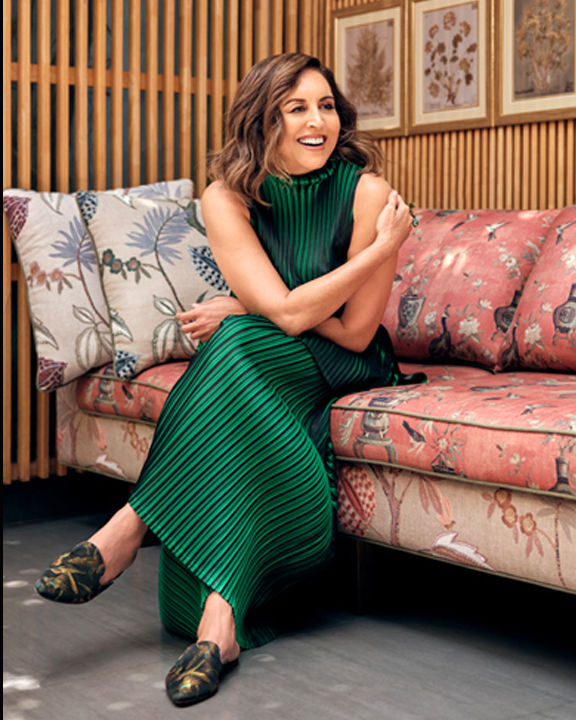 Layered, complex, vibrant, eclectic, Vinita Chaitanya's spaces are a confluence of many narratives. She's unaplogetically maximalist, her love for botanicals and colours are evident in her spaces, and she's a staunch advocate of Indian craftsmanship. Chaitanya describes her style as 'contemporary classic' — a euphoric blend of sumptuous silks, traditional paisleys, exquisite Indian artefacts and modern Western covetables. She delightfully layers different cultures and periods, creating a distinct design language. Chaitanya's spaces, although brimming with multiple narratives, are amazingly composed and balanced. She has this penchant for finding balance in the most layered spaces. Her repertoire, which includes spaces for everyone from Kiran Mazumdar Shaw to Deepika Padukone, is impressive to say the least. Chaitanya recently launched her first line of carpets in collaboration with Jaipur Rugs. Called the Inde Rose collection, the luxurious silk carpets are nothing short of art for your floors. For Chaitanya, collaborations of this nature mean experimenting with new techniques, enhancing one's own design narrative, and adding yet another layer to her complex design language.
Ashiesh Shah; Architect, Principal and Founder, Atelier Ashiesh Shah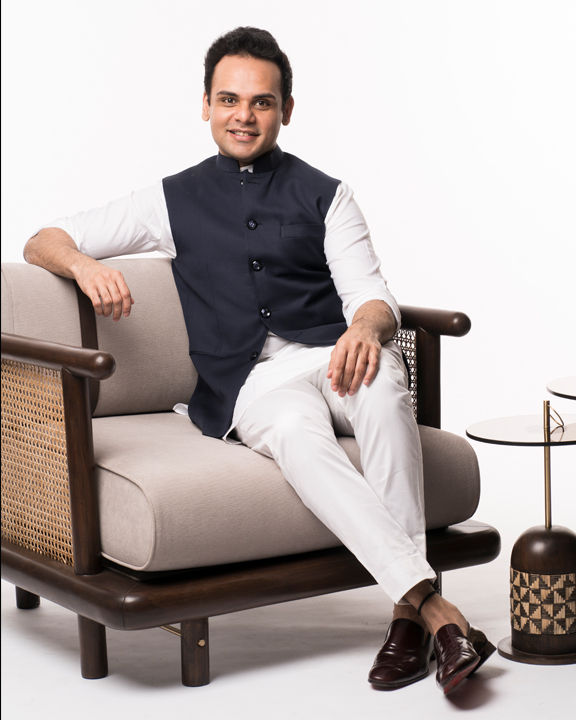 Much before collaboration became a buzzword, architect Ashiesh Shah had started exploring the possibilities with not just brands, but artisans and craftsmen. For him, it was not just about creating a new design language, it was about the evolution of design and craft. Ashiesh's practise is rooted in the Japanese philosophy of Wabi-Sabi, which has influenced his vision of space and his choice of materials. From residences to concept stores, to restaurants, Shah's portfolio is extensive and diverse. His client list — Hrithik Roshan, Katrina Kaif, Ranbir Kapoor, Abhishek Kapoor — is evocative of his imprint in the industry. As an extension to his design practise, he opened his atelier in 2017 which 'amalgamates experimentation, craftsmanship and technique into a creative ecosystem for collaboration and development. From initiating The India Design Fund during the pandemic to save the livelihoods of Indian artisans, to his collaborations with prestigious brands like West Elm, Ritu Kumar Home, Urban Ladder, and even jewellery brand Misho, Shah has lent his distinct signature to many such collections.
A Meeting of Visionaries: An Exchange of Ideas
Ashiesh Shah (AS): Vinita and I are more than just contemporaries at work. We are friends, and like Vinita says, we are 7am chat buddies! Whenever we travel, we meet like-minded people and that's where we found each other. Although our sensibilities, our ethos, our life philosophies might be on slightly different planes, we still meet at very common grounds. And that's the most important and exciting part of these kind of conversations. There's so much commonality and similarity from within.
Vinita Chaitanya (VC): True. Just being with a different mind is so intellectually stimulating for me. Five years ago, when I started my Instragam page, Ashiesh had mastered it. He was already one of the biggest players there. For me just the
idea of putting yourself out there, and not knowing what you are going to say tomorrow was almost intimidating.
Product designing comes naturally to Ashiesh, but I don't do products. Working on the Inde Rose Collection for Jaipur Rugs was revelation in itself. For me to be able to pick and choose, and curate what I wanted to bring to my own
collection was a complex process.
But even when I'm working on a project, there are so many interesting objects and textures I fall in love with. And I want to layer it into my story. The whole idea is to be able to accept and acknowledge somebody else's genius, and write it into your own design language. It's an exhilarating process.
Our thinking might be different. But the fact that we are able to accept each other's ideas and enjoy that energy.
That's the beauty of collaboration.
Collaboration as an Antidote: A New Design Narrative
VC: Take for instance. Ashiesh, when the pandemic started, I think the whole idea of how you initiated The India Design Fund and then you decided to collaborate with all of us for various reasons. It's a fabulous example of how powerful voices from diverse fields came together for a larger good. The whole thought of bringing together the design, construction, and craft industry to support construction workers, migrant labourers, and artisan groupswhose livelihood were at risk during the pandemic, it was a beautiful concept.
AS: True. It was the community coming together so that we could keep business alive for the craftsmen of the country. From conversation to concretisation, the process of initiation brought forth the need to bring together some of the most eminent personalities from within the industry in collaboration to transform lives and livelihood within the larger design community. Obviously there was a panel, Vinita too was one of the panellists along with some very illustrious names like Shimul Javeri Kadri, Tarini Jindal Handa, Pavitra Rajaram, Iram Sultan and Pareina Thapar. I feel that the whole idea of a journey of an architect alone is very, very difficult and different from what it used to be, say, a decade or two decades ago. Today, it's about meeting of the minds, to be able to create something absolutely new and create new language through other people, their ideas and their geniuses.
Brand Equity; Brand Value
VC: I think collaboration…the concept is not new. But now the word is being used more often. Brands are reaching out to designers, architects, and artists to enhance their equity. It is in a way capitalising on the power of all of us. And as for me, if the ethos fits and the ideologies match, it gives me the opportunity to create something new.
Take for instance, Ashiesh's partnerships with all
the brands that he has worked with. He has lent his identity to the brand, he has completely switched up the whole language there.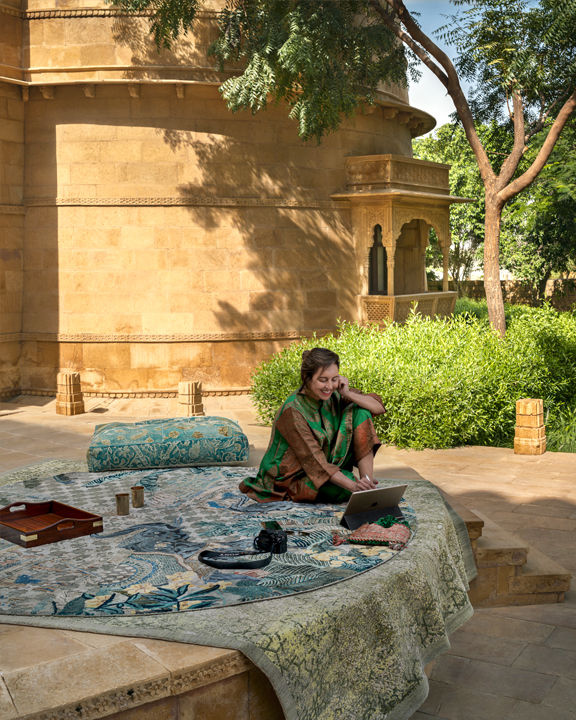 AS: Thank you Vinita. But you know, it's not just the brand, collaborations are usually mutually beneficial for everybody. The brands also gain a lot by having a perspective. But let's not forget what it gives people like us. Sometimes the project taps what's within us which is untapped. For instance, Vinita's Inde Rose collection for Jaipur Rugs.
Yes, we've seen the spaces that Vinita has created. They are stunning, but to see a carpet, and to own a carpet designed by Vinita, it's a kind of a privilege, a luxury, isn't it? When she puts in so much effort into one project, and kind of have that ethos coming through in one product is also so important, because, eventually legacies are built by these kinds of products. I think that's what the brands give us– the avenue to be able to project our philosophy in a more compact form, accessible, universal form, or rather, a more available form.
For someone who doesn't want to invest so much on spaces designed by people like us. In that sense, not everyone is looking to do a house, but they do want a bit of Vinita Chaitanya, or an Ashiesh Shah in their spaces. In the end, collaborations of this nature are mutually beneficial for everyone– the brand, the designer and the consumer.
VC: It's a dialogue. There's a definite synergy. If I can have my language translated on to a carpet, and the brand is willing to go to that length to make it a reality, then why not? Let me say there's an interaction or profitability for everyone involved.
It's an extension of who I am, and for them it's the branding of Vinita Chaitanya on their carpet.
If you look at brands like Jaipur Rugs, they have been collaborating with designers for many years, they may have started with international designers, and now it is all of us taking it forward. I'm assuming the pandemic is responsible in more ways than one in accelerating this shift. Everybody is only on digital. How else will they reach people?
AS: Precisely! Associations of this nature are great talking points. Much better than advertisements, right?
VC: And the process in itself was so enriching. It started conceptually. Exchange of ideas, sketches, and then we got into the intricacies of the textures, the layers and the craft. It possibly took us a year to craft a single piece, We had to get everything perfect. I started with one layer, and it went on to the other and thereafter, I just had to stop somewhere. But the brand was very supportive.
I definitely want an extension of Inde Rose, in some way or the other. Maybe I will in some way! Because it was a superb experience. I wanted to bring nature, the essence of Jaipur and my love for layering and prints into this collection. Adding coordinated sets to the collection was a natural extension and its very much part of my ethos.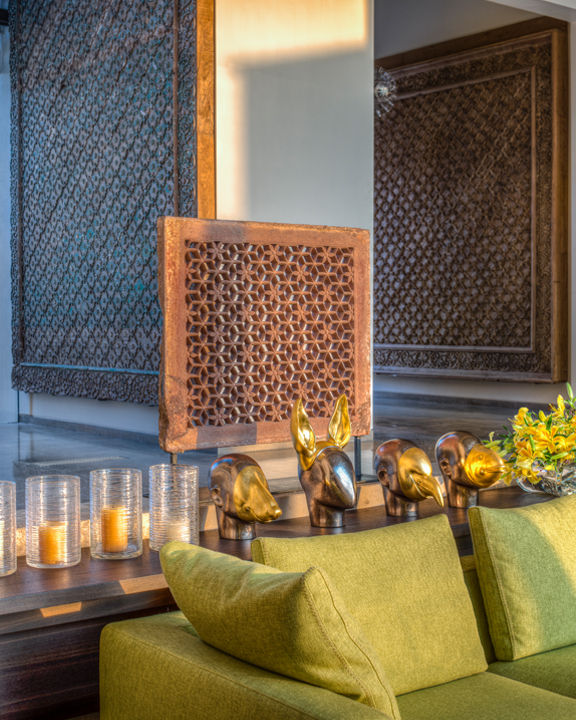 AS: There's a commitment. It is a commitment that you're taking upon yourself to make sure that the craft is not dying. So, in general we definitely want to make sure that the crafts benefit from it. So even when we were doing West Elm, which is an international collaboration, we made sure that the carpets are made in Jaipur. And they were not made in China or some other country. We were very specific and very careful about those things. And luckily for us, before we launched our collection, the H&M collab with Sabyasachi ran into a bit of problem. But we were mindful of those aspects much before this controversy.
When West Elm approached us with the idea of a capsule collection, my first reaction was to think out of the box. But while ideating on the design and the collection, I thought, why not start with my wabi sabi sketches that I have been working on for almost 20 years. These are meditative paintings that start as geometric explorations and end up in something completely beautiful. The team loved the idea and the synergy was quite beautiful and effortless! There's nothing like going back to your own realm rather than reinventing yourself.
The rootedness within the identity of our language comes from what we believe in. And that's really the crafts and I think that's what every sensitive designer in the country whether it's me or someone else are trying to propel. To say that the crafts of India are actually the real heroes.
We are definitely the artists. But then, they have a bigger story to tell. And they need people like us to be able to give them perspective, to take them to the next generation and to be able to kind of have their pieces celebrated in the new generation and the new homes coming up in modern India.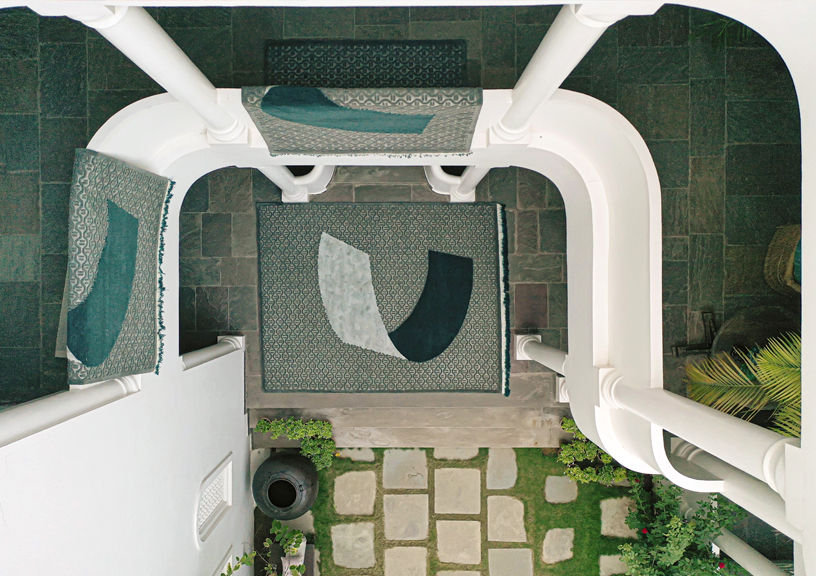 Elevating Crafts. Supporting Artisans
VC: I agree. When I saw him working with the Channapatna craft, the way he amalgamated it into his design language, it really pulled a very big heart string. I actually pass the Channapatna craft village enroute to Slow Life,  Coorg. And for the past 12 years, I've been saying to my husband, I have to do something with this. I just didn't know how to support them. I never found the time to go and sit and work with them. When I saw what you did with it, Ashiesh, it was a huge deal for me. This is how you elevate a craft, support the craftsmen. And if you can do it, more power to you! And while he could be creating that, and if I can use it and help in some way, I say it will always come back. At one point there's a crafts person sitting at a particular level. And there's an atelier at another level, but by investing in what they have created, is how I can help. It's a circle.
AS: Absolutely!
VC: I truly believe in the power of our craft. And I'll promote it in whichever way I can. Whether it's through the nature of my collaborations with designers like Vikram Goyal or Tarun Tahiliani, or the furniture studios I work with. There's so
much I play with everyday. I try and help as many people as
I can in my own little way.
AS: And thank you for that, because you know what we need is not only designers. We need patrons like you, Vinita. In a way that kind of promotes the craft and supports the craftmsen, that itself is a form of collaboration. Because without a patron how is this collaboration going to become a reality and how will there be more collaborations?
VC: True. Patronage is important. For instance, just last week, I received a beautiful book from a descendant of a royal family…intricately detailed with a sandalwood cover, with watercolour botanicals. If I can buy it, and may be support the family. There's a huge circle of life as you call it.
"I have always been fascinated by textiles and craft. I remember I was working on my Islamic project and I wanted a stunning hand made centrepiece. I called my dear friend, the maestro Tarun Tahiliani. And voila! One of the most beautiful collaborations I've worked on just happened. And it was magic!" His craftsmen needed work during the pandemic, this came at the perfect moment. So, we did this incredible embroidered panel. The theme was Islamic, and it turned out to be a gorgeous piece.It was a one off collaboration, but it worked beautifully for everyone involved. So Ashiesh, like you said, patronage and patrons are important.
AS: Very true! That's another way of looking at collaborations India has just started witnessing a revival of design and crafts after a long hiatus. It's just a matter of time before you see a lot more collaborations between international
brands and Indian designers. We were never on the map of design. But I think that's changing. Now, slowly we are seeing India as a design hub.
We are gaining prominence not only as designers, but also as buyers. We are very important buyers for the West and I think slowly things are changing. So, it's really not a matter of Indian designers not being given recognition, it's just a matter of time. Nothing comes before time. I think we are on the cusp, where India is the future.
VC: True. There's a lot of pride in the Made in India label. Let me just give you a very simple example. Earlier when I used to travel I would pack and carry international fashion labels, mostly and my accents / jewellery world be all from India . But this time when I travelled, I packed only the most stunning Indian brands. It was just that whole statement that this is made in India. Folks who understand design appreciate our craft all over the world. That itself shows the shift. What we, as a design community are putting out there has completely changed. AS: True. I would love to make an Ikea from India or a Muji from India collection. To be able to make Indian craftsmanship so available to the world, it would be a dream. It's not just craftsmanship; it's just every day. And that's where democratisation of craft and design means for me. Just imagine, it would be Indian design all the way. A small piece of stationary made in a village in Orissa or West Bengal. Wouldn't that be amazing? Why aren't investors thinking of collaborations on this level?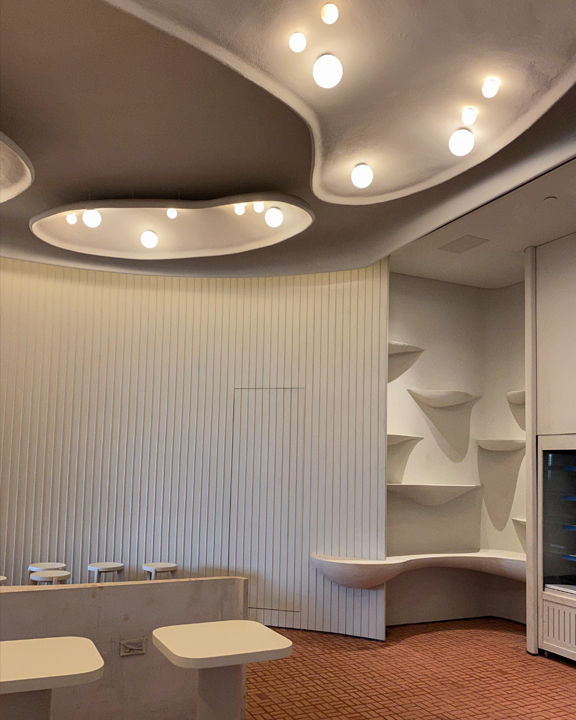 *All photographs courtesy: Vinita Chaitanya and Ashiesh Shah