With a childhood steeped in a reverence for mathematics, music, and craftsmanship, Anni Kumari's artistic evolution has been nothing short of a mystical interplay of tradition and innovation, mathematics and aesthetics.
Did you know that mathematics and art share captivating connections in our world? The Fibonacci sequence (a famous mathematical pattern), for instance, can be seen in the mesmerising arrangement of leaves on branches, spirals on pinecones, and seeds on sunflowers, revealing a mathematical marvel in nature. Similarly, intricate fractal shapes, governed by mathematical algorithms, appear in the branching of trees, the delicate geometry of snowflakes, and the complexity of coastlines, unveiling the mathematical foundations of natural beauty. Traditional art practices like Kolam and Khovar seamlessly blend fractal geometry and rotational symmetry, showcasing the fusion of mathematics with indigenous art traditions.
Moreover, in the realm of art, mathematical concepts can create optical illusions that appear dynamic, demonstrating the balance between order and surprise. And all this is very well elucidated in Anni Kumari's latest exhibition, 'Spontaneous Order: An Unintended Coordination of Intentional Action,' currently on display at the Tao Art Gallery, Mumbai. Curated by Wendy Amanda Coutinho, this exhibition, a profound exploration of hidden orders and self-organising systems, invites you to delve into a world where mathematical algorithms meet artistic expression, and where order and chaos dance in harmony.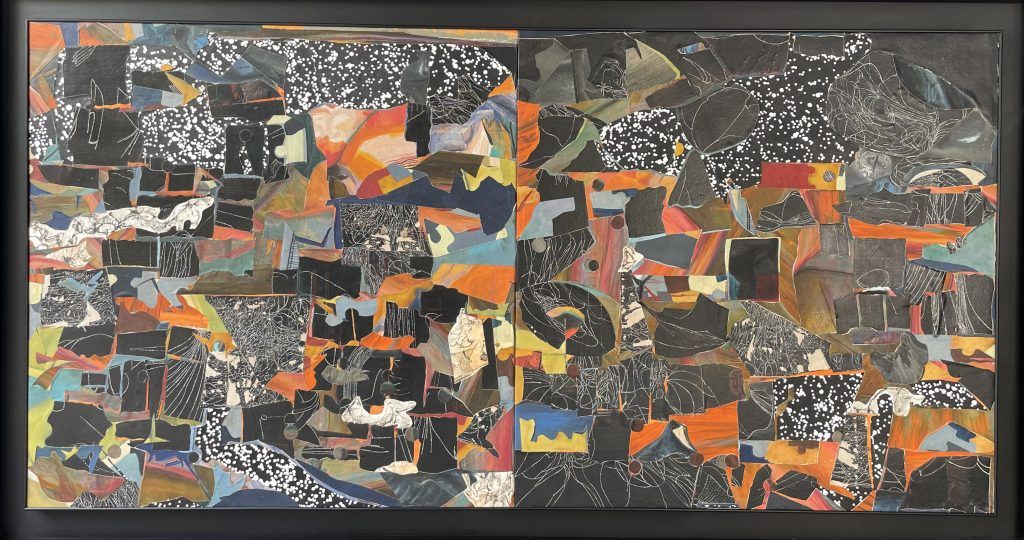 "Through my work, I aim to convey the transformative power of mathematical principles in shaping my perception of aesthetics," shares Anni Kumari who studied BA (Honors) Political Science at Miranda House, Delhi University. Quoting S. Ramanujan from the movie The Man Who Knew Infinity, she elucidates, "There are patterns in everything. The color in light, the reflections in water… in math, these patterns reveal themselves in the most incredible form. It's quite beautiful. This is what I believe holds true with my work and practice too."
Interestingly, Anni's journey from a traditional art background to incorporating mathematical concepts and algorithms into her work is a testament to the fusion of tradition and innovation. She describes excelling at computer algorithms and geometry during her school years, where she would create graphs, pie charts, and Venn diagrams. This love for numbers and their "riddling possibility" led her to explore the intriguing world of mathematical logic in her art.
The Cosmic Inspiration: Mathematics and More
However, Anni's artistic path took an intriguing turn when she ventured into art school. Having pursued her BFA (Painting) and MFA (Painting) from the College of Art, Delhi – she found herself at odds with the way Indian Art History was taught, with little emphasis on the rich tapestry of folk and ritualistic art practices. The rigid separation of art, design, and craft left her yearning for a more inclusive visual vocabulary. "I knew that it was possible to create a visual vocabulary that could be more inclusive, fluid, and in sync with our indigenous craft and design sensibilities," she asserts. It was a quest to find the common ground between logic, functionality, beauty, and visual pleasure.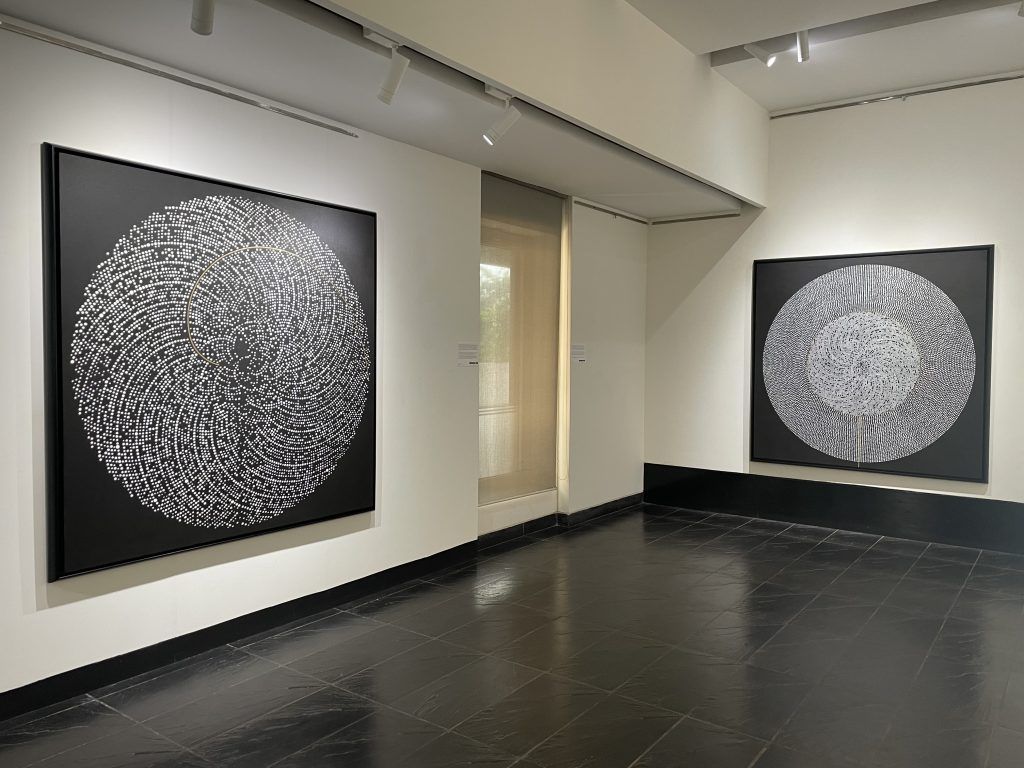 A Symphony of Mathematics and Aesthetics: The Artist's Message
"In my practice, I integrated these understandings because I was aware of the potential for combining folk and ritualistic arts skills with contemporary coding and numeric logic to create an engaging aesthetic," Anni explains. "A big chunk of my practice is shaped by mathematical theorems, principles, and logic that I use as devices to relate to contemporary ambiguities, distortions, and paradoxes. Moreover, my practice is informed by my study of cosmology," she continues, "which includes the study of astronomical occurrences such as Solar and Lunar eclipses, full moons, new moons, and the movements of planetary bodies."
A Journey into Cosmic Harmonies: The Artist's Worldview
"In my art, I aspire to reveal the interconnectedness of relationships and the underlying mathematical principles that govern human existence," Anni shares. Her fascination with mathematical concepts mirrors the mathematical precision that underlies human relationships and life itself. She believes that just as numbers have specific properties and occur at specific points on the numeric grid, so do human beings have specific behaviors and connections that evolve over time.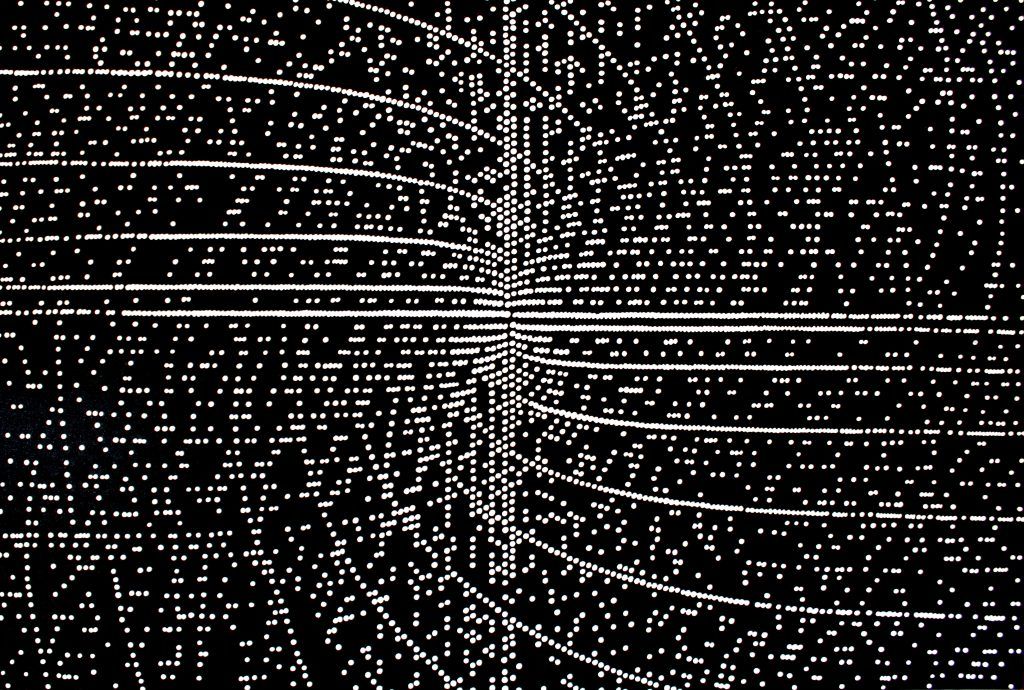 Journeying Through 'Spontaneous Order'
"At the Tao Art Gallery, 'Spontaneous Order: An Unintended Coordination of Intentional Action' unfolds as a dream within a dream," the artist notes. Curator Wendy Amanda Coutinho has orchestrated a multi-sensory journey for visitors. Through touch, feel, and intellectual engagement, the secrets concealed within Anni's creations are unveiled. The exhibition becomes an immersive experience, a testament to the curator's innovative approach to connecting the audience with the art.
The Curator's Insight: Wendy Amanda Coutinho
"To ensure Anni's artistic vision and exploration were effectively communicated to the audience; the ultimate recipients of 'Spontaneous Order: An Unintended Coordination of Intentional Action,' several key considerations were taken into account during the curatorial process," shares Wendy Amanda Coutinho, the curator of the exhibition. In a profound alignment with Anni's artistry, she adds, "I felt an undeniable connection with her deep passion for mathematics, even though I did not fully grasp the mathematical concepts, which resonated with my approach to navigating an artist's perspective and creative process."
Balancing Order and Chaos: The Artist's Message
The exhibition showcases two distinct bodies of work from Anni's studio, each with its own unique approach and artistic philosophy. The first body of work involves meticulous application of mathematical concepts and number plotting, creating mesmerising optical illusions within a structured order. The second set of works draws inspiration from cartographical plotting and celestial navigation systems. These pieces are composed of paper and fabric, juxtaposed seamlessly, resembling tectonic plates, and may initially appear chaotic but reveal hidden order upon closer examination.
"Together, these two bodies of work offer a captivating and thought-provoking exploration of order and chaos, precision and spontaneity, and the endless possibilities of artistic expression," Anni Kumari reflects.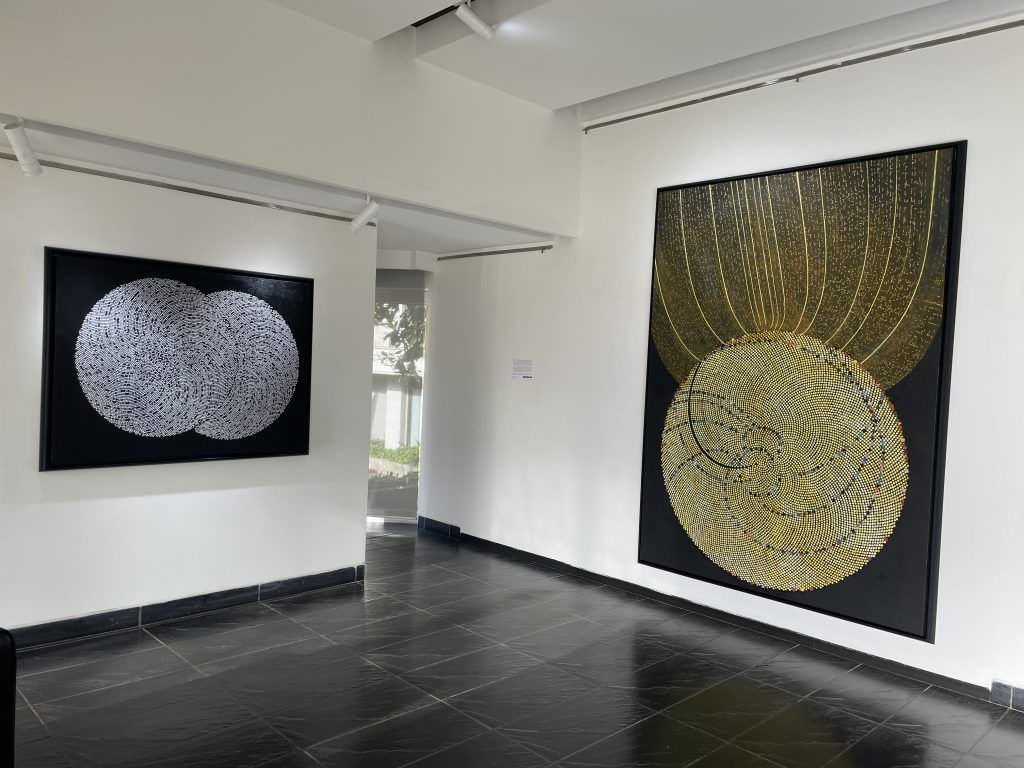 A Cosmic Symphony: Mathematical Principles and Human Relationships
Anni's art not only delves into mathematical concepts but also reveals the intricate tapestry of mathematical precision that underlies human relationships. She believes that just as mathematical sequences exhibit specific properties, human connections too evolve in an intricate, calculated manner. Through her work, Anni aims to convey the transformative power of mathematical principles in shaping her perception of aesthetics. She hopes that viewers can appreciate the beauty in mathematical logic and its role in guiding her towards artistic creation.
Furthermore, Anni seeks to disrupt the conventional practice of segregating art, craft, and design. Her distinctive approach is an invitation to reevaluate these foundational elements of visual expression and appreciate them as interconnected facets of creativity.
A+D Shuffle with Anni Kumari

Favourite Mathematical Concept in your Art? Phyllotaxis Spirals

Early Bird or Night-Owl? Early bird

Dream Artist Collaboration? Olafur Eliasson

Go-to Sketching Tool? Graphite pencil

Weirdest Source of Inspiration? Spider webs

Creative Ritual or Routine? Early morning walks

Favourite Artwork from your Collection? Axiom of Continuity II

Overcoming Creative Blocks? Watering my plants

Alternate Career Choice? Geologist

Memorable Viewer Reaction? When a viewer remarked, "I want to look into the head of this artist".
A Living Legacy: Anni Kumari's Vision
Anni Kumari's journey is a testament to the deep-rooted connection between mathematics and art, tradition and innovation, precision and spontaneity. Her creations serve as a bridge between ancient wisdom and modern expression, revealing the underlying order and symmetry in the natural world and human existence. As visitors explore 'Spontaneous Order: An Unintended Coordination of Intentional Action,' they embark on a voyage through cosmic harmonies and the transformative power of mathematics in shaping art and perception. It's a journey that invites us to discover the hidden patterns that unite us all.