Discover how Sandahl, a master artist from Vallauris—a city steeped in artistic heritage and graced by luminaries such as Picasso, Braque, and Cocteau—has woven her creative magic to showcase a journey where tradition meets modernity, resulting in an ethereal haven that celebrates both the past and the present.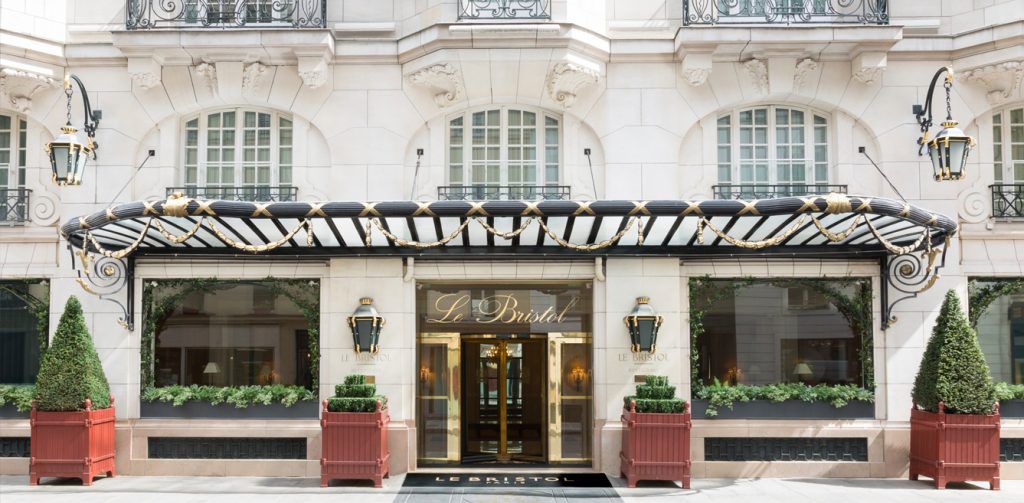 In the heart of Paris, a city that has long served as a cradle of artistic innovation and architectural grandeur, a remarkable collaboration has unfolded, shaping a narrative where design and art intertwine in an ethereal dance. This captivating story revolves around Agnès Sandahl, a visionary artist hailing from Vallauris—an artistic enclave once graced by luminaries like Picasso, Braque, and Cocteau. Through a fusion of heritage and contemporary expression, Sandahl's transformative journey has metamorphosed Le Bristol Paris' suites into living, breathing works of architectural art.
Elevating the Azur Suite Experience
Enter the Azur Suite—a crown jewel among Parisian accommodations. This suite, a stunning embodiment of opulence, features an expansive 115-square-meter tree-lined terrace, a canvas awaiting Sandahl's masterful touch. What truly sets this space apart is the seamless integration of Sandahl's creative universe against the backdrop of interior decoration envisioned by the esteemed hotel owners, Narcisa and Elvira Oetker. The result is an unparalleled synthesis of design and artistry—a convergence where tradition resonates with the avant-garde.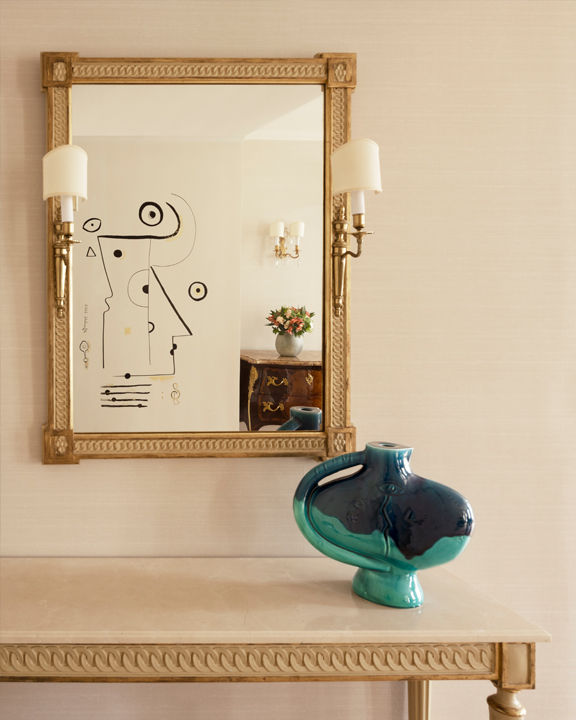 A Symphony of Sensory Experience
Beyond mere aesthetics, Agnès Sandahl's endeavor unfolds as an immersive journey of the senses. Invited by the Oetker sisters-in-law, Sandahl's three-day sojourn within the Azur Terrace Suite becomes a holistic exploration of the space's essence. This intimate immersion fuels the artist's process, allowing her to traverse its rooms, absorb its unique energy, and harness these insights into bespoke creations. The suite now harmoniously marries three captivating Agnès Sandahl paintings with a resplendent fresco—an exquisite composition born from the fusion of Chinese ink and gold leaf.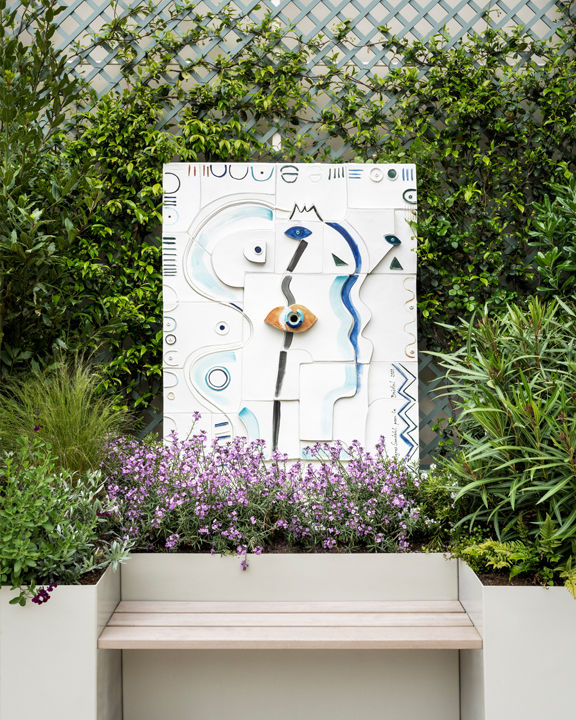 The Fresco: A Dreamlike Reverie
At the heart of the suite, Sandahl's fresco emerges as a beacon of her creative philosophy. "For the Azur Terrace Suite fresco, I aimed to create a dreamscape—an amalgamation of love and music," Sandahl elucidates. The inclusion of gold leaf offers a captivating interplay of light, as the work's luminosity transforms with each passing moment. This dynamic masterpiece, visible from various vantage points within the suite, is a testament to Sandahl's prowess in orchestrating architectural narratives that transcend visual boundaries.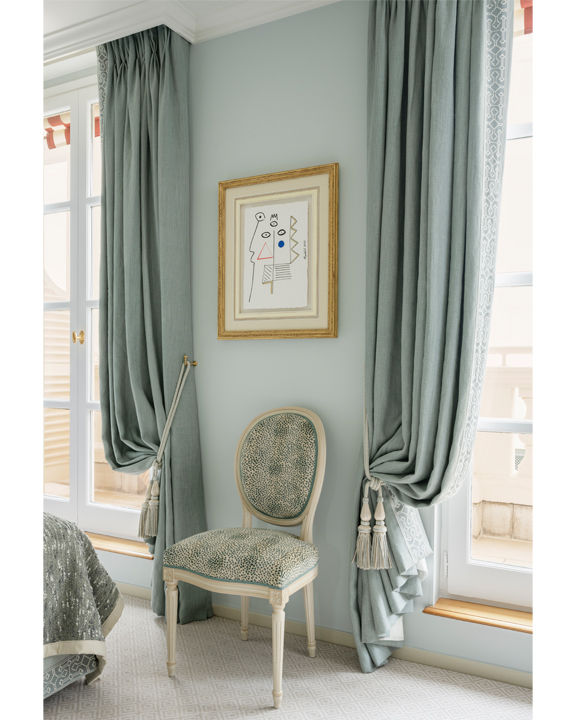 Ceramics as Expression
While renowned for her curatorial prowess, Sandahl's artistic dexterity spans various mediums. Her journey took a pivotal turn in 2011, when her craftsmanship attracted the attention of Monaco's royal family. This marked the resurgence of Vallauris' ceramic workshop, sparking the birth of an exquisite collection. Sandahl's versatile creations—ceramic bas-reliefs, evocative paintings, distinctive vases—effortlessly meld with the suite's ambiance. Her intricate ceramic storytelling, reminiscent of Cap d'Antibes' iconic Eden-Roc, extends the suite's architectural language.
A Living Heritage
Vallauris, a city steeped in artistic heritage, becomes both the wellspring and backdrop for Agnès Sandahl's creative endeavors. Her renowned bespoke tableware collections and works exhibited in prestigious venues like Hotel du Cap-Eden-Roc and Château Saint-Martin & Spa are a testament to her unique fusion of tradition and modernity. Sandahl's arrival at Le Bristol Paris marks her debut collaboration with this iconic venue, adding a new chapter to the city's architectural and artistic legacy.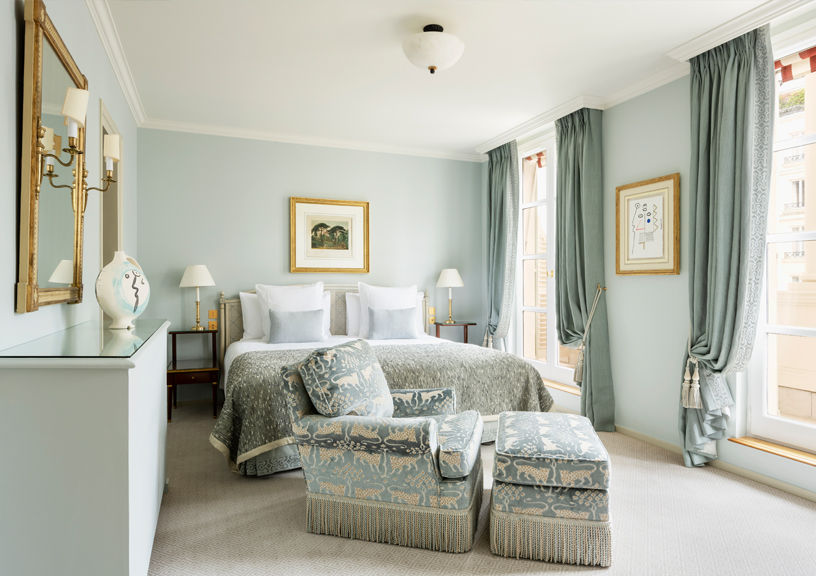 A Timeless Overture
Agnès Sandahl's influence transcends artistic boundaries, resonating with enchantment, inspiration, and transformation. The Azur Terrace Suite stands as a living homage to her Vallauris-inspired odyssey. Its fusion of classical elements and contemporary nuances mirrors Sandahl's relentless quest for innovation. From its serene color palette to its delicate tableware, each design element echoes Vallauris' legacy, all orchestrated through Sandahl's artistic finesse. With her transformative touch, Sandahl has elevated Le Bristol Paris' Azur Terrace Suite into an architectural symphony—an enduring testament to the hotel's legacy and an ode to design, creativity, and sophistication.