We bring to you an interesting line-up of green spaces, concepts and products that are revolutionising the notion of sustainable design
Compiled by: Nisha Kapil
WLAB Studio
Co-existing with nature
Spanish archtiect Carlos Bausa Martinez insists that architecture should co-exist and not interfere with nature.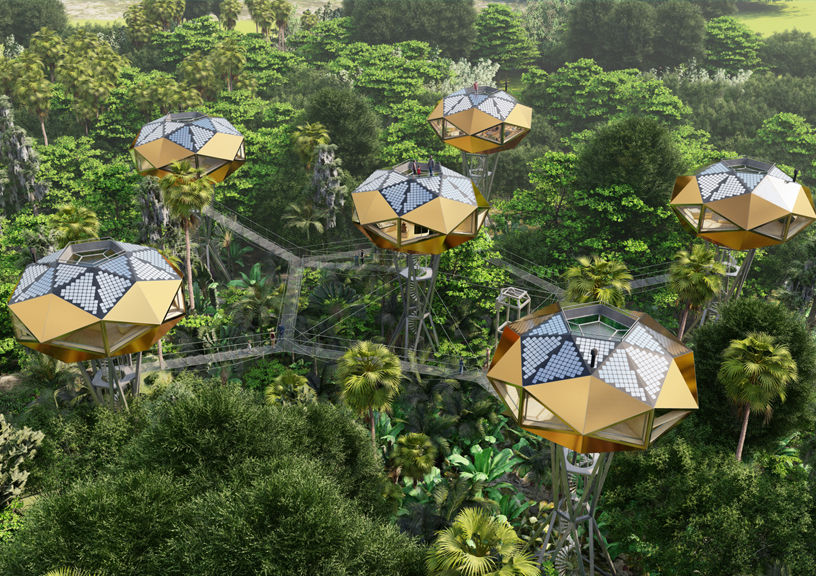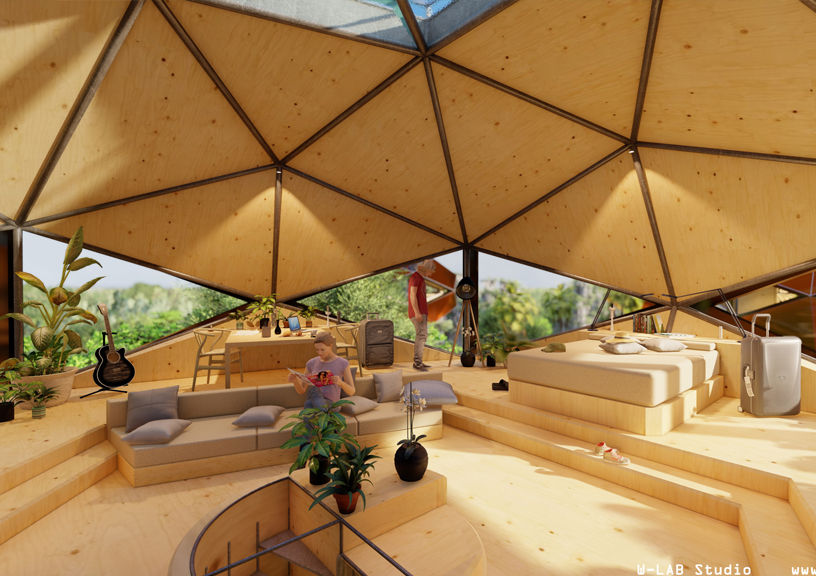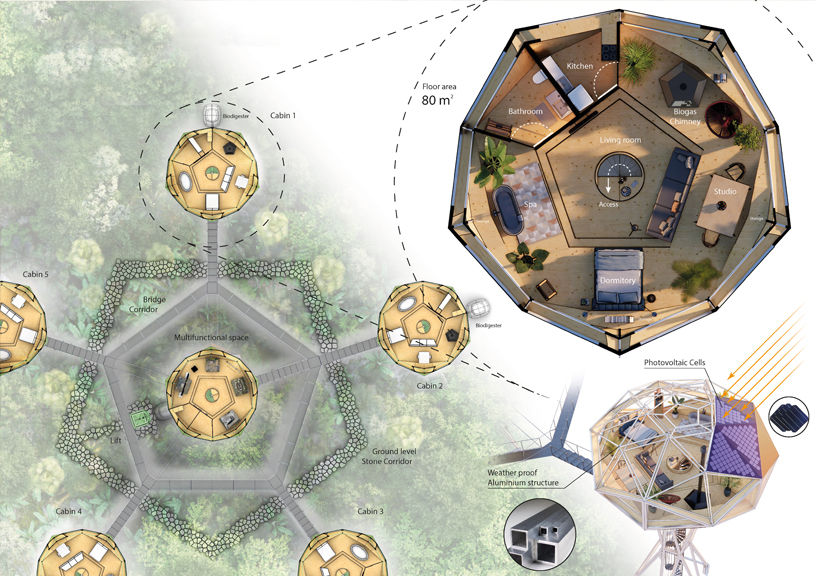 Carlos Bausa Martinez aims for high comfort standards, while looking for different ways of blending modern architecture with nature, to propose diverse sustainable solutions for those interested in this type of eco-architecture. He is a Spanish Architect specialises in computational design and environmental simulation and founder of WLAB Studio that intends for a different approach that could help them generate Net Zero buildings with neutral carbon balance. "Since I started with W-LAB, I wanted to create projects that could help people to reconnect with nature without sacrificing comfort and living standards. With the Tree Canopy Eco-village Project, the idea was to create a solution for those who want to stay in remote natural locations, without sacrificing on modern comforts, minimising the impact of architecture in nature. I believe both can coexist in the same location. That was the reason to build these cabins on top of light structures, to create an iconic tree top community, so nature can go on without major human disruptions below" says Carlos defining his green studio design proposition.
When talking about materials,  he considers circular economy strategies. Always working on reusing and recycling, so all the components can have a second life or a purpose, avoiding landfill after demolition. "These tree houses use passive solutions for ventilation, with vents on the lower cabin side and the ceilings, facilitating the movement of air when needed. Hot air escapes through the upper terrace, and cold air is captured from below shaded areas. This way the need for air conditioning in summer is lower, and we can create a constant air flow that can be controlled in winter to keep it warmer. The amount of glass is reduced to less than 30% of the building surface, thanks to its triangular configuration I maximise views creating a 360 experience, to enjoy the surroundings, but the heat exchange with the exterior is lower. We still can use air conditioning inside, but since there is better insulation, less energy will be required from the solar panels." After visiting many eco-resorts, he realised that they were not very comfortable depending on the season, lacking some basic commodities. He took them as inspiration for creating new modern habitats that could help future housing communities to become self-sufficient and off-grid.
Supernovas
Recycle. Reuse!
Supernovas, a London-based company that is committed to finding a more sustainable way of designing.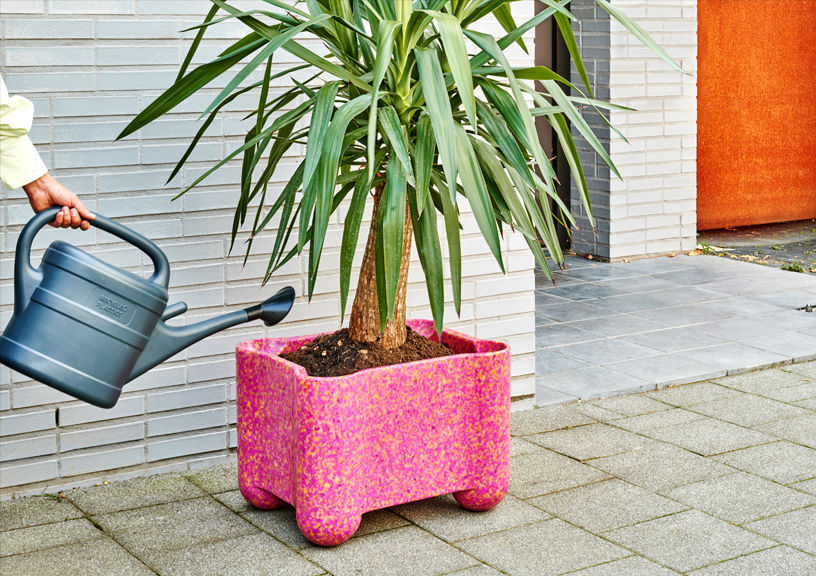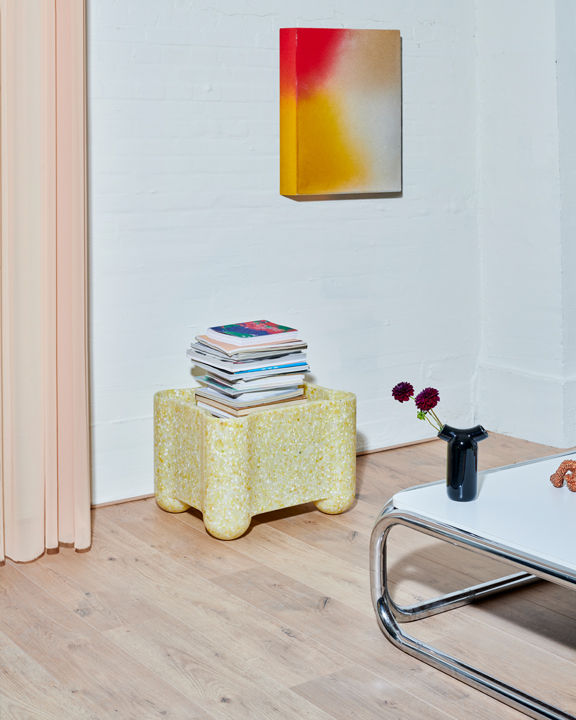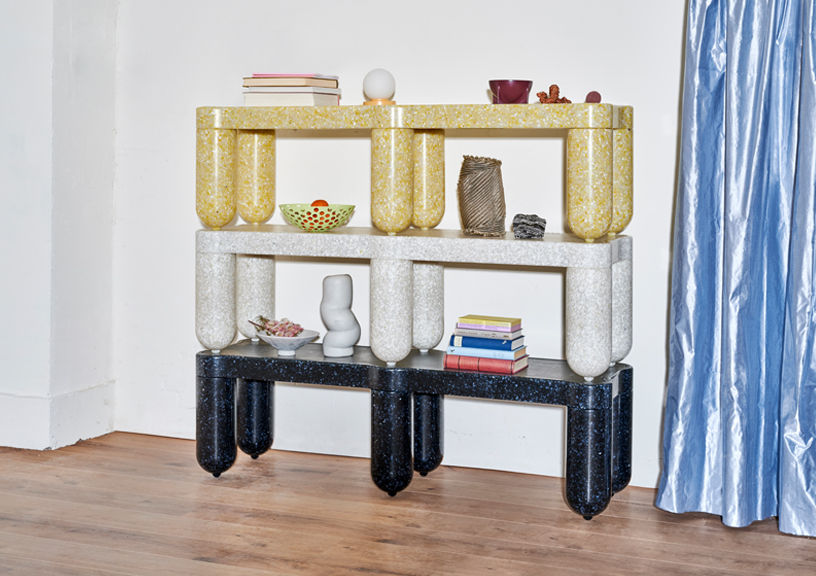 Supernovas is a London and Milan based company that challenges top creatives to transform waste and unwanted materials into recyclable design objects and furniture. The firm has joined hands with Dutch design studio Odd Matter to launch Afterlife – an easy-to assemble furniture line made entirely from recycled plastic. Created bringing together 3 different manufacturing techniques such asrotomoulding, pressing and 3D printing, the collection includes crates, benches and a bookcase. Afterlife products have been cleverly designed to be easily assembled and without any additional tool to ensure full recyclability, reduce the impact on the environment of the shipping and facilitate a dynamic lifestyle. Made with recycled LDPE and PET plastic, Afterlife is the first easy-to-assemble furniture collection, designed by the Rotterdam-based studio. "We challenge top creatives to transform waste and unwanted materials into recyclable design objects and furniture; giving customers the freedom to buy, swap or return them. Because life changes, and so do our products," informs the founders.
Plasticvalla
Meet the 'plasticvalla'
For Delhi-based artist Manveer Singh, waste plastic is chosen medium.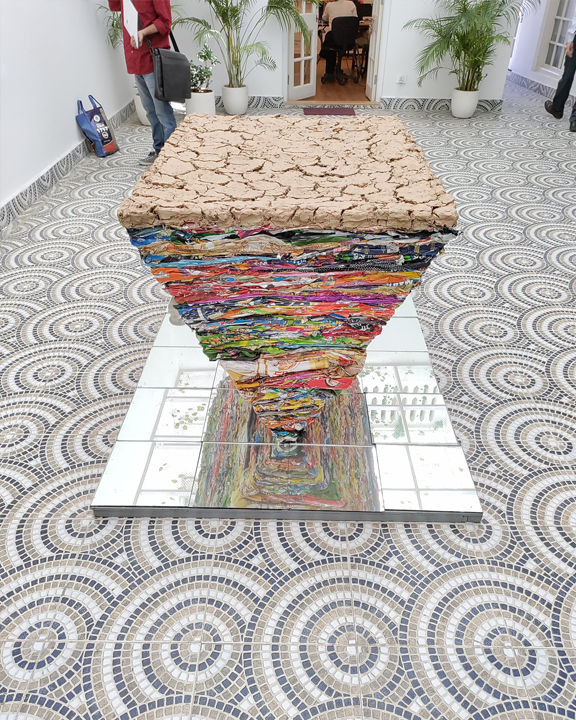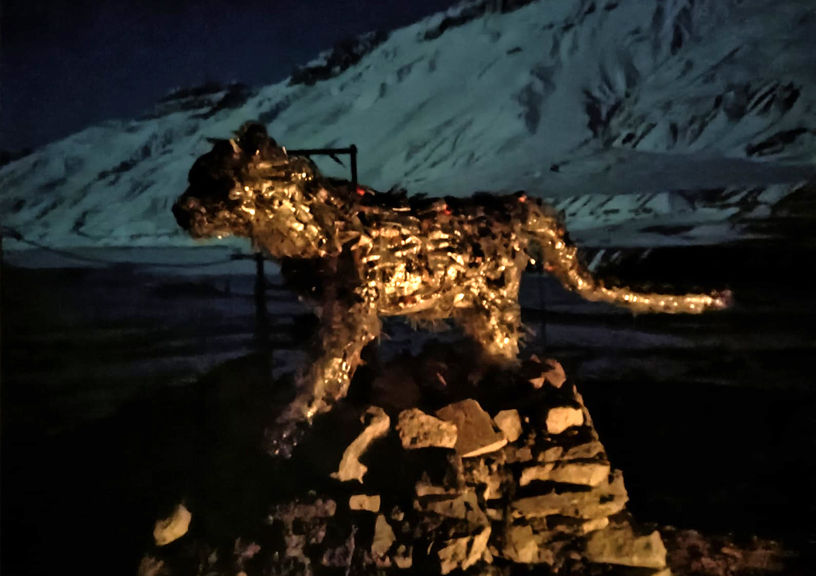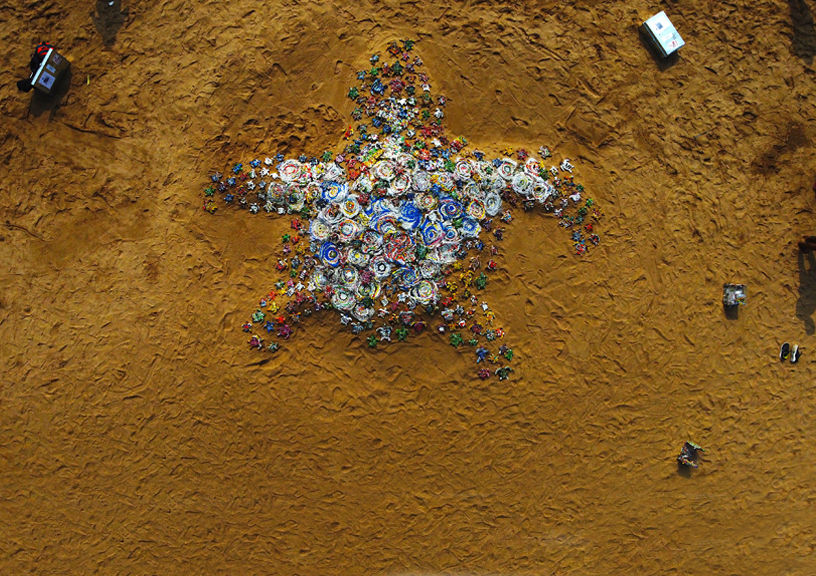 Manveer Singh, aka Plasticvalla, is a Delhi-based visual artist who is currently engaged in making artworks with MLP plastic. A true believer in sustainable art, the artist explores new ways to make use of the non-recyclable and hard-to-recycle material while also spreading environmental awareness amongst his viewers. "It came about as a friendly name, or you can say as something that satisfies the utilitarian aspect of my job. As I go around collecting plastic from the different neighborhoods of Delhi, and people confuse me with a Kabadiwaala, some of them differentiated me and started calling me Plasticvalla. I like to reclaim this term. I am mostly inspired by the landscape, the nature. It is my only source and inspiration, as it is my material of thought. And thus, I became the Plasticvalla who is taking the plastic pollution directly from nature so it benefits my muse too. This daily life of a person who collects plastic from door to door and encourages the people to continue to segregate their waste to reuse, reduce and recycle plastic has hence come to take the name of Plasticvalla," says Manveer when asked about his thoughts behind starting this work.
Manveer believes that all his artworks are equally attached to his heart even if a piece of work is made in a shorter span of time, he puts in equal hard work and thought for all his work. "However, my sculpture 'Futuristic Earthcore' has been the most experimental art I have made by far. It also gave me a huge learning experience. Other than that, the installation made of turtles with the Metis Grant at Orissa was also very dynamic since it had many parts in it. I could change around the composition and it would mean something different each time. I absolutely adore that," says Manveer whose biggest inspiration has been his grandparents who come from a farming background. "I believe some artists are very immediately recognized by their medium as well. If I were to say 'steel bartan', you'd automatically think of Subodh Gupta. I wanted to be the artist known for 'plastic' as his medium. I am very proud of it too. It was suited to my sensibilities too and that is how I found plastic."
Asro Arcade
Material matters
Architect Robin Sisodiya's Asro Arcade experiments with new materials to create cost-effective structures.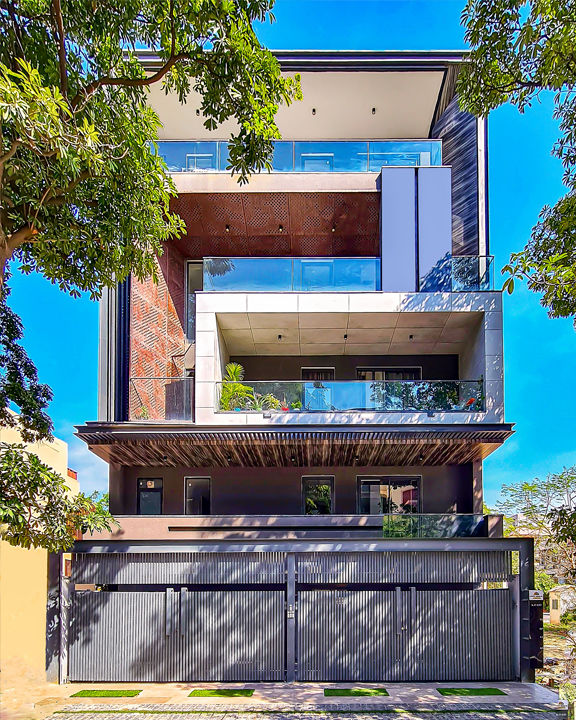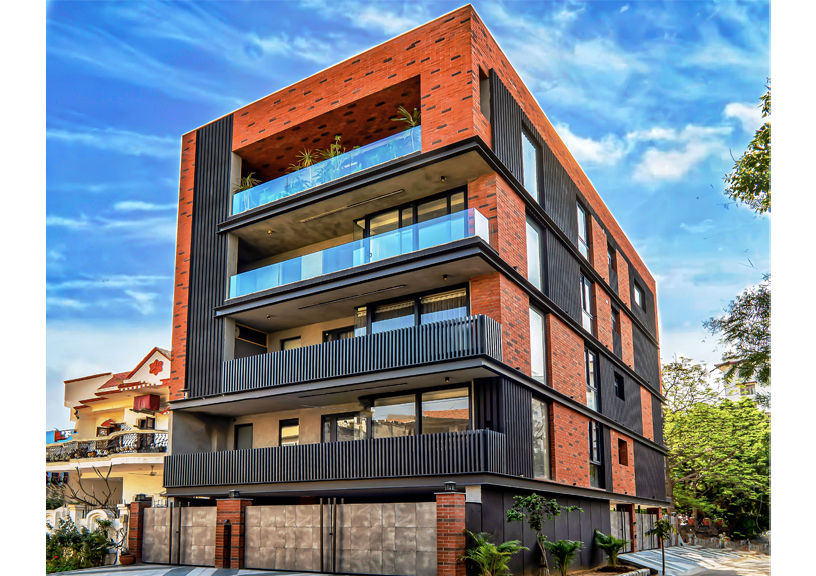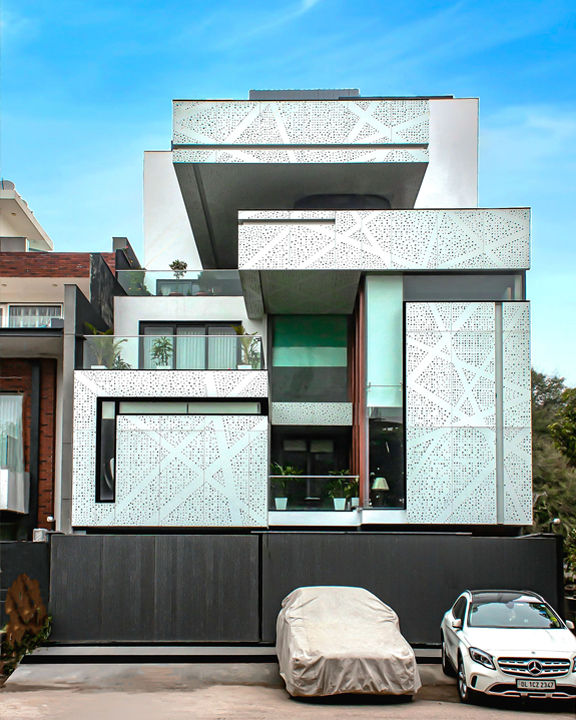 ASRO Arcade spearheaded by Robin Sisodiya is a Gurgaon based firm that provides multidisciplinary architecture, interior design, landscaping and urban planning services and specializes in sustainable facades. The firm's primary purpose in constructing sustainable facades is to conserve nature and give their clients a more environmentally safe living environment. "One of the most notable advantages of green buildings is their low maintenance costs, accomplished via carefully designed design components that reduce power usage and help reduce energy prices. These cost-effective constructions have the potential to grant significant economic support to both commercial and residential property owners. It also helps reduce the overall carbon footprint, which is an excellent initiative in preserving the environment" says Robin stating about the performance of sustainable facades on buildings. The firm believes in driving architecture to new heights with fresh and unique ideas and create something out of the box and unique in every project. "One of our most recent perforated aluminium home facade designs in Gurugram is our best so far. The facade's multi-tiered green studio design is clad with perforated aluminium panels. Aluminium is a lightweight material that is ideal for facade designs. The facade's base consists of a cold white surface that assists in thermoregulation and boosts the overall efficiency. We have also used glass, which is both ecologically sound and absolutely recyclable."
EcoLogic Studio
A bio-digital World
London-based EcoLogic Studio is an architecture and design innovation firm that integrates bio-technology with the built environment.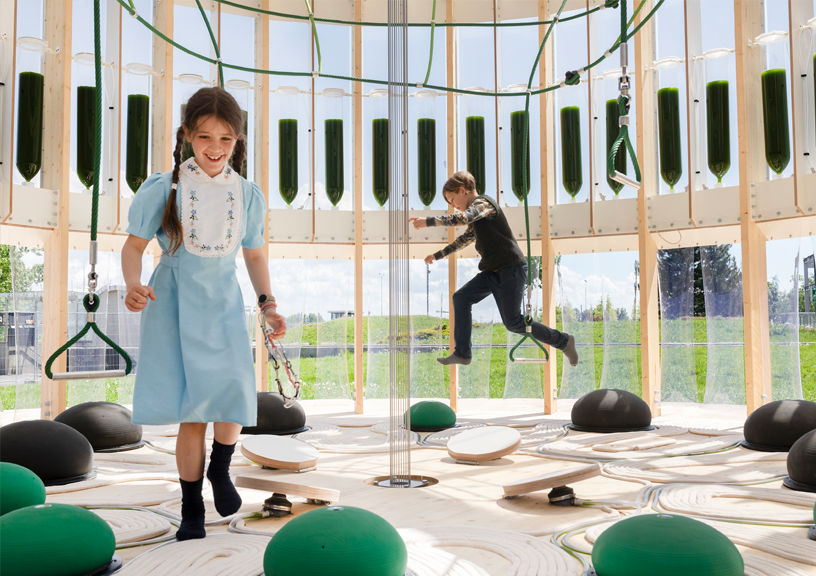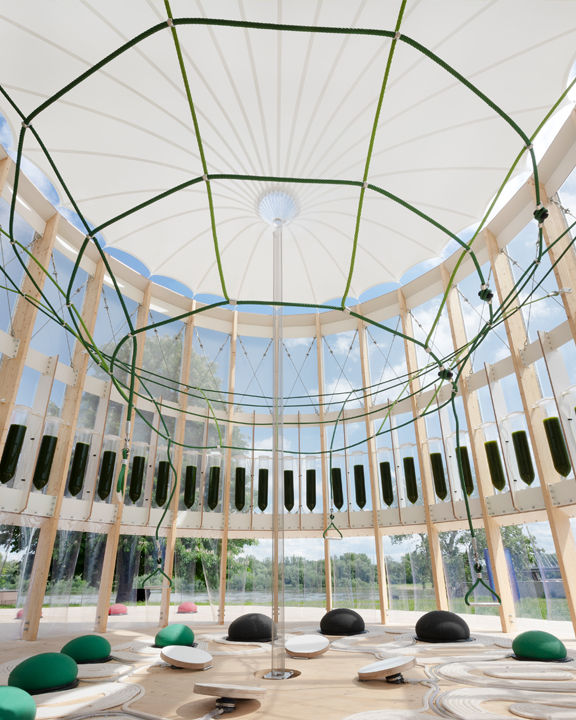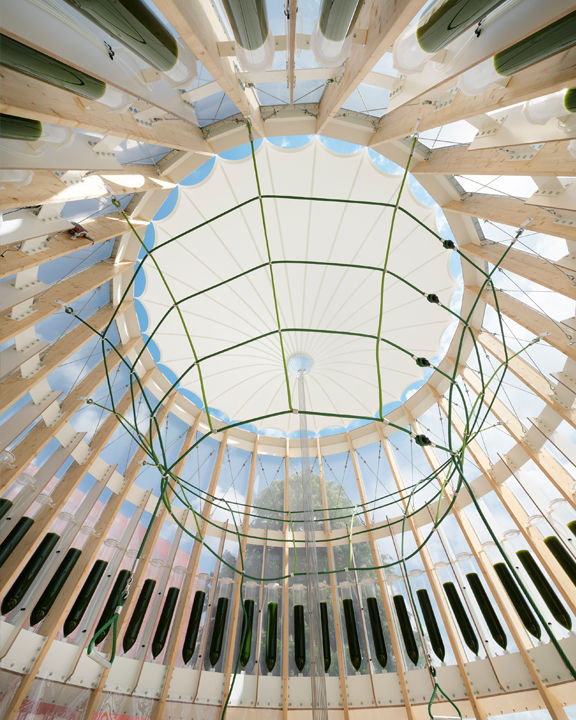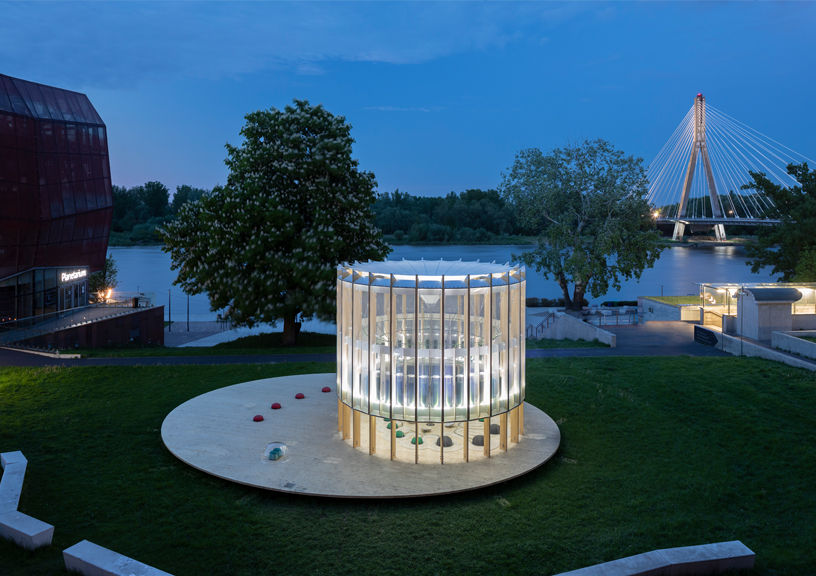 EcoLogic Studio is an architectural and urban design practice dedicated to bio-digital design for the definition of a new "ecology" of space and behavior. Founded in London in 2005 by Claudia Pasquero and Marco Poletto, the office has earned an international reputation for its innovative work on "systemic" design – a method defined by the combination and integration of systemic thinking, computational design, biotechnology and prototyping.  This "broadened" approach to green studio design – from the micro to the macro – is embedded into an experimental practice, where projects and installations become interactive laboratories.
Claudio and Marco's repertoire include a diverse range of projects including a public library, private houses, a large eco-roof, and large scale masterplans. The green studio has also developed prototypes and installations for major architectural biennales. The project "metaFOLLY" is part of the celebrated permanent collection at the FRAC Center in Orleans, while HORTUS was recently purchased by the ZKM in Karlsruhe, and won the prestigious Idea Tops Award for best digital architecture. They also worked on three major experimental pavilions in the recent past, the Urban Algae Folly for Milan EXPO2015, the BIO tech HUT for EXPO Astana2017 and UAF Aarhus, for Aarhus Capital of Culture 2017. EcoLogic Studio has also completed the first bio-digital photosynthetic building facade, installed in Dublin in 2018. Talking about their unique, almost disruptive contribution to the world of environmental design, Marco says, "There is untapped value in bringing the bio-intelligence of natural systems into cities, turning buildings into living machines that produce energy, store CO2 and clean the air. To achieve this, we need to think about the living world as a part of the current digital revolution: nature becomes part of a new bio-smart infrastructure." According to the designers, learning from nature's intricate systems isn't just about ensuring human survival on this planet in the face of climate change. More than that, it's key to ensuring a good life on this planet – one that benefits all living things.