Interior Stylist Shreya Budhiraja and Architect & Interior Designer Navneet Bawa synergise to weave a fresh narrative of opulence in this Delhi home
Serenading a vibrant symphony that celebrates modern ethos, this luxurious Delhi home essays an adept amalgamation of the creative energies of Interior Stylist Shreya Budhiraja, Founder of EyeInspire Design Studio, and Architect & Interior Designer Navneet Bawa to exude exuberance. An experiential abode that etches the family's sentiments of resplendence and exoticism.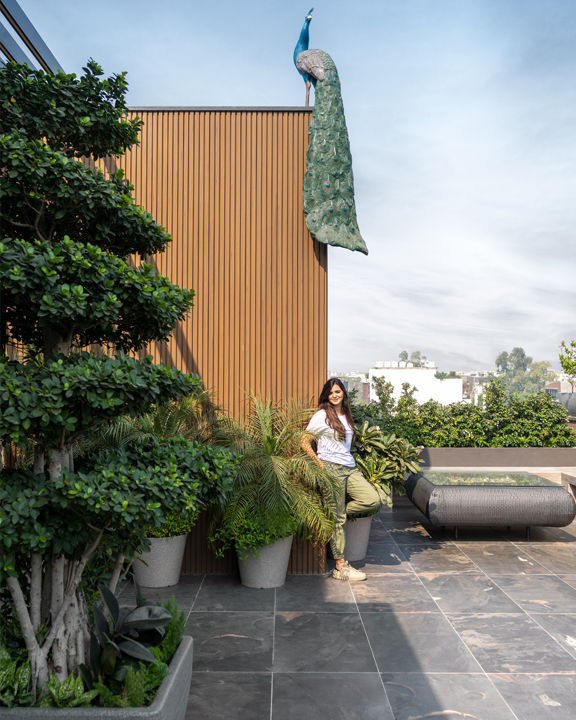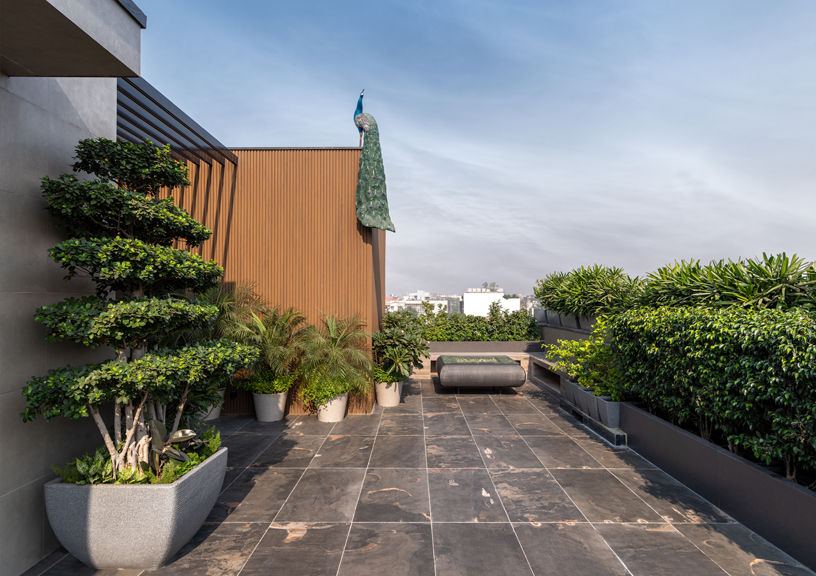 It is interwoven with a gamut of design styles, harmoniously blending palettes, textures, veneer panellings, furnishings, décor accents, customized artworks, and handpicked accessories that coalesce with the narrative. The saga of tailoring this coruscating 1800 sq ft home for Navneet Bawa was a challenge architecturally and aesthetically.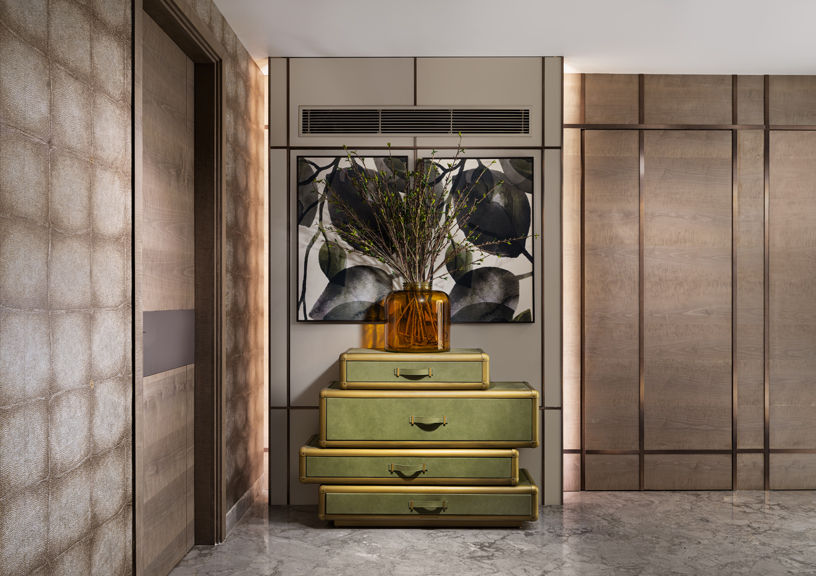 Adjoining the second floor with the floor of the next building seamlessly to achieve a 3600 sq ft zone with a pooja room, sauna, swimming pool and living area and a fifteen feet high ceiling on the ground floor for a palatial vibe was a test of creativity.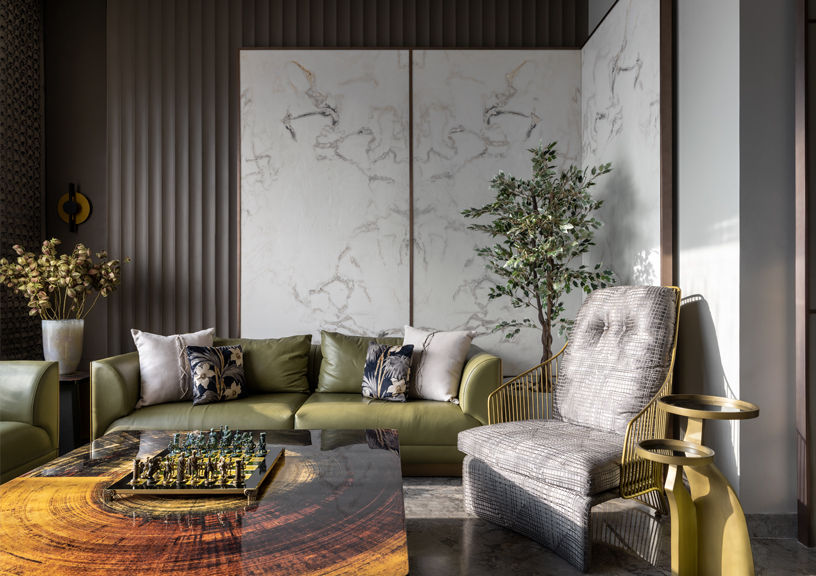 "Stepping out of my proclivity for muted tones and subtle design elements to conjure a bespoke home with innovative colours and material amalgams in the furniture, flooring and wall designs with grandiose was indeed a challenging yet exhilarating experience," says Navneet Bawa, Architect and Interior Designer.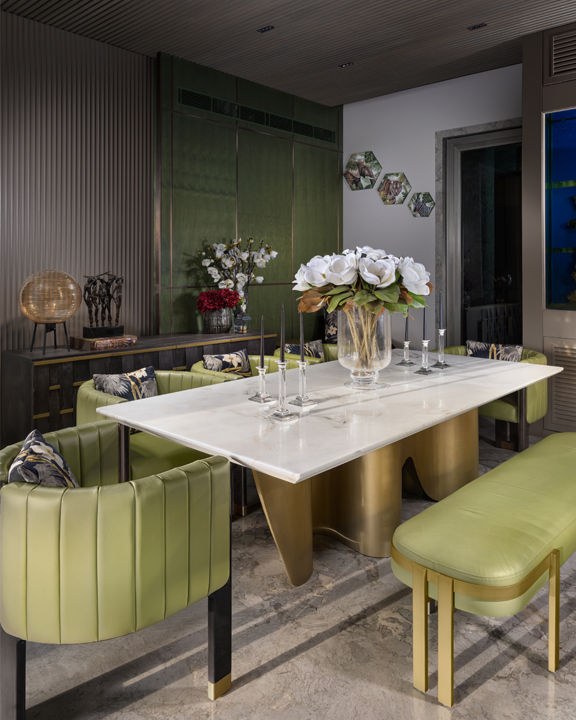 Shreya's journey began once the interiors with furniture were in place when the canvas seemed incomplete and in search of nuances to tie the home together, enliven the space and add masterful layers to the narrative. The sourcing of all the design elements reads like a litany of high-end brands, each handpicked thoughtfully or customised to blend, with artwork from Art-for-You, lamps and accents from Beyond Design and Oma, lighting from Klove, satin and velvet beddings and curtains from Sangeeta Seth and furniture from Wriver.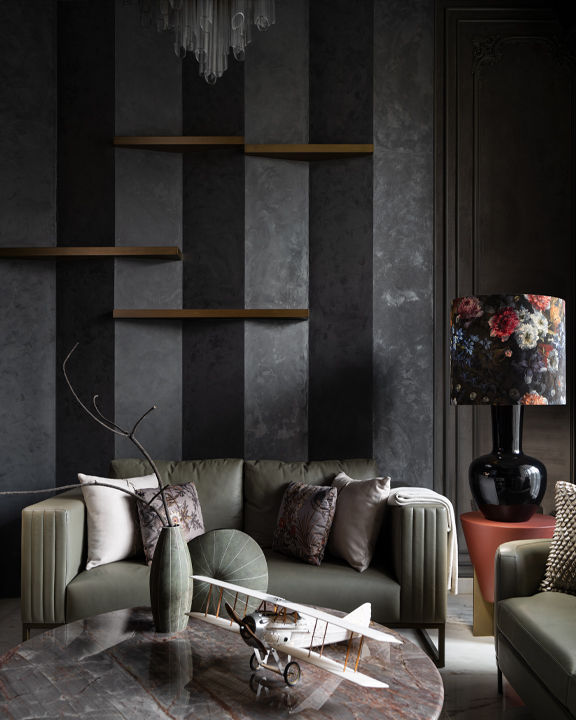 Passion is evident at every turn where a mood board dictates a verdant vocab and the sumptuous presence of flora and fauna. A brush with drama begins at the entrance with the efflorescence wallpaper on a classic black background. Elevating the mystique further, the yellow banana leaf flower lamp from Oorjaa casts soft shadows and reflections on the gold-framed mirror standing regally on the wall. Inside this opulent entertainment room awaits the perfect ambience for stupendous soirees.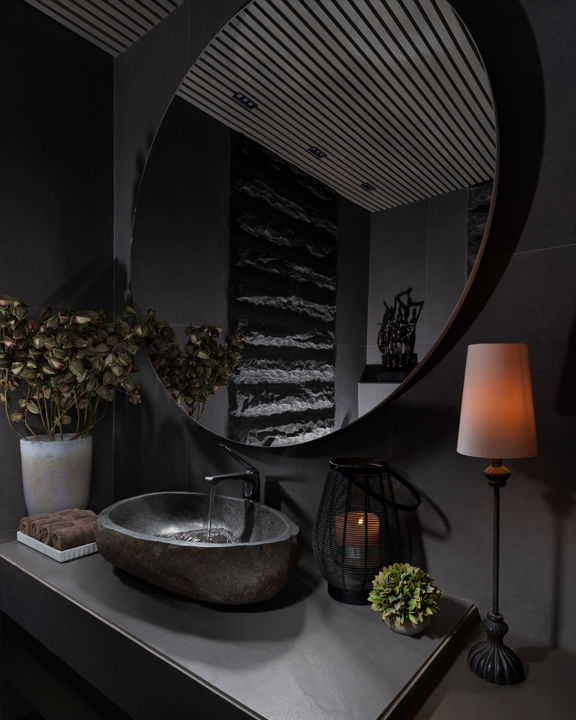 The showstopper, a beauteous black lamp crowned with a plush velvet shade beckons with its brazen cherry-coloured blossoms, as it narrates the story of the inspiration for the green and cherry theme reigning the space. A light green upholstered sofa accented with gentle wine and ivory colour cushions enchants as does the delicately veined grey and wine marble coffee table hosting an antique plane resonating an aura of grandeur.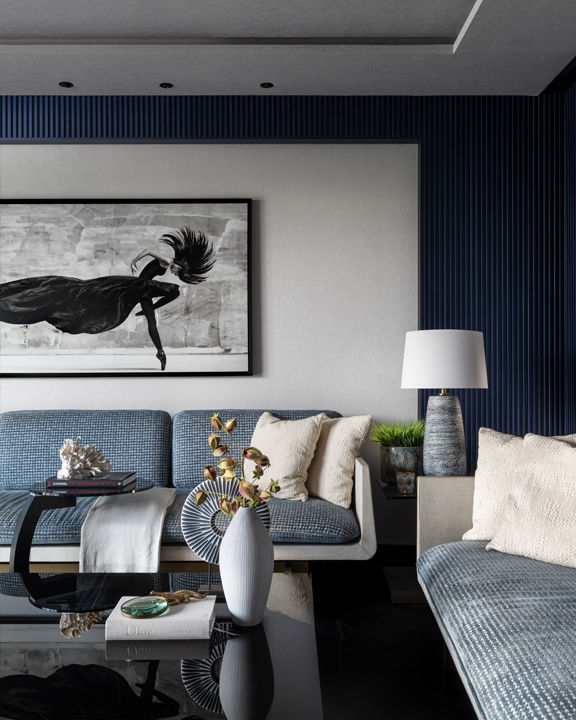 Saunter further into the formal dining room, resplendent in Newton grey marble flooring, velvet panelled walls with wooden flutings, and a wine-hued marble-topped dining table, complemented with olive and wine dining chairs. Ostentatious pineapple-shaped vases and a tall lamp embellish the table but what captivates most is the fascinating glass pill on a Dior Linderberg archives, poised under the shadow of a posy of flowers.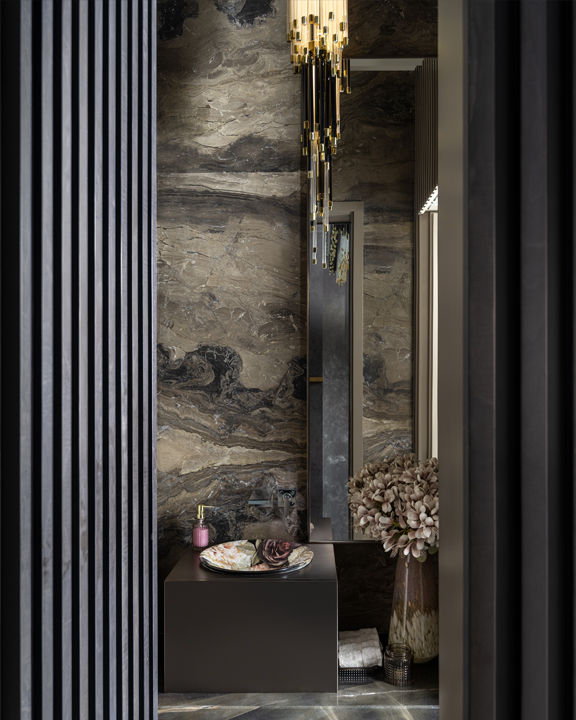 This intriguing pill ponders to the client's desire and was curated after much fine-combing as it incepts conversations and provocative stories. The powder room continues the mystery vocab with a floral sink, cascading chandelier, leathered marble on the walls and funky artwork, dark and moody.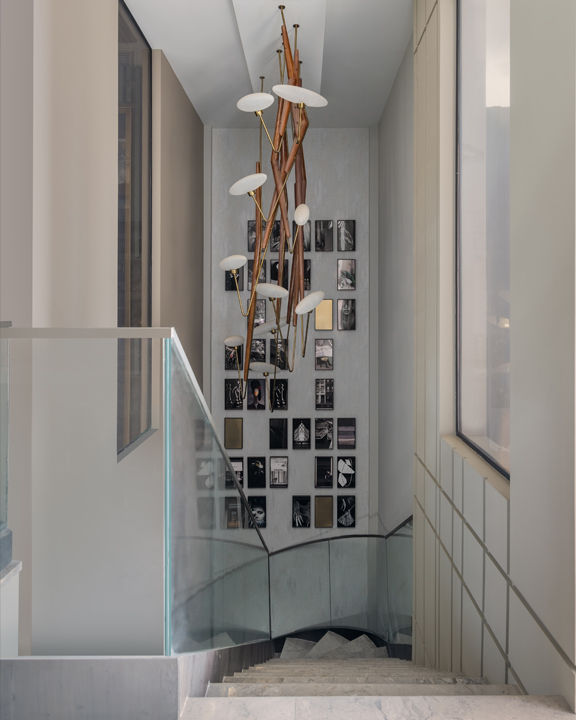 The modern opulent theme unfolds at every level as you move to the family room on the first floor where a stately chessboard stands solo on a digitally printed coffee table amidst an olive green sofa and grey lounge chair to craft a niche personal space. The TV unit is a wall art in itself, swamped with exquisite bouquets, tea-light holders and a charming vase.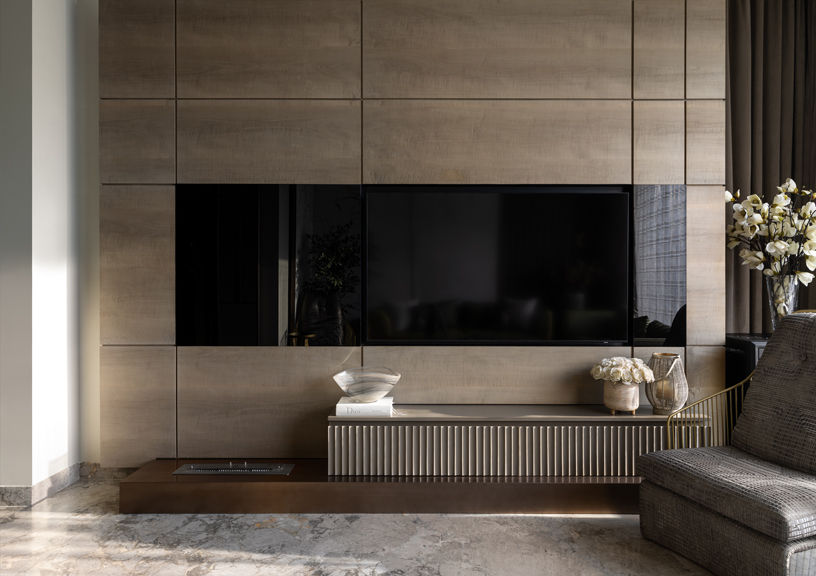 A stupendous dining table with a Dover white marble top predominates the family dining room, elevated with glass candle stands and a crystal vase with robust blooms. With a unique green veneer on the walls, olive green leather chairs, and an intriguing sculpture, positioned on the Wonders of the Indian Wilderness, exotic cushions add layers of splendour to the space.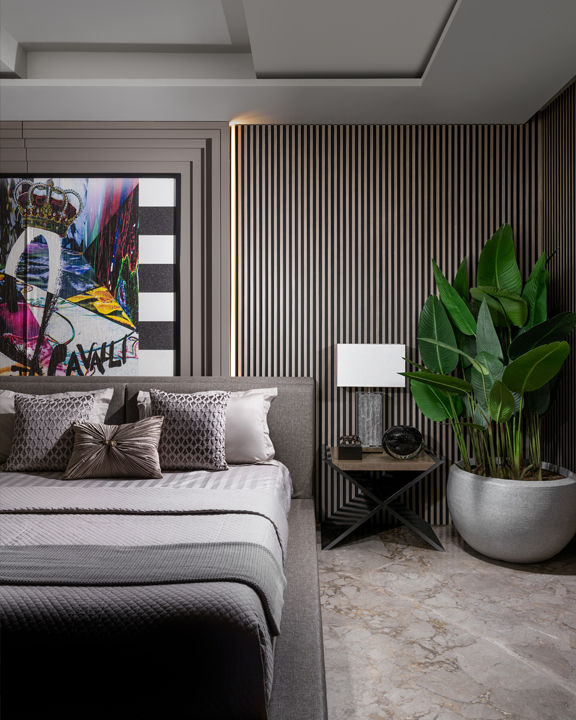 A framed Ralph Lauren wallpaper transmutes a subtle grey and black bedroom with an edgy effervescence. The artistic cushions, colossal planter, and grey and white lamp enhance the euphoria of this ten-year-old bedroom. A bold artwork dominates the passage where a big vase sits royally on a vintage suitcase-styled console in congruence with the design story. A white staircase enhanced with multiple artworks and a hanging light that imitates a branch of buds leads to the terrace which is reserved for intimate soirées.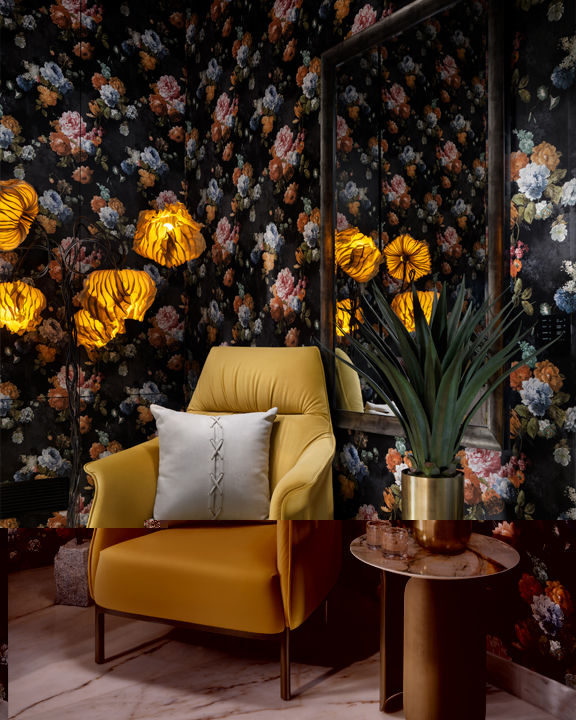 Bold femininity in a powerful dance stance, the painting in the terrace living room decodes the passionate explosion of romance amidst blue and white sofas, textured white cushions, blue and white lamps and defiant coral on Chanel books. The Dior, white vase and the white and blue artistic accent spell serenity on the black coffee table. A dark grey sentiment in the terrace powder room gets the royal treatment, embellished with a sleek antique lamp, tea-light holder and a  vase generously endowed with flowers. Step out to the terrace amidst refreshing greens and a majestic peacock on the wall into the midst of Mother Nature.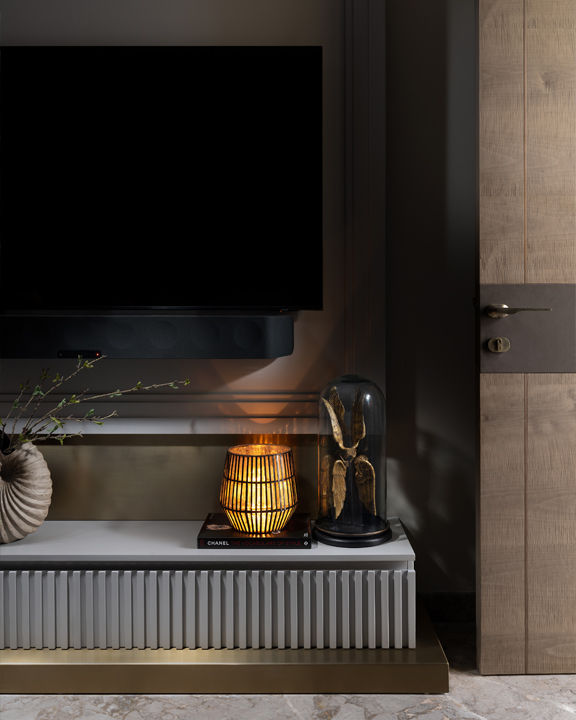 "The brief given by the client in this project was that the whole space should exude luxury, hence the conceptualisation for the project was done to enhance the modern opulent theme. Interior styling is a vital sentiment that can give a home its soul, therefore we thoughtfully and impeccably curated a medley of accents that melded with the entire design lexicon and the family's vision," says Shreya Budhiraja, Founder, EyeInspire Design Studio.
Photo courtesy: Deepak Aggarwal