Bean and The Bear cafe by Chromed Design Studio beckons with its quirky aesthetics and irresistible charm
Step into a realm of childhood wonder, where animated fantasies come to life and dreams take flight. Nestled within a cosy residential area of Greater Kailash, New Delhi, lies Bean and The Bear: a truly captivating café that is nothing short of a whimsical wonderland. Created by the visionary architect Abhigyan Neogi, Founder and Principal Architect at Chromed Design Studio, this enchanting space is not just a restaurant but a whimsical wonderland—a conceptual European Bakery that tantalizes guests with a delightful blend of freshly brewed coffee, delectable bakes, and innovative cocktails.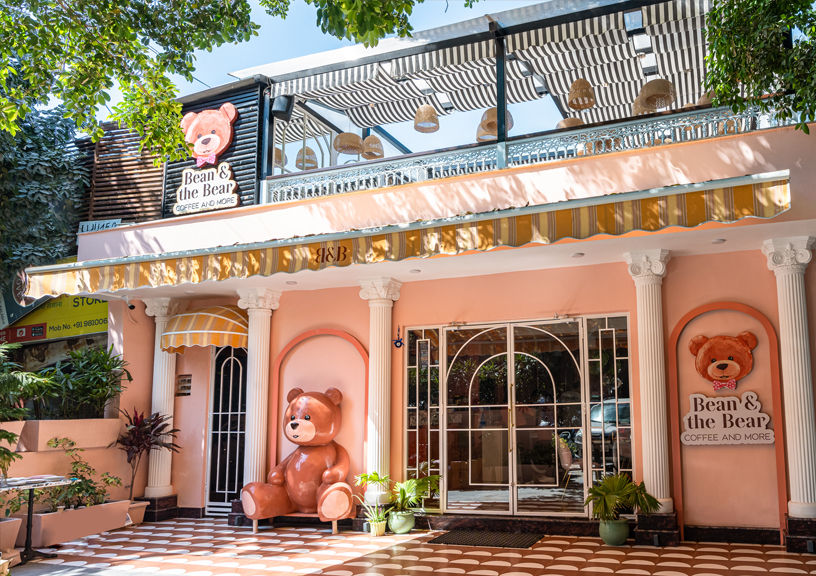 A Playful Haven
Prepare to be transported to a magical universe, far removed from the mundane realities of life. The café offers a choice of two outdoor areas: a relaxed, semi-open terrace and a sprawling ground-level patio that exudes the ambience of a charming European cafe. Stepping indoors, you'll find yourself embraced by a warm and inviting atmosphere adorned with vibrant hues and playful neon signage.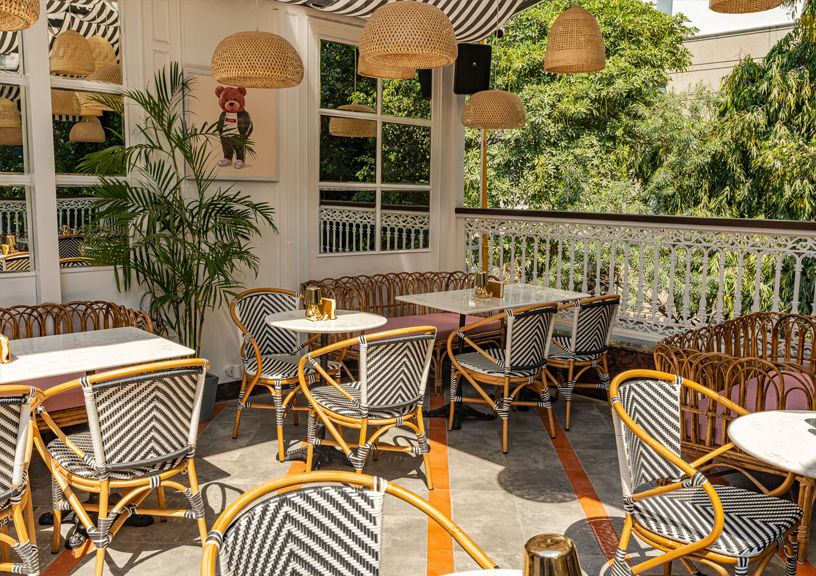 Adorable teddy bears grace every corner, infusing the space with child-like charm and an air of innocence. It's a place where customers can indulge in decadent sensory treats, immersing themselves in a world that captivates the imagination.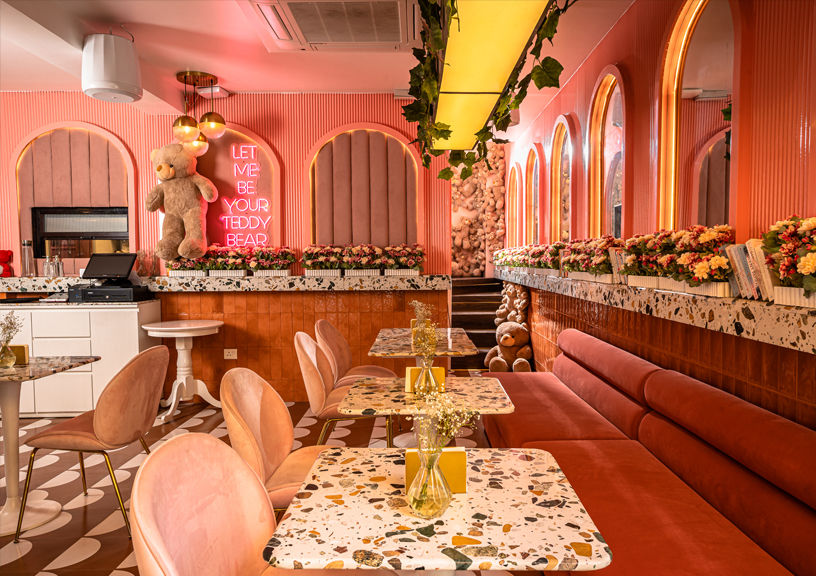 A Fusion of Delights
The initial objective was to create an innovative European bakery concept, fusing the realms of cocktails and coffee to offer guests the best of both worlds. Despite its modest scale, the café aims to be a welcoming space for friends and families alike. In fact, it even extends its hospitality to furry friends with a pet-friendly environment that welcomes small dogs indoors.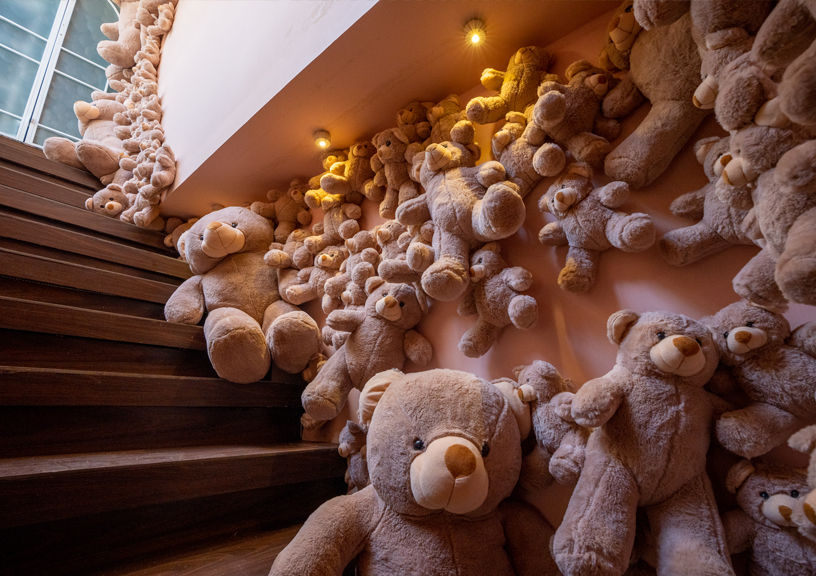 To break away from conventional floral bakery designs, the team sought to create something truly out-of-the-box, witty, and adventurous. The result? A whimsical world where cuddly teddy bears reign supreme, transporting visitors to a parallel universe of joy and playfulness.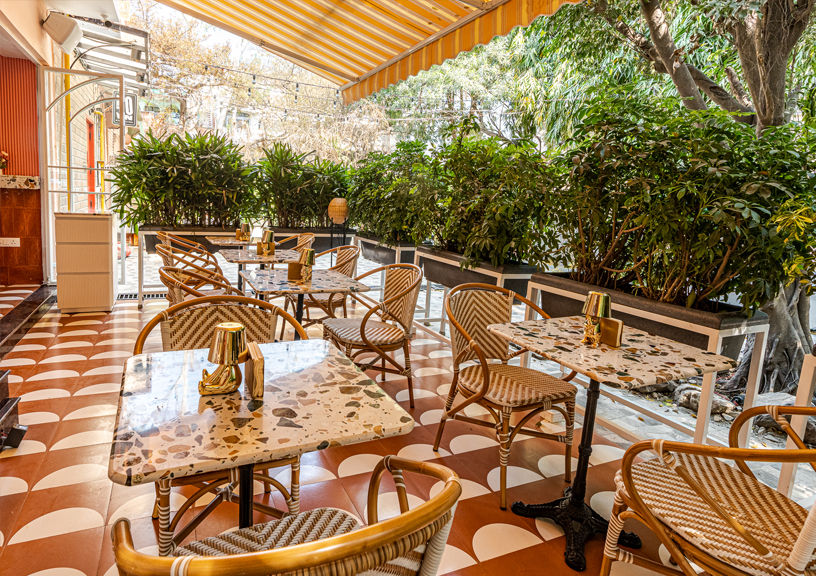 Enchanting Facade
As you approach the café, you'll encounter a captivating juxtaposition of European design elements and the delightful presence of teddy bears—a beloved symbol of childhood innocence. Classical columns, arches, and charming floral planters greet guests at the entrance, adding a timeless appeal to the facade. But it's the teddy bear sculpture that steals the show, drawing visitors in with its undeniable allure.
The warm peach hues of the building exude a welcoming charm, setting the stage for the wonders that lie within. This delightful combination indeed frames the essence of a classical European bakery infused with mischievous and eccentric aesthetics. The ground-floor outdoor seating area, reminiscent of a European street-front cafe, invites guests to savour their caffeine fix under the shade of trees alongside traditional arched windows.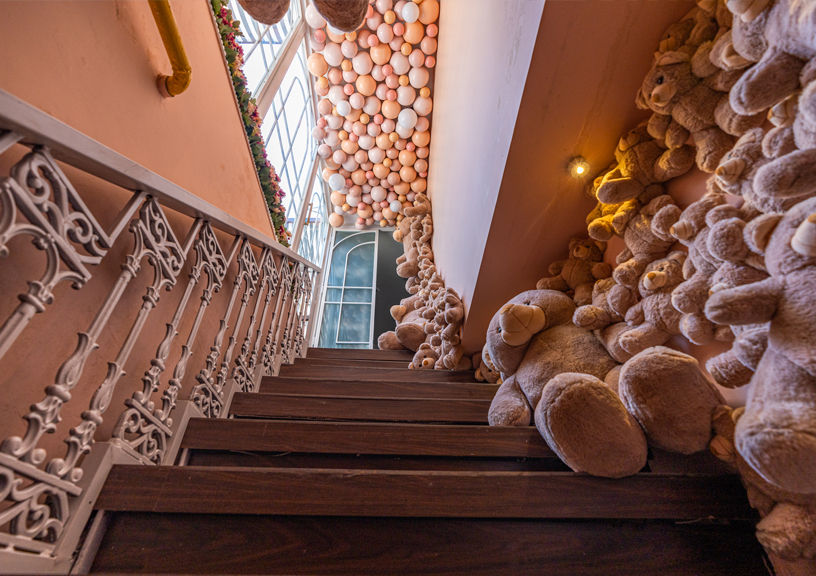 An Artistic Feast for the Senses
Imagine walking into a vibrant room with a monochromatic theme-centered interior design around peach colour's shades, tones, and hues – it's elegant, sleek, and totally captivating. This space on the ground floor features a delightful bakery that is equally enchanting. The furniture fits perfectly with hints of white and brown, adding depth to the space, while the velvet-clad ergonomic chairs bring a sense of sophistication and class.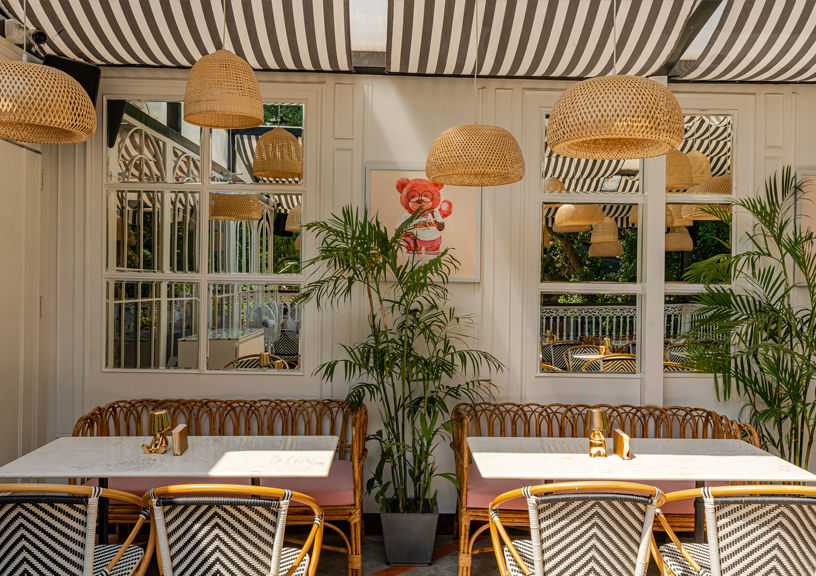 The chocolate-hued flooring runs with the theme of the bakes and cakes while also adding a darker tone to the interiors to ground it with a subtle contrast. Unique pendant lights casting warm hues and a concrete-finish light fixture adorned with cascading greenery are incorporated to steal the show. The bar area boasts a stunning terracotta subway tile design gracing the columns and bar surface. And let's not forget about those terrazzo table tops – a true work of art. This space is a true feast for the eyes and a wonderland of style.
The interiors and decor of the built environment complement the aromas of special coffee blends and decadent desserts. Hence, in a playful setting rooted in blush tones and hues, a sense of belongingness is brought in with the help of a touch of biophilic elements – making it not just a comfortable space to be in but also refreshing with a hint of nature.

With the intention of infusing some adventure into the design of the terrace, it is adorned with mature, monochrome flooring, boasting a combination of elegant concrete and charming, rustic terracotta subway tiling. Adding to the rough and light theme, the space is balanced out with sleek cane furniture featuring bold black and white stripes. Pastel cushions resembling delicate flowers were also incorporated as a part of the decor to soften things up.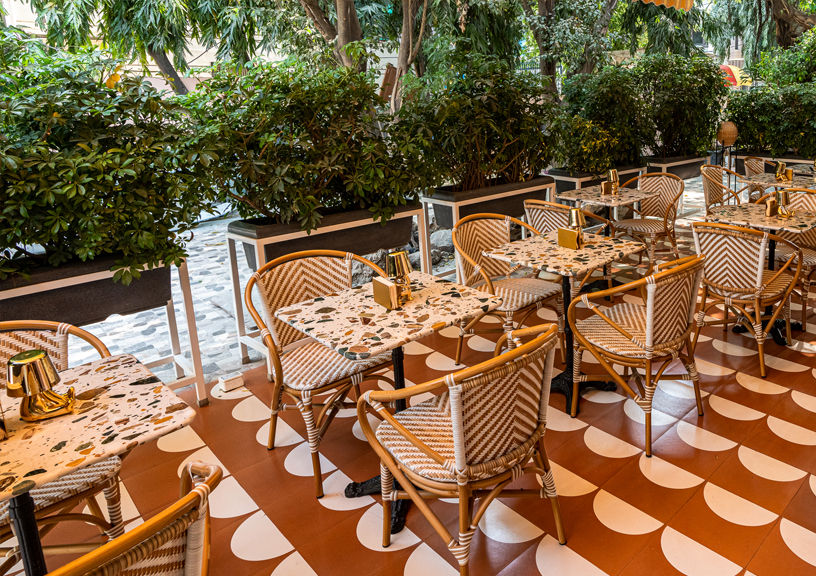 For an extra touch of whimsy, alternate sofas are accompanied by endearing soft teddies. To complete this look, trendy cane lights are hung, and a striking black and white awning has also been erected, supported by a sturdy MS structure topped with shimmery acrylic that adds glam and taste to the ambience. Get ready to embark on a stylish voyage below the twinkling night lights or the winter sunshine! In another corner of the terrace, an adjacent shared wall with the neighbouring structure was adorned with a classical mirror, partnered with elegant mouldings and a pristine white finish. Here, the classical pillars and floors continue the theme of creating a timeless atmosphere.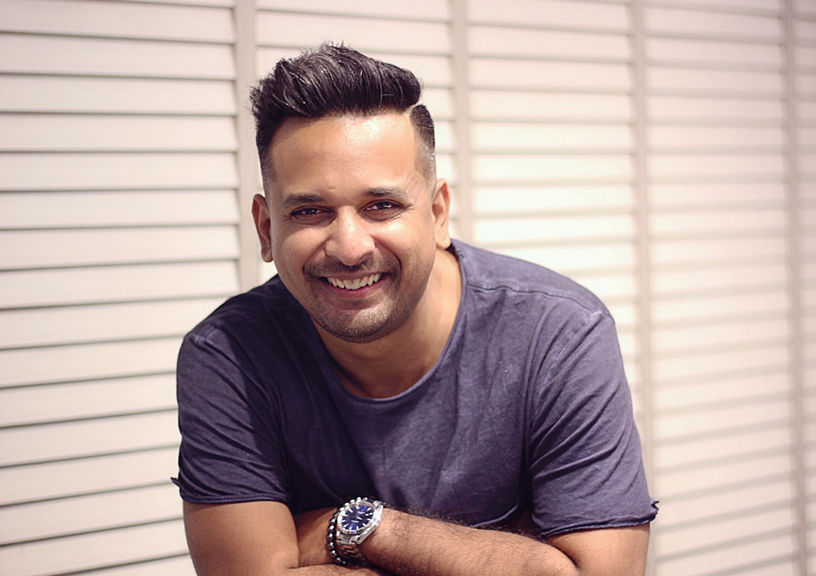 Designed and customized for all, this novel spot truly caters to all age groups, with an arcade machine featuring playful bears for the young and young-at-heart alike. Experience a never-before theme where Arab meets Europe – a tale from the heart of our neighbours. The interior spaces are designed with so much attention to detail, and the choice of material and colour palette not only suits the space if it is a bakery but also when it turns to appreciate not just coffee but even cocktails. The beauty of this space is a playful satire framing the marriage of caffeine to alcohol, accompanied by food. So come on down and experience the adventure that awaits!
FACT FILE
Name of the project: Bean & The Bear
Name of the firm: Chromed Design Studio
Design Team: Abhigyan Neogi, Kanika Gupta
Location: Delhi
Area : 1300 sq. ft.
Photography Credits: Bean & The Bear