The remodelling project highlights Henley Halebrown Architects' artistic sensibility, including a refined approach to working with colour, to celebrate and extend the building's industrial heritage.  
The project is a remodelling of a five-storey building dating from c.1900. Set in a largely residential street in North London next door to Central Saint Martins' Archway art studios, the former Batavia Mills building has been thoughtfully reconfigured for UK property investors Dorrington, who specialise in repositioning office buildings. The building is, in effect, an adaptive reuse warehouse project for creating flexible workspaces that uses the architect's artistic sensibility, including a refined approach to working with colour, to celebrate and extend its industrial heritage.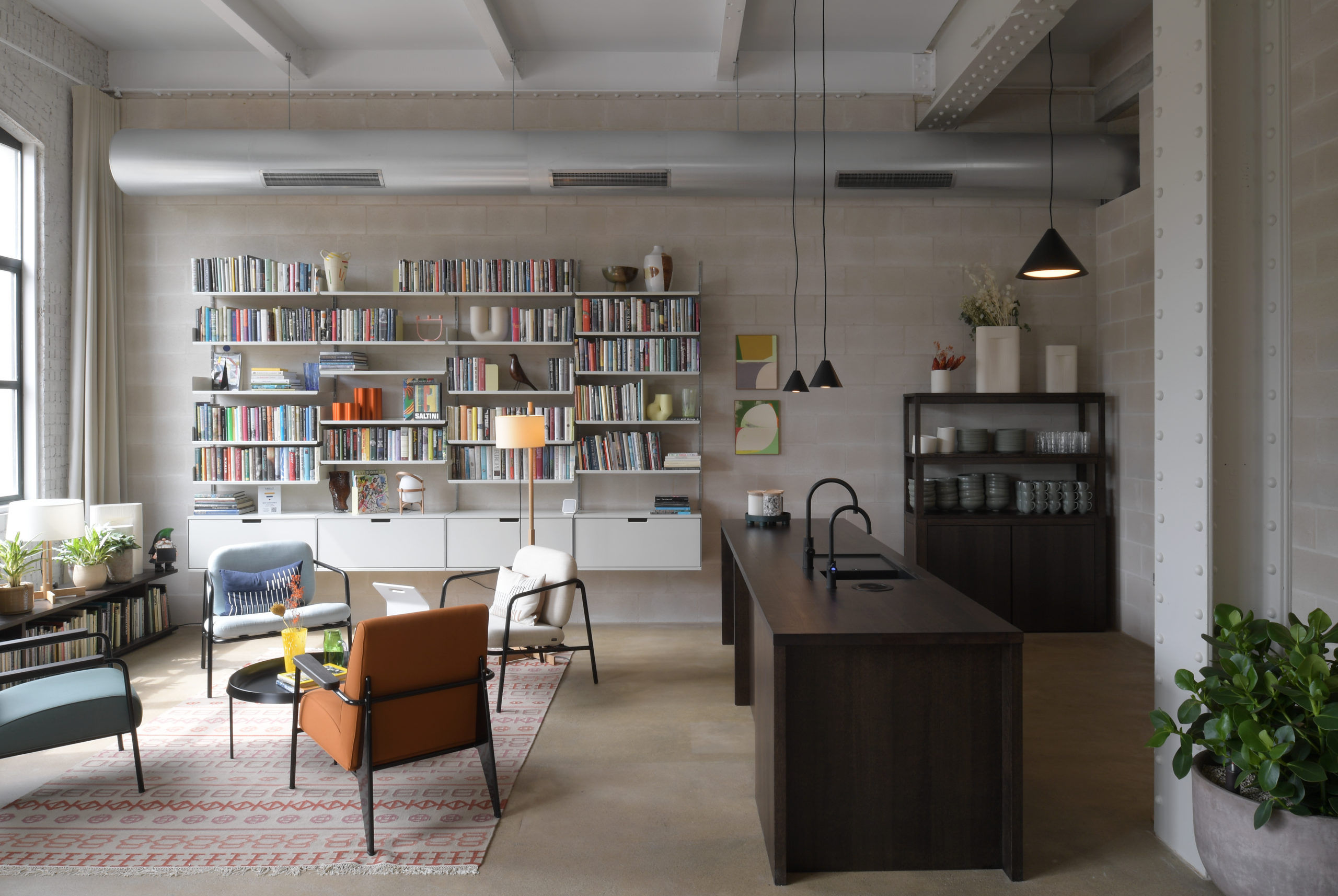 <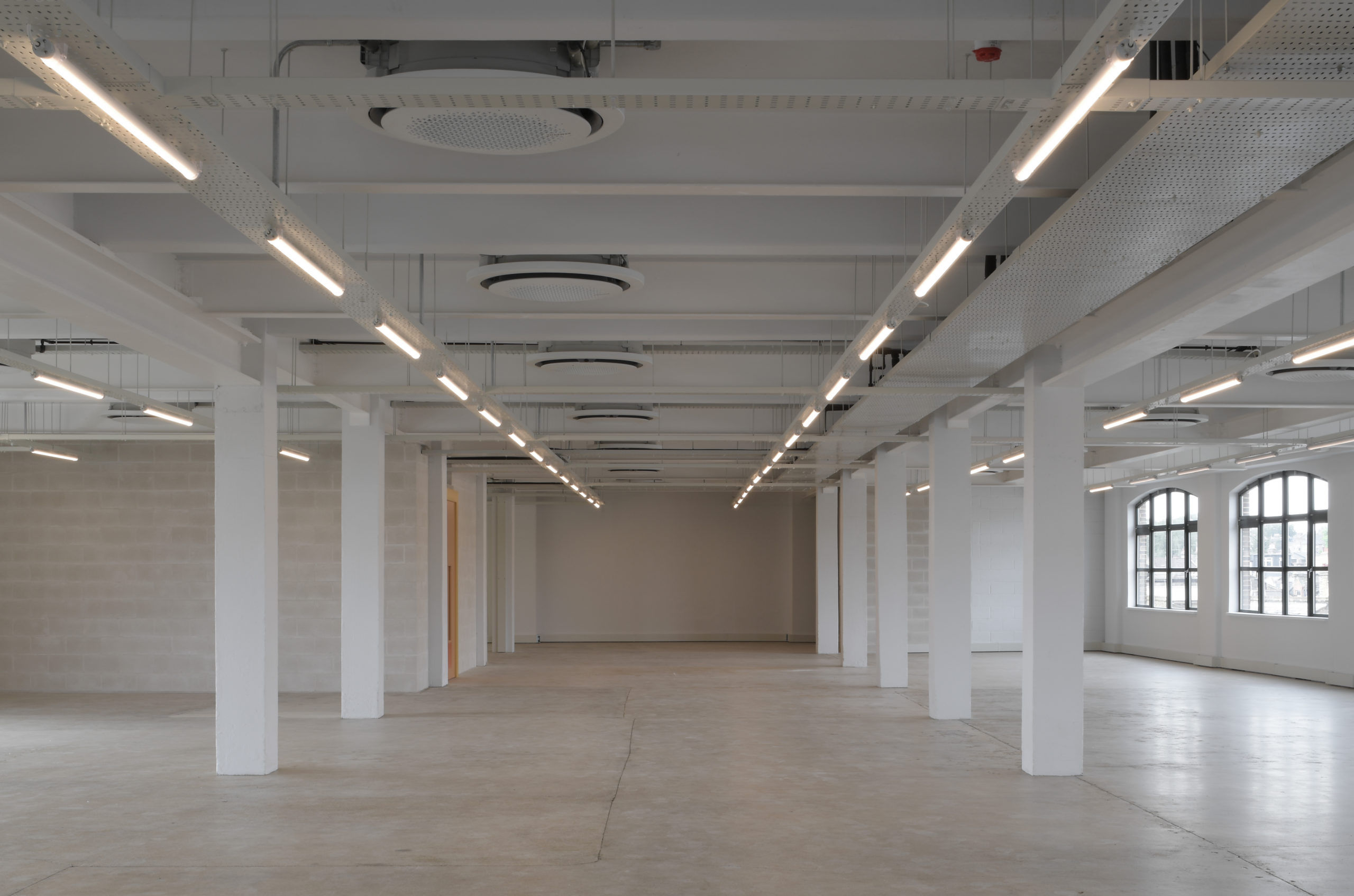 The project is informed by a design approach that favours retaining and improving over a constant cycle of demolishing and rebuilding (thereby retaining embodied energy and reducing operational carbon), as well as one that privileges wellbeing through an emphasis on light, space, fresh air and landscaped outdoor space.
The locally listed structure provides a welcoming atmosphere for working that accommodates the transition back to the office and in-person collaboration. This is reflected in the exterior, with its generous gallery-like entrance, Bauhaus-inspired mural and the selection of an off-white paint colour that wraps around the building at human scale, introducing both light and warmth.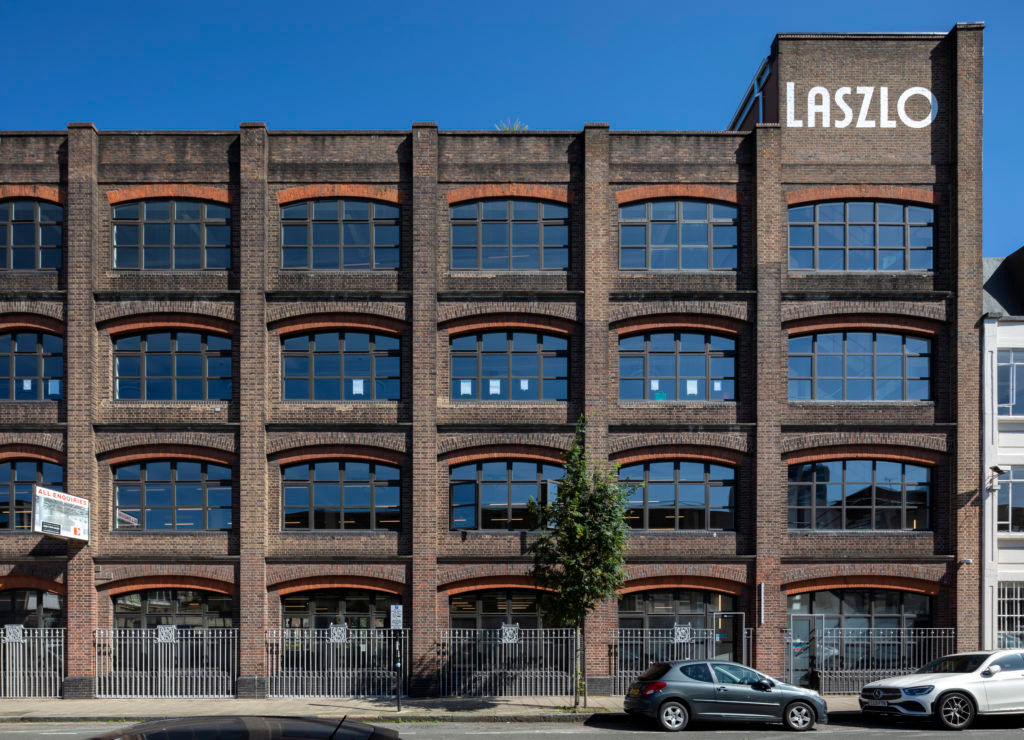 Simon Henley, Co-Founder of Henley Halebrown Architects said, "Working on adaptive reuse buildings like The Laszlo is second nature to us as a practice and it builds on our interest in how you create new layers of life within a city while celebrating both its past and future and, of course, the great thing is that the huge environmental benefits that come through reuse are now more widely understood.
Formerly known as Bellside House, the building's elevations are brick, with pronounced piers and large arched set-back window openings to three sides, layered to create a façade with depth and shadow. Inside, the structural frame is steel– most of it encased in elephantine concrete columns and beams, but on some floors the steel structure is exposed. A 1980s refurbishment—ostensibly carried out to accommodate the storage of wholesale goods—saw a storey added to the original four floors, the east gable rebuilt with a new entrance and, behind it, a new staircase and lift. By 2016, the floors were partitioned and occupied in an ad hoc manner, concealing the original proportions inside the building.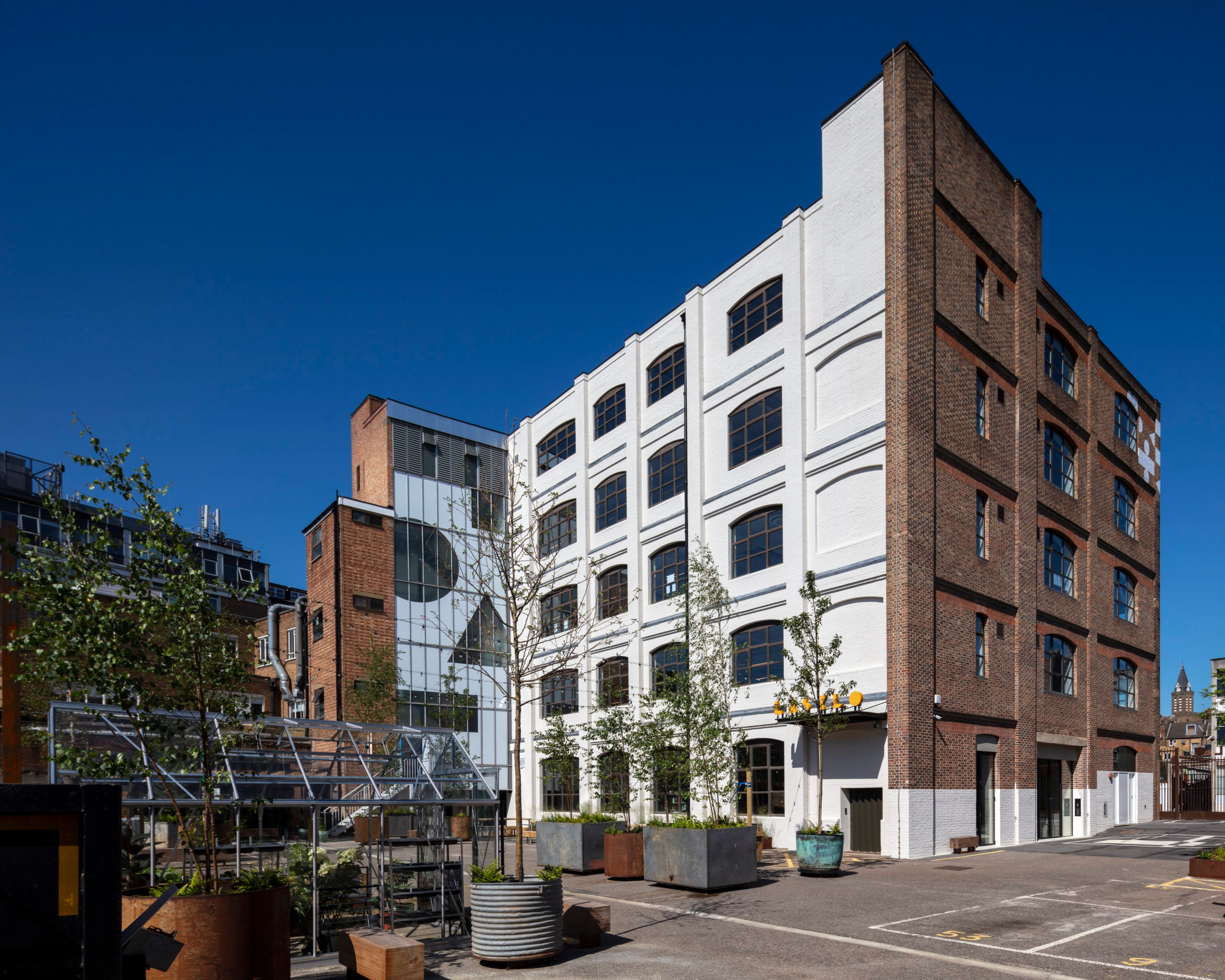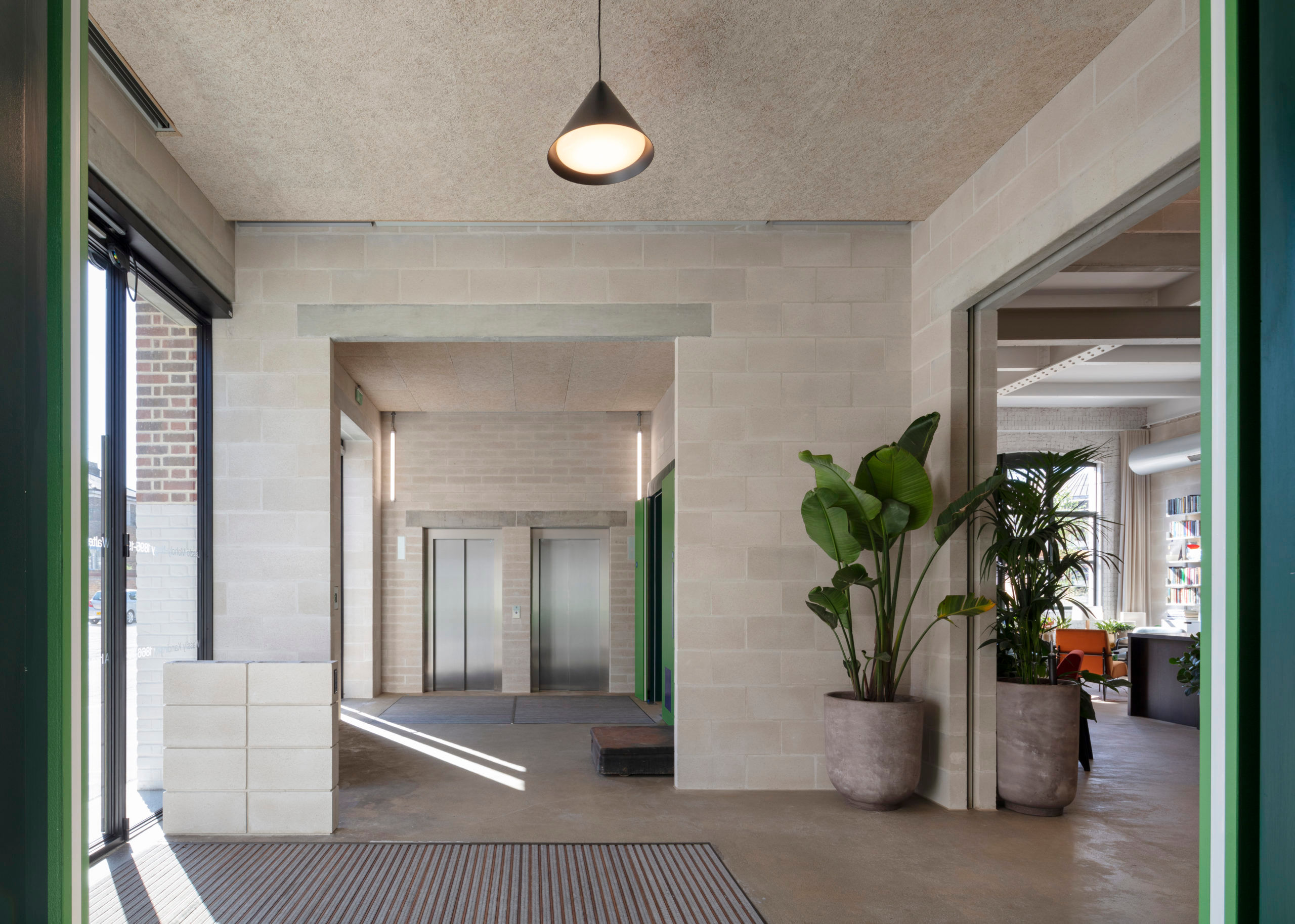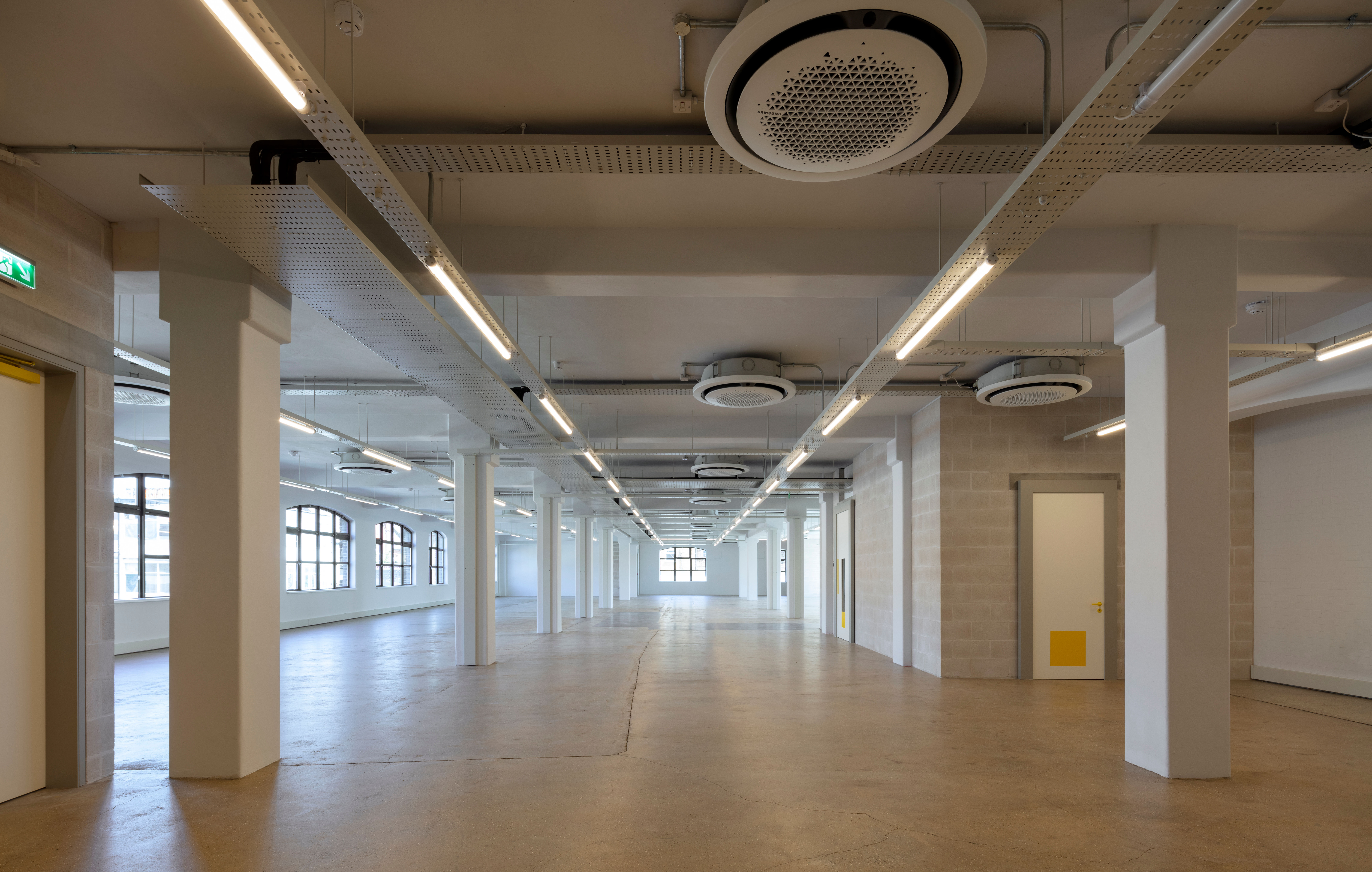 Working with Existing Fabric: For decades, office building construction has been staged into 'shell and core' and subsequent 'fit-out', reflecting a speculative approach. The specificity of the office interior—the degree to which it is branded, furnished and dressed, much like a hotel might be—has intensified as the product-nature of the office, rendering it disposable.
In this context, the design seeks to illustrate how elementary the construction of an office might be, by exposing the 100-year-old fabric and making adjustments to it with low-tech building techniques and materials, an approach complemented by elements that draw on a number of references to art. An articulation of architectural elements strengthens the original character of the building, for example the new precast concrete lintel above the simple steel glazed screen that forms the new main entrance. 
The benefits to the environment are clear. Reusing the existing building in this way equates to a saving of 80 years of operational carbon emissions, while improvements to the fabric will result in an estimated 47 per cent reduction in annual operational carbon emissions.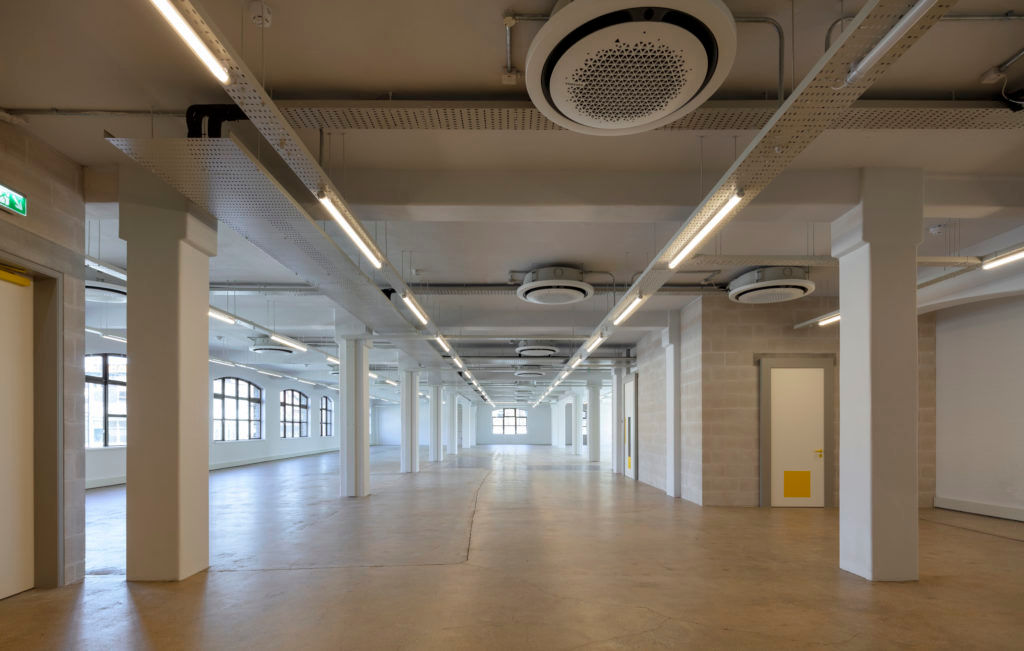 The exposing of services and pared-down approach to stripping back finishes help to achieve clarity. Blockwork—at times fair-face and irregularly laid, at others grooved—adds tactility and texture at strategic points within the interior.  From an environmental perspective, it is important to note that the blockwork partitions employed has lower embodied carbon than its more common steel stud wall equivalents, coupled with the gains made by eschewing standard office fit-outs such as raised floors and suspended ceilings.
Colour and Interior Architecture: The introduction of a subtle and considered colour scheme gives fittings and fixtures an architectural quality, coherence and rigour that separates these from the usual surface styling of interior designers. Taking their cue from Josef Albers' colour studies, exaggerated overlayed door surrounds use colour to introduce painterly, but architecturally identifiable, punctuation to the interior architecture. Their frames are superimposed, like a canvas hung on a wall, so that on each floor the colour studies are brought together to create a gallery of doors.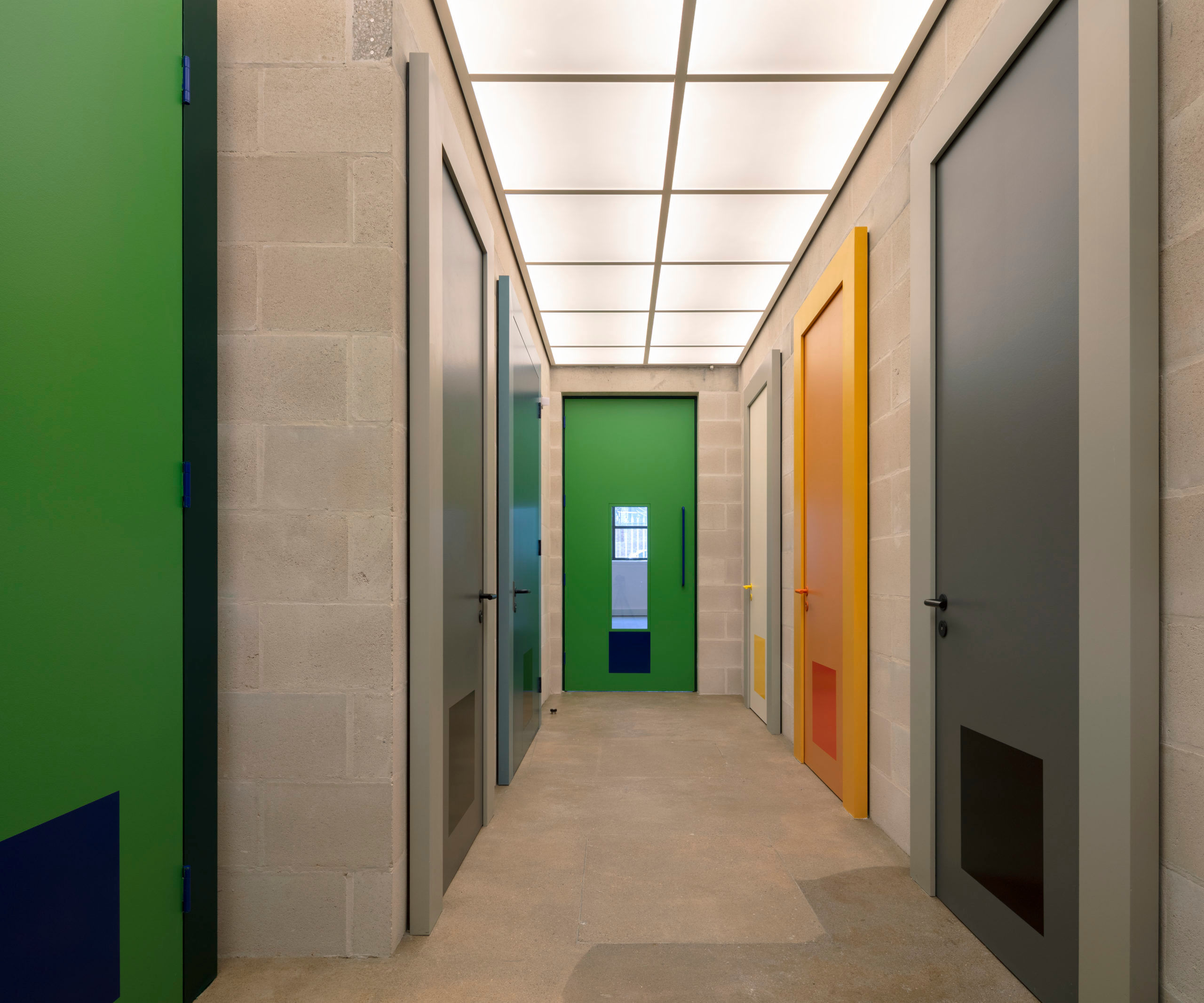 Jack Hawthorne, Associate at Henley Halebrown said, "Within the framework of the original structure, we composed a series of unconventional spaces with conventional building materials, mostly blockwork, lintels and paint. These spaces are occupied with pieces of furniture that are imagined and made as oversized elements of structure 'furniture as structure', placing them in playful dialogue with the building's newly exposed frame."
Outdoor Space: Wellbeing is enhanced through contact with the outdoors via a fourth-floor terrace offering expansive views, as well as by the building's 'backyard' designed by Jonathan Cook Landscape Architects and includes a greenhouse as well as grow-beds. Set over 14,000sq ft, this private space provides respite within a grove of birch and cherry trees, along with plantings and climbers that will over time literally knit the building to its verdant surroundings. As we enter a post-pandemic world, quality outside space is more important than ever before. It is what the architects have done for 25 years, using outside space to healthily draw attention through our encounters with courtyards and gardens to nature and sociably bring inhabitants outdoors and into the public realm.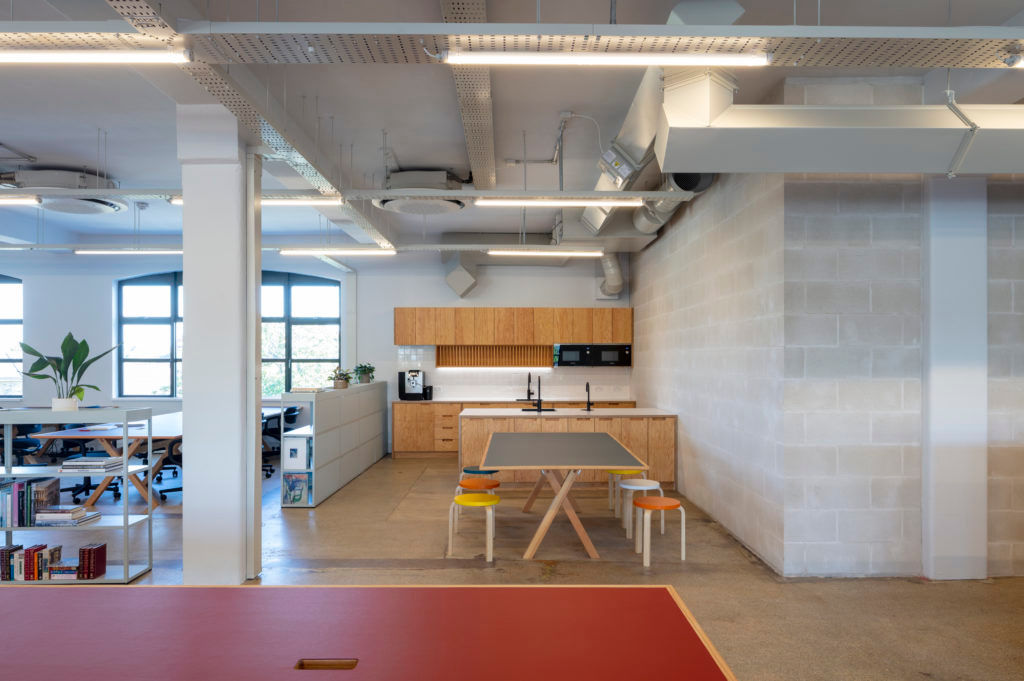 Sustainability
Annual CO2 emissions: 33.9 kgCO2/m2
Embodied / whole-life carbon: 700 kgCO2eq/m2
Photo credit: David Grandorge and Nick Kane
Factfile-
Project: The Laszlo, London
Architects: Henley Halebrown Architects
Client: Dorrington
Consultants: Structural, Mechanical, Electrical, Interior, Landscape & Plumbing, HVAC
Landscape Architect: JCLA
Structural Engineer: Pringuer-James
Building Services: Peter Deer Associates
Project Management: Ashfold
Planning consultant: Exigere
Building Control: Building Control Approval Ltd
Built-up area: 2,600m2