Ela Madej and Reed Finlay's "Temple of Heart" at Burning Man 2023, a soaring 40-foot structure with an 80-foot stem, intricate floral lace patterns, and a central "Heart Chamber," embodies unity, reflection, and the festival's ephemeral spirit.
Ladies and gentlemen, behold the dusty expanse of Nevada's Black Rock Desert, soon to be enveloped in an explosion of architectural affection and artistic combustion – the legendary Burning Man Festival is making its triumphant return! Brace yourselves for an encounter with the "Temple of Heart," an all-wood wonder crafted by design maestros Ela Madej and Reed Finlay.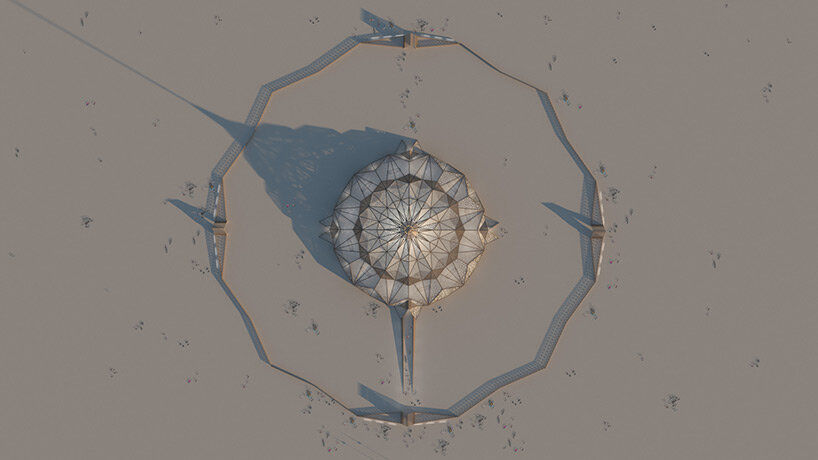 Imagine a 40-foot-tall monument rising like a phoenix from the desert floor, with an inverted desert flower as its spirit animal. Yes, you read that correctly. This botanical marvel boasts an 80-foot stem that defiantly stretches towards the skies, defying gravity with an air of a botanical superhero. Anchored by a 12-point base (think architectural astrology), it's an eternal embrace between the heavens and the earth, set against the backdrop of nowhere.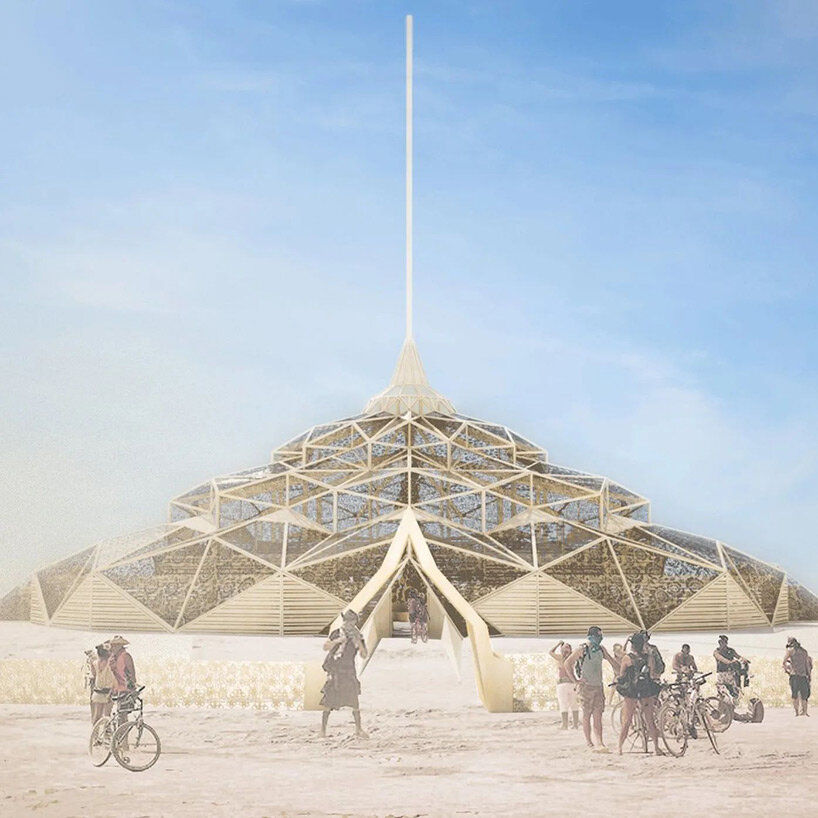 And the intrigue continues! Nestled at its core lies the "Heart Chamber," a place where emotions frolic and dance with the freedom of anonymity. In the limelight, the "Rose Altar" beckons, a VIP haven for meticulously handcrafted roses, each bearing a unique tale. As the sun gracefully exits the stage, this altar awakens like a rockstar, emanating a gentle radiance that encourages the unburdening of innermost secrets. Can you say "soul therapy"?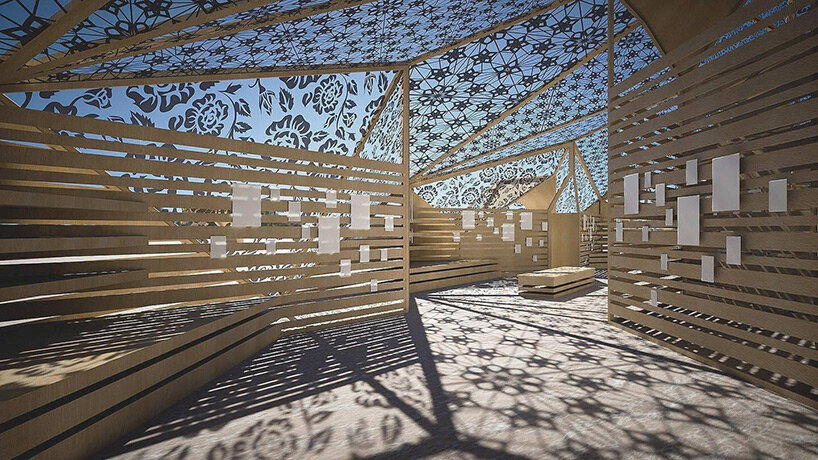 Now, let's delve into the realm of aesthetics. Polish heritage interlaces with cosmic craftsmanship, as intricate floral lace patterns grace walls and ceilings. Imagine Grandma's cherished doilies embarking on a psychedelic sojourn and returning laden with tales. As the sun performs its waltz across the heavens, these patterns orchestrate an enthralling interplay of light and shadow, prompting you to question whether you've slipped into a dream or a design wonderland.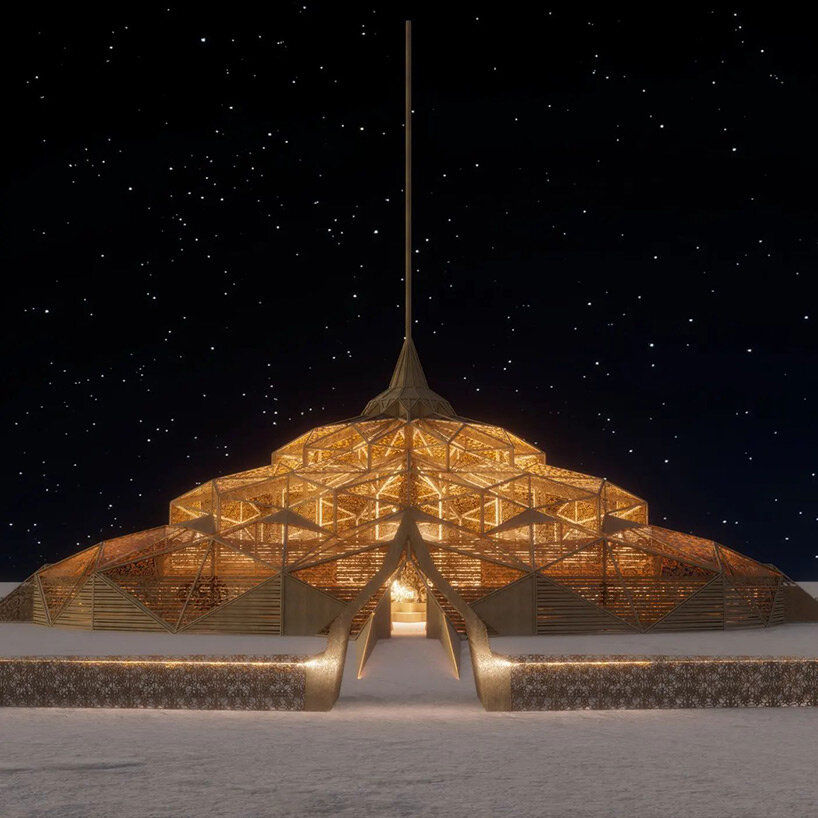 Yet, the "Temple of Heart" is far more than an architectural edifice; it's a vibrant carnival of sentiments, an emotional parade. And here's the twist: you're invited to join this carnival! With 640 wooden panels beckoning for creative inscription, it's a veritable DIY extravaganza for the ages. Each panel will be etched with intricate flower patterns, symbolizing the vivacious chaos of collective creativity. Think of it as a gallery of crowd-sourced art, infused with an irrepressible wild spirit – indeed, it's quintessentially Burning Man.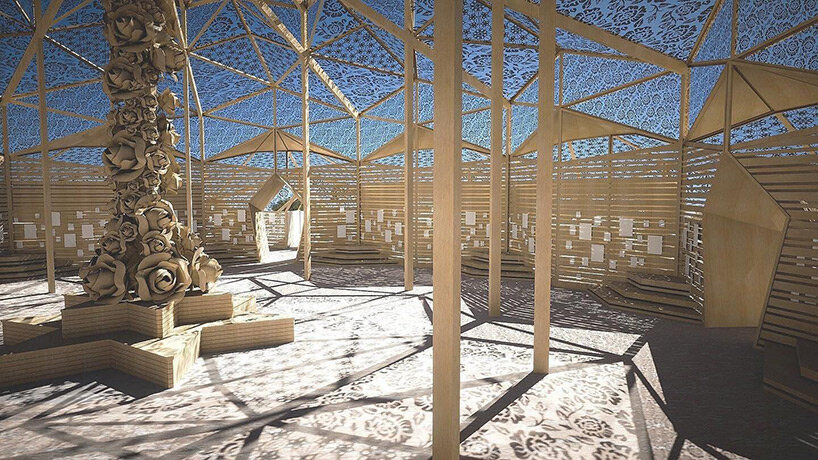 But, as with all ephemeral wonders, this architectural whirlwind has its finale. As the festival gracefully draws its curtains, the "Temple of Heart" takes its final bow in a breathtaking fire dance. This symbolic spectacle transcends destruction; it's a celebration of impermanence, a poignant reminder of the profundity in relinquishing. Farewell becomes an art form, bidding adieu to a cherished companion who imparted the wisdom of moving forward.
So, buckle up, party aficionados! Ready yourselves to bear witness as the "Temple of Heart" seizes the spotlight at Burning Man 2023. From the desert's undulating sands to the star-studded embrace of the skies, it's a captivating love affair weaving architecture, emotion, and the universally cherished experience of being exquisitely human.