This rooftop restaurant designed by 42MM Architects stands in reverence to the Mughal and French architectural heritage of Lucknow.
The project is a rooftop restaurant located in Hazratgunj, which is a 200-year-old market street in the heart of the city. It is one of the most contextually opulent city zones.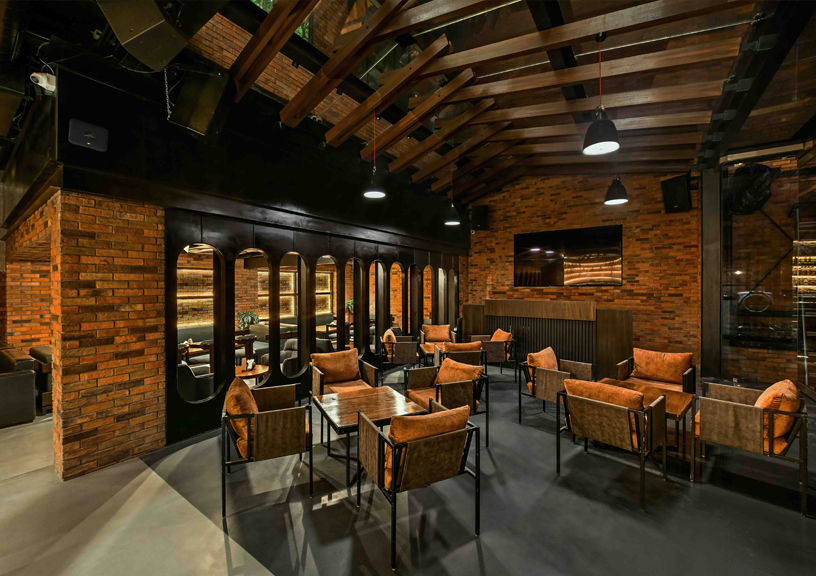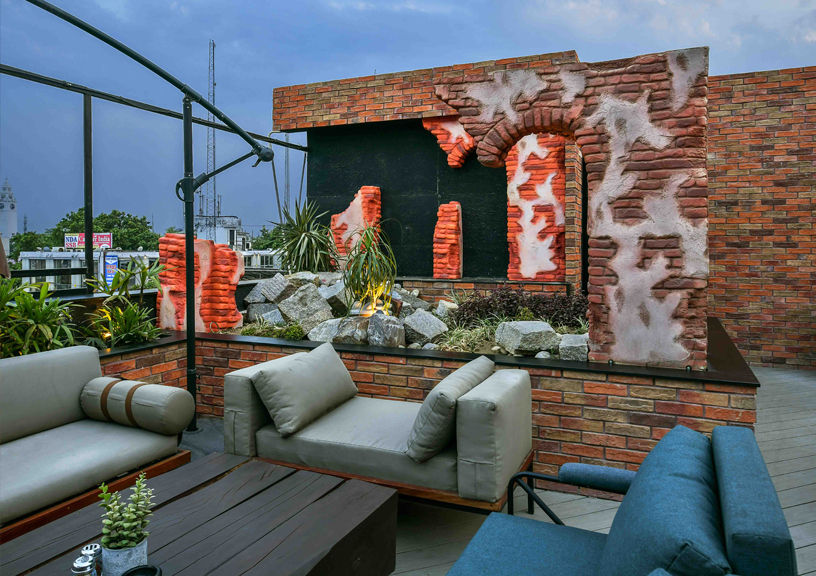 The site is induced with layers of contextuality that Lucknow bears. Through time, the city has been embellished with Mughal and French architecture ornamenting it in its respective eras. While investigating the different iconic structures, the architects consciously brought the elements and style of a French structure, commonly known as the Lucknow Residency, onto the site. This added a layer of singularity and set the tone for the aesthetics as well as the structural characteristics like the imposing metal structure, vintage industrial joinery details, venerable and distressed skeleton.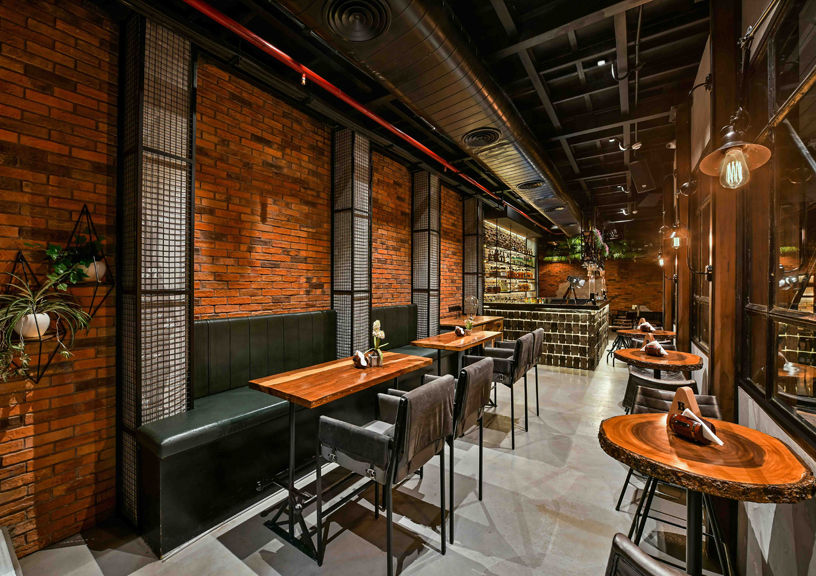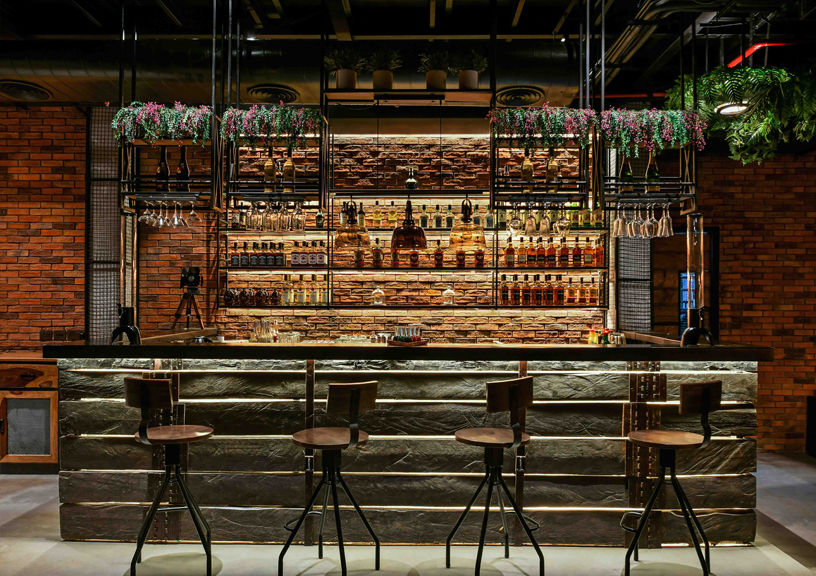 The terrace is planned inwards. It looks into an open courtyard that features a monumental truss. The restaurant sits as a backdrop to a 30' high wall that gives a perception of a restored structure. The wall is brick cladded and held together with imposing metallic columns and tie bars. It gives a perception of an old structure that has been restored with metal and hence has withstood the test of time.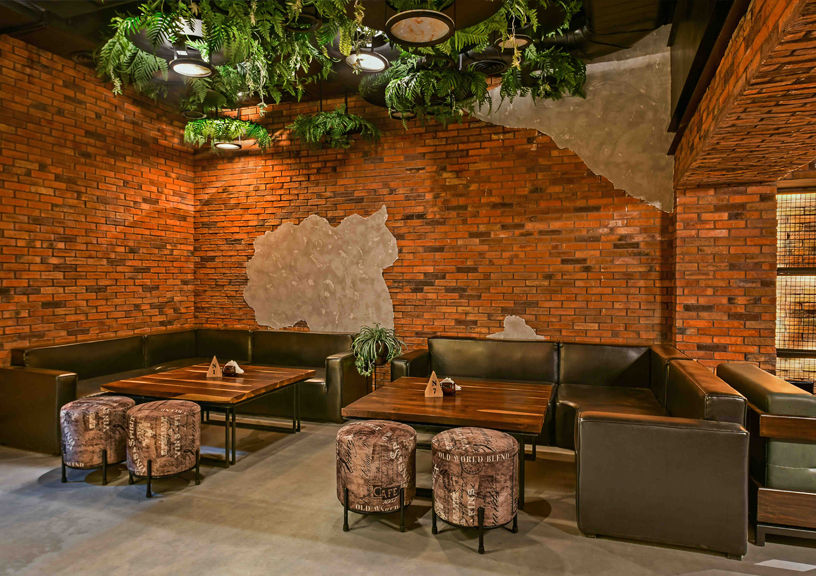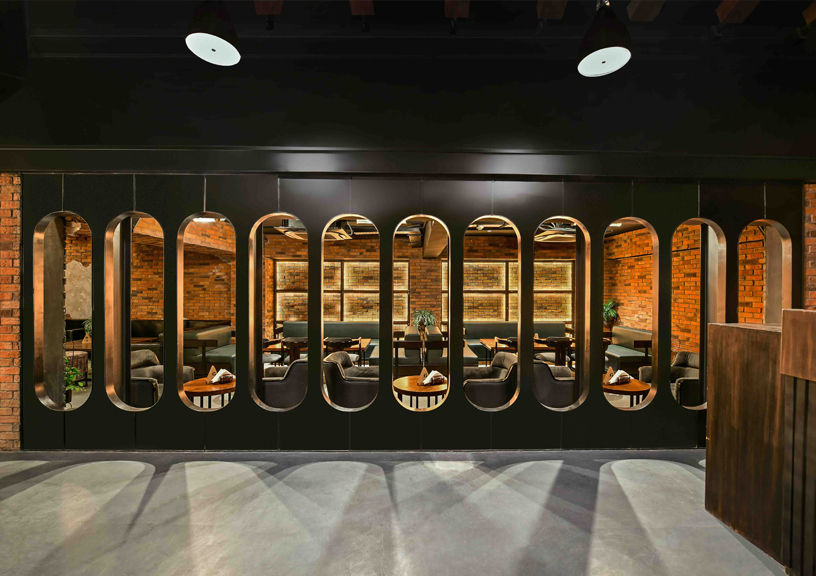 Forty percent of the terrace is covered to create an air-conditioned space. However, the openness and transparency of the site are kept intact with the extensive use of glass. The detailing in the glass and metal features French industrial era influences. One of the striking elements is the floating glass box with a glass roof. This feature is the convertible dance floor of the restaurant.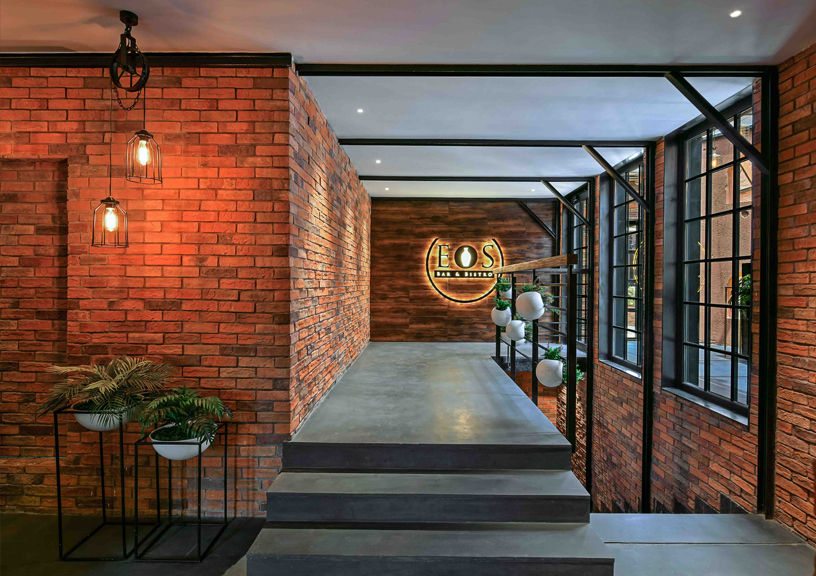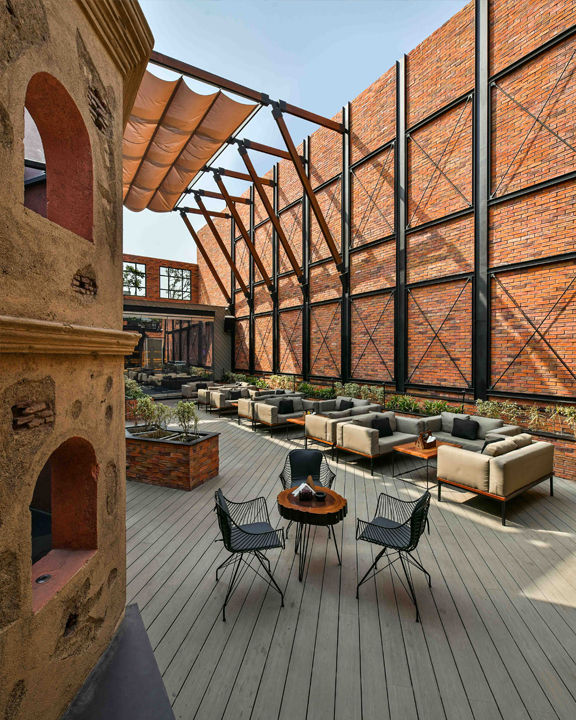 The dance floor is aligned with a large bar area that features a rustic wooden skeleton. The bar is clad with logs of charred wood, embellished with metallic buckles. The storage is made up of classic metal and glass that flaunts the joinery of the French industrial era. The adjoining dining areas feature rustic brick-clad walls that are restored with a metal mesh detail on top, to create the perception of restoration. The porous metallic screen detailed with industrial sensibility creates a partition between the dance floor and the dining area.
A wall in the reception area mimics an existing structure of the Lucknow Residency. The distressed and broken look is used to draw a literal inference from the structure.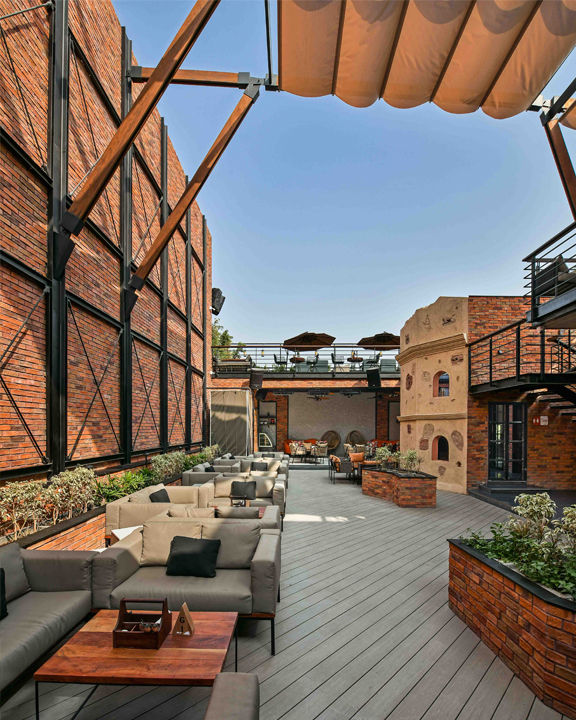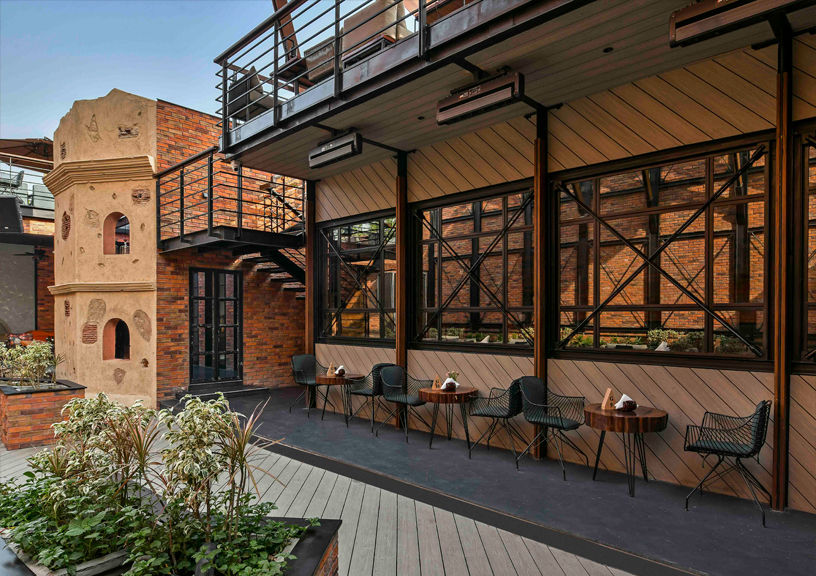 The material palette is largely composed of brick tiles, metal, wood and concrete. The lights are carefully curated to complement the industrial touch. A conscious layer of green is superimposed to balance the visual weight of metal and bricks. The restaurant, from the outside, overlooks the dense city fabric and its iconic structures. From the inside, it exhibits the heritage and legacy of the city's architectural history.
Photo credit: Ravi Kanade
Factfile
Project: Levana Rooftop Restaurant, Lucknow
Architects: 42MM Architecture
Area: 6500sq ft
Year of completion: 2022