Designed by Minnie Bhatt Design, PCO in Mumbai has a speakeasy approach and a secret garden
Located in an outdoor space, PCO's new outlet in Mumbai takes the speakeasy approach and channels it into a secret garden with lots of foliage and natural tones.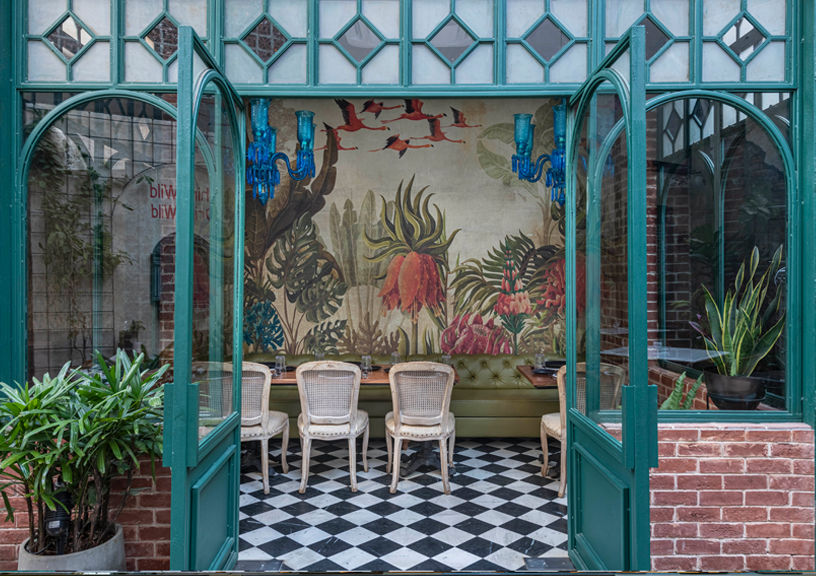 One of India's first speakeasies, the original outlet of PCO has been operational in South Delhi's upmarket Vasant Vihar area for a few years now. Standing for 'Pass Code Only', it was conceptualised as a speakeasy cocktail bar with a very inconspicuous entrance without any signage. Their new outlet in Mumbai, an approximately 3,000 sq ft space in Lower Parel—a hub for restaurants and bars, is more of an outdoor space that has been visualised as a secret garden. The clients Radhika and Rakshay were very clear about the vibe they wanted for this space.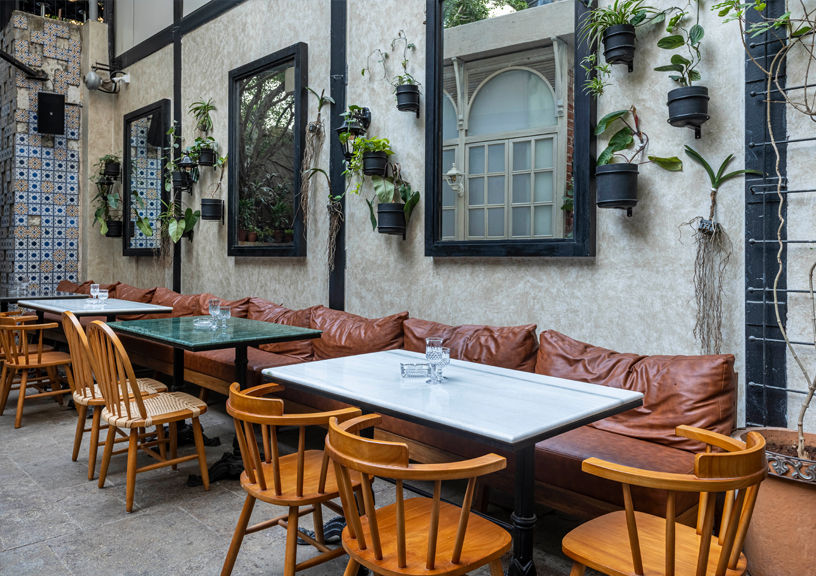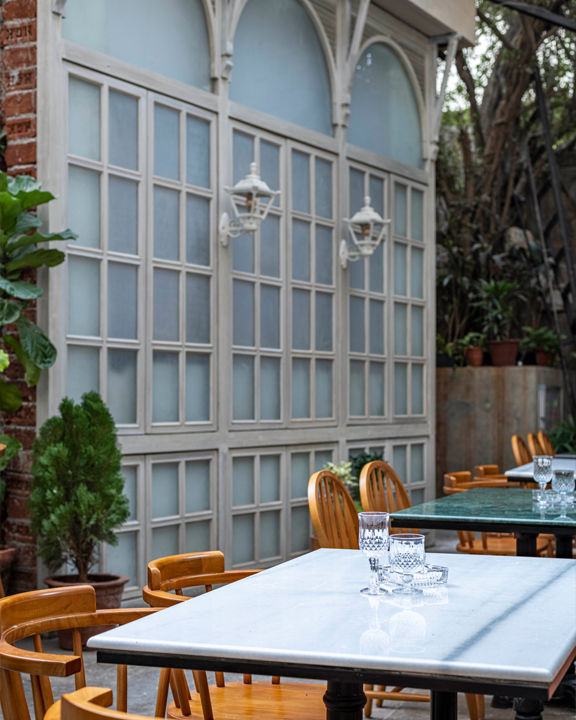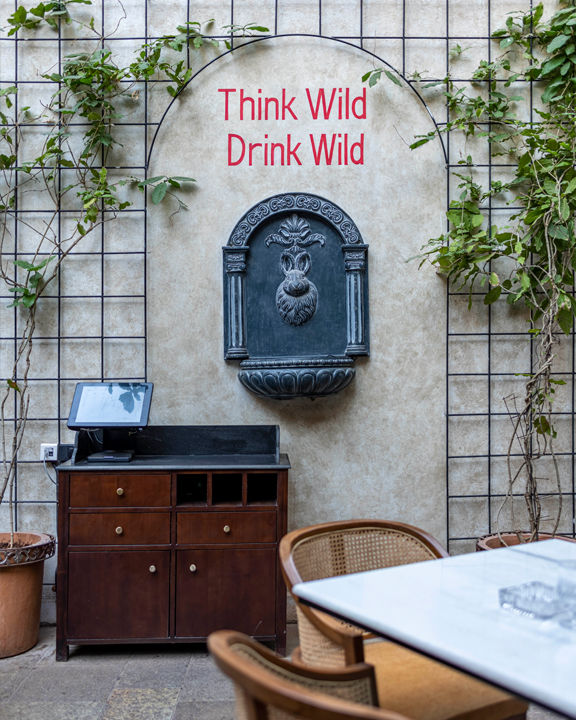 Being a primarily outdoor space, it had an existing three-room structure that was used by converting one room into a kitchen, the second into the bar counter and the third into a private dining area. The designers removed the walls of the last two rooms, and replaced them with a metal grid with glass to visually open them up to the outdoors. There are two entrances here—one is from the back end of the property, where there is a phone lock to punch in the passcode to enter. Due to some legal issues though, this couldn't be used the way it was intended. Instead a wooden door now leads you through a narrow open-to-sky passage with a natural rocky wall to the left, filled with lots of plants. A green canopy has also been created in the form of an arch with planters and lights hanging from it.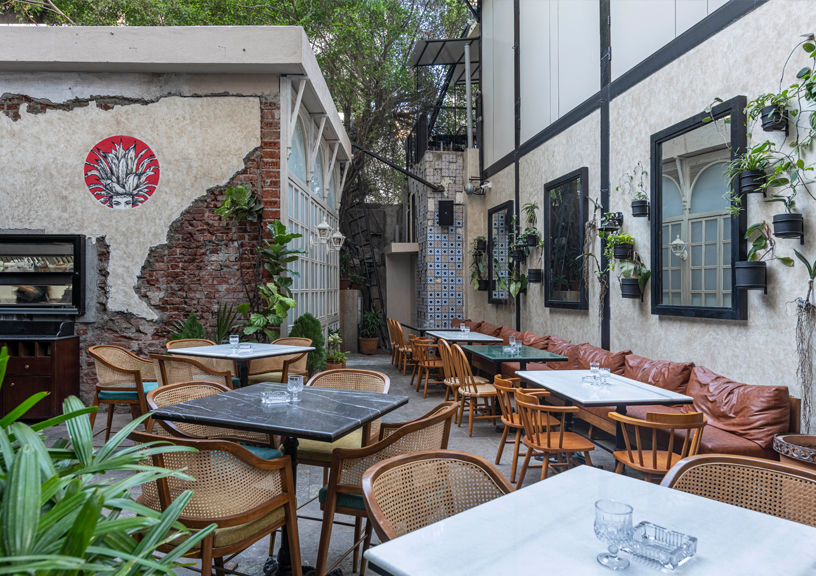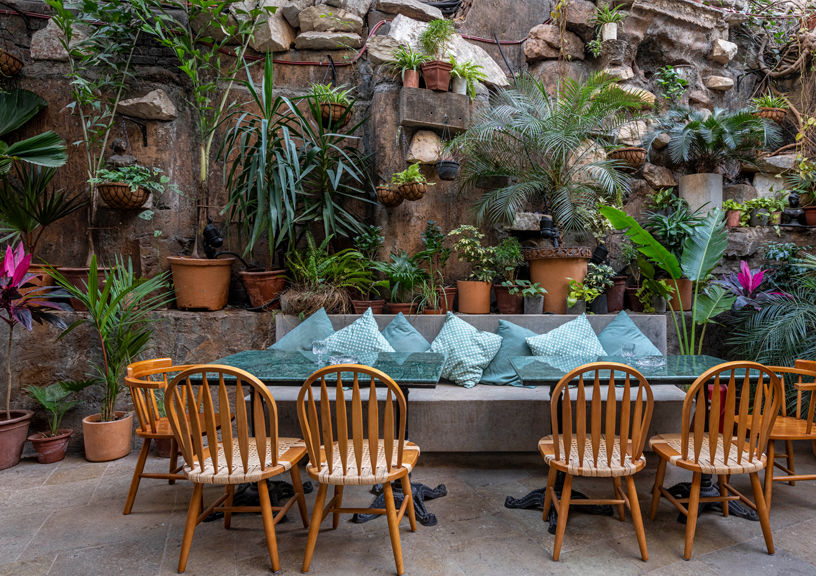 The passage has the kitchen structure to its right with faux colonial-style windows set into an exposed brick wall. The kitchen facade was created to resemble a colonial-style structure with wooden arches and louvres in distressed white paint. Opposite the kitchen is a couch seating with dining tables and a backdrop wall of large mirror frames, set amongst an abundance of natural greens in wall planters. The brand's mascot is a bunny, and the designers created a gargoyle with a bunny head surrounded by an arched-shaped trellis with grapevine creepers climbing it. Outdoor tables in the central open area have marble tops and wooden and cane chairs. This seating also overlooks the PDR section, which has a facade of green painted metal and glass, with a wooden ceiling and turquoise blue chandeliers hung against a custom printed wallpaper. This section has colonial-style chairs in distressed white.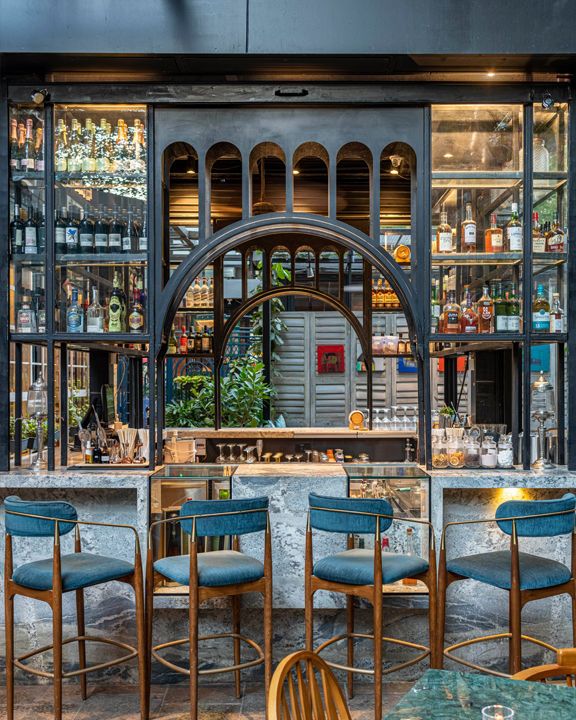 The DJ station is placed next to the PDR on the outside; there is a cast-in concrete bench next to this serving as seating for a few dining tables. Here again, the existing black stone rocky wall was retained and filled up with lots of natural plants. The bar is a highlight of PCO—it's an MS sheet structure with small arches cut into the metal sheets to form a larger arch on all four sides. The bar apron is in an interesting ivory and grey stone, which has a lot of character. Next to the bar, a raised patio section has been created with a flooring of diagonally-placed cement tiles and a canopy on top with creepers climbing over it. The backdrop of the patio features vintage colonial louvred doors in an antique distressed finish.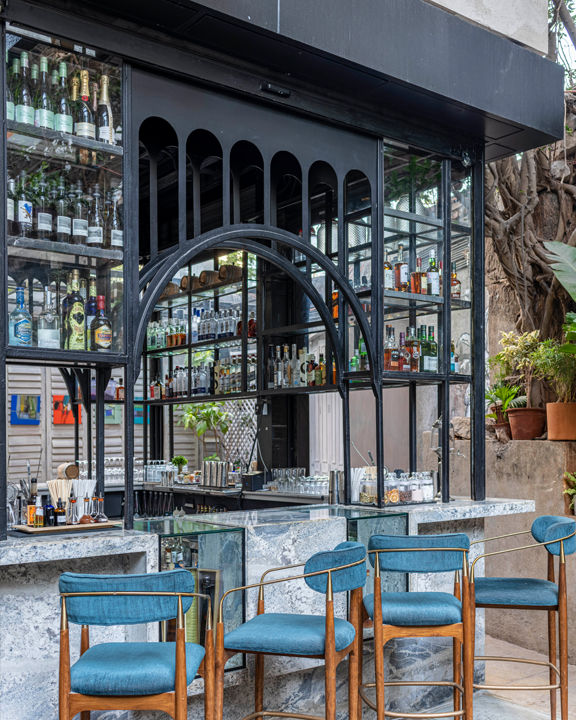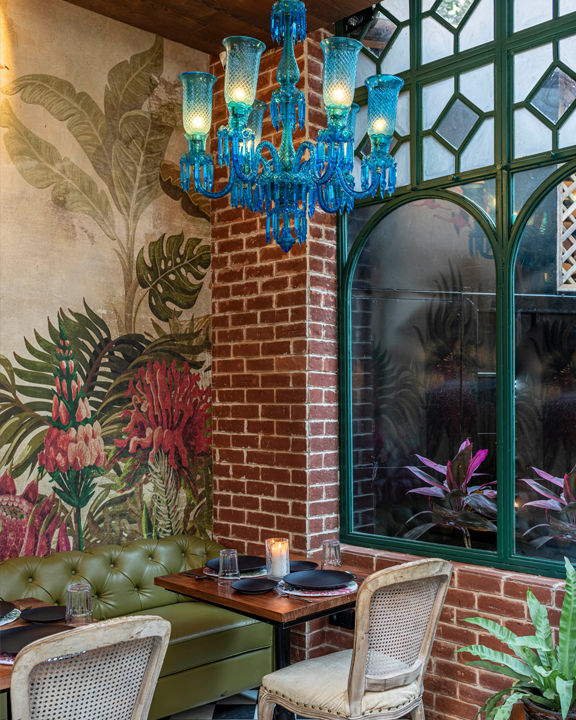 PCO is separated from the other spaces next to it with a blue metal gate and divider screen. The theme of the bar is a secret garden, filled with natural finishes and lots of plants. The designers have retained as much of the charm of the space as was possible and enhanced it with various details even in the little things. Blues, greens and rusts were chosen as the colours for the upholstery, and the natural and neutral palette was maintained by retaining the existing rock walls all around.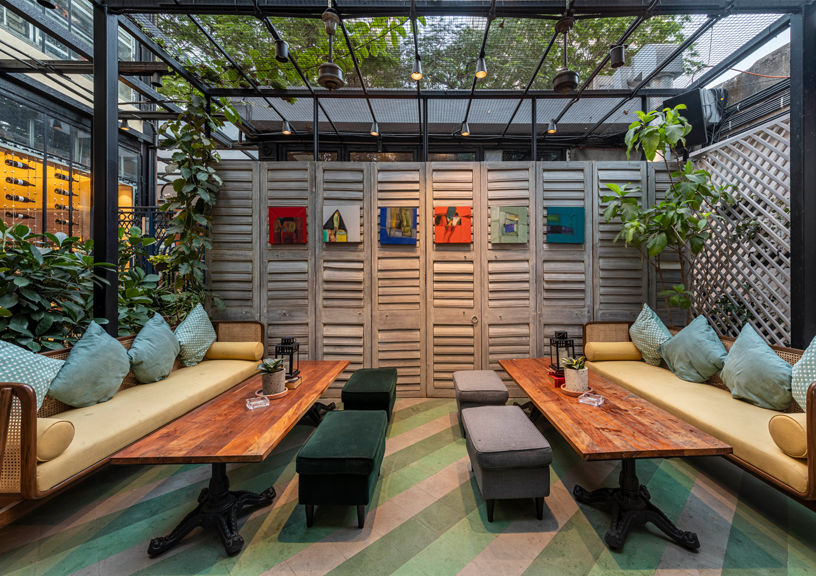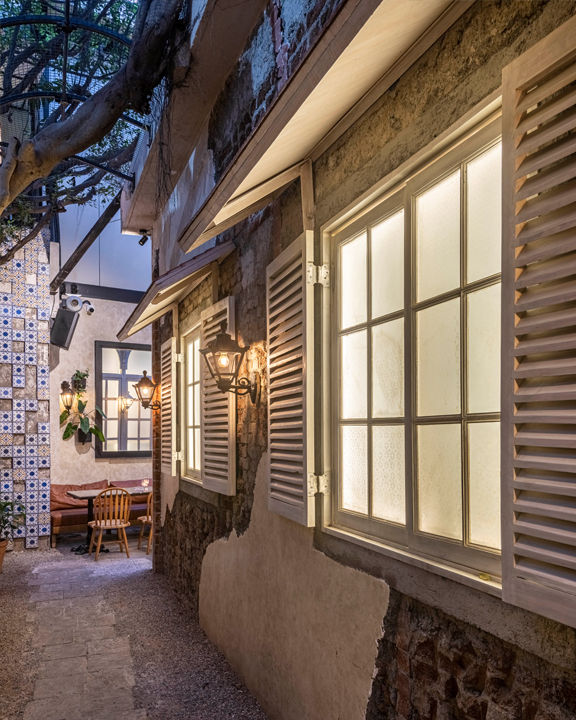 "The bar section and the PDR were the most enjoyable to design, but while the PDR didn't pose any challenges, the bar posed many," says Founder and Design Director, Minnie Bhatt. A glass box section had to be created for the bar apron to showcase the cocktail mixers and alcohol bottles. Designing this took a lot of thought as the idea to do this came from the clients at a much later stage, when the bar was almost ready. "Besides this, we also had to conceal rolling shutters on all four sides of the bar to shut it off post operating hours. We managed to arrive at a solution, but it took a lot of thought and ingenuity to achieve it." The existing rocky walls have been maintained on the periphery of the space, and natural red bricks and stone have been used for the floor, with lots of natural plants all around.
Factfile – 
Project: PCO, Mumbai
Architects: Minnie Bhatt Design, Mumbai