Saba's home by Nivasa  situated in Aravali range has been designed in keeping with design ethos of sustainability hence both the material and the color palette appears raw yet refined. Packed with custom touches and artisanal craftsmanship, Nivasa's new house boasts four defined spaces: double height foyer, double height terrace, living room, and bar. A double height terrace is the heart of the house with every room opening to it. The double height foyer is one of the defined spaces in the Saba's new house, packed with custom touches and artisanal craftsmanship. The decor is forever in flux-whether it is to reflect the change in season or design attitude.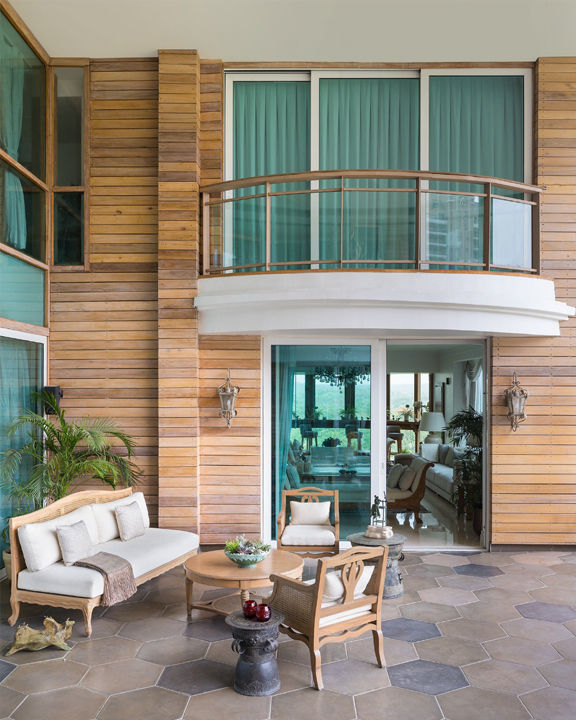 Foyer
The double height foyer of Saba's home is adorned by a beautiful staircase. An intricate cast railing enhances the staircase—the captivating reflection of which is captured in an imposing 20-foot mirror. The lobby, double height invites pools of natural light. It also has a fireplace which is enlivened with fresh blooms and birdcage mirrors.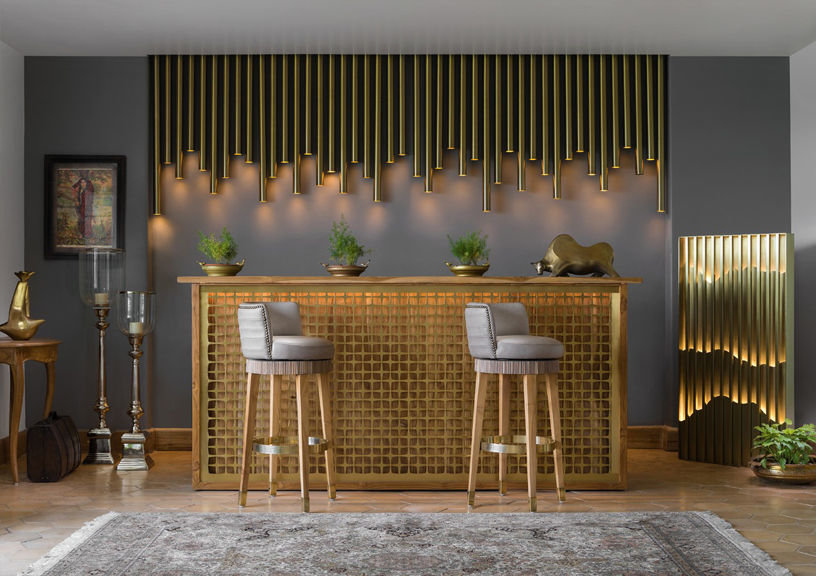 Dining
The dining and lounge of Saba's home  have natural wood and earthy materials throughout the house— from floor to furniture and fleshed them out with intricate details. Everything that shares a footprint in the house is thoughtfully worked into, hand-cut or hand-sawn and meticulously put together. During winters, this area morphs into a dining room. Wood and brass accents create a contemporary yet earthy vibe in the bar/family lounge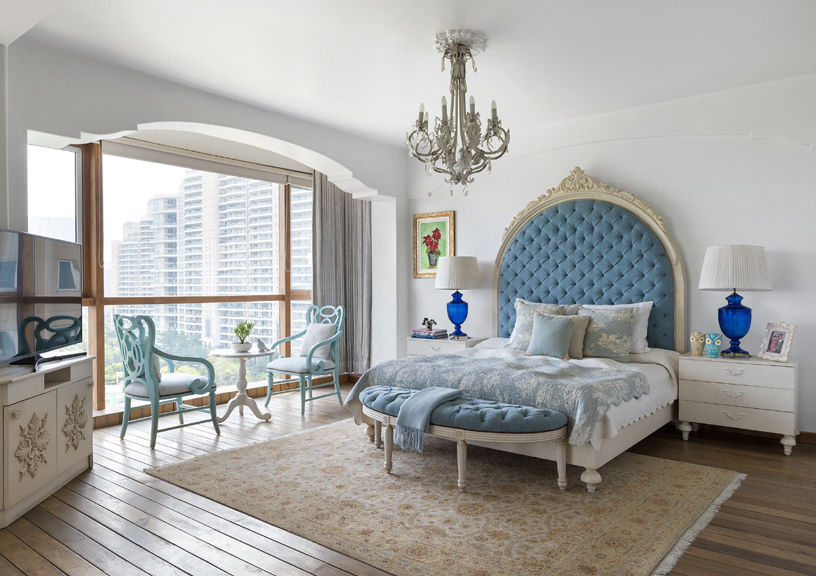 Master-bedroom
Reviving timeless techniques with a new twist has been a mission of utmost importance for Nivasa's new project. Refreshing hues of greens bring in pop of color to the pristine white rooms. Floral upholstery & elaborate details bring back the yesteryear charm, the outcome being a space that spells opulence and comfort in the same breath.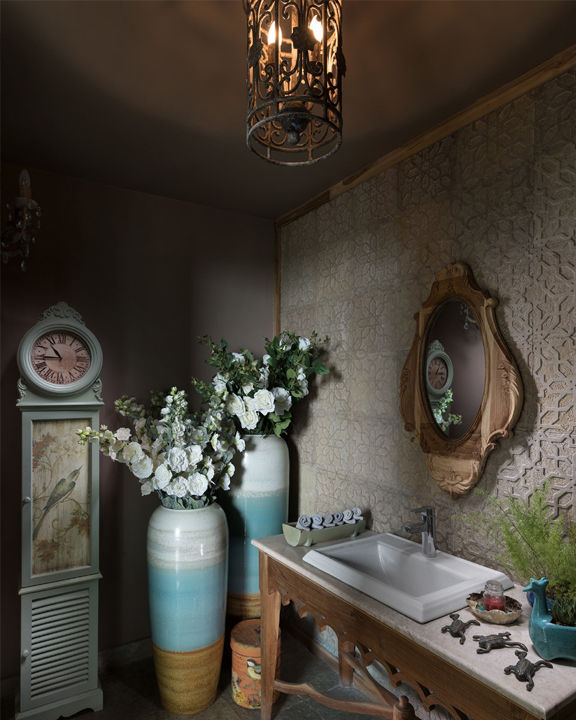 The master-bathroom
Saba's new home has been designed in keeping with Nivasa's design ethos of sustainability, thus the color palette appears raw yet refined. Indigenous materials and local craftsmanship have been celebrated throughout the house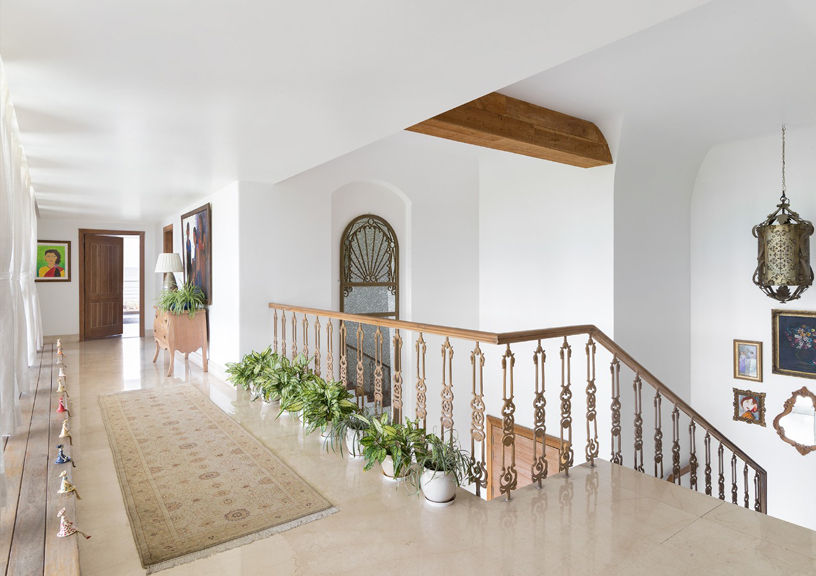 The Passage
While the overall theme of the house is contemporary, they  have further aestheticized it through the contrasting interplay of minimalism and maximalism. Pleasing medley of dramatic accents, vintage elements, making it all seem like they have come together organically over the years. An eclectic corner in the terrace has achieved aesthetic dichotomy by using a minimal neutral palette and dramatic styling of oversized mirrors, sculptures, and art. Sumptuous finishes like that of muted and antiqued brass add accent to doors, sculptures, furniture, and chandeliers.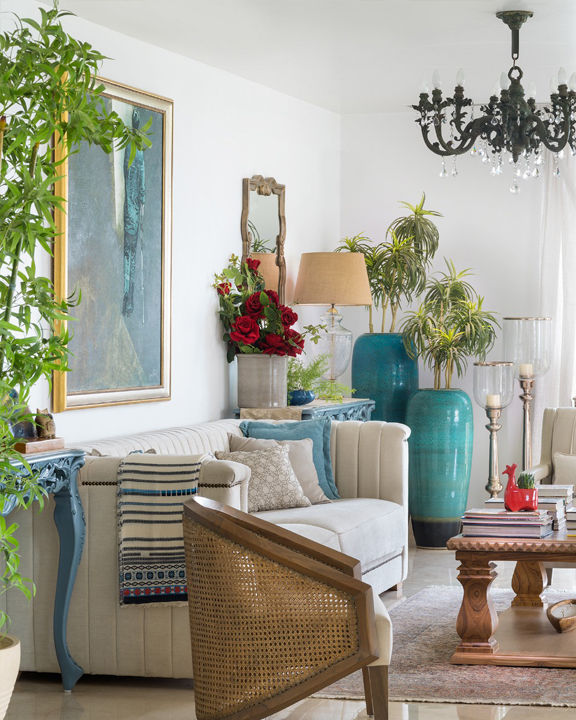 Living room
The living room of Saba's home  is adorned by a bar, Packed with custom touches and artisanal craftsmanship, the house boasts four defined spaces and the bar is one of them. This conversation starter is carefully crafted to perfection ; it reflects true design aesthetics. A solid hardwood bar with intricate carvings does just that. A beautiful corner in the living room. Vintage switches lend an air of old- world elegance into the mix. The diverse inventory of antiques, art, and artifacts they have collected over the years from their travels across India and abroad show up everywhere in the house. In the living area, wooden bay windows, a brass double door and vignettes from various travels lend a charm of their own.
Natural woody and earthy materials have been used throughout, from flooring and furniture to the intricate details seen in the decor, yet each section sees a variation in flooring and placement of furniture. Saba's home is a blend of classic and contemporary- filled with antiques and character filled elements such as switchboards,artifacts. The living room has a beautiful bay window overlooking the Golf course and Aravali range.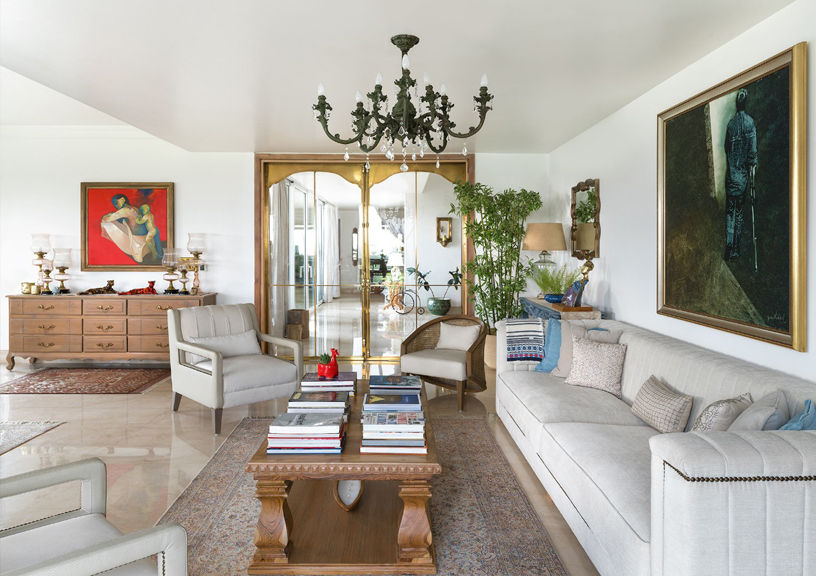 The lounge                                                                                                                                                                                     The family believes that spaces can be multifunctional. This lounge double up as a dining room as it boasts a dining table that converts into a coffee table, thanks to an in-built mechanism.