Home to a young couple and their eight-year-old daughter, Aakriti Saraf's apartment design allowed elements of heritage to co-exist in harmony with modern details. A judicious use of muted, solid shades largely defines the space with thoughtful touches lending character and individuality, effortlessly reflecting the clients' personalities, all the while making it functional.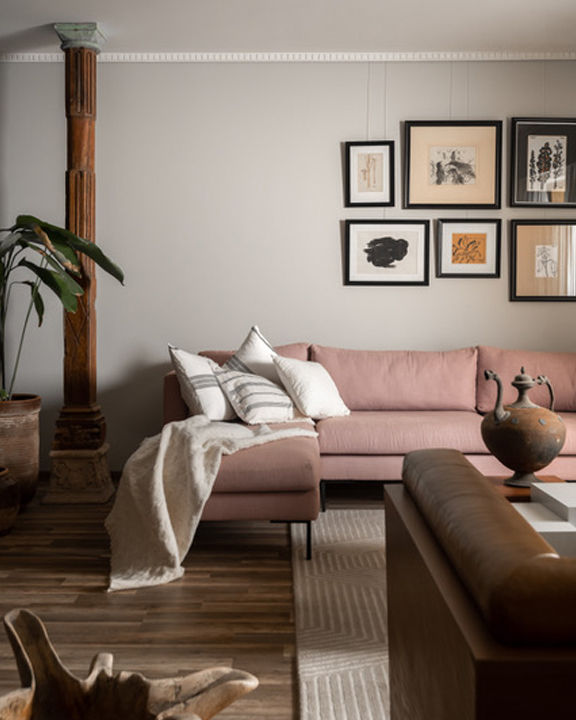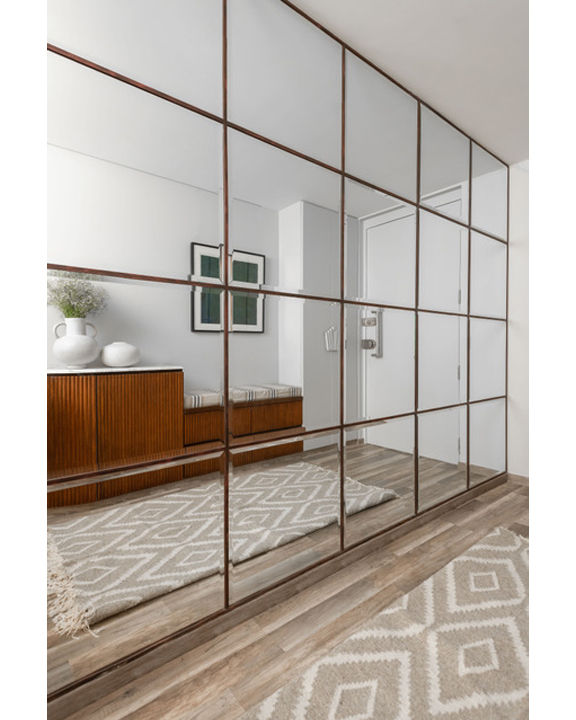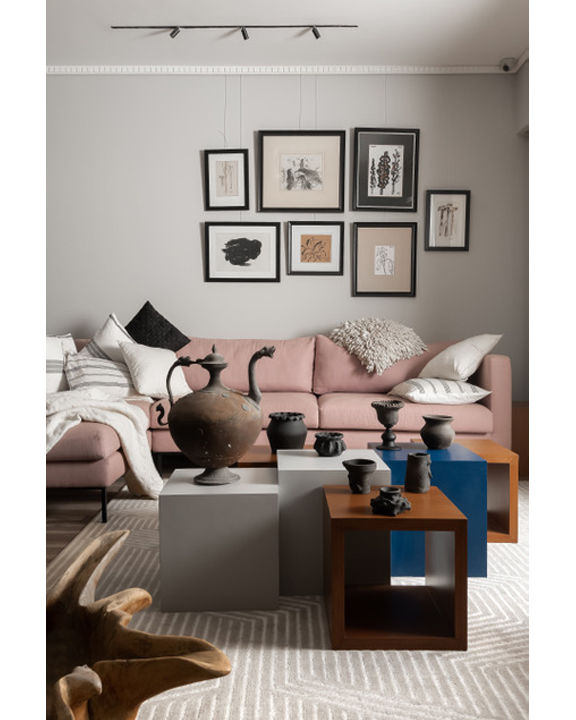 The clients, hailing from a business family, are passionate about collecting art. Their discerning eye has led them to build a collection of artworks that resonates with them. Aakriti Saraf's new appatment design has  a clutch of minimal works by Jogen Chowdhury marks their quiet presence behind the dusty pink couch in the living area, a painting by contemporary artist Bose Krishnamachari from the 'Stretched Bodies' series, positioned at the end of an otherwise restrained passageway, is like a pleasant surprise waiting to be chanced upon, creating a point of visual interest. Since the works are suspended on cables, they can be easily moved around to meet the mood and requirements of a particular space. Other works include those by artists MF Husain, Suhas Roy and KG Subramanyan.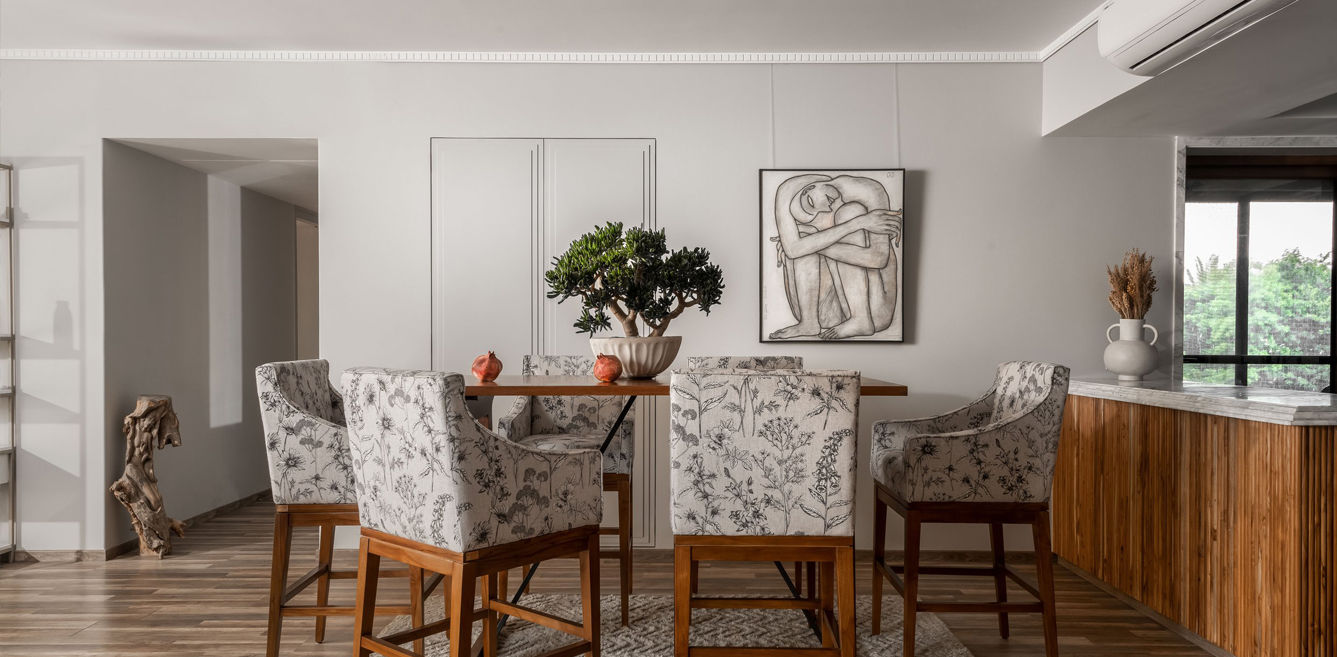 Keeping the client's affinity for Art Deco in mind, Aakriti Saraf's design has several details throughout the house which were inspired by elements of this 20th-century architectural style, including the pillar, a statement chair from their ancestral home in Bharuch made with a single piece of wood and rattan weave, and shutters for storage. Growing up in Gujarat and Bombay, the Art Deco architecture of both places has shaped the client's design sensibilities, creating a tasteful meld of heritage and luxury within the space.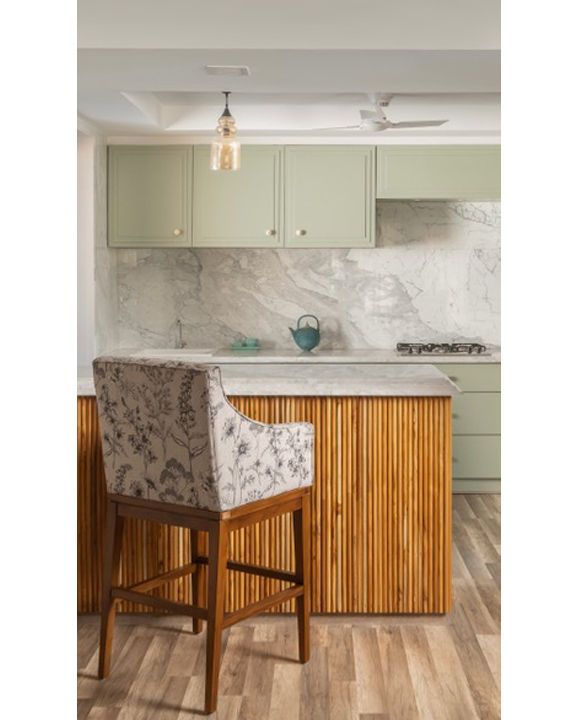 The open-plan kitchen of Aakriti Saraf's design is central to the clients' need for spending time together as a family. Given that they enjoy cooking as well as having friends over for intimate gatherings, the need for a calming, understated yet luxurious space was paramount. The kitchen comprises simple, white marble along the countertop and an elegant colour palette with hues of white and sage green. The fluted island and Art Deco-styled shuttered cabinets with mother-of-pearl handles are other key features.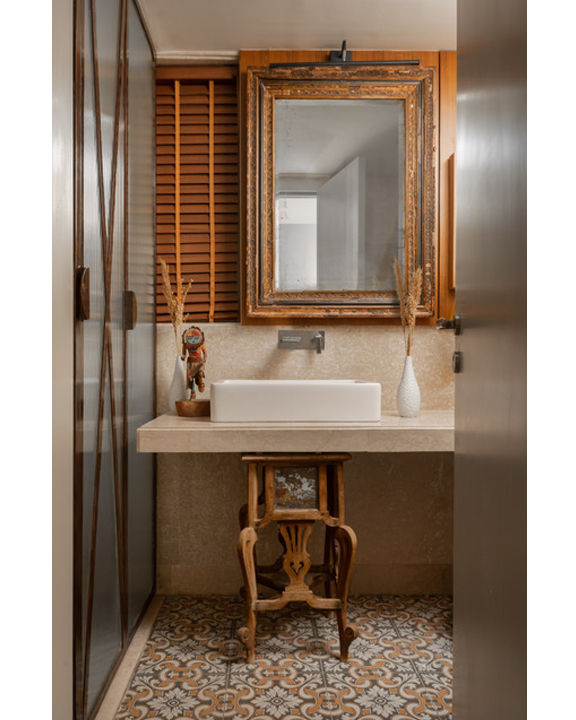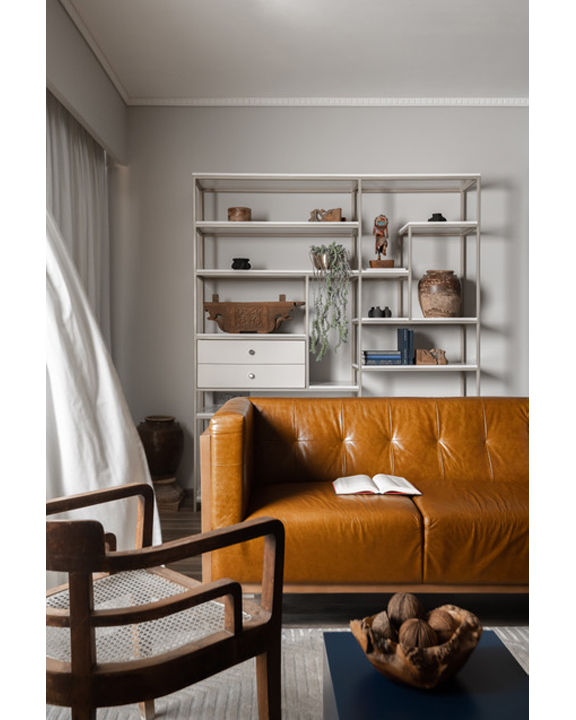 Stylistically, the powder room is a characterful mix comprising an antique table, an antique mirror frame, and a glass-and-metal division for the shower area. The bevelled-edge mirror, a part of the client's growing-up years, carries sentimental value; the slight stains have been deliberately retained, lending it a rustic charm.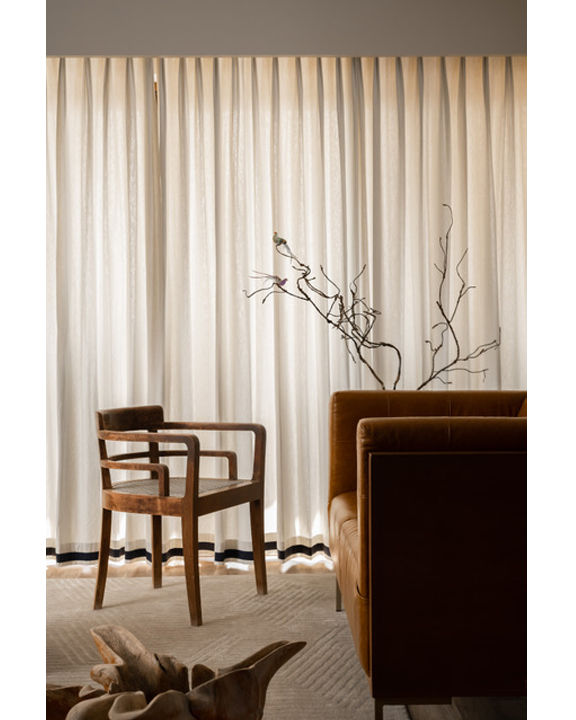 One of the important elements that drive the aesthetic in the living area of this apartment  by Aakriti Saraf is a wooden pillar—an heirloom from their ancestral home. The living room also houses the couple's extensive collection of objects and pottery artefacts, some of which are created by their 8-year-old daughter, thus giving the space a personal touch. The apartment's fluid design makes it practical, easy to maintain and liveable.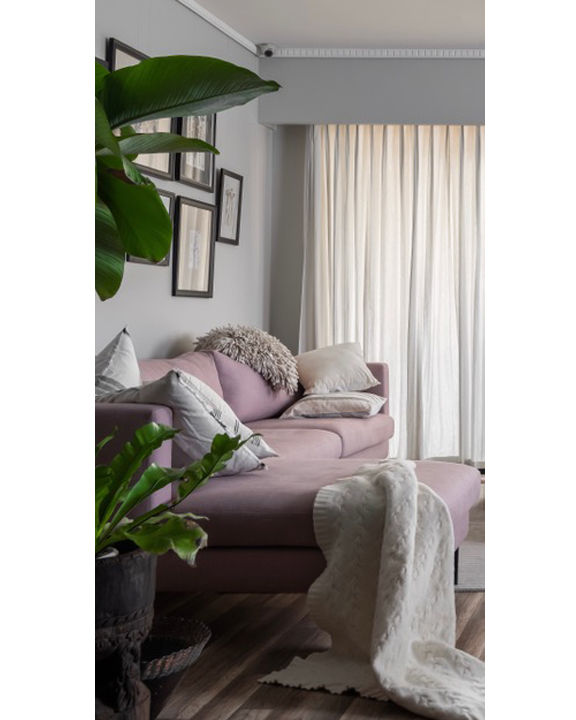 Clients: Mr & Mrs Kanoria
Location: Pebble Bay, RMV Extension, Bengaluru