Flow Brew & Dine designed by M:OFA Studio is wrapped in timelessness and unveils its brilliance in layers
As I set foot inside Flow Brew & Dine, located on the second floor of COMMONS, DLF Avenue, Saket, an adorable octopus figurine caught my attention right at the entrance. And thus, began a series of moments that took me by utter awe and surprise. The 5,500 sq ft interior space is designed by Principal Architect of M:OFA Studio Manish Gulati along with Associate Architect Swornav Guha, who were kind of enough to give me an extensive tour of the space. Staying true its name from the get-go, Flow reflects fluidity like its second language. Planned as a group of eclectic spaces, it's a prime example of space utilization and a lesson in innovation and overcoming challenges like a pro!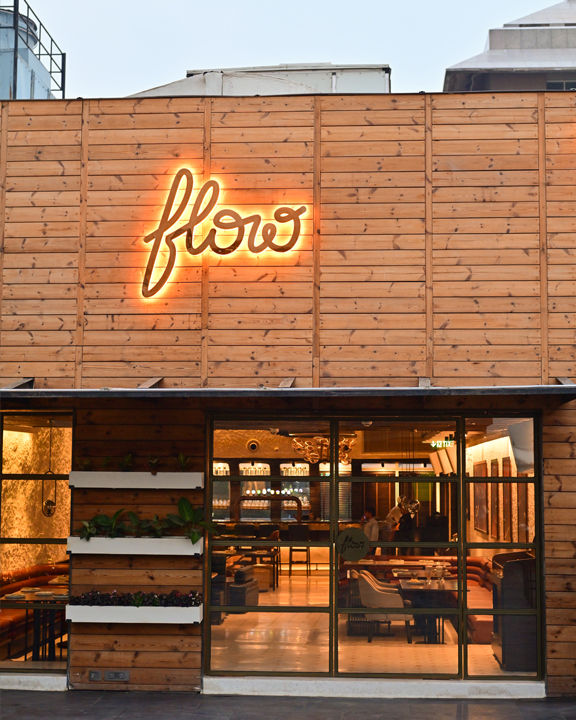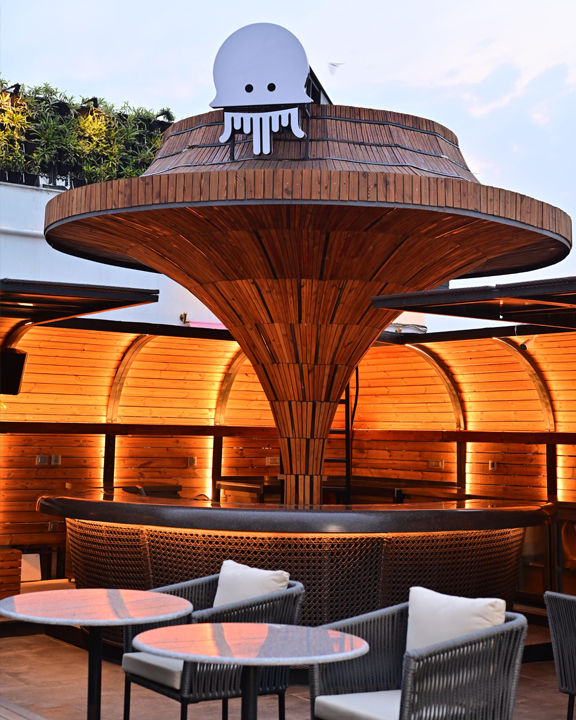 Initial discussions… 
"Flow means different things to different people," shares owner of Flow Swadeep Popli. Divulging the reason why they chose Octopus as their mascot, he reveals, "We put in a lot of research while thinking about the underlining theme and tried to connect it to the sea. That's when we thought of the Octopus—very intelligent, smart, flows well and is at the top of the food chain."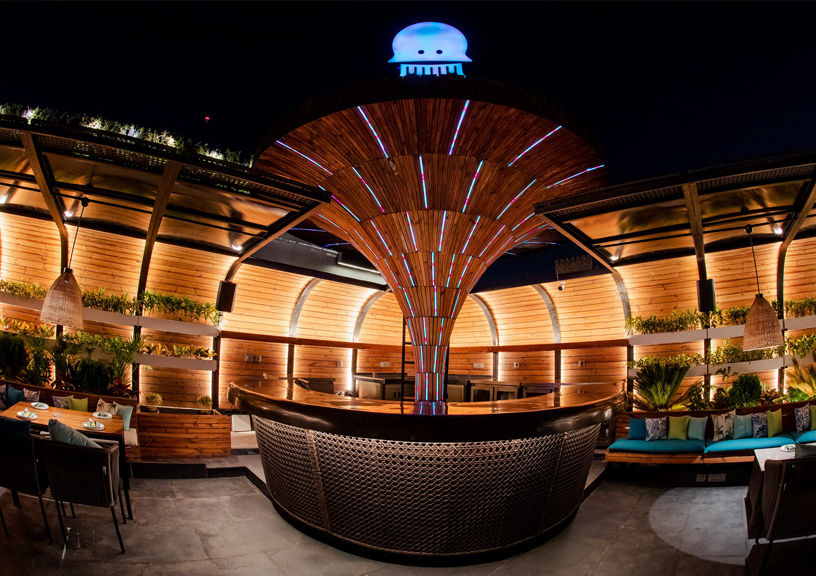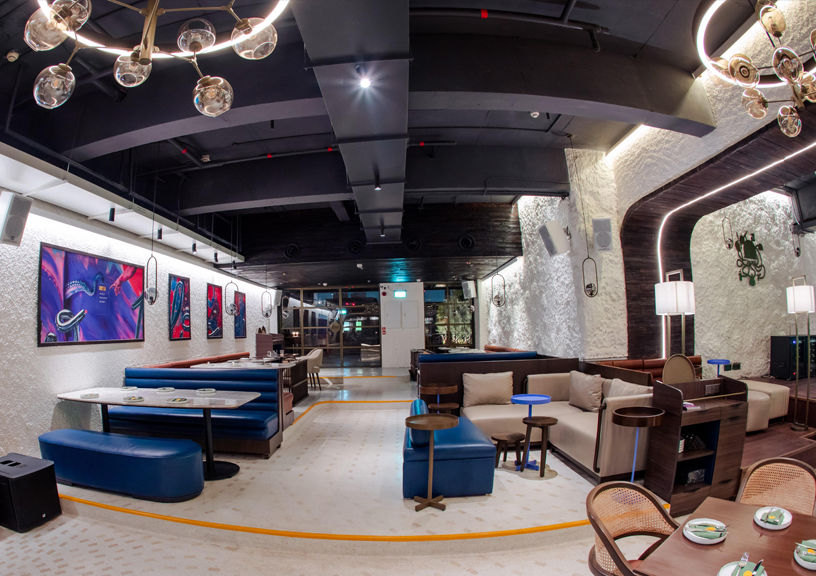 Its 8 tentacles also worked in favor of the microbrewery serving 8 kinds of beers! One of the main elements of Flow, the execution of the microbrewery was a challenging task because to make even one kind of beer, they had to add at least two drums for it when they were already reeling under space crunch.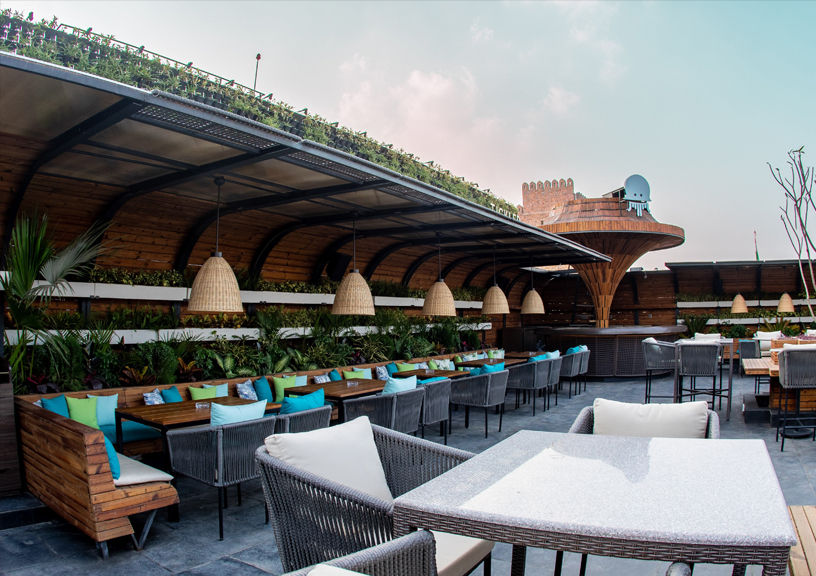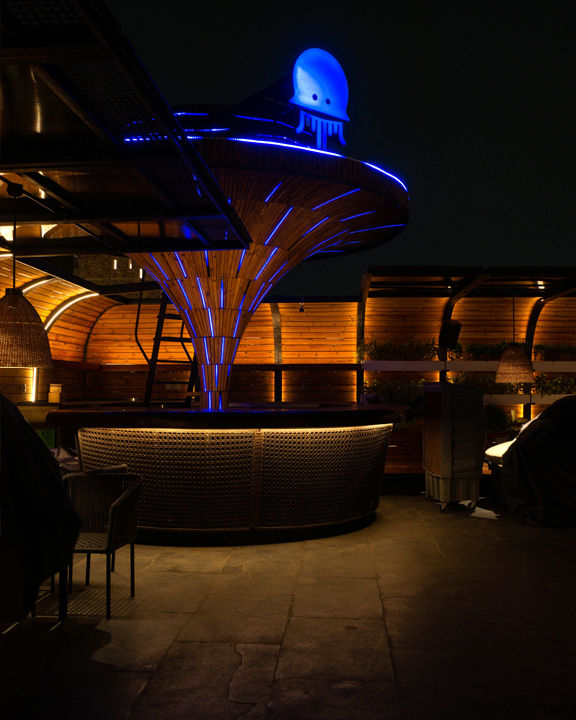 One enters Flow via a long-vaulted gallery space with clear views of larger-than-life shining steel beer drums brewing a collection of the best handcrafted artisan beers. 
It takes three materials to tango!   
With a minimalist design theme, Manish and his team kept the material palette simple and classy, "It's timeless," he reveals. Burnt wood planks, white painted stucco walls and terrazzo flooring with equal sized cut marble pieces are the heroes of Flow. As the existing built structure was a series of broken spaces further interjected by oversized structural columns, team M:OFA judiciously tied the space together with arches that cleverly frame views from various ends of the restaurant creating a balance between privacy and continuity.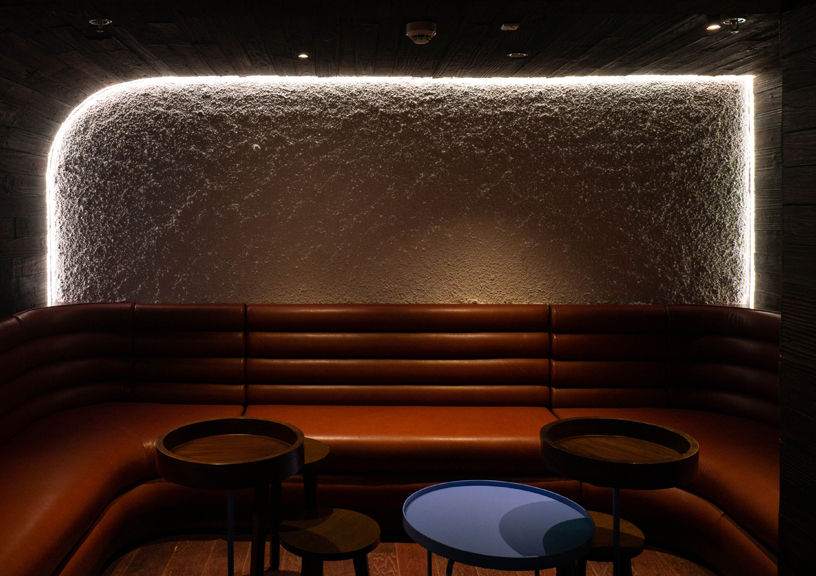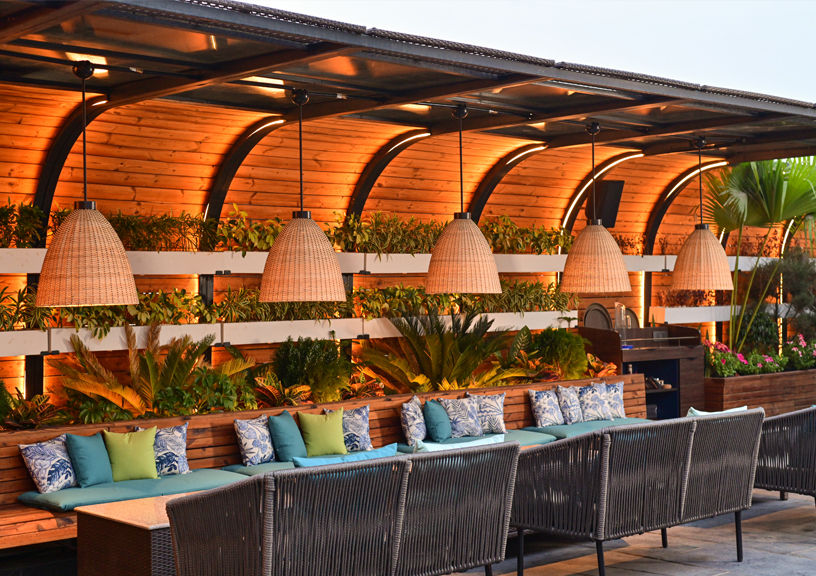 High tables for the rescue! 
Are you an entrepreneur, business owner or a corporate employee, and want to meet over a quick lunch with your clients? Head to Flow! They have a designated area right at the entrance for people who want to grab a bite and head out without much ado. What's more, the gallery has been planned with high tables that can fold into the wall as picture frames during promotional events to create a high energy vibe that doesn't interfere with the relaxed vibe of the main seating area. Also, when you visit Flow, I suggest you do a fun activity—count the types of furniture. You will be awestruck for sure!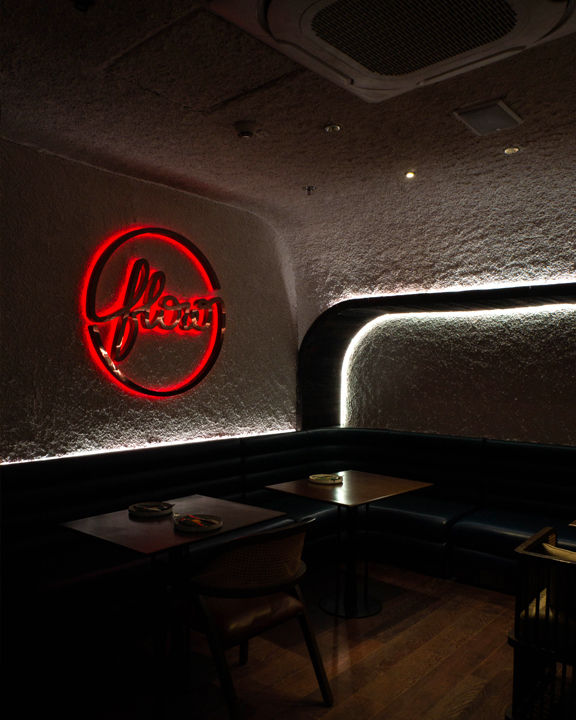 The central space hosts a series of fine dining tables with a mix of covers smartly segregated through the use of an eclectic mix of chairs and tables, that appear to have a similar design DNA yet with their own unique identities. This arrangement that sits between the bar and the performance stage area can be converted into a club during events and weekend evenings by simply removing the loose tables and chairs.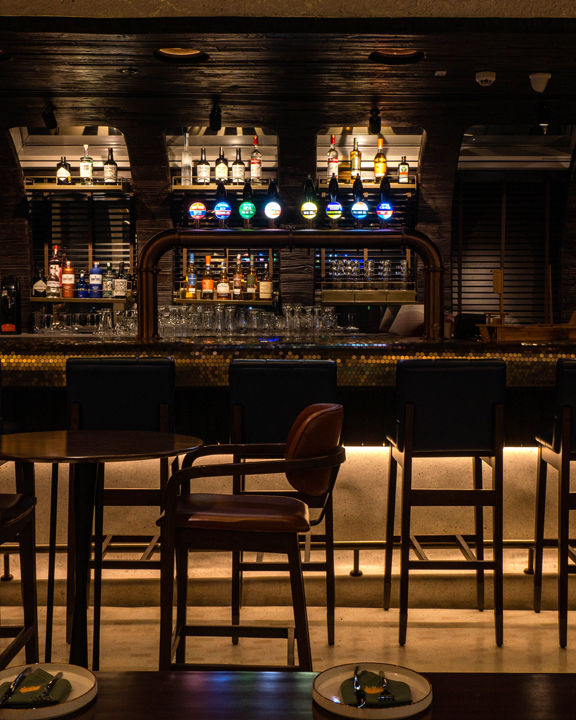 Just go with the flow 
Functionally, FLOW hosts a microbrewery, a multicuisine gourmet restaurant with woodfired pizza section, a 50 feet long bar (the longest bar in Delhi) and performance stage for live bands with a mix of seating spaces right from high table dining, fine dining and private lounge spaces. But that's not all! What takes the cake is their ambient mood lighting feature that can further transform the space with just one click.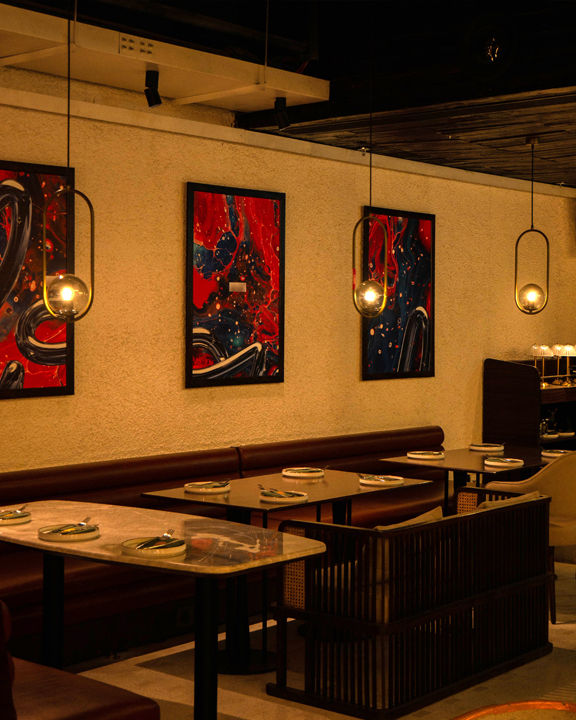 They also have 3,500 sq ft of exterior terrace heavily landscaped by planting the local species inside the oversized planters, around which various seating arrangements have been planned. However, my favorite part of Flow is the washrooms. I know, I know, it sounds bizarre, but you have to see it to believe it. In signature M:OFA Studio style, Manish makes a deliberate attempt on gender neutrality by using pink tiled theme for men and blue theme for women toilets! 
Food and drinks for the win! 
The restaurant's signature offerings draw inspiration from their mascot, the Octopus and an enigmatic shapeshifter that changes itself with time and mood, just like FLOW. The food menu is curated by renowned chefs in the industry and is a joyous tribute to diverse cuisines tailored to cater to the preferences of its patrons. Expertly crafted by Chef Ruchira Hoon and executed by Chef Kunal Bahl, it seamlessly blends Modern European, Asian, Indian, and Mediterranean culinary styles, complementing the classic Neapolitan-style pizzas and juicy burgers.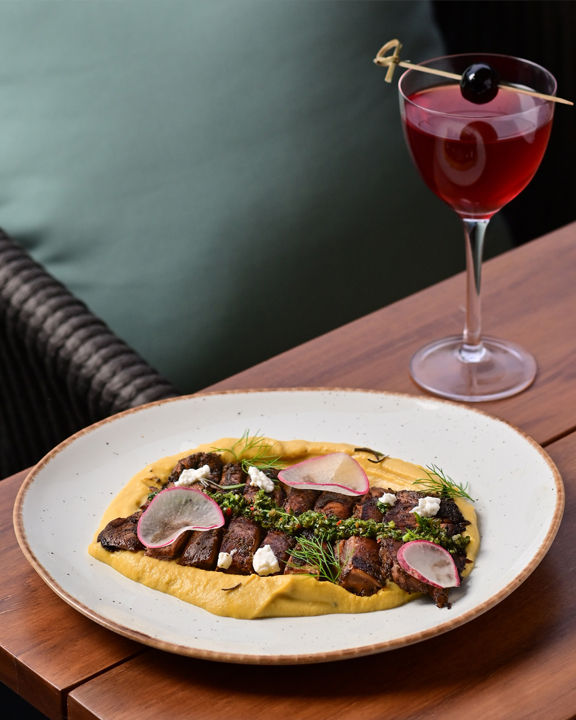 The bar menu showcases a collection of bespoke cocktails, meticulously put together by one of India's most accomplished mixologists, Yangdup Lama. Designed to cater to a wide range of preferences, the cocktail menu offers a diversity of options, including classic drinks with a unique twist and inventive concoctions. Alongside the tempting cocktails, Mr. Lama has also created an exceptional mocktail menu. 
If these aren't reasons enough, you must visit Flow for The Podi Idli Fries. As the name suggests, it's the quintessential South Indian classic doused with spiced podi masala and served with coconut chutney!