Foster + Partners has recently completed the latest headquarters for the National Bank of Kuwait (NBK). The 300-meter skyscraper located in the city's expanding financial district, Sharq has been created to stand out amongst other buildings in the area.
The new headquarters by F+P is all set to welcome all of it's corporate employees for an enhanced well-being and synergy between one another.
"The new headquarters for the National Bank of Kuwait represents the coming together of an innovative environmental strategy and a diverse programme as a distinctive landmark that stands out on the Kuwaiti skyline. The building incorporates a sustainable, functional, and iconic design that signifies NBK's unique presence and identity in the city."- adds Stefan Behling, Head of Studio, Foster + Partners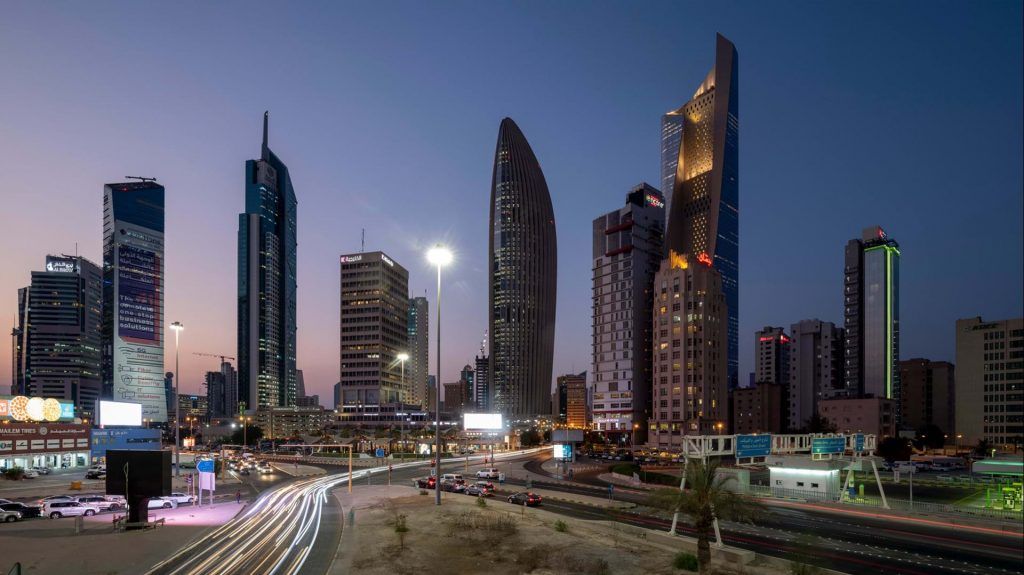 Skeletal Structure of the Kuwait National Bank HQ
The structure was inspired by a sailboat, which was significant in depicting the city's connection with it;s international trade routes. Therefore to provide structural stability, a sequence of concrete fins along the sun path extend the full height of the tower. The curved facade on the north side of the building manifests the scenic views of the Arabian Gulf, while the inwardly tapered floor-plates directed towards the base maximises floor space at upper levels. These overhanging floor plates also continues to provide self-shade the offices below.
Presently, the NBH Headquarters is now the country's second tallest building after the Al-Hamra tower which spans 412 metres and was designed by Skidmore, Owings & Merrill (SOM). "The form we've developed for the tower is driven by the needs of the bank and the internal spatial arrangement is tailored to its organisational requirements, whilst providing flexibility for future change and growth. We have created a customised working environment where everybody has their own unique space."- added Nikolai Malsch, Senior Partner, Foster + Partners
Spatial Planning inside the Headquarters
The sixty-three floors inside this skyscraper contain sky lobbies that form the core for social engagement and discussion spaces for employed staffs. The lobby at the ground floor is 18 metres high and allows for a grand entry and welcome of the visitors and staffs. On level-18 is the double height restaurant, followed by a gym on level-19, a triple height boardroom on level-48 and a ballroom plus auditorium on level-38.
In addition to these active communal areas, the tower also houses the chairman's club lit by a distinctive skylight that traces an arc through the space, offering panoramic views of the city and coastline.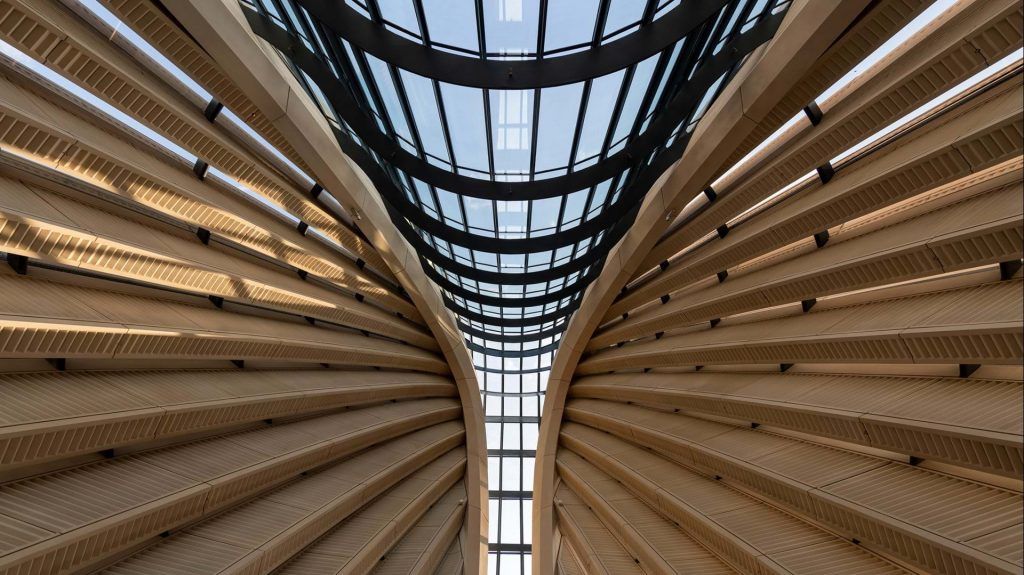 Foster + Partners has also designed exclusive interior decor including custom furniture and lighting for the prominent areas inside the building. The highly important boardroom area features unique lighting installations comprising several elegant blown-glass pendent lights – designed by the industrial design team, which form a cloud-like cluster above a grand 13 metre board table.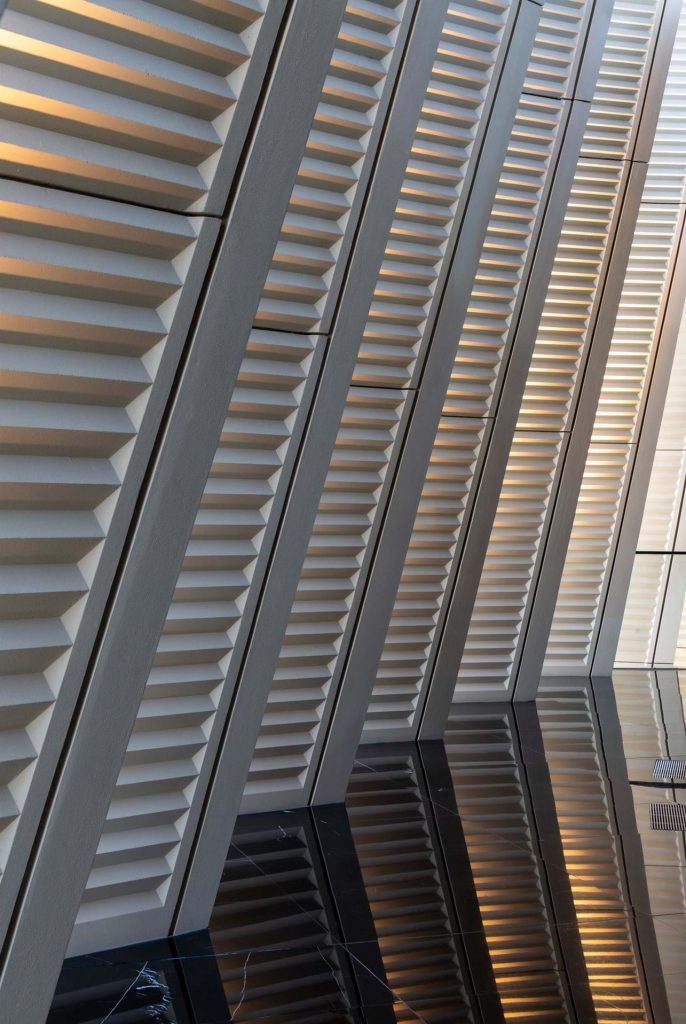 FACTFILE
Project: National Bank of Kuwait
Architects: Foster + Partners
Area: 127000 SQM
Location: Kuwait
Text: Nikitha Sunil, Contributor at A+D