World-renowned architecture studios, Bjarke Ingles Group and Carlo Ratti Associati has collaboratively designed Singapore's brand-new biophilic green skyscraper for CapitaLand. The 280-meter tall tower, named CapitaSpring is located in the premium Raffles Place Central Business District (CBD) area and has recently completed Construction after obtaining the TOP (Temporary Occupation Post).
The latest green skyscraper in Singapore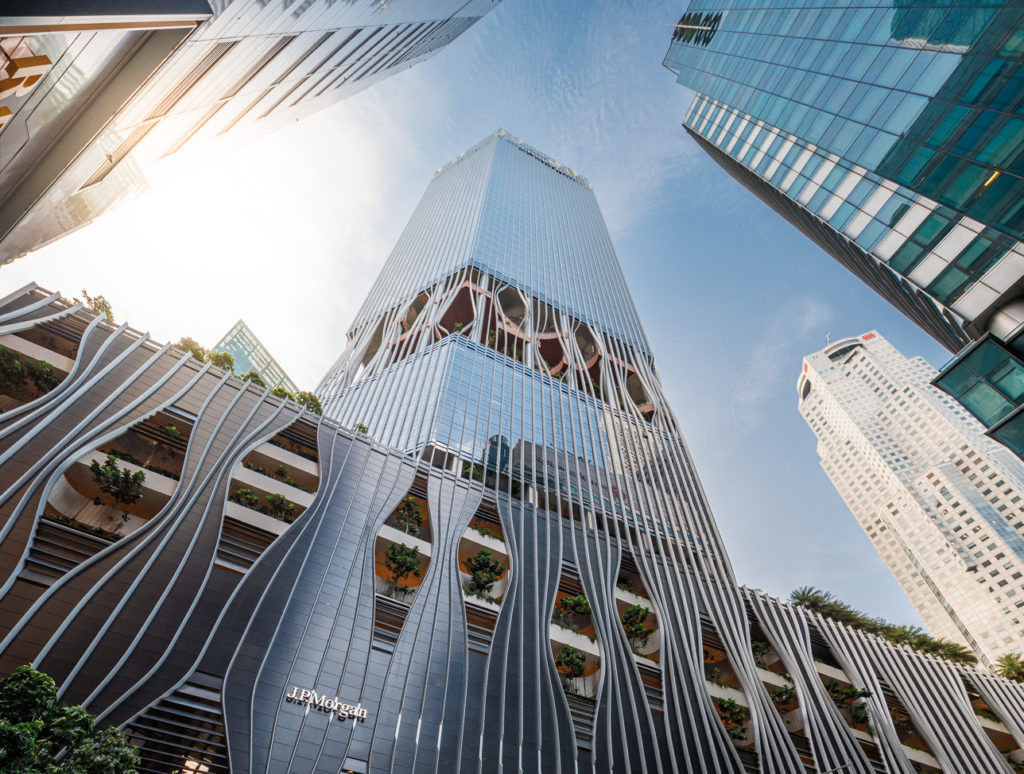 The distinguished aluminium facade of the building demonstrates a lively interplay of orthogonal pin-striped fins. Together these fins unify and reveal green pockets of terraces and spaces and various sections of CapitaSpring.
The facility together holds 6,73,000 sqft of workspace and retail net lettable area, 299-unit Citadines Raffles Place Singapore and a hawker centre. Additionally, it also comprises the tallest sky observatory deck and urban farm in Singapore, which will be opened for public access.
The building houses the spiralling botanical walkway Green Oasis on levels 17-20, Grade A offices from on levels 21-49 and a Sky Garden respectively on Level 51.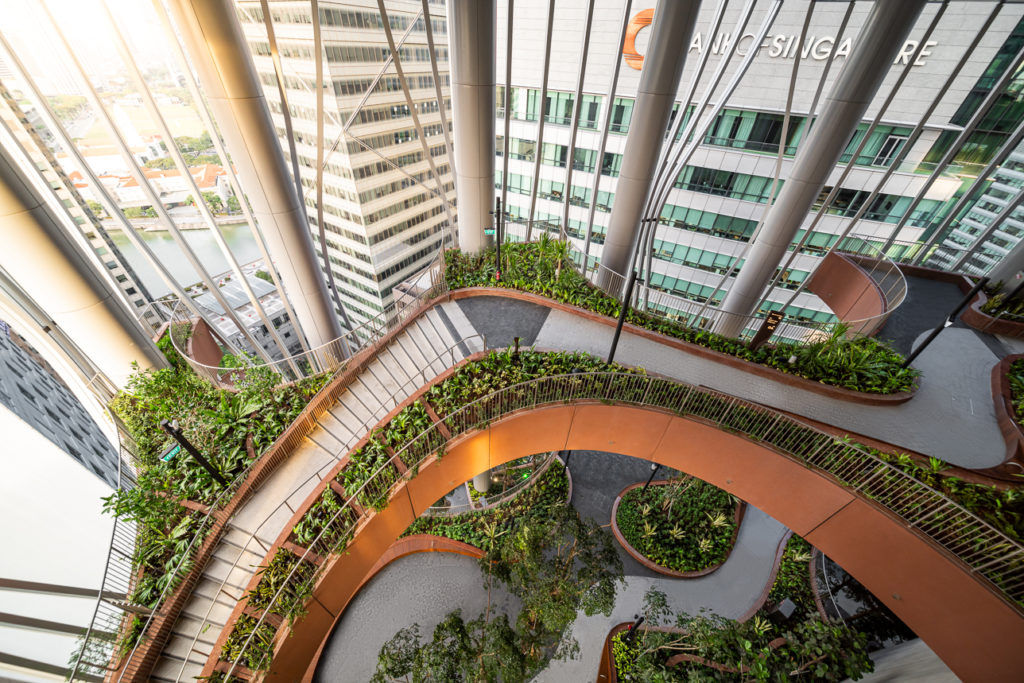 The 42,900 sqft Green Oasis, green skyscraper in Singapore, accommodates over 38,000 plants from 70 different plant species, in which only 37% are foreign species. Plants in the upper levels that receive a higher amount of natural lighting have smaller leaf structures and open branches to allow wind passage through trees without disintegration. The lower storeys with lesser amount of direct light, house shade-tolerant plants with larger and denser leaves.
The spiral boulevards in the Oasis span up to 312 meters and they create voids to facilitate the entry of fresh air and sunlight. The Oasis is therefore the central social space of CapitaSpring that empowers the community to network and connect better.
Spaces in these levels from 17-20 primarily contains meeting rooms, multi-function hall, jungle gym, yoga alcove, amphitheatre, work pods, lounges and courtyards.
In comparison to most sky terraces which tend to be empty landscape spaces, the Green Oasis has been thoughtfully planned for both tenants and the public to use a variety of work-live-play amenities at the naturally ventilated green atrium.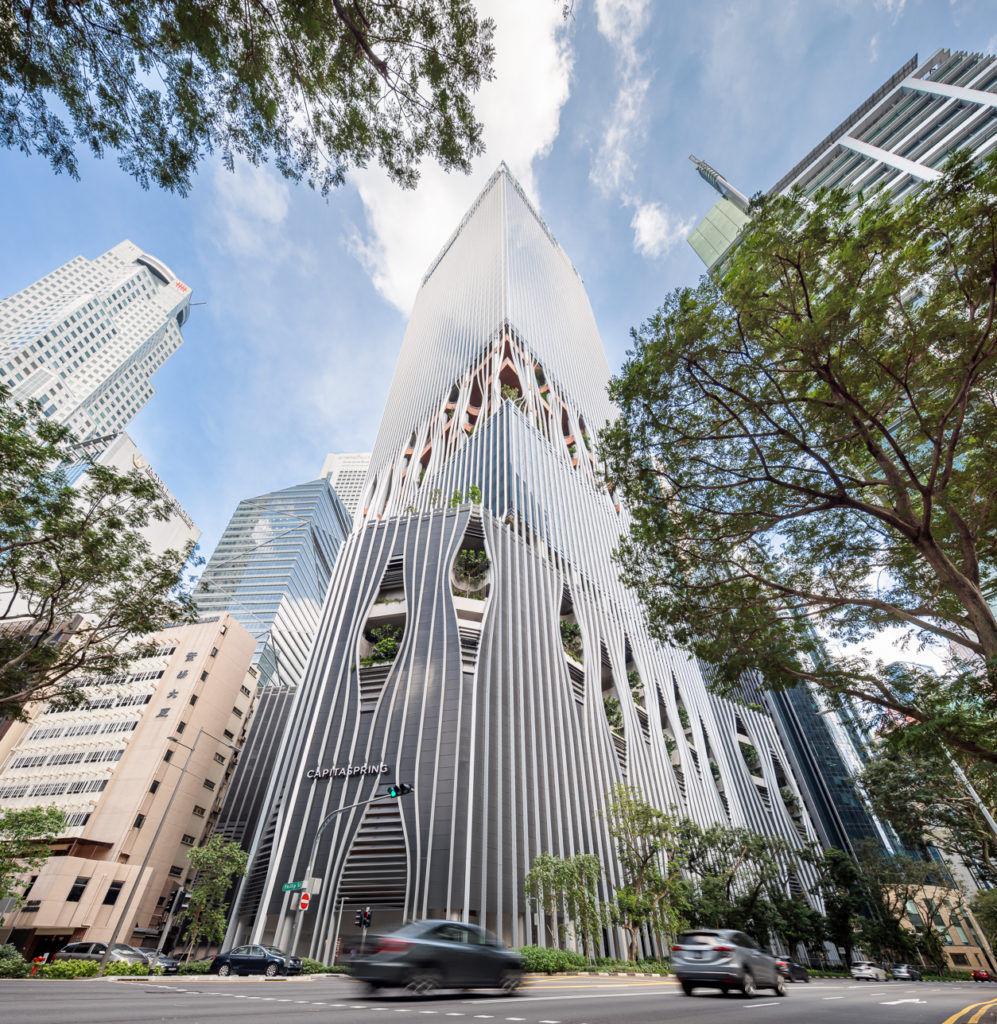 Levels 21-49 comprises the Grade A offices within the expansive 22,000 sqft column-free floor plates with a 90% floor efficiency. Tenants can enjoy greater flexibility in space planning because of the generous core-to-façade span of 10 to 18 metres as well as the option for inter-floor connectivity.
This building is the only grade A office facility in CBD area and it offers integrated building technologies and features to enhance user wellness and business agility. Further, due to strong demand for premium core-flex workspaces within a quality integrated development in Singapore, 93% of CapitaSpring's workspace and the retail net lettable area has already been committed.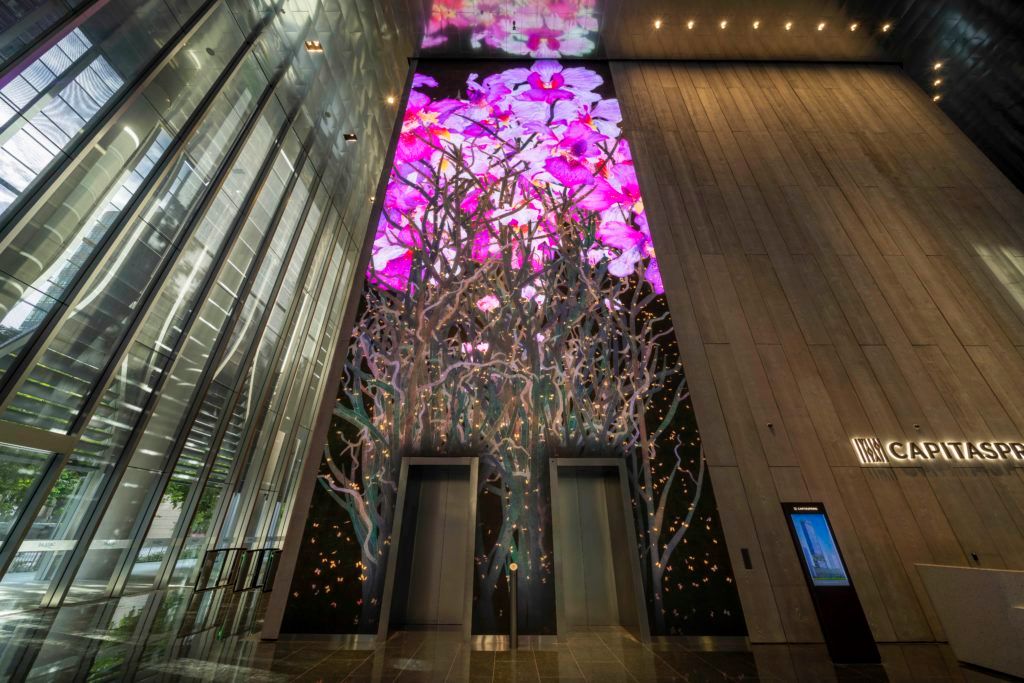 With a Green Plot Ratio of more than 14, the development has a total landscaped area of more than 90,000 sq ft, equivalent to 140% of its site area. It is also built in terms of incorporating various strategies from the Singapore Green Plan 2030 including:
A 600-metre cycling path around the building's perimeter, connecting Raffles Place to the Singapore's larger cycling network;
165 bicycle parking lots, of which 77 lots are only accessible to tenants
Comprehensive end-of-trip facilities including 7 shower cabins, 66 lockers, and 2 bicycle repair and pump stations; and
4 electric vehicle (EV) parking lots, 2 of which are equipped with direct 50kW current fast chargers.
In the year 2018, CapitaSpring had received two accolades namely, the 'Green Mark Platinum Award' and the 'Universal Design Mark GoldPLUS Award' by Building and Construction Authority, Singapore
FACTFILE
SITE AREA: 65,700 sqf / 6,104 sqm
LOCATION: Singapore
CLIENT: CapitaLand
COLLABORATORS: RSP Architects, Dragages Singapore, BIG Ideas, BIG Landscape, CRA-CARLO RATTI ASSOCIATI
Text: Nikitha Sunil | Contributor at A+D