Hettich joined hands with Architecture + Design to celebrate Women in Design to commemorate the International Women's Day and Month. As part of this initiative, we brought together two design disruptors who've created an undisputed position for themselves in the design industry. Raising a toast to all the women who are shaping our lives, and the world we live in.
Interior Designer Shabnam Gupta, Founder, The Orange Lane and Peacock Life is synonymous with her bold approach to colours, and her rendition of the Make in India narrative. From Kangana Ranaut's majestic mountain retreat to the remarkably edgy interiors of Bar Stock Exchange to the intimate and millennial friendly space of Viman Nagar Socials, Gupta has an enviable repertoire.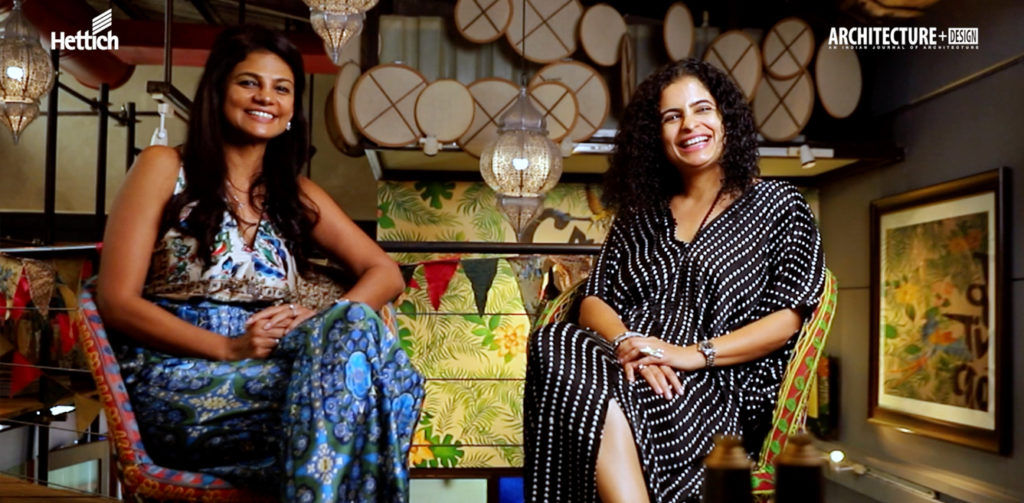 Apoorva Shroff, who recently branched out from reD Architects to form lyth Design, a multidisciplinary firm has an equally illustrious portfolio. Shroff is synonymous with her minimalistic yet evocative spaces that she achieves with strong geometry. Her own residence Airavat is one of her masterpieces. She recently completed the residence for Bollywood sensation Madhuri Dixit.
Their styles might be diagonally opposite, but what unites them is their passion for design, and their ability to create distinct identities for themselves. In this segment of Architecture + Design presents Women in Design powered by Hettich, Apoorva and Shabnam talk about their life in design, about shattering the glass ceiling, and how the home has evolved into a multifunctional space after the pandemic.
Hettich is a 133 years old German brand, being the world's largest manufacturer of Furniture Fittings and Hardware with sales exceeding 1 billion Euros. In India, Hettich started operations with the dawn of the new millennium and within a short span of time gained undisputed leadership position in the Indian furniture fittings & hardware industry. Hettich's product portfolio comprises of a repertoire of Furniture Fittings & Door Hardware made with cutting-edge German quality complemented by Wire Products, Aluminium Profiles, Shelving System, Built-in Appliances, Quartz Stones and Furniture Lights, thereby providing holistic fitting solutions to all major segments of residential, commercial and likewise.
For more information on Hettich, visit www.hettich.com