Drawing inspiration from India's ancient baolis, the design of this retail store for a luxury fashion brand facilitates an intimate rendezvous between the products and visitors.
Bold yet understated, SJK Architects' design for the flagship store of Forest of Chintz in Mumbai brings alive India's glorious, ancient stepwells. The restrained material and colour palette inspires an almost cavernous retail experience – providing a suitable backdrop for the label's exuberant collections and facilitating an intimate rendezvous with the visitors.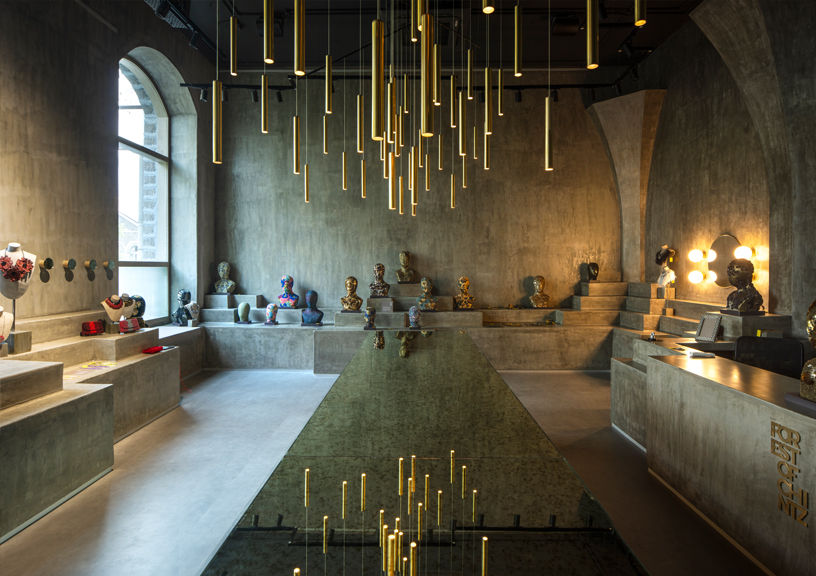 Forest of Chintz is an Indian luxury label that makes statement accessories and haute couture – from clutches, neckpieces, and earrings, to scarves, tunics, and display mannequins. Its vibrant range of products draws from India's rich handcrafting culture. Contemporary yet finely-detailed, FOC's pieces are characterised by bright colours, delicate embroidery and sequin embellishments.
Occupying 800 square feet within the old Laxmi Wooden Mills building in southern Mumbai, the brand's flagship showroom is conceived as a celebration of India's rich heritage. Upon entering the store, one is greeted by an open-plan space with a continuous monolithic stepped display system running along the wall edges, encouraging visitors to take in the entire range of products at a glance. Reminiscent of traditional stepwells, the display's edges meander in playful ins and outs that allow visitors to move around, pick up the products, touch and feel them: intimately engaging with the collections in their own time.  A trio of massive arched windows on the East wall flood the space with daylight, a welcome asset of the old building envelope.
The stepped display system is built with light-weight Autoclaved Aerated Concrete (AAC) blocks (the space underneath is kept hollow as any additional load on the slab was to be minimised) and finished in grey cement plaster. This allows it to merge seamlessly into the walls and floors, creating a uniform finish throughout. The desired finish – raw, natural, yet smooth – is the result of grey POP: a composition of grey cement, white cement, POP and adhesive.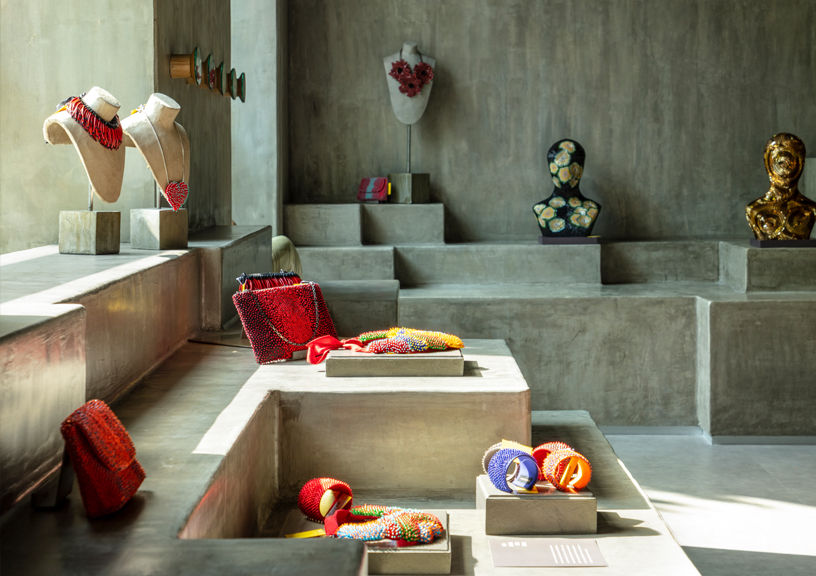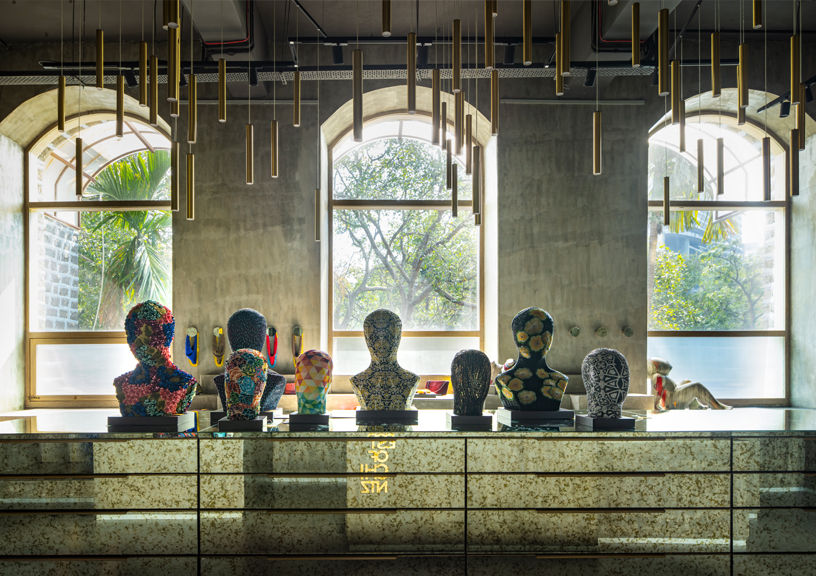 A Tailor-Made Ergonomic Display System
The heights and widths of the stepped platforms were determined based on a detailed study of Forest of Chintz's product collection, assessing the size and volume of each product. Cardboard mockups were created on-site to determine the placement of each item for easy ergonomic access and visual appreciation. For instance, accessories and clutch bags are flat-laid on the lowermost steps, while the taller displays of mannequins and jewellery pieces on busts are placed closer to eye level. This eases visibility and avoids overlooked pockets in the store as visitors traverse through the space. Sleek, minimalist brass fixtures are installed on the North and West walls to showcase the avant-garde apparel collection.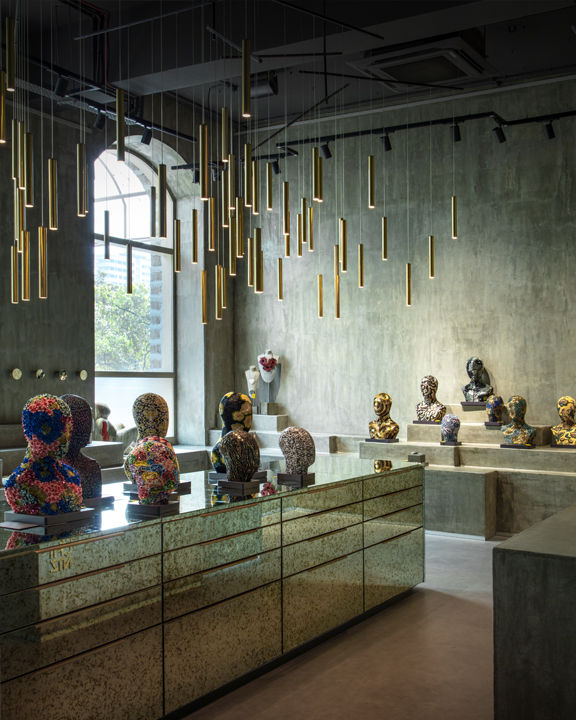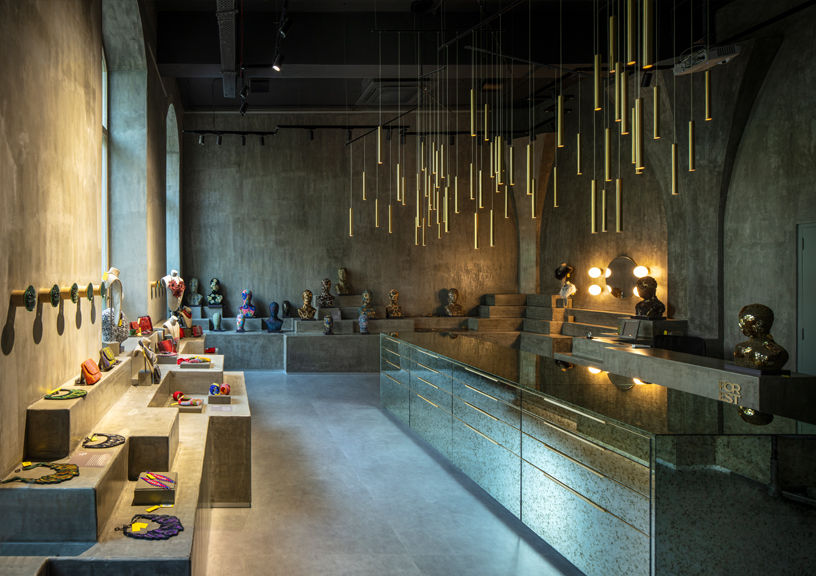 A Forest of Lights
At the centre of the store, hanging pendant lights finished in brass arrest the visitors' gaze, creating a veritable 'forest of lights' – a symbolic token inspired by the name of the brand. Underneath the pendant, a long, rectilinear island, finished in distressed mirror is placed, reflecting the grey of the walls and the lights hanging above. This island is cleverly engineered to provide ample concealed storage for additional inventory. Together, the pendant lights and the island create a centrepiece to bind the whole space together.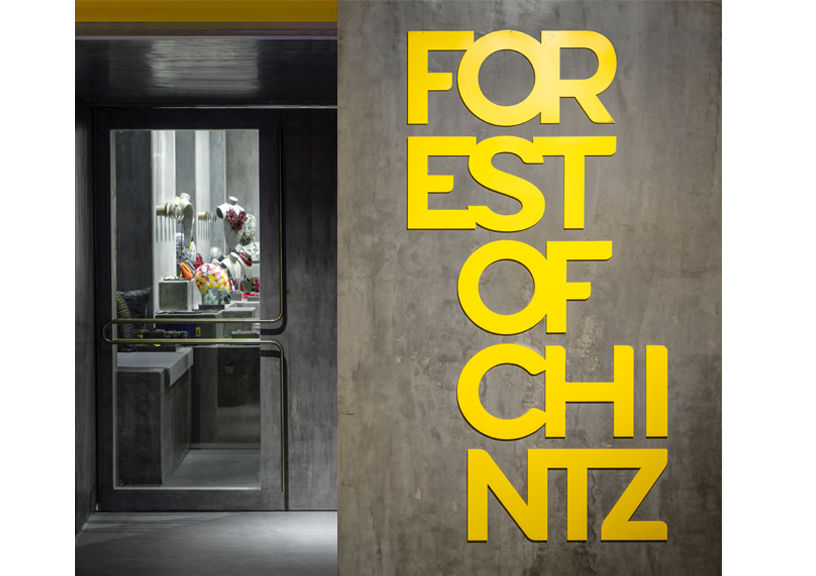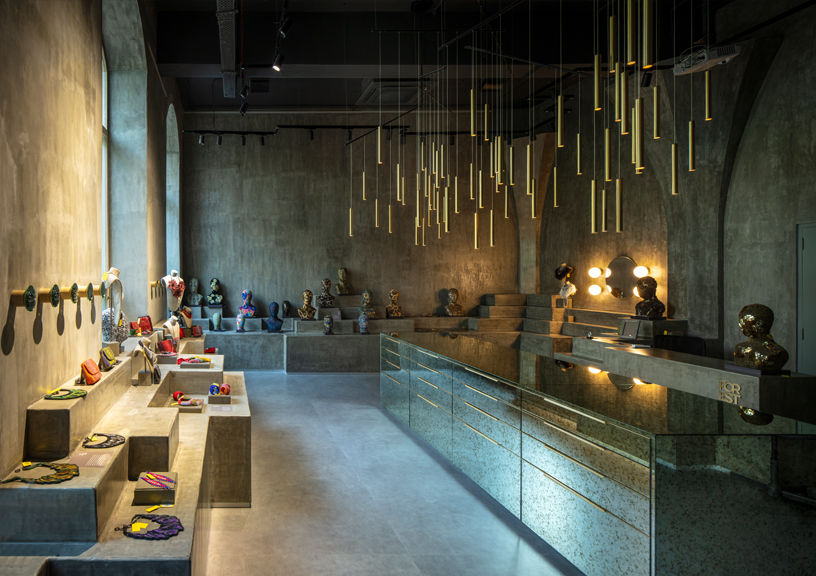 Factfile
Client: Forest of Chintz
Principal Designer: Shimul Jhaveri Kadri and Roshni Kshirsagar
Design Team: Aparna Kale, Mansi Joshi
Site Area: 85.132 sq m
Built-Up Area: 70.76 sq m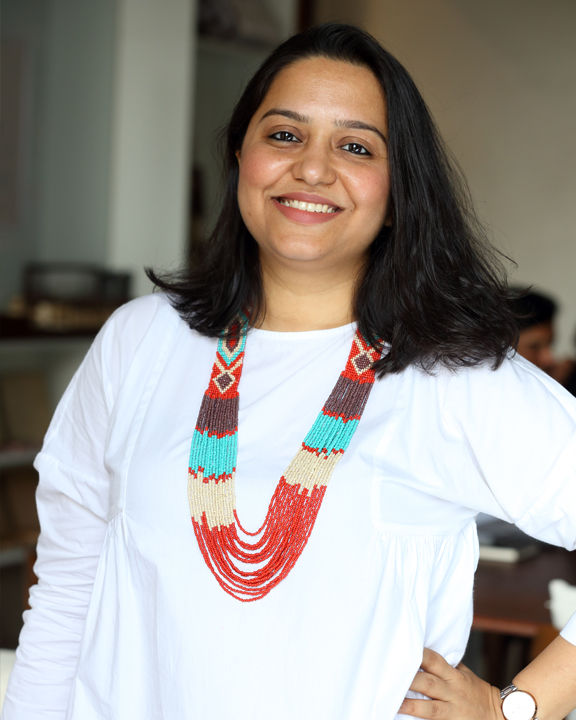 Roshni Kshirsagar, Partner, SJK Architects
Roshni Kshirsagar is a partner at SJK Architects, along with Shimul Javeri Kadri, Sarika Shetty and Vaishali Mangalvedhekar. Founded in 1990, SJK Architects is a Mumbai-based collective of 30+ built environment professionals, working with clients and collaborators all across the country. They design spaces that are meticulously crafted from a study of climate, culture, history, and technology – each unique to the place and its people.
*Text provided by the architect