Explore the harmonious fusion of tranquility and architectural brilliance in the heart of Bhopal with Project Sukoon, a sanctuary that redefines contemporary living designed by PTA Designs Pvt Ltd
Nestled in one of the well-connected residential areas of Bhopal, Project Sukoon is yet another meaningful endeavour executed by Ar. Priti Tatya from PTA Designs. Sukoon is a manifestation of finding peace and tranquillity amidst the hustle and bustle of daily life, promising to create a unique and distinctive living experience.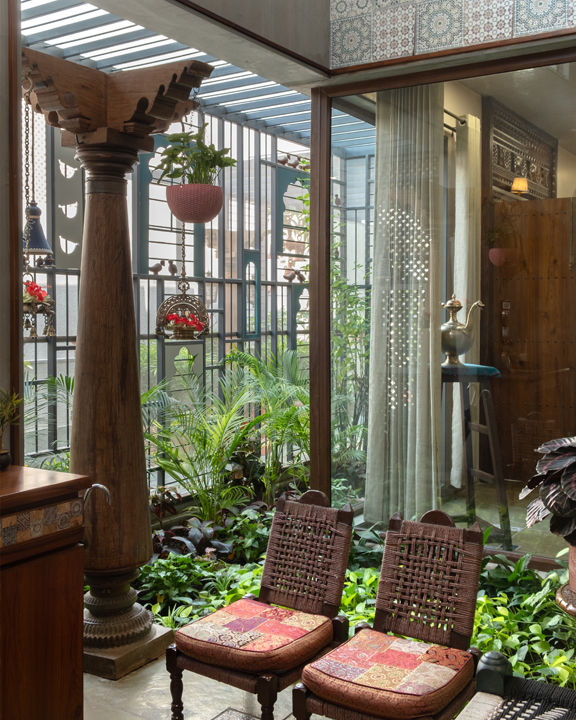 Designed for a couple heading towards professional retirement, this project provides a reflection of one's own journey of constant search for calm within chaos. With a thoughtful and innovative culmination of design elements like natural wood veneers and handmade tiles, this home sets an unparalleled example for the inhabitants of this hustling neighbourhood.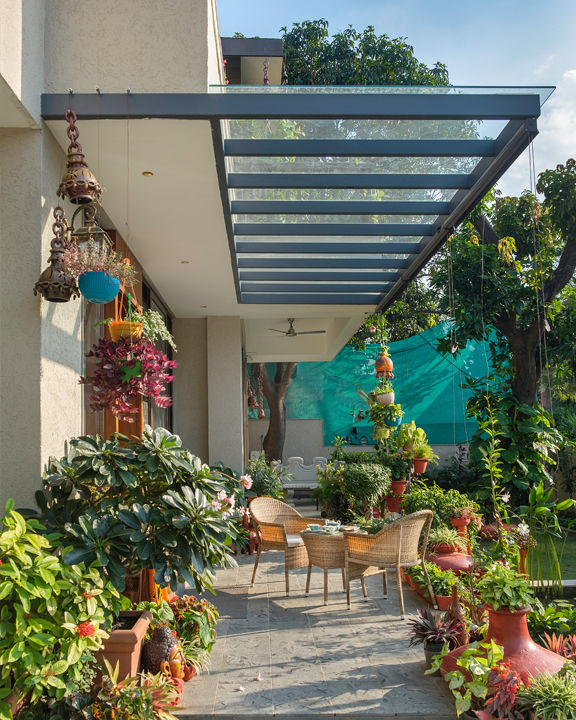 Spanning a vast area of 6000 square feet, this residential property is a perfect embodiment of the clients' and the design team's admiration for natural materials. Having the added benefit of being surrounded by lush greenery that added natural beauty to the setting, the project brief called for a house with a peaceful and earthy vibe, while honouring traditional and natural elements. To achieve this, PTA's design team took a contemporary approach while using traditional materials at the forefront. Local artisans were brought in to craft elements that add a rustic touch to the bungalow and showcase India's rich cultural heritage.
Consisting of four bedrooms, two on the ground floor and two on the first floor, the lower level is designed to prioritise functionality and ease of movement between different spaces. A formal drawing room is situated at the front of the house and opens into a beautifully maintained garden managed by the inhabitants. A passage leads to the primary bedroom, which also faces the garden, while on the other side of the path one can find the kitchen, guest room, and a cozy family lounge with dining area. This space also features an outdoor sitting area that is fully screened from adjacent houses and the porch.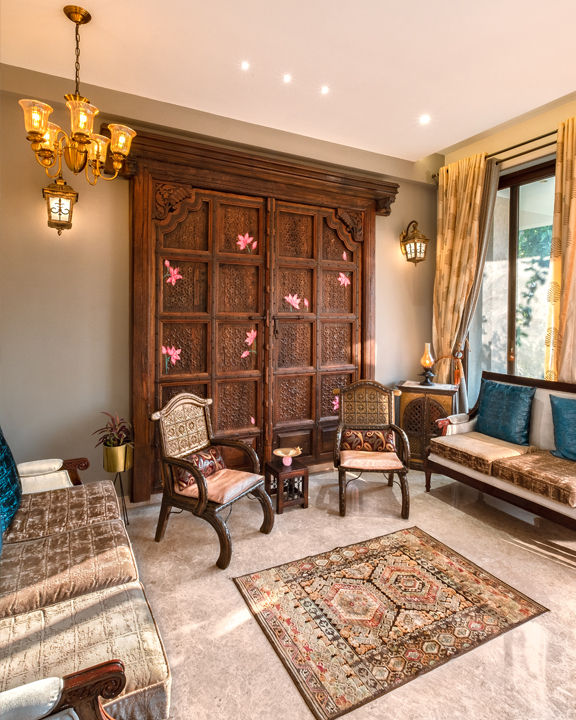 The Pichhwai paintings all around the house add a lot of colour and positivity. The porch entrance has an old window screen that provides privacy for family gatherings. The elaborately hand-carved entrance doors and handles exude a sense of grandeur and thoughtfulness that have gone into every little detail in creating this luxurious, opulent, and palatial home.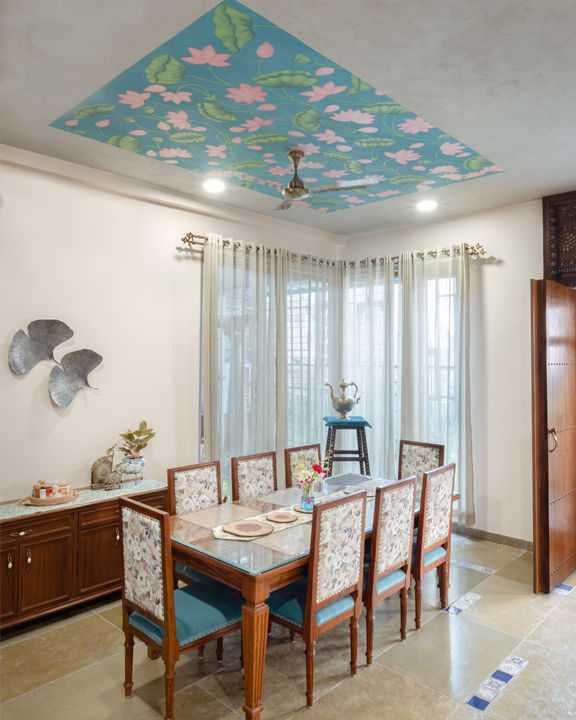 The team took into account the profound impact that colours can have on people's emotional state and decided to utilize a white colour scheme in order to evoke a sense of calmness and safety within Sukoon's design. By templatizing the space with this colour psychology in mind, they created an atmosphere conducive to a well-planned and spacious area.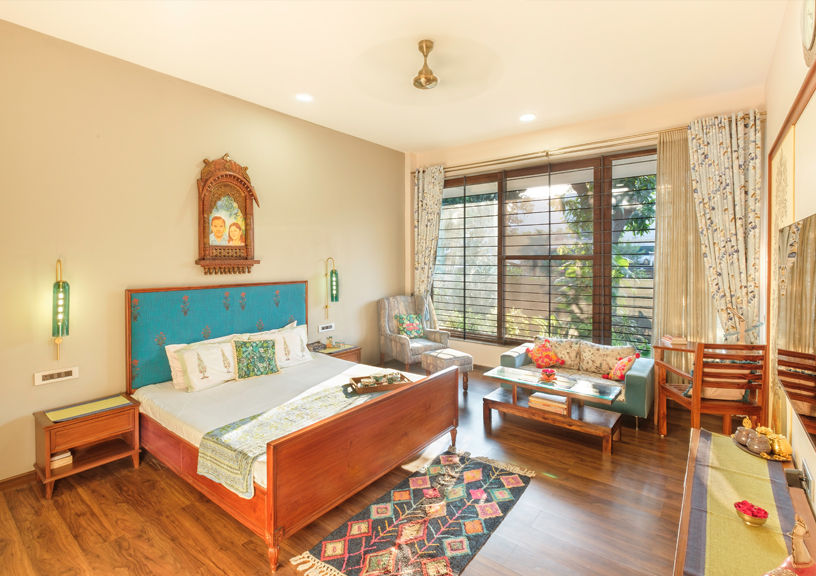 The use of natural wood finishes like veneers and plywood adds a certain depth to the simplicity that underlies the narrative of this building. Additionally, hand-painted ceilings, and traditional elements such as wooden roof panels, south-facing columns, and usage of old Rajasthani doors provide a warm and inviting feel to the overall ambiance. The use of handmade tiles, which combine three distinct textures – plain kota stone, hand-tufted woollen fabric, and distinctive leather – add a unique touch of elegance and sophistication to each part of the place.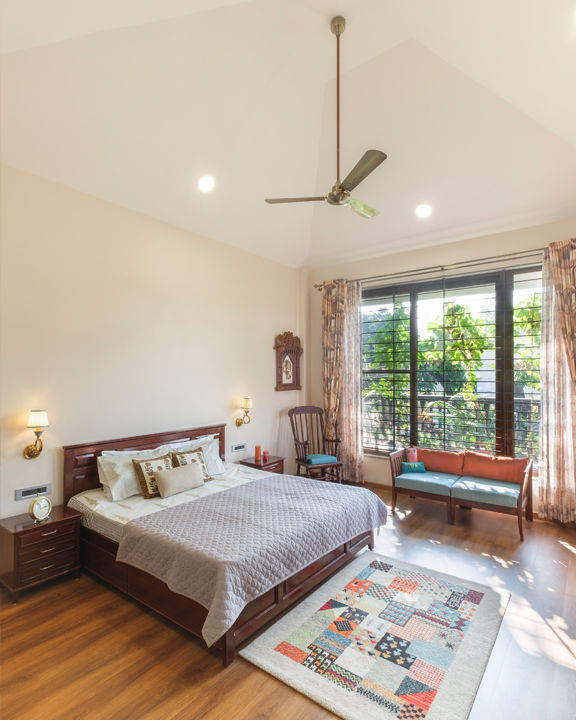 The incorporation of intricate details and thoughtful design that went into every corner had a great focus to ensure that the house is not only aesthetically pleasing but also functional, keeping in mind the region's climatic conditions. From the high ceilings to the large windows, every feature is carefully crafted to create a space that is both comfortable and visually stunning. The home showcases a classic look with its sloping roof and traditional concrete railing. With a white canvas, the spaces inside maximize the abundant natural light and incorporate the surrounding greenery to make the atmosphere lighter.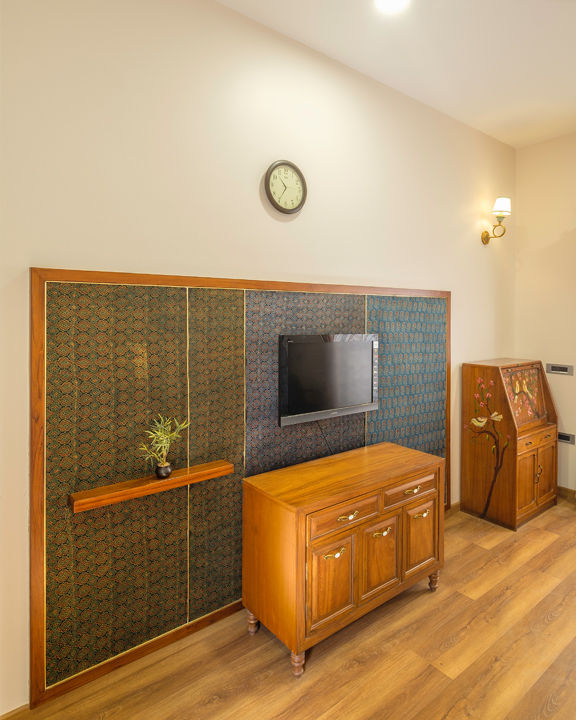 Sukoon reflects the quiet integration of passive and active environmental solutions meld with a thoughtfully designed, sensitively built sustainable strategy, displaying elegance and openness to nature that appeals to the mind. More than a mere residential project, the project acts as an embodiment of its existing colony, responsible for catapulting the journey towards the much-needed spiritual divinity for treading the autumn of one's life with grace.
FACT FILE
Project: Sukoon, Bhopal
Team: Kamlesh Vishvakarma, Niharika Mishra, Nitya Prakash
Site Area: 6,000 Sq ft
Built-up: 7,000 Sq ft
Photographs: Prithviraj Patil & Vedant Acharya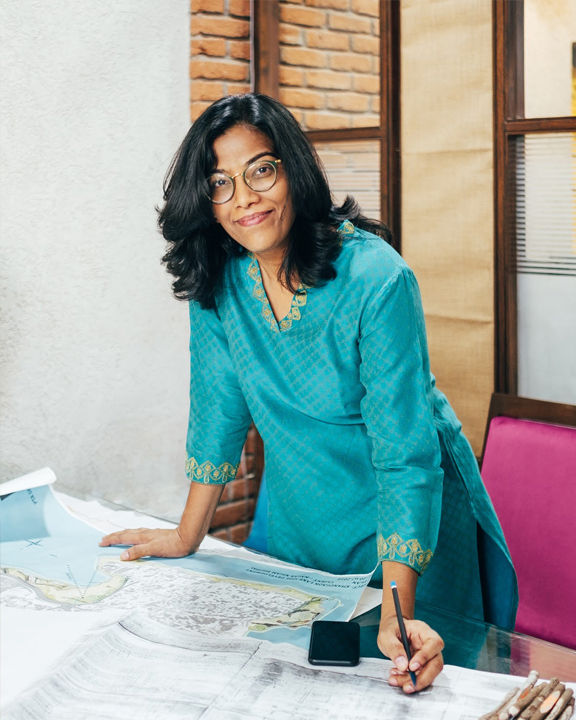 PRITI TATIYA, Director, PTA Designs Pvt Ltd
Priti Tatiya formed PTA Designs Pvt. Ltd. in the year 2010, after practicing as an individual practice with a small team that started in 1996 in Bhopal. Priti never wanted to restrict PTA Designs to specific services, or boundaries. She loves to work on almost everything that comes to her with faith and trust or a challenge, be it interiors, architecture, landscape, renovation, refurbishing, or redesigning. She does boutique architecture and hence everything is customised as per the client's requirement and the client's aura.