Anjali Mangalgiri, Architect and Founder, Grounded, seeks to reconnect with nature through her architectural practise. In this column, she demystifies the basic tenets of sustainable building methods.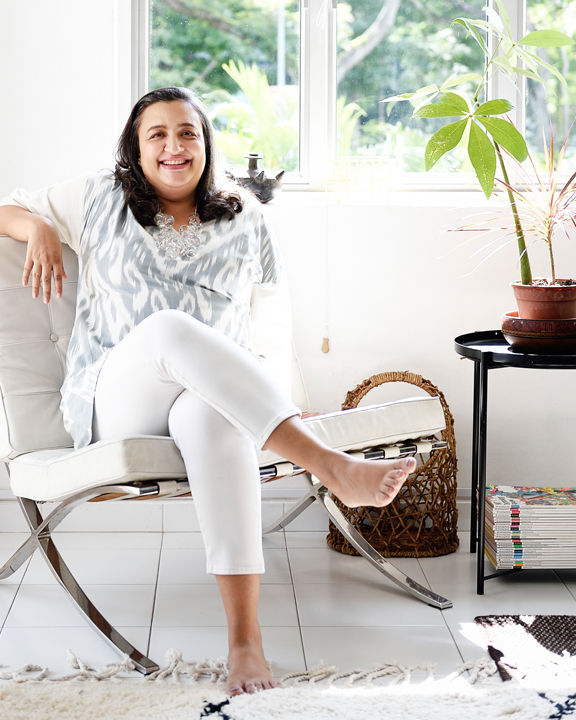 Anjali Mangalgiri is the founder and principal architect at Grounded, an award-winning architecture and development firm that she founded in 2010. After graduating with a Bachelor of Architecture degree from the School of Planning and Architecture (SPA), New Delhi in 2002, Anjali moved to the USA to do a Master in City Planning from the prestigious Massachusetts Institute of Technology (MIT). In 2005, she joined New York based architecture firm HOK, before returning to university to complete a Masters in Real Estate Development at Columbia University in 2008.
To the jaded, the mention of green buildings implies a marketing gimmick, and to an idealist, it conjures images of buildings built with mud and bamboo with compostable toilets. Invoking a strong response either ways, we recently concluded a Q&A session on Green Buildings on Instagram. The session had over 300-people join over the course of a 30-minute session.
The first question that we tackled was, 'What is a Green Building'? My answer, "A green building is one where you're trying to reduce the impact of the building on the environment." It is about making the right choices at every stage of the project, with the ultimate goal to minimise one's footprint on the environment. To make a building green, the architect must treat the environment as a key design criteria from the first step of the design process right until the occupancy stage.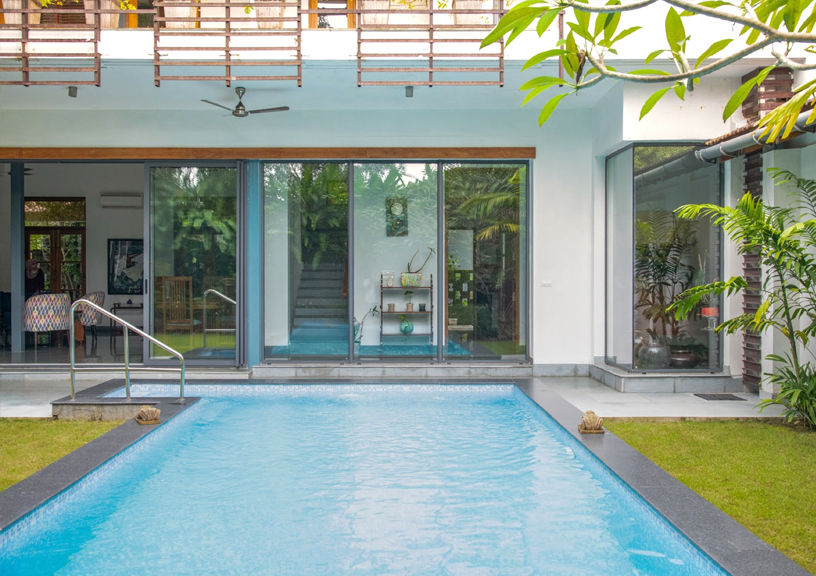 It is our commitment to build sustainably and we green certify all our houses in Goa. Our first home, Nivim was the first green certified residence in Goa. It received a gold-level certification and our project Navovado has recently been awarded the platinum-level certification by the Indian Green Building Council. Platinum being the highest level available in the ranking system. While a building can absolutely be green without a certificate, a green certification is a great way to stay accountable to oneself throughout the design and construction process. It provides the involved professionals with a detailed list of checks and balances with specifications and design criteria that need to be considered and incorporated at every stage of the design and construction process.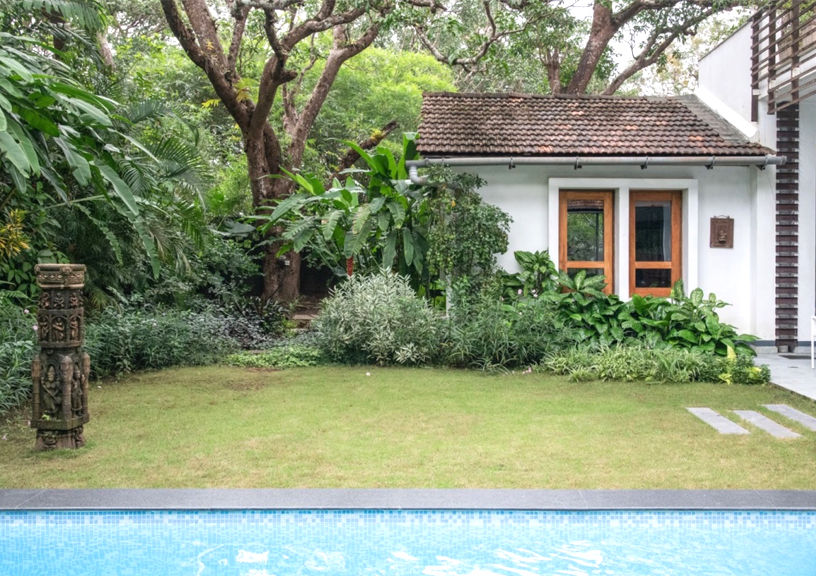 In India, TERI (home-grown) and IGBC (offshoot of USGBC) are the primary agencies that issue green certifications. Both these organisations use a credit-based system for the evaluation of green building design and performance. The credits fall under the following categories: Site Planning, Water Efficiency, Energy Efficiency, Indoor Air Quality, and Materials among others. Throughout the process, extensive documentation with detailed calculations are required which is then reviewed and tested by the certification body on site. While the system is elaborate, it proves effective as a way to stay true to one's goals of sustainability. However, it is important for architects to avoid incorporating design elements or features, just for the sake of securing points and focus instead on strategies that are feasible for that specific project lifecycle and use.
Demystifying Green Building
I would like to cut through the clutter on this topic. Specially as I would like to demystify the concept and express that green building design is not necessarily a specialised science, nor is it forbiddingly technical where only certain qualified professionals can build green buildings. On the contrary, it is my strong belief that a building built with the basic principles of good architecture would do very well on the green scorecard. The process of green building design starts with a deep understanding of the site, local climate, wind patterns, local materials and resources. Once a building is sited to take advantage of the sun and wind to maximise daylight and cross ventilation, is designed to be responsive to the weather patterns and is built using local materials, then that in itself is a great start towards making the building green.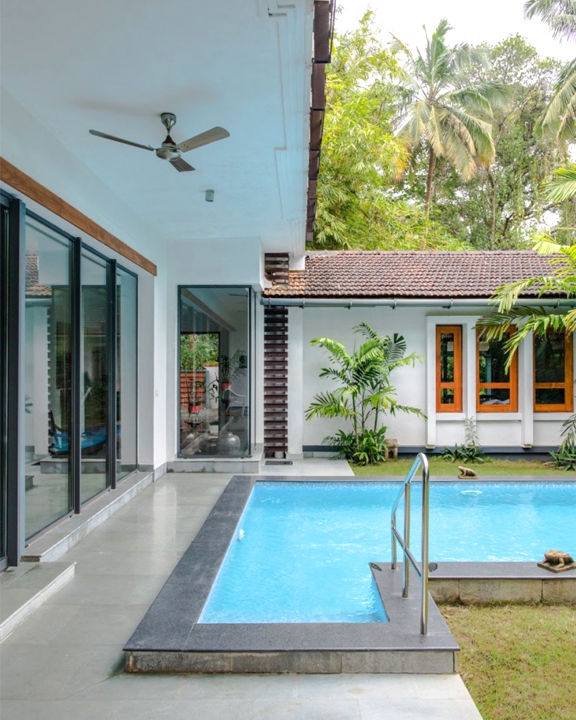 In the predominantly hot and humid climate in India, one can further think of reducing the heat gain through an informed design of the building envelope. This will have a tremendous impact on the thermal comfort within a building, and hence, reduce the energy use in the building. Water is another key natural resource that is dwindling with increased human activity on our planet. Rainwater harvesting provides a simple (sometimes 'no-brainer') solution to this problem. The idea is simple, instead of allowing rainwater to drain away from your site, one can design systems to either collect it and reuse on the site itself, or feed it back to the earth to recharge the underground aquifers. In addition, a simple introduction of dual flushes can reduce water use by 50-60% and aerators to taps, which can reduce the water use by upto 70% percent. Aerators mix the water from the taps with air, and as a result the water pressure feels the same even when the amount of water flowing through the taps are reduced.
When it comes to building materials, it is wise to use local materials. In most cases, the vernacular building techniques and the local labor would be well versed with the local material. The green quotient of buildings can be further increased by choosing materials with a higher recycled content, higher recyclability, reusing salvaged materials and materials that are rapidly renewable such as bamboo.
The choices to go green are not always straightforward. Cement, for example, presents a big conundrum in the building industry. The production of cement produces large quantities of CO2, a greenhouse gas with a lasting impact on global warming and climate change. In fact, the production of every kilogram of Portland cement produces an equal amount (one kilogram) of CO2. This presents a huge challenge for our industry where the widely accepted structural material is cement. Wood is another material that presents a difficult choice with sustainability. On one hand, it is a naturally renewable resource and is biodegradable, and wood can be used and reused multiple times. But at the same time, we are cutting irreplaceable virgin rainforests at an alarming pace with long lasting disastrous impact.
Finally, a green building doesn't have to cost a lot more. Majority of green building strategies are common sense and based on sound architectural principles, which do not come with an additional cost. In addition, there are simple systems that are available at extremely reasonable prices. The aerators mentioned earlier are a free addition offered by most companies that sell sanitary fittings. The difference is for the architect, client and the vendor to be aware of these systems and integrate them into the building design in a timely manner.
We must as a community of architects pledge to make green building design as important as aesthetics in our projects. A simple change in the thought process can have a long lasting impact on the quality of life for our future generations, which is a cause worth fighting for.
Innovative material uses that we have tested in our projects to maximise our sustainability efforts
Reuse construction debris to fill under plinth instead of virgin stone rubble.
Reuse the cut-waste from stone flooring for new flooring
Use fly ash bricks (with upto 93% recycled content) and slag cement (with upto 65% recycled content) for our super structure
Use true terracotta mangalore tiles for roofing that ranks high on the solar reflectivity index
Some ideas that didn't work so well:
Sourcing and using reclaimed wood
Using recycled tetra pak sheets
Tips for an Architect to Design a Green Building
The building should be designed for its local climate and weather.
The building design should be site specific.
The natural features on the site must be preserved whether it is the trees, the underground water table, the contours and terrain, etc.
Design fenestrations for maximised daylight and cross ventilation.
Reduce the urban heat island effect, by reducing the exposure of concrete in the building skin and in landscaping.
For landscaping, reduce non-permeable surfaces like concrete. Promote the use of permeable surfaces like grass pavers that allow rainwater to percolate and recharge the underground water table.
Enhance thermal comfort by reducing heat gain on the building envelope– the walls, the windows, the roof, etc. Consider simple techniques like using rat-trap bonds to add an air-gap to walls, design appropriate shading devices for openings, and add insulation and a reflective surface to the roof.
Reduce the use of glass or use glass with higher reflectivity or double glazed to reduce heat gain.
Collect or harvest rainwater for re-use or to recharge the underground water table.
Conserve water-use within the building and use aerators for taps and dual flushes for WC.
Use solar water heaters.
Use solar panels to generate electricity on-site especially when the relevant state has a policy for net-metering.
Use local building material as much as possible. Balance the requirement against the efficiency offered by the material, lifespan and maintenance requirements.
Choose materials with a higher recycled content, higher recyclability, reusing salvaged materials and materials that are rapidly renewable such as bamboo.
Compost wet waste in-house and feed it back into the garden.
Use native species for landscaping that requires little to no water for irrigation after they have matured
Opt for paints and finishes with a low VOC content.
Use LED lighting.
Use highly rated equipment for efficient energy performance such as 5-star ACs, refrigerators and pumps.