#StateOfTheArt: Anca Florescu Abraham and Alan Abraham advocate for more diversity and representation in the art and design industry
In our quest to understand how art is perceived by individuals and its evolution through the years, we touched base with some of the most sought-after names in the art and design industry. Not only did we take cognizance of the art culture in our country, but we also unearthed essential ingredients that empower the hearts of people through their creative prowess. In an engaging dialogue with Anca Florescu Abraham and Alan Abraham of Abraham John Architects and Bombay Greenway, we unearthed many intricacies about public spaces and how they are designed keeping in mind local communities and the aspect of function: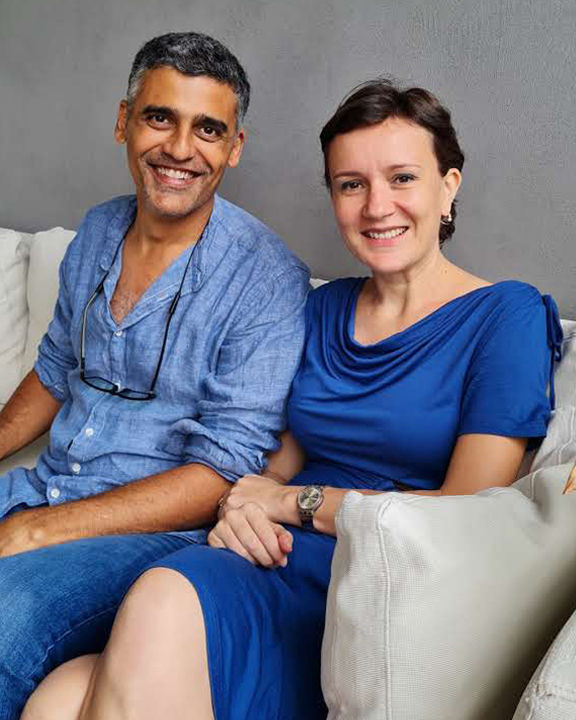 Kashish Kaushal (KK): Tell us about the urban transformation project, the St. Stephen's Steps in Bandra and the various art installations on it. What are the prerequisites when you design spaces for communities? 
Anca Florescu Abraham (AFA): St. Stephen's Steps is an accessible, barrier-free, multi-use public space for gathering, performances and community events. Once a derelict, neglected, narrow staircase, the steps were envisaged by Bombay Greenway/Abraham John Architects to become more than simply a transit-space connecting the lower and upper parts of Mount Mary. The new space has been designed keeping all ages in mind, it is both wheelchair-friendly and cycle-friendly as well, due to the ramps that are intrinsic to the design. The steps turn into amphitheatre seating, while a multi-use stage area has been put to great use, with every sport imaginable being represented on regular days (we even caught glimpses of badminton, friendly boxing sessions, dancing, etc). There is an annual open call for mural artists to transform the ample wall space available. We have had a great response from the art community, with new, talented, upcoming artists as well as seasoned ones supporting this community endeavour. There is also an annual art installation that we design and put up for a couple of months during the Festival at the Steps. (see the photos: some of our favourites are the #UnityinDiversityTree and the Family tree which turned into a Kite Tree for Makhar Sankranti).  
For the last 4 years, as a celebration of this urban transformation, with the support of the MCGM and uber talented local artists, Festival at The Steps: a Celebration of Art & Community brought the community together and activated the space. Festival at The Steps has set St.Stephen's Steps as a new landmark in the heart of Bandra with the local community taking the initiative to organize more regular events.
The Steps Bandra is an exciting achievement for Mumbai's public spaces.- a re-imagined outdoor  space by and for the community! This is where ALL the arts meet. It is free and open to all.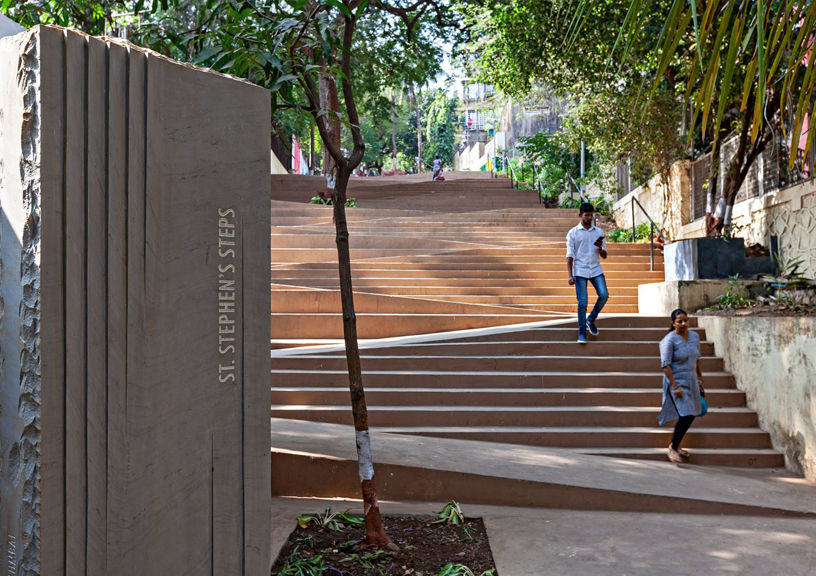 These are the pre-requisites for designing great spaces for communities:  
Community Engagement: Engaging with the local community from the early stages of the project is essential. Understanding their needs, preferences, and aspirations for the space ensures that the design is responsive to the community's requirements and fosters a sense of ownership and connection. 
Inclusivity and Accessibility: Designing spaces with inclusivity in mind is crucial. We consider people of all ages, abilities, and backgrounds. This involves providing accessibility features like ramps/elevators, clear signage, as well as considering cultural sensitivities. 
Cultural Context: Understanding the cultural context of the community is vital. Art and installations should resonate with the local culture, traditions, and history, creating a space that feels authentic and familiar. 
Sustainability: We incorporate Sustainable design practices wherever possible to minimize the environmental impact of the project. This could involve using eco-friendly materials, implementing energy-efficient solutions, and promoting green spaces.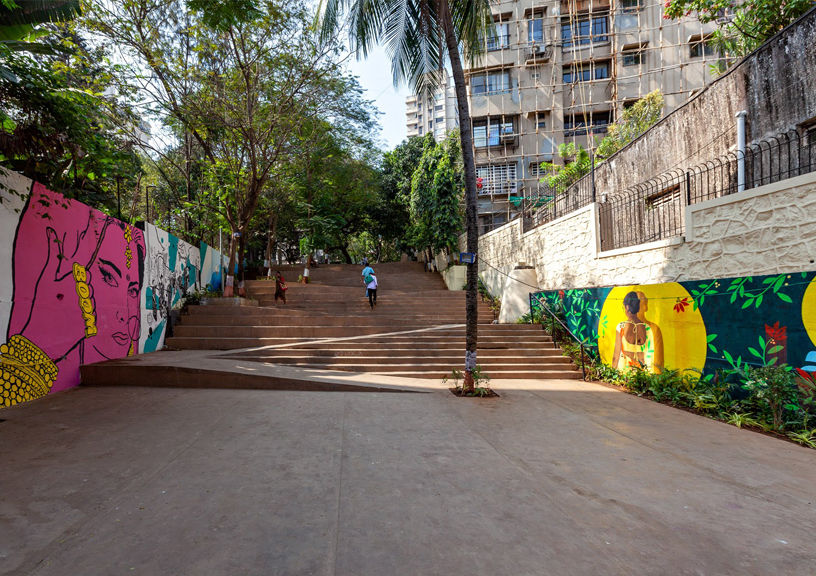 Safety and Security: Safety is paramount in public spaces. Designing spaces that prioritize the safety and security of users, including proper lighting, clear pathways, and visibility, is essential. 
Flexibility and Adaptability: We design spaces to accommodate a range of activities and events, allowing for versatility and adaptability to changing community needs over time. 
Art and Cultural Elements: Integrating art and cultural elements within the design can enhance the identity and uniqueness of the space. Public art installations and culturally relevant designs can enrich the experience for users. 
Engaging Gathering Spaces: Designing gathering spaces that encourage social interactions and community gatherings can foster a sense of community and connection among residents. 
Public Input and Feedback: Throughout the design process, seeking public input and feedback is crucial to ensure that the community's ideas and concerns are considered. Regular consultations and open forums can facilitate constructive dialogue. 
Maintenance and Longevity: Considering the long-term maintenance and upkeep of the space is important to ensure its longevity and continued relevance to the community.  
Overall, designing spaces for communities requires a thoughtful, inclusive, and collaborative approach that prioritizes the well-being and aspirations of the people who will use and inhabit those spaces. 
KK: Tell us the objective behind Bombay Greenway
AFA: Bombay Greenway is a not-for-profit Urban Design & Research platform by Abraham John Architects, to explore architecture from a wider perspective. It uses the studio as a workshop for new ideas and to share concepts and experiences to transform the City and its lifestyle. We want a better City through Design. @BombayGreenway is a series of urban planning and place-making interventions in Mumbai. St.Stephen's Steps aka @thestepsbandra is one of them. 
How has people's perception of art and art spaces evolved over the years?
Alan Abraham (AA):  Over the years, people's perception of art and art spaces has been influenced by various cultural, social, and technological developments.  
From elitism to accessibility: Historically, art was often associated with elitism, confined to the galleries and collections of affluent patrons or institutions. However, over time, there has been a gradual shift towards increased accessibility of art. Museums and galleries have made efforts to reach a broader audience, offering free admission days, educational programs, and online exhibitions. Additionally, the rise of public art installations and street art has made art more visible and approachable for everyone. 
Diversification of art forms: Traditionally, art was often limited to traditional media like painting, sculpture, drawing. However, with new technologies, artists have explored digital art, video art, interactive installations, virtual reality, and more. This expansion has challenged traditional notions of art and what constitutes artistic expression.  
In more recent times, there has been a shift towards conceptual art, where the idea or concept behind the artwork holds greater significance than the physical manifestation itself. This has led to art that may be less visually appealing but engages audiences in thought-provoking ways. 
Inclusion of diverse voices: This has resulted in a more inclusive and multicultural art scene, with artists from diverse backgrounds and various underrepresented communities, ethnicities, genders, and orientations gaining recognition and appreciation. 
Rise of digital platforms and social media: The advent of the internet and social media has had a profound impact on how people perceive and interact with art. Online platforms have enabled artists to showcase their work to a global audience without the constraints of physical space. Additionally, social media has allowed art enthusiasts to engage with and share artwork, leading to greater exposure and dialogue about various artistic expressions. Art is not made only by and for the intelligentsia, the affluent, the crème de la crème. Today all ages and backgrounds have access to art in their everyday life, through online shops where they can purchase or exhibit their creations, online auctions and exhibitions, art classes or even a visit to the mall (challenging ideas of where art could be seen). 
Artists have increasingly used their work as a means of addressing social and political issues, making powerful statements and raising awareness about various global challenges. This infusion of social commentary in art has facilitated discussions and debates on important topics, going beyond aesthetics to engage viewers on a deeper level. 
Overall, the evolution of people's perception of art and art spaces reflects the changing cultural landscape and a broader understanding of artistic expression. It has become more inclusive, diverse, conceptually driven, and accessible to a wider audience, leading to a richer and more dynamic art scene.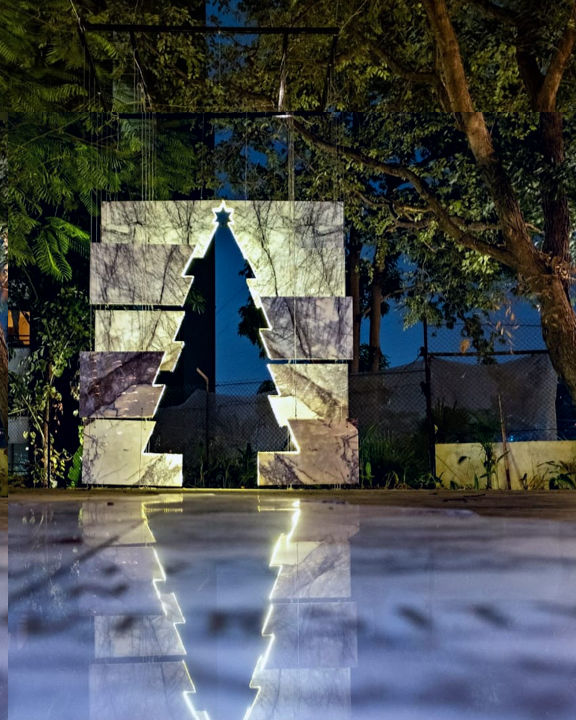 KK: Art brings people together, but it also creates a divide amongst people who are its connoisseurs and those with limited resources to be a part of this niche crowd. Does art only belong to the affluent inside art galleries? Please share your thoughts about making art accessible for all.
AFA: While art has the potential to bring people together and foster shared experiences, it has also been associated with exclusivity and elitism, particularly in the context of high-end art galleries and expensive art collections. However, it is our strong belief that art should not be limited to the affluent or confined to exclusive spaces.  
Creating this community space and starting an annual art+community festival originated with the idea of making art accessible for ALL, regardless of age, background, social-economic status, etc. The Steps are an equalizer. Everyone shares the space and is under the same sky. Art is a powerful means of expression, and making art accessible for all is not only a matter of social justice and equity but also a way to enrich society as a whole. Through our annual festival community get-togethers, we exposed the locals (some of them for the first time) to a variety of dance forms (from Odissi to Kathak, Ballroom to flamenco), capoeira, theatre plays and music of different genres, numerous instruments, some of them they could experience themselves through workshops (ukulele) and drum circles (djembe). We had several art exhibitions, film screenings, author interactions, and more. Installation art, mural art, all types of art. We invited local schools, orphanages, foundations, artists and aspiring artists. The local kids from the basti next to The Steps have become our staunch supporters, helping us set up before every community event, being the first in line for all interactive workshops, helping mural artists out, and always being there with their big smiles and glittering eyes, taking in all the wonders of the art world opening up to them in their litteral backyard.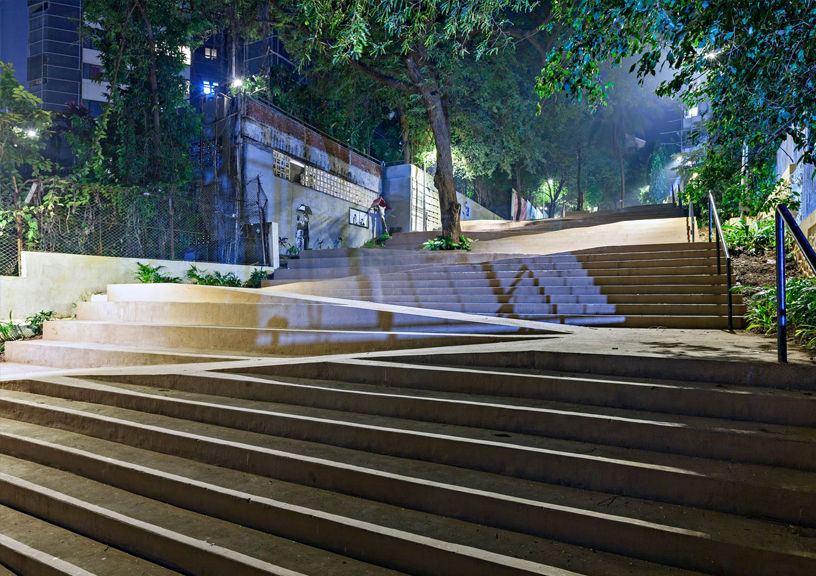 Here are some thoughts on how to achieve greater accessibility to art: 
Public Art Installations: Introducing public art installations in urban spaces, parks, and communities can make art a part of people's everyday lives. Public art can be enjoyed by anyone, irrespective of their background, and it often fosters a sense of pride and identity within communities, sometimes contributing to safer spaces, bringing criminality down. 
Community Art Initiatives: Supporting community-based art programs and initiatives can create opportunities for individuals with limited resources to engage with and create art. These programs can be conducted in local community centers, schools, or public spaces, allowing people to explore their creativity and talent. 
Art Education in Schools: Strengthening art education in schools is crucial in nurturing creativity and appreciation for the arts from an early age. Schools should provide access to art classes, workshops, and resources, promoting a more inclusive understanding of art and artistic expression. 
Art Outreach Programs: Establishing outreach programs by museums and galleries can bring art to underserved communities. These programs can include free admission days, art workshops, and educational tours designed to reach individuals who may not otherwise have the opportunity to visit such institutions. 
Digital Platforms: Embracing digital platforms and online exhibitions can significantly expand reach and accessibility. Virtual exhibitions, online galleries, and art-sharing platforms allow people from all over the world to explore and appreciate art without physical or financial barriers. 
Art Grants and Sponsorships: Providing grants and sponsorships to emerging artists from diverse backgrounds can support their creative pursuits and help them gain recognition within the art world. 
Art in Non-Traditional Spaces: Encouraging art displays in non-traditional spaces such as libraries, community centers, and public transit areas can further democratize art and expose it to a broader audience. 
Art for Social Change: Supporting artists who use their work as a means of social commentary can foster deeper engagement and dialogue on important societal issues. Art that addresses and challenges inequality can play a role in promoting positive change. 
In conclusion, making art accessible for all is essential for a more inclusive and vibrant society. By breaking down barriers and embracing diverse artistic expressions, we can ensure that art truly becomes a unifying force, touching the lives of people from all walks of life. Art has the potential to inspire, heal, and bring joy, and its benefits should be accessible to everyone, regardless of their socioeconomic status. 
KK: What are the challenges a public art space faces and how do you overcome them?
AFA: Public art spaces face various challenges that can impact their ability to effectively serve the community and promote art. Overcoming these challenges requires careful planning, community engagement, and continuous adaptability. Here are some common challenges and potential solutions to address them: 
Funding: One of the primary challenges for public art spaces is securing sufficient funding for operations, maintenance, and new projects. To overcome this, public art spaces can seek support from government grants, private sponsorships, and partnerships with businesses or philanthropic organizations. Fundraising events, crowdfunding campaigns, and membership programs can also be employed to engage the community in supporting the art space. 
Community Engagement: Ensuring active community involvement is essential for the success of public art spaces. Lack of community engagement can lead to a disconnect between the art space and the people it aims to serve. Public art spaces should hold public meetings, workshops, and surveys to gather input from residents and understand their needs and preferences. Involving the community in the decision-making process for art installations and events can foster a sense of ownership and pride in the space. 
Maintenance and Conservation: Public art installations are exposed to various environmental factors and may require regular maintenance to preserve their aesthetic and structural integrity. Establishing a dedicated maintenance team or collaborating with local artists and craftsmen can help ensure that the artworks are well-preserved. Additionally, setting aside a portion of the budget for ongoing maintenance is essential to avoid deterioration over time. E.g. The murals at The Steps require annual maintenance. Now the maintenance and upkeep is to be supported by The Steps Foundation, which is looking for partnerships and funding to make this project self sufficient.  
Accessibility and Inclusivity: Public art spaces should strive to be accessible to people with disabilities, the elderly, and those with limited mobility. This includes providing ramps, elevators, as well as considering the placement of artworks to ensure everyone can enjoy them. Promoting art programs and exhibitions that reflect the diversity of the community can foster a sense of inclusion and representation. 
Safety and Security: Ensuring the safety and security of both the artwork and visitors is crucial. Public art spaces should implement appropriate security measures, such as surveillance cameras, lighting, and regular inspections to identify potential hazards. Involving local law enforcement and community members in neighborhood watch initiatives can also contribute to a safer environment. 
Adapting to Changing Needs: Public art spaces must be flexible and adaptable to changing community needs and interests. This may involve periodically refreshing the art installations, hosting diverse events and exhibitions, and responding to emerging trends in the art world. 
By addressing these challenges proactively and with community input, public art spaces can continue to thrive as vibrant cultural hubs that enrich the lives of residents and visitors alike. Strong collaboration between the art space, local government, artists, and the community is vital for ensuring a successful and enduring public art program.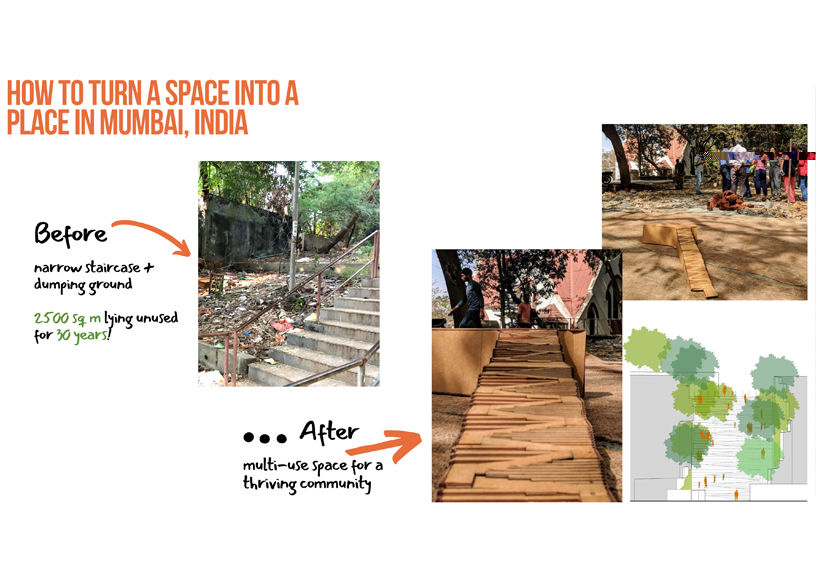 KK: What is the one thing you would like to change in the art/design industry and why?
AA: One thing I would advocate for in the art and design industry: increased diversity and representation. 
The art and design industry has historically been dominated by a narrow range of voices and perspectives, often leaving out artists and designers from marginalized communities. This lack of diversity can result in a limited range of artistic expressions and design solutions, as well as perpetuate stereotypes and biases in the portrayal of various cultures and identities. 
Increasing diversity in the art and design industry is essential for a broader understanding of cultural experiences and perspectives. Diversity fosters creativity and innovation by bringing together unique viewpoints, ideas, and problem-solving approaches. It leads to the exploration of new aesthetics and design solutions that can push boundaries and challenge conventional norms.  
Art and design have the power to influence society and shape cultural narratives. By diversifying the industry, we can promote positive social change and challenge stereotypes and prejudices. 
A diverse art and design industry can attract a broader audience, expanding the market for art and design products and services. It opens up new opportunities for artists and designers from different backgrounds to reach global audiences. 
To effect this change, the industry needs to actively address barriers and biases that have limited representation in the past. This includes providing more opportunities for artists and designers from underrepresented communities, promoting diversity in educational programs, creating inclusive spaces for collaboration and exhibition, and challenging stereotypes through the work itself. 
By making diversity a priority, the art and design industry can become more dynamic, relevant, and impactful on a global scale. 
Want to read the full article? Click here and subscribe to A+D!
CREDITS
St. Stephen's Steps Transformation by: Abraham John Architects and Bombay Greenway
Project Initiated by: Asif Zakaria, Municipal Councillor, MCGM
Executed by: MCGM H/West Ward Office
Festival at The Steps in collaboration with The Steps Cultural Foundation @thestepsbandra @bombaygreenway @lypmumbai @littlebigcity.in @haribhauvishwanath
Special thanks to Mount Mary Kane Road ALM & Dr. Peter Dias Road ALM