As part of celebrations for Disney's 100th birthday, a six-foot-tall sculptural masterpiece was unveiled at the heart of London's Royal College of Art. Crafted by the Abloh-founded design studio, Alaska Alaska, this sculpture radiates with a kaleidoscope of colours—a signature element often seen in Virgil's previous works. 
In a splendid celebration of Disney's 100th birthday, the creative minds at Virgil Abloh Securities and Disney have come together to reveal an awe-inspiring sculpture at the prestigious Royal College of Art in London. Drawing inspiration from a previous piece by the visionary Virgil Abloh in 2018, this new creation stands as a testament to the beauty of interdisciplinary artistry and the boundless joy found in becoming a part of popular culture. 
The connection between Virgil Abloh and Disney is unmistakable, both embracing the potential of exploring diverse disciplines and expressing a lifelong fascination with being woven into the fabric of popular culture. Above all, Virgil Abloh's legacy lies in inspiring others to unleash their imaginations and chase ambitious dreams—a shared philosophy with the industry titan, Disney.  
This captivating project is an integral part of Disney's "Create 100" initiative, inviting 100 eminent international creatives, including luminaries like Beyoncé, Pierpaolo Piccioli, and Christian Louboutin, to contribute their unique expressions of connection to Disney and its iconic characters from Pixar, Marvel, and Star Wars. These priceless works of art will be auctioned to raise funds for the Make-a-Wish Foundation, with Disney leading the charge with a remarkable US $1 million donation.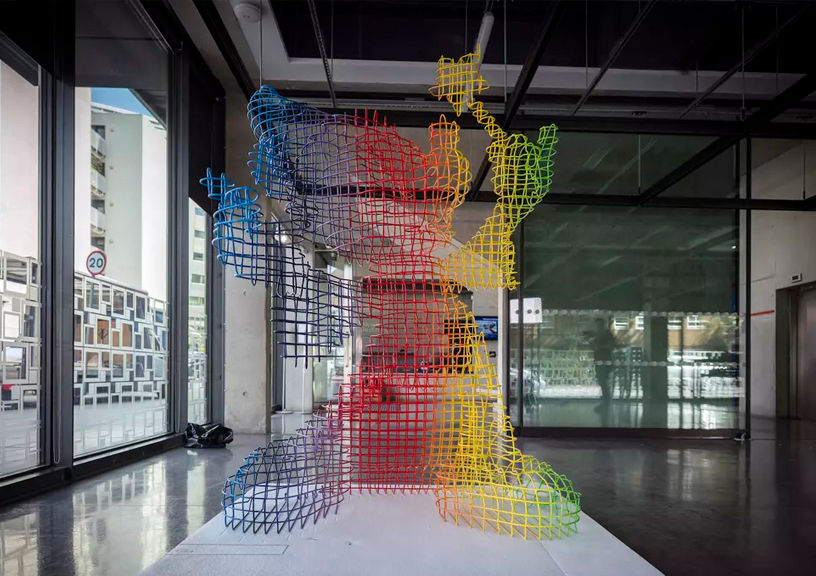 Virgil Abloh Securities, led by Abloh's wife Shannon, stands as a beacon of creativity, connection, and empowerment—principles that deeply resonated with the late designer, architect, and DJ. Athiththan "Athi" Selvendran, a prominent figure in the securities industry and formerly Abloh's secretary, highlights the team's commitment to keeping Virgil's spirit alive, as he inspired everyone around him to dream big and pursue their aspirations. 
The grand unveiling took place at the heart of London's Royal College of Art, where a six-foot-tall sculpture took its rightful place last week. It is a profound continuation of the collaboration between Disney and the legendary Abloh, who was bestowed with an honorary visiting professorship at the illustrious university in 2020. To honour his legacy further, a scholarship in Abloh's name was established to empower Black British students from less privileged backgrounds to pursue artistic education—an initiative close to his heart. 
The final masterpiece, a magnificent six-foot-tall sculpture of the iconic Mickey Mouse, graces the public with its dazzling presence. Crafted by the Abloh-founded design studio, Alaska Alaska, this British-made sculpture radiates with a kaleidoscope of colours—a signature element often seen in Virgil's previous works, from his revolutionary Off-White collaborations with Nike to the breathtaking 200-meter-long rainbow carpet that adorned the gardens of Palais-Royal during his inaugural Louis Vuitton show in 2018. The sculpture's lattice-like design pays homage to Abloh's "Framing" furniture collection, which first debuted in 2016.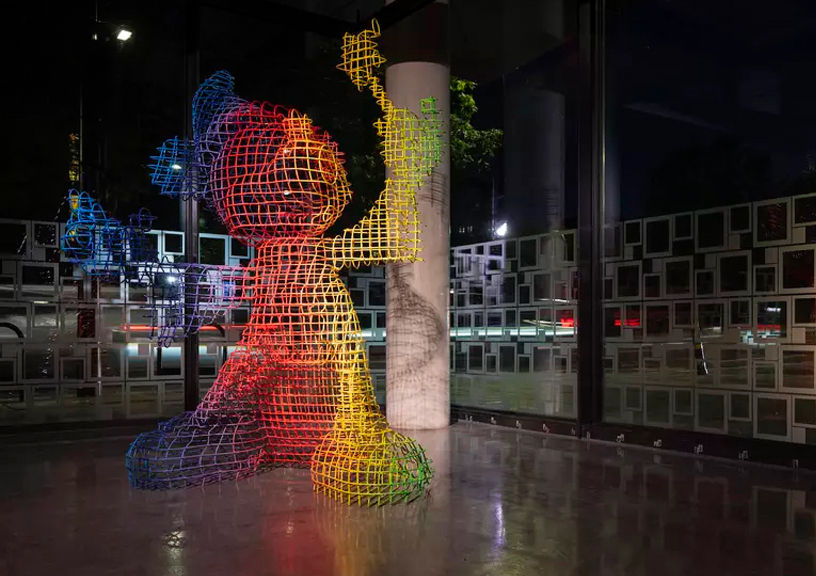 It becomes evident that Virgil Abloh's fascination with Disney has been a long-standing affair. In 2018, he graced the cover of Chaos magazine with a vibrant illustration of Mickey Mouse, bedecked in the famous "Sorcerer's Apprentice" attire from the beloved movie, Fantasia. Furthermore, his previously unseen Mickey Mouse illustrations adorned T-shirts sold in conjunction with the "Figures of Speech" exhibition—an ode to his remarkable life and career—at the Brooklyn Museum last year. 
In an inspiring gesture to support the next generation of creators, Virgil Abloh Securities commissioned multidisciplinary artist Favour Jonathan, a London-based Nigerian talent, to craft a mesmerising sculpture of Dr. Facilier from Disney's enchanting 2009 film, "The Princess and the Frog." This evocative piece will also feature as part of Disney's "Create 100" project, dedicated to amplifying the voices of budding creatives.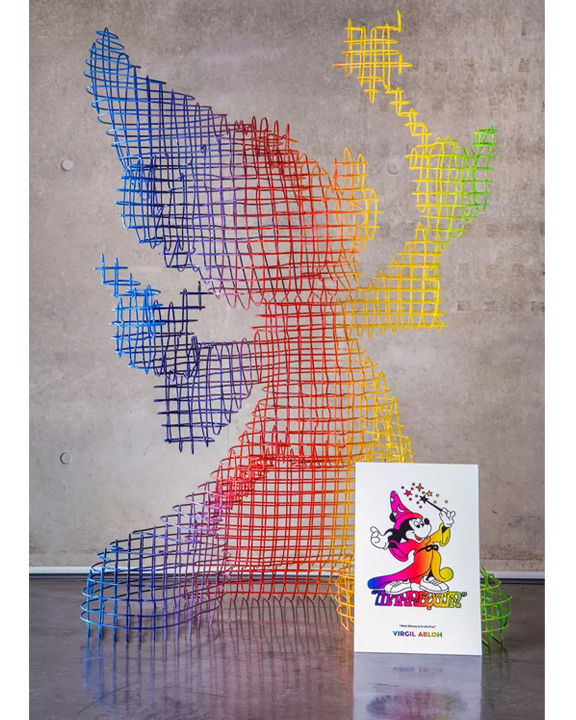 With the unveiling of this extraordinary sculpture, Athiththan Selvendran expresses the hope that it will beckon people from all walks of life to step into the hallowed halls of the Royal College of Art and partake in the city's vibrant creative scene. Beyond doubt, the collaboration with Disney aims to ignite a spark of inspiration in a broader audience, reminding them that anyone, armed with a creative vision, can achieve greatness by following their hearts and daring to dream big. 
Truly, the unveiling of this stunning art piece marks an exceptional milestone in the world of artistic collaboration, blending Disney's time-honoured magic with the innovative spirit of Virgil Abloh Securities, in a harmonious symphony of creativity and boundless imagination.