Completed by NArchitekTURA, the chapel-like interiors are for an indefinite exhibition that recently opened in Poland. Works of Renaissance artists such as Paolo Uccello, Bartholomaeus Bruyn the Elder and Barend Graat are unveiled on the first floor of the Wawel Royal Castle, lying in close proximity to the historic town of Kraków. The fluid forms of the exhibit design were conceptualised in reference to the layout of the old Wawel Cathedral, where Renaissance and Baroque chapels sat around the main nave and ambulatory.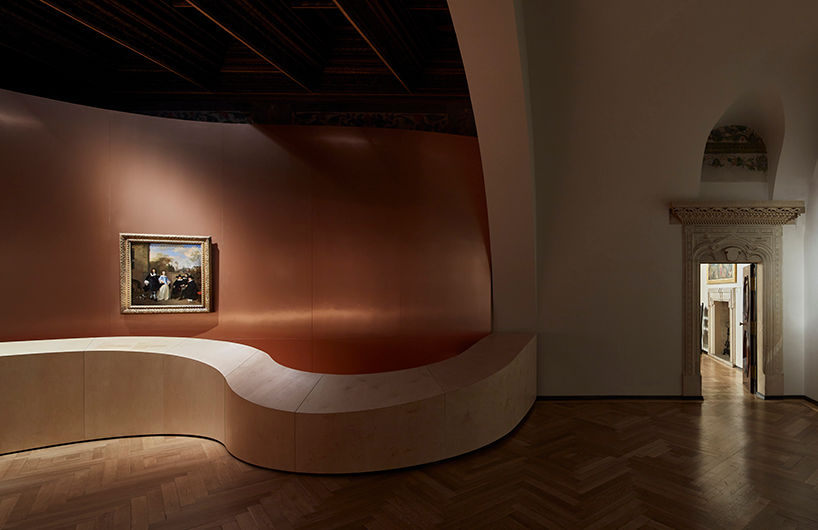 The application of copper sheets throughout the exhibit was originally inspired by the towers, spires and domes of the churches present in the surrounding Old Town of Krakow and these can be beautifully viewed from the windows of the first-floor room where the exhibition is held.
The symmetrical geometry of forms used in the exhibit arrangement have a close relationship with canons from the Renaissance and Baroque periods and they act as a nod to the presented historical works. Therefore, this art space combines contemporary forms, technologies and materials with strong references to both art and architectural history.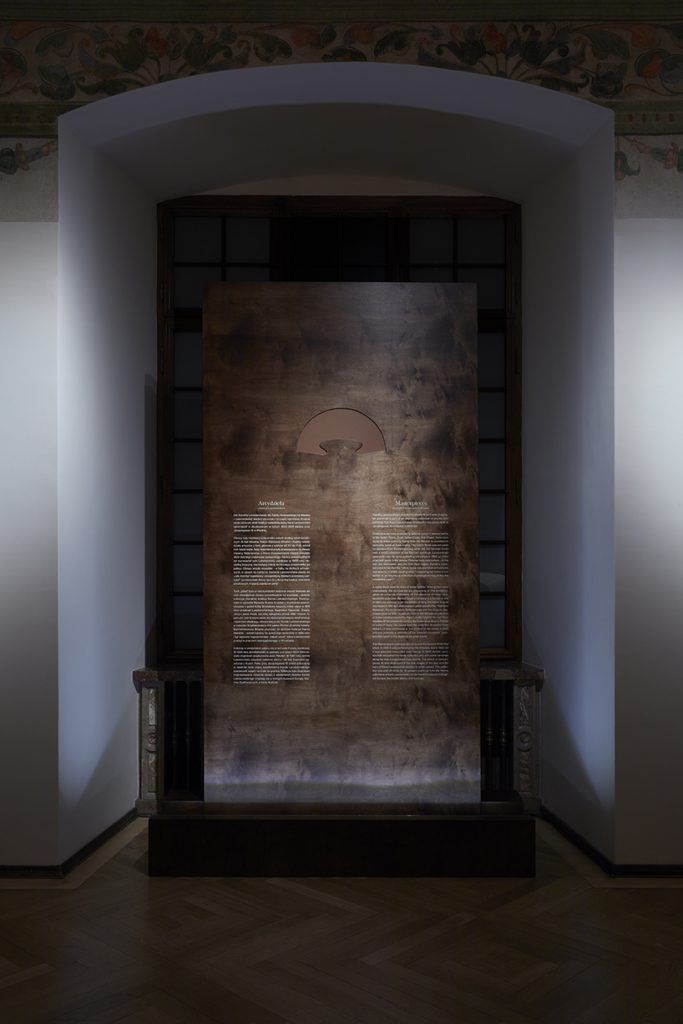 To obtain a continuous form by combining the well-defined interior spaces and the main visiting route, the present architecture attempts to resemble a contemporary quasi-sacred space familiar to the architectural forms at Wawel. Further, the resulting sequence of rooms acts as a traditional layered arrangement.
The vaulted arch at the exhibition hall was the starting point for fluid geometries and it was fairly complemented by the balustrade done using a bent plywood ribbon. It also acted as a carrier of descriptions for individual paintings, while masking the technical devices and spotlighting.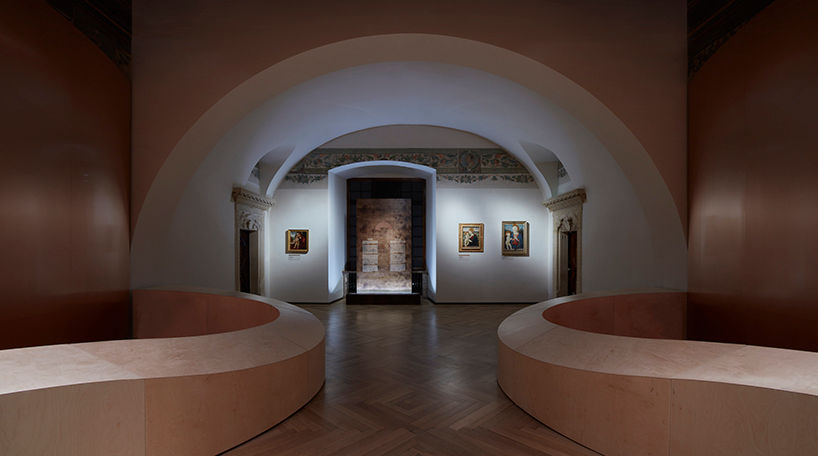 With reference to optical illusions in Uccello's work, the uneven inclination found in the upper surfaces of the bent plywood indicated the illusion of a disturbance of the correct perspective. Similarly, the Portable small round mirrors, placed above the descriptions of the paintings on the balustrade, are another reference and here they tend to reflect fragments of paintings and the historic coffered ceiling in the exhibition hall.
Behind the liquid form of plywood, there is a curved wall finished with copper panels. This is where the famous paintings borrowed for the exhibition from the Rijksmuseum in Amsterdam, the National Gallery in London and the Ackland Art Museum in Chapel Hill were hung. The shape of this copper wall was taken from the line visible in the upper part of the painting by Bartholomaeus Bruyn the Elder.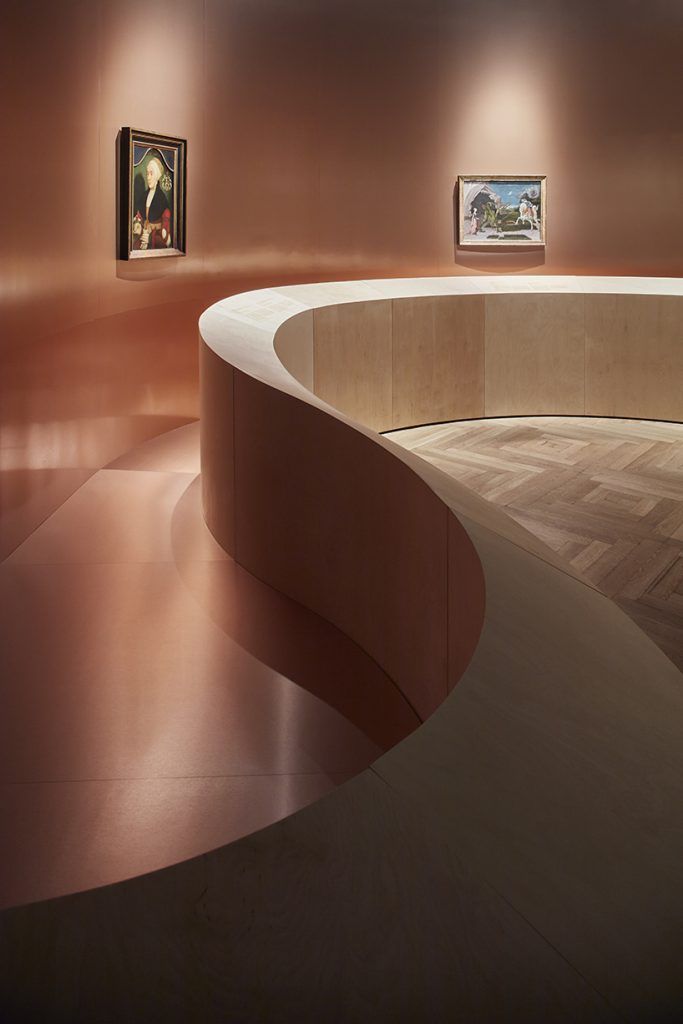 The exhibition is complemented by the arrangement of the window recess from the side of the famous arcaded courtyard. The design of the information board uses tinted wooden veneer, the colour of which is taken from historical furniture in Wawel.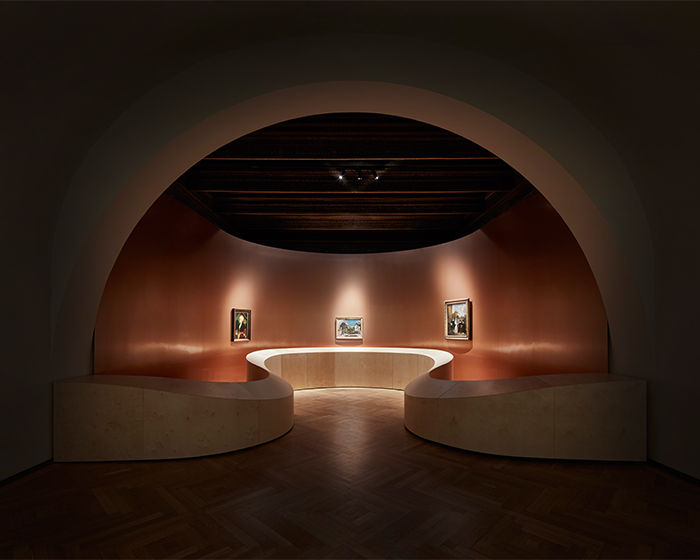 Written by: Nikitha Sunil Vallikad, Contributor at A+D
FACTFILE:
Project: Exhibition- Masterpieces from the Lanckoroński Collection
Architects: NArchitekTURA
Location: Poland
Photos: Anna Stankiewicz, Dariusz Błażewski