Christie® Crimson Series 3DLP® laser projectors deployed for an inspirational son et lumière on the façade of Victoria Memorial in Kolkata are mesmerising guests with spectacular visuals that celebrate the life and work of Indian nationalist and freedom fighter, Netaji Subhas Chandra Bose.
The 20-minute show, which features stunning projections using eight Christie Crimson laser projectors on the surface of Kolkata's iconic white-marbled monument, is a permanent installation jointly accomplished by Christie's longstanding partners Tricolor India Schauspiel and Modern Stage Services. Both companies are highly renowned systems integrators with numerous high-profile, large-scale projects across India under their belts.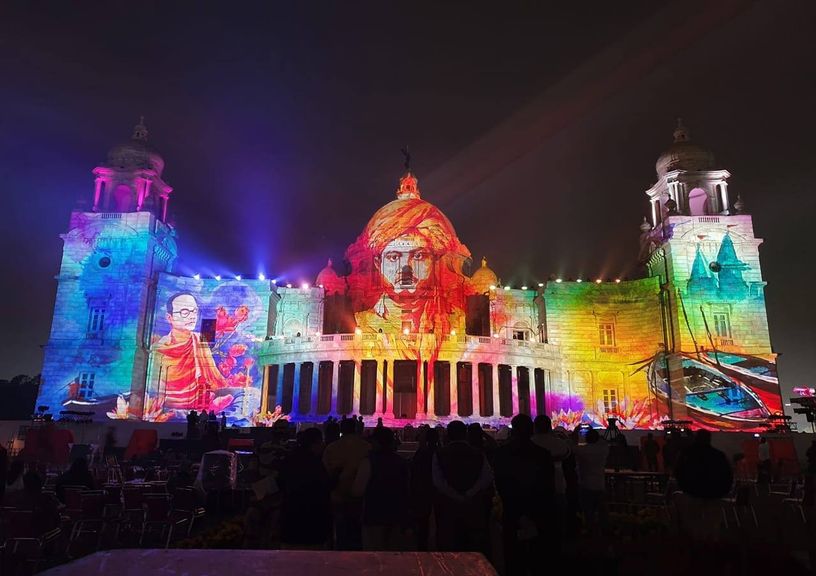 Inaugurated by Indian Prime Minister Narendra Modi on January 23, 2021, the grand spectacle is widely considered to be an amazing achievement, having been put together under five days to mark the 125th birth anniversary of Bose, widely known by his honorific "Netaji", or "respected leader" in Hindi. With its flamboyant images and rousing soundtrack, the show is a fitting tribute to Netaji, who made extraordinary contributions to the nation's freedom struggle. The Indian government has also announced that Netaji's birthday will be celebrated on January 23 every year as "Parakram Diwas", so as to inspire its citizens to act with fortitude in the face of adversity, and to infuse in them a spirit of patriotic fervor.
"We are honoured to be involved in the creation and execution of this son et lumière to honor and remember Netaji's indomitable spirit and selfless service to the country as we commemorate his 125th birth anniversary," said Himanshu Sabharwal, Chief Creative Officer, Tricolor India Schauspiel. "These are exemplified in the projected contents that we have meticulously put together. Even though we had a very short lead time, I'm heartened that our years of knowledge and experience in delivering large-scale projects have served us well to successfully bring this show to fruition."
Davinder Wadhwa, Managing Director, Modern Stage Services, added, "Since this is a permanent installation, we needed a high brightness, high performance and dependable projection system that's rugged and able to provide years of reliable and virtually maintenance-free operation. Christie's Crimson Series laser projectors immediately come to mind since they meet the requirements and have an excellent track record in India. In our opinion, the Crimson Series is best-suited to deliver the visuals for this major outdoor spectacle."
The Crimson Series was ultimately chosen as the client was highly impressed with Christie's 3DLP® projection systems, which consistently offers better light efficiency and colour control in comparison to any other projection technology. For the inauguration, the eight Crimson Series projectors were fitted on scaffolds erected directly across Victoria Memorial to deliver optimal visuals. The long-term plan is to house all projectors in outdoor enclosures to protect them from inclement weather.
Michael Bosworth, Executive Vice President, Enterprise, Christie, commented, "We are delighted that the Christie Crimson Series has been chosen to illuminate Victoria Memorial for this impressive light and sound show that honours one of India's most beloved national heroes."
Designed with both fixed and live events stagers in mind, the Christie Crimson Series is built-tough and is easy to ship, handle and install thanks to its compact form factor, quiet operation and 360-degree orientation. With its long-lasting brightness (20,000 hours of long life light), rock-solid reliability, TruLife Electronics, and BoldColor Technology, the Crimson Series combines the best in solid-state illumination with the brightness and colour that's ideal for use in large venues, live events and high-usage environments.