This house by UA Lab & The Design Story is a blend of simple aesthetics, functionality and flexible use of spaces
Introducing this 3 BHK compact house designed by UA Lab (Urban Architectural Collaborative) & The Design Story,  located in Ahmedabad, Gujarat. The house was designed with basic requirements in past but now client wanted to redesign it because of changing needs. This was more of a renovation project for us and the clients wanted to remake it in semi contemporary style.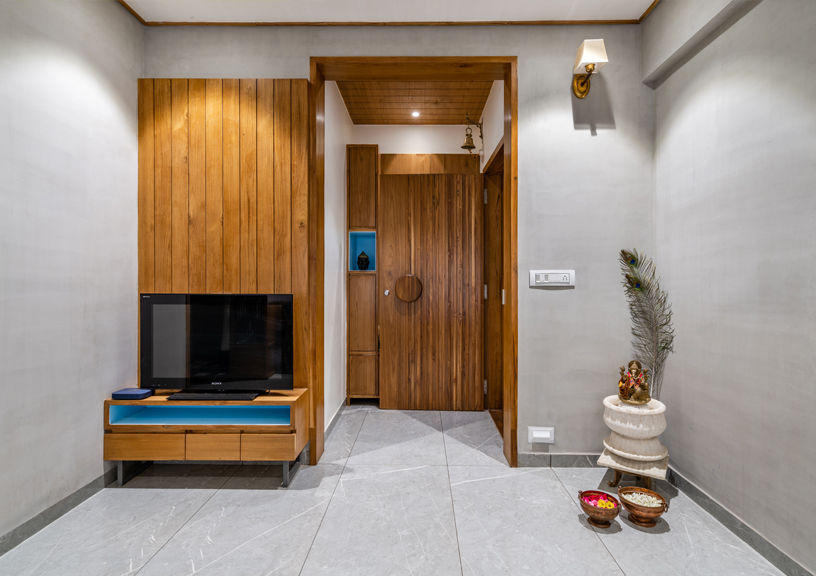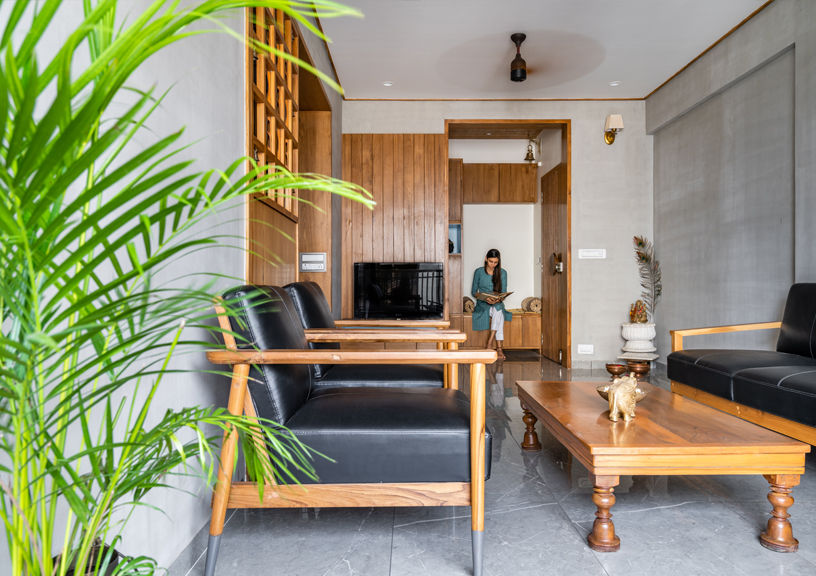 This house is designed as per the client's functional requirements and aesthetical expectations. So this is typically 3 bhk home which works as modern living. As the apartment takes place in society, in order to maintain the outer elevation the changes were not made in exterior facade. The whole house is planned in a way that it can get sufficient amount of sun light and wind circulation throughout the day.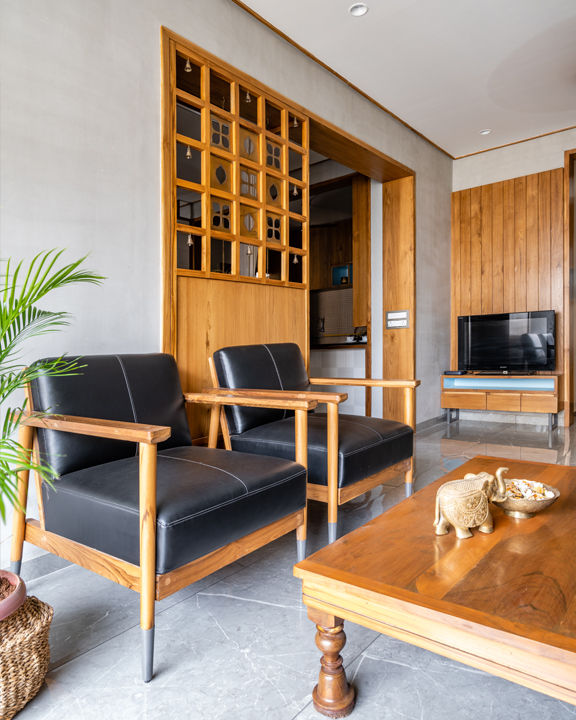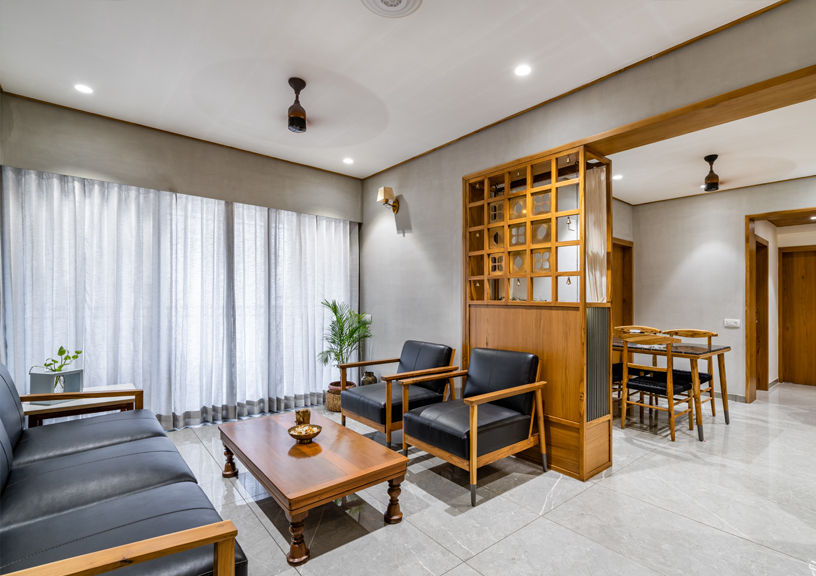 There is a compact porch area when you enter the house, which incorporates shoe rack unit with small sitting. As you walk further, living area, dining area and kitchen take place. These areas create one large open volume. The living area has attached sitting balcony. The kitchen is kept open so one can easily connect to dining and living area.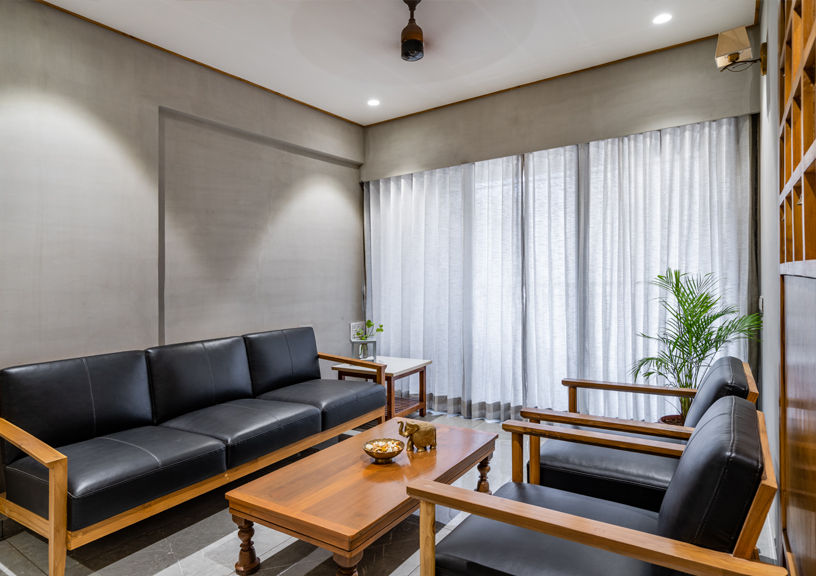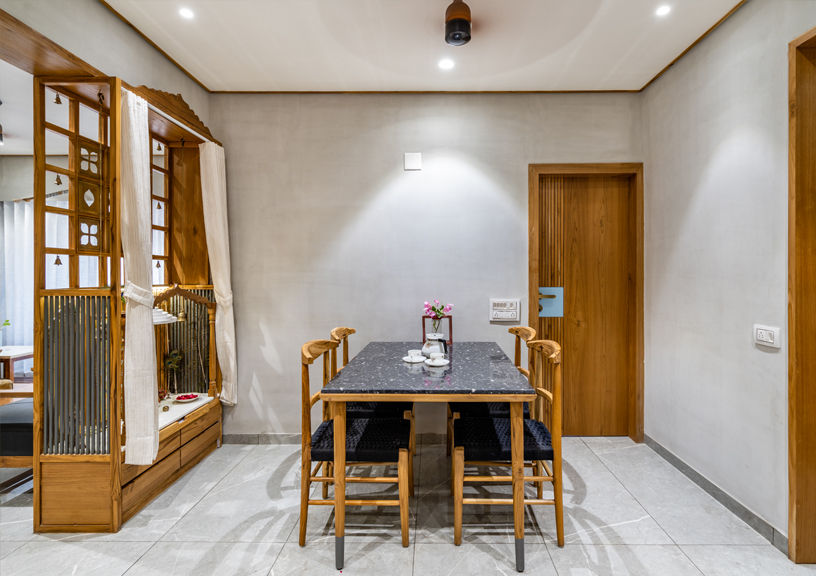 There is a breakfast table in front when you enter in kitchen area, which also works as connector element of dining and kitchen areas. On the other side partition unit takes place, which separates living and dining area. This unit is designed in a way that one can access it from both sides. If you access it from dining, there is a puja space and from living, the unit becomes more like a display unit.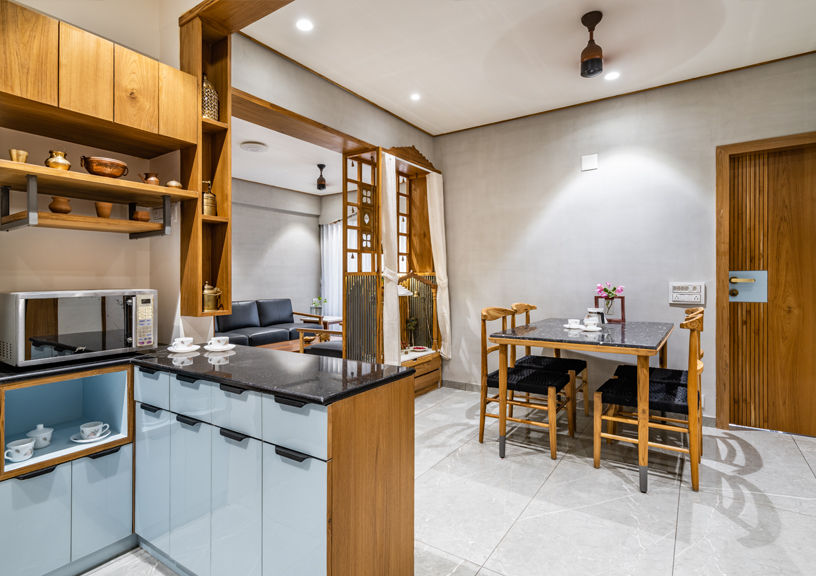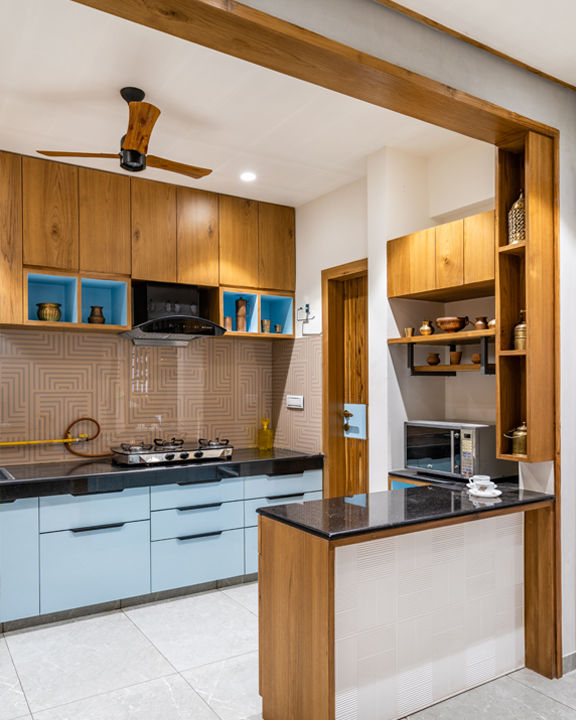 The puja is designed considering client needs and also if they want to conduct small puja then they can simply open up the dining space to sit there. The kitchen has adjoining utility and storage area. There is powder room/common bathroom next to dining area.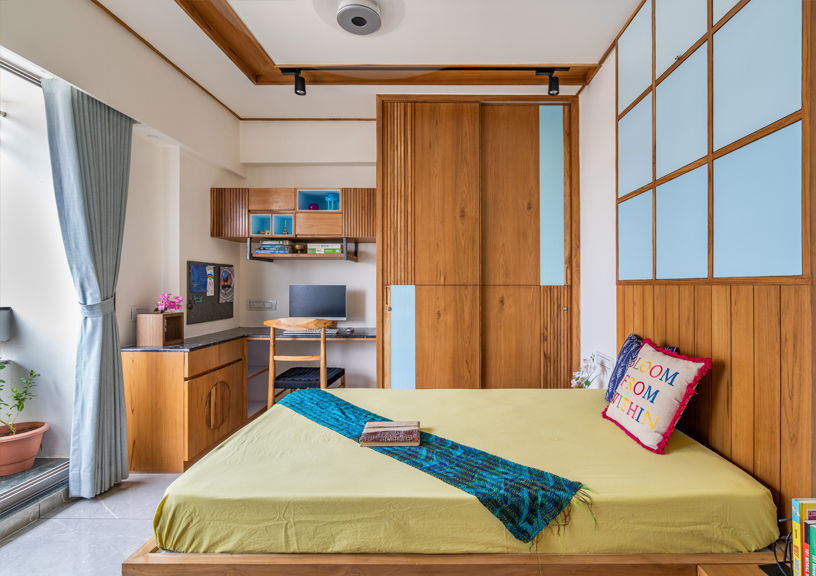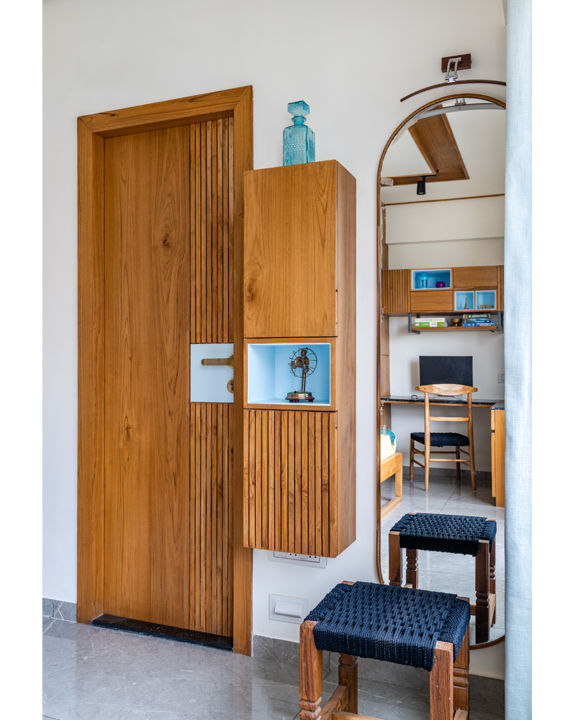 One can access bedrooms directly from dining area. The master bedroom has attached bathroom and standing balcony. It includes small library unit and study area. The balconies are majorly covered with small plants and space to stand there. The room is designed in way that it allows the cross ventilation and enough amount of natural light. This room includes bed, TV unit, dressing and study unit and full heighted wardrobe.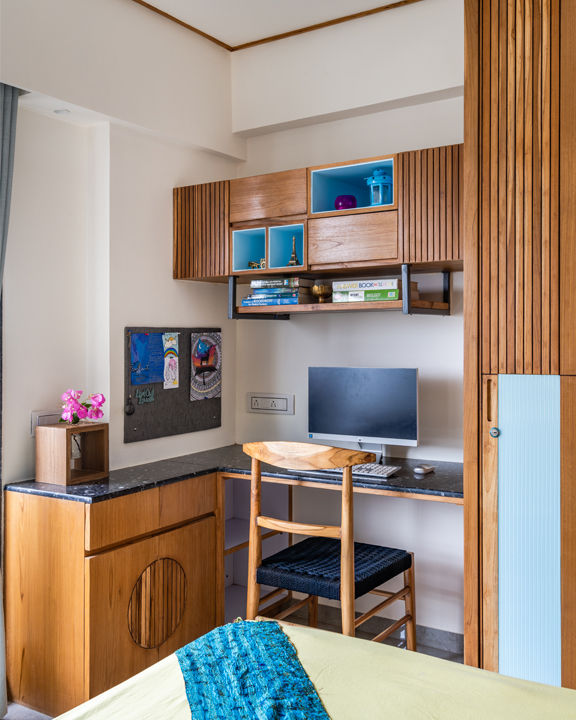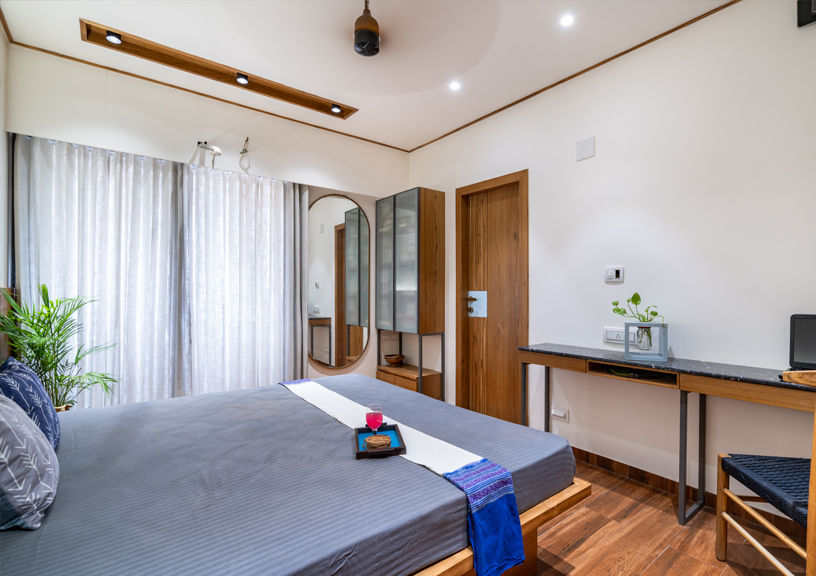 Master bedroom's standing balcony connects to grandparents' room balcony. The grandparents' room is little compact than other two bedrooms. This room has no attached bathroom.  This room is designed with minimal use of furniture. The other bedroom is designed for their daughter. She wanted full height wardrobe and study unit in her room. So it is designed keeping in mind the functional use and aesthetics. This room also has attached standing balcony and bathroom.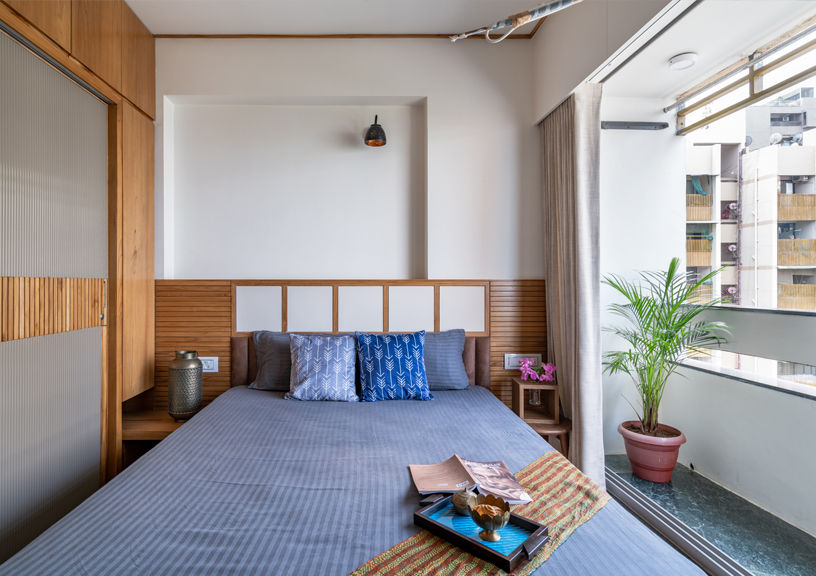 Entire house is designed using materials like wood, fluted glass, brass and veneers as basic palette. Except than this shade of greys, white and blues are used as colour palette. Furniture are designed considering small details and functionality.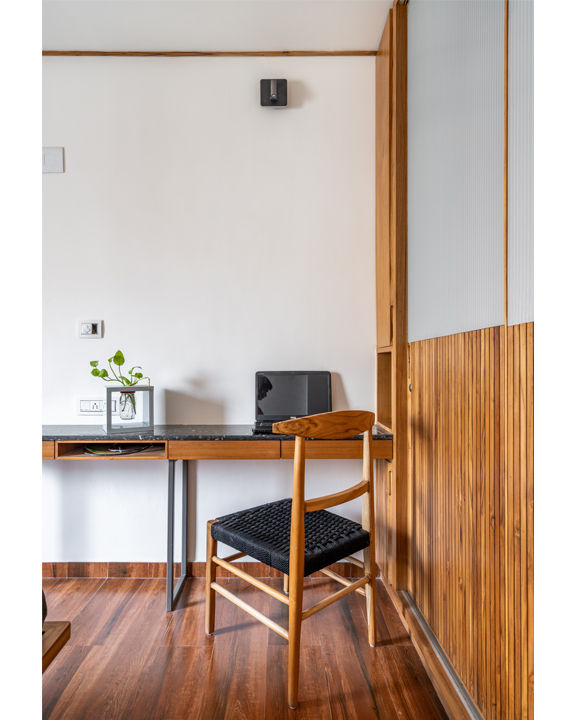 FACT FILE:
Project Name: The Fluting House
Project type: Apartment Interior
Firm Name: UA Lab (Urban Architectural Collaborative) & The Design Story
Firm Location: Ahmedabad.
Completion Year: 2022
Area: 1100 sq ft
Project Location: Ahmedabad
Architects: Krishnakant Parmar & Kruti Shah
Photographer: Maulik Patel / Inclined Studio