This bespoke DLF Camellias home in Gurugram by Rosabagh narrates a refreshing tale with strokes of a neutral colour palette
Overlooking the scenic golf course of Gurugram, in the uber-luxury residences of DLF Camellias, is Abhishek Kathuria's new residential project. It is a coruscating masterpiece that rises above trends, stays classic, yet remains functional and intimate. A canvas of neutral palettes and subdued tones sketched with a neoclassical design lexicon renders this latest Rosabagh home to stay refreshingly serene.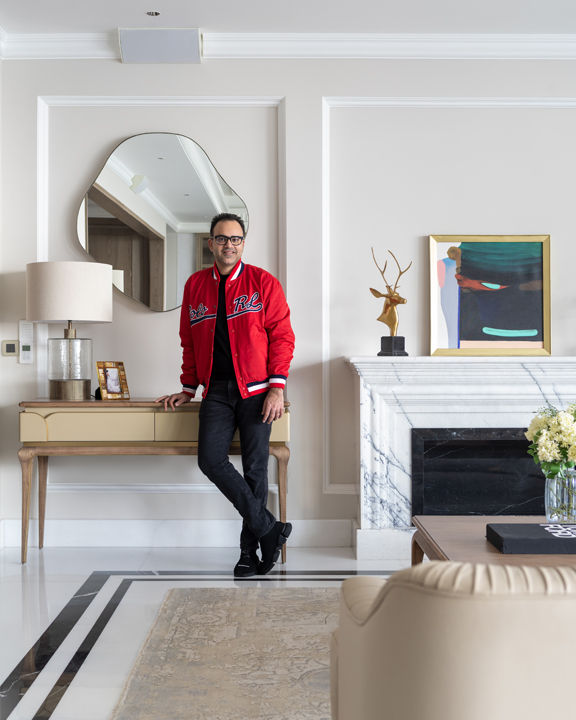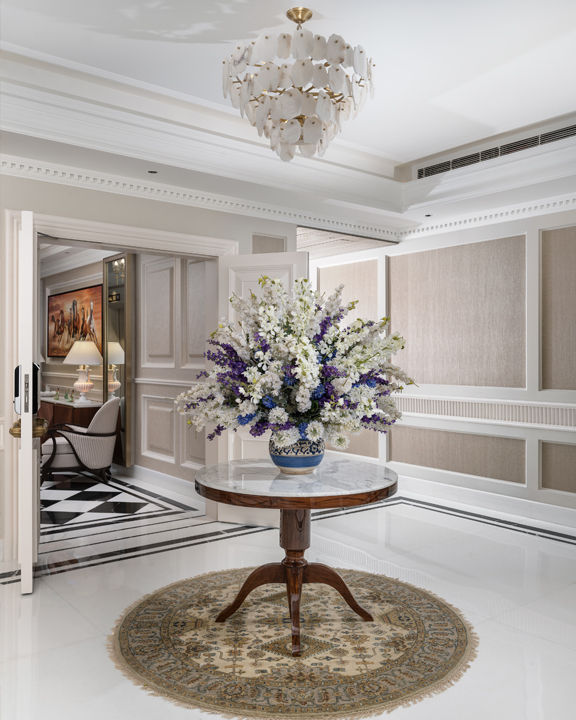 Resonating a youthful spirit, where each room harmonizes with the other swathed in subdued colours, the warmth of teak and oak wood, the residence embodies a strong visual flow of European influences that foster a sense of poised luxury.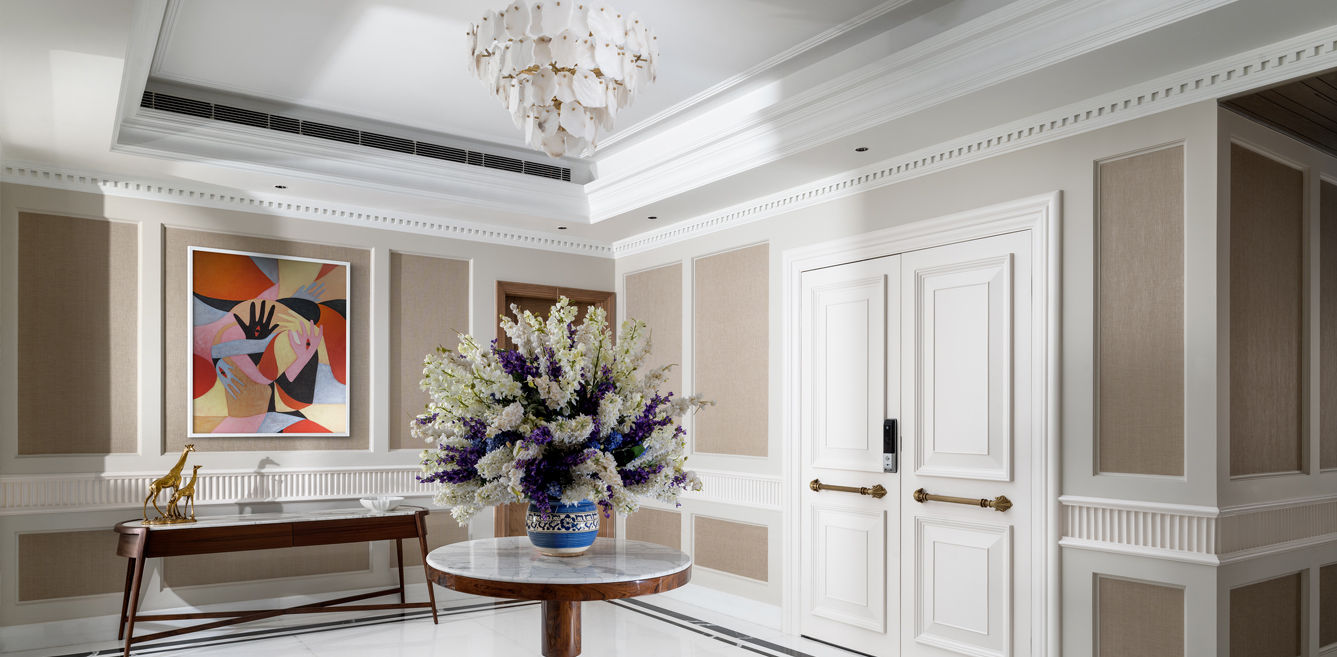 A modern 7,500 sq ft apartment perched on the sixteenth floor, it evinces a resplendent balance of timeless and contemporary elements. Centric to the design ideologies for this sprawling space were the preferences of the family of four that developed over layers of dialogues and discussions to formulate the overall experience of the house.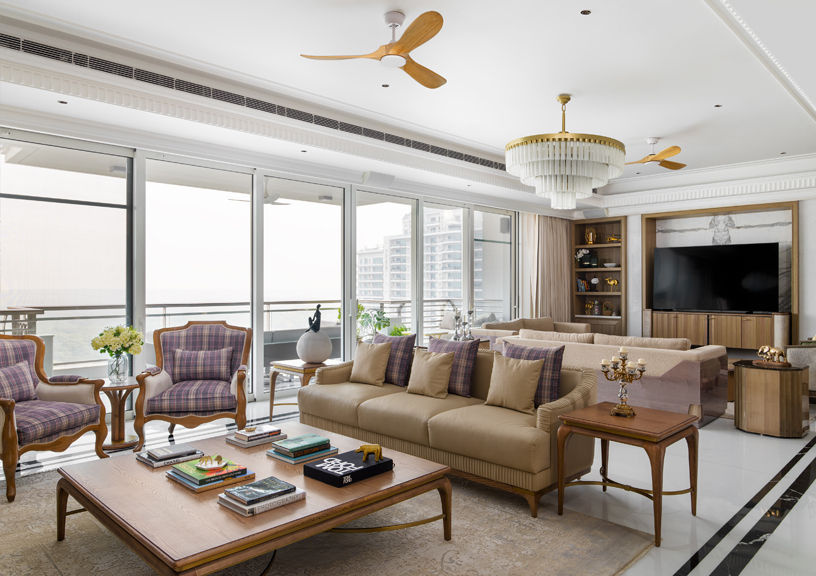 Endorsing the residents' choice, white forms the base for the entire apartment. Every space is then marked with bespoke furniture and furnishings while touches of accent colours, layer up like a collage to infuse this sanctuary with a beguiling personality.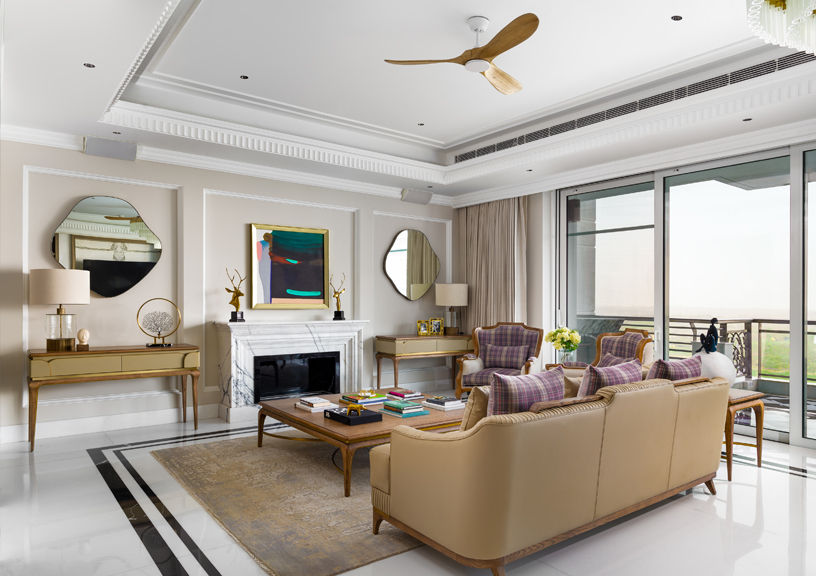 A fitting prelude to the home, the foyer embraces the white and beige theme, with a dramatic painting and a marble-topped circular table taking centre stage. A magnificent wooden console with an intriguing geometric fluted pattern stands poised like a welcoming gesture in the passage to be highlighted by vintage lights and an imposing artwork.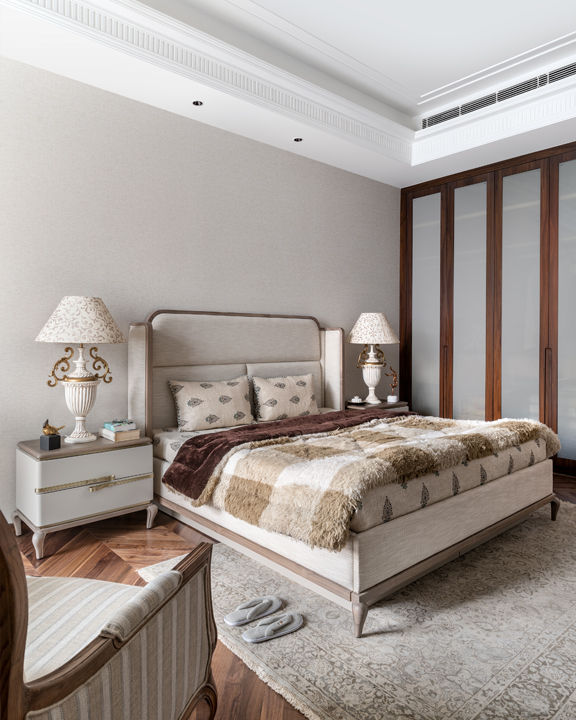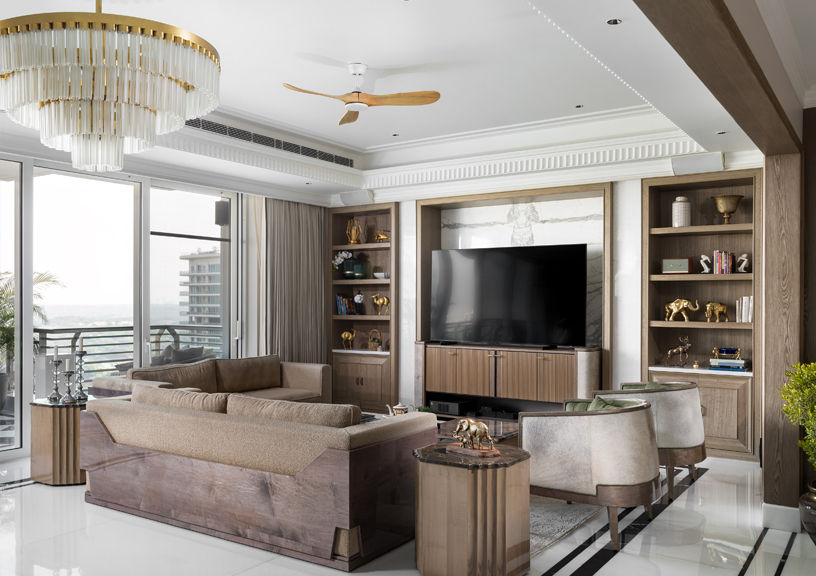 Ushered through the pristine living room, an effervescent oasis of comfort and opulence, where beauteous linen sheers and beige curtains filter natural light and bathe the resplendent furniture along with the rich gold and white chandeliers and fans. The minimally designed sofas with rich leather and textured upholstery maintain a tranquil countenance in muted beige as they draw inspiration from neo-classical design sentiments.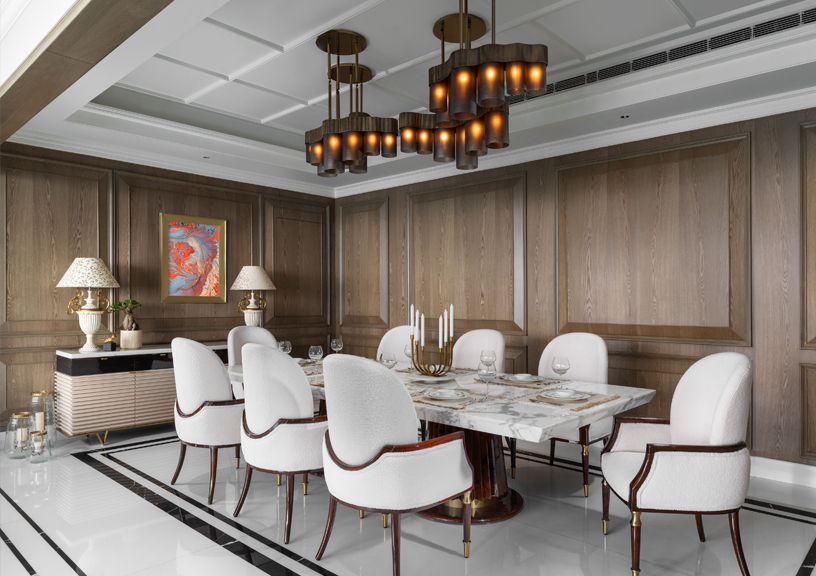 The regal chairs spell grace with generous cushioning and serene tones, as do the handcrafted coffee tables, one in fine-grained wood and the other a stunner in exquisitely pied marble top, where white is complemented with the richness of dark brown tones. The bar, coffee table and T.V. unit manifest a cohesive design thread that creates a harmonious synergy in the space.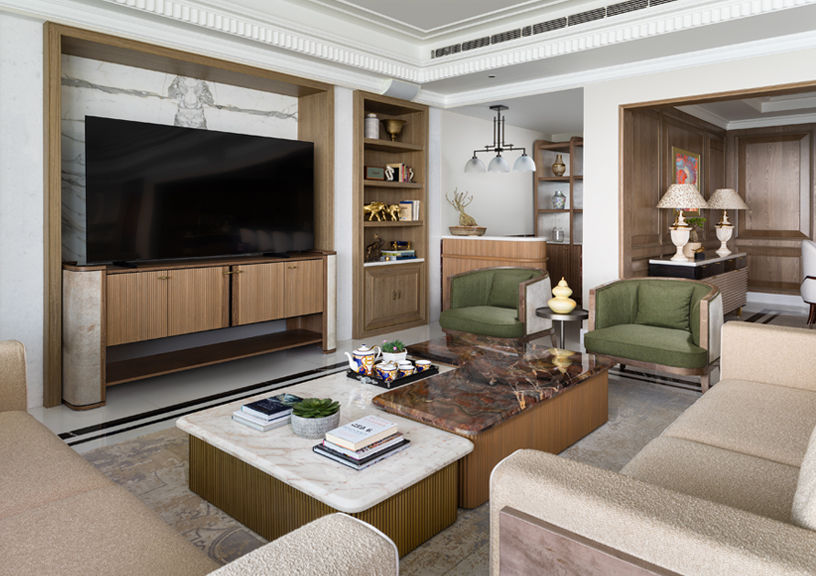 Expressive wooden panelling clads the dining room walls which are further embellished with a variegated marble-topped dining table that stands majestically on a glossy dynamic base. Novel white dining chairs get the royal inclusion of gold in their legs as does the base of the table for a complimentary appeal. The vanity room opens the door to a fluted wooden table and antique dull gold hardware that pay homage to the vintage style sentiments.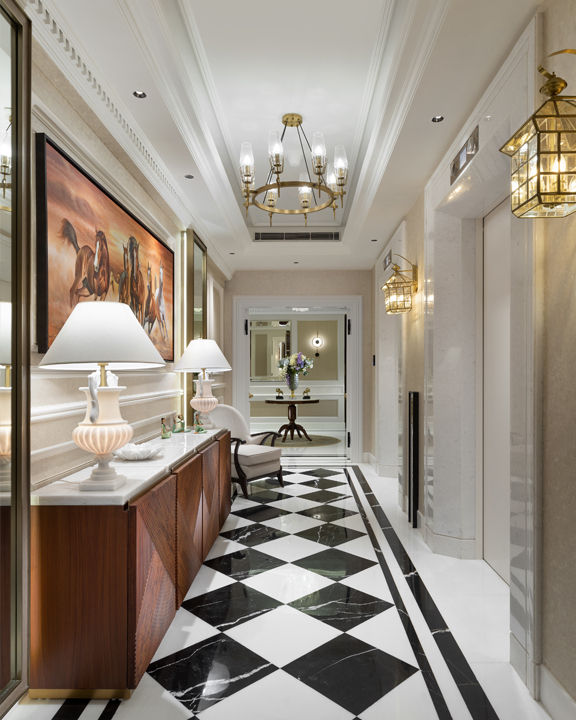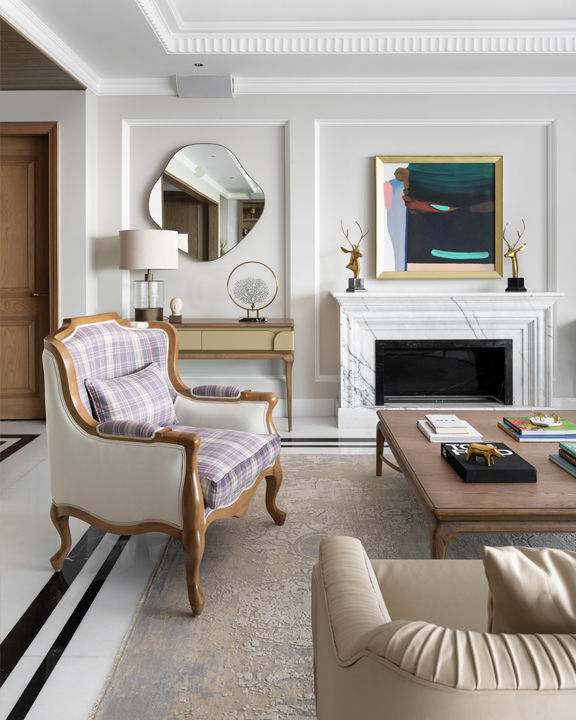 The bedrooms of this home revel in alluring clean-lined furniture, which pursues the cohesive narrative of white and beige with an accent colour that connects the residents with their intimate space of repose. The master bedroom gets a glossy finish and golden nudge where the sofa, bed, side tables and T.V unit are accentuated with a gold pattern, reminiscent of the royal palaces. Subtle touches of pink and gold, a sink-in chair with gentle fluffy upholstery and a textured bed back paint a picture of surreal poetry in the daughter's room.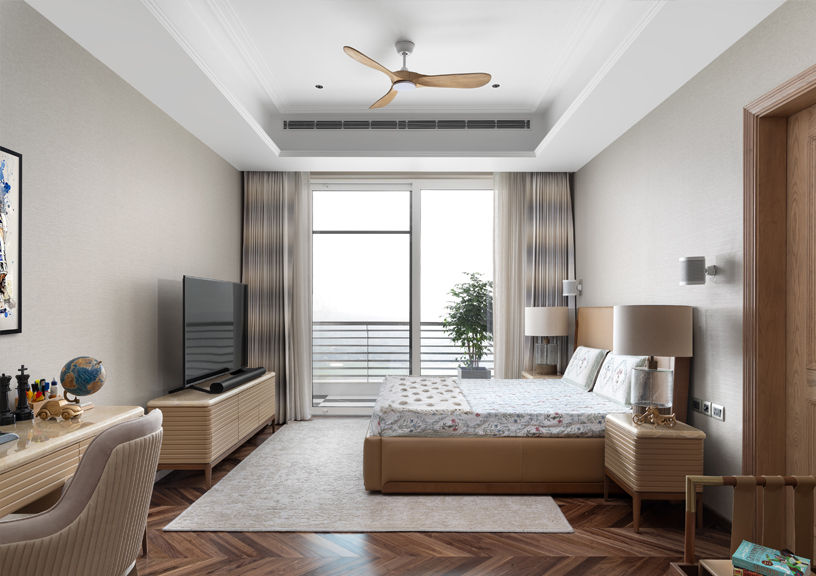 A chic beige leather upholstered bed, white marble-topped side tables, study table and T.V console come together in a harmonious look, whereas the unique blue striped sofa rings in the youthful spirit for the young master's room. A minimalistic design thread reverberates through the guest room with touches of old-world appeal with the curved legs, rich upholstery and natural finishes.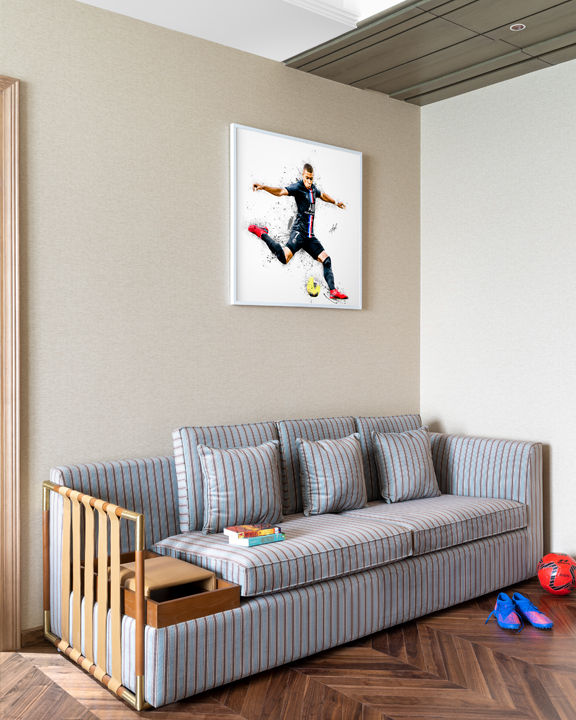 A well-curated mix of art-e-facts, oversized abstract artwork that adorn the walls, a blend of plush silk and viscose carpets, and accentuated grains of the teakwood furniture curate a sophisticated streamlined look that segues effortlessly through the house. The sentiment 'You only live once' scribed on the daughter's room's wall reverberates through this enigmatic home.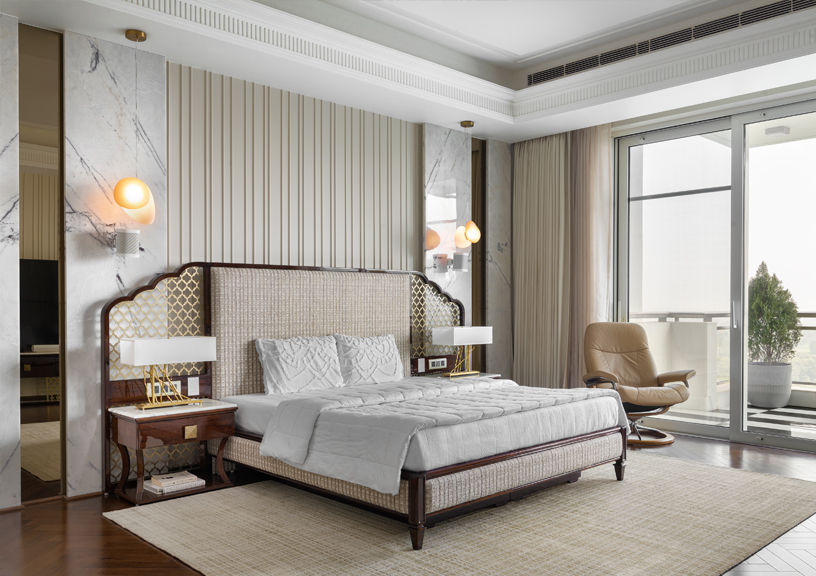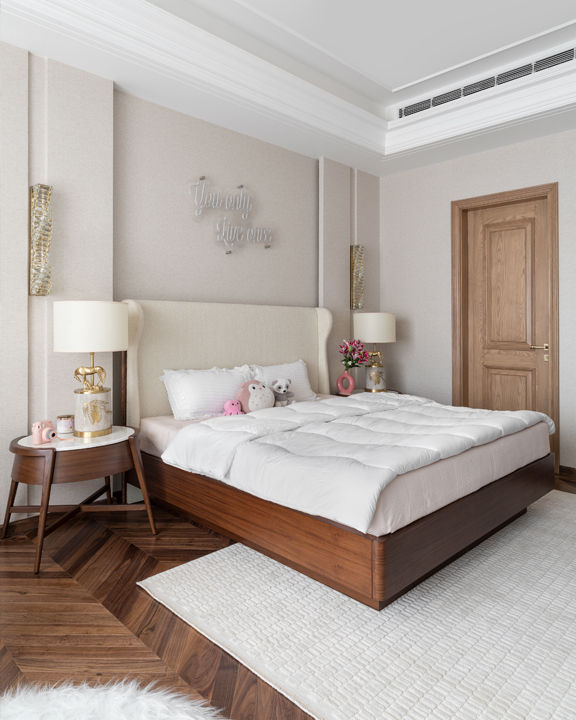 "Over the years Rosabagh has augmented its presence from crafting furniture to creating bespoke homes, with aesthetics that encapsulate the ethos of client's sensibilities, lifestyles and preferences. This DLF Camellias project is a feather in our cap, as we forge ahead with creating soulful and timeless furniture pieces, employing exceptional quality and impeccable craftsmanship," said Abhishek Kathuria, Founder and Creative Director Rosabagh. 
You may also like: Rosabagh reinterprets the classical and the modern in this Ibiza Town home in Surajkund