The 3-bedroom apartment is a home to a close-knit family of 4, a young couple with a 6-year-old daughter and 3-year-old son. Their requirements were to have space to look spacious yet fulfilling their smaller functional requirements giving whole space bold and modern touch. Being an old box apartment, we had to undergo a lot of civil changes to amalgamate clients all requirements making it the biggest challenge. Although we were given freehand at design hence, we could use utmost creativity.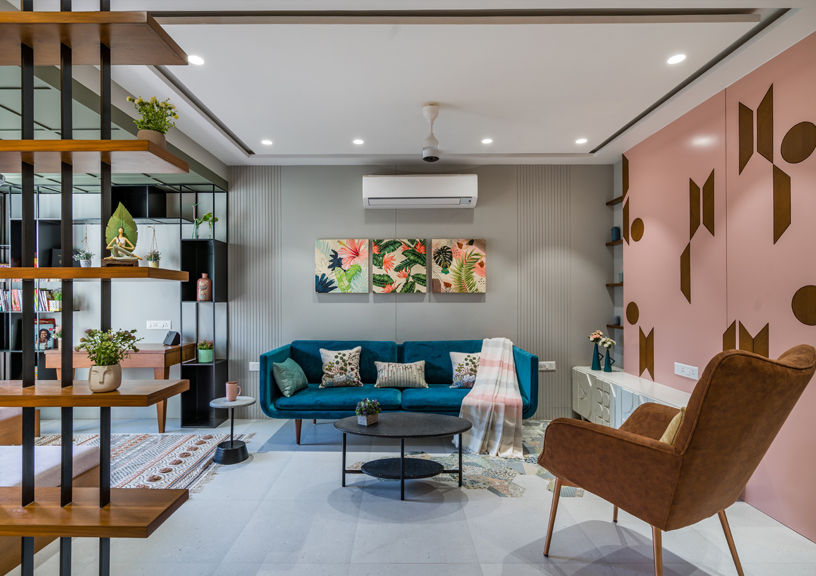 As one enters corridor, finds the calm to the cheer in a house through a painting hung on entrance wall along with fresh pastel tones throughout making vestibule inviting. It defines the ambience of the space. This entryway leads to formal living room which also opens up dining area to the left. The blue sofa &series of customized tropical paintings against grey wall creates dynamism in the space. Next to formal living room, one greets with multipurpose balcony cum informal veneer finished seating area where kids could chill and relax. Black metal shelf painted in duco adds subtlety to the informal space. It also serves as study area considering clients' work-from-home schedules.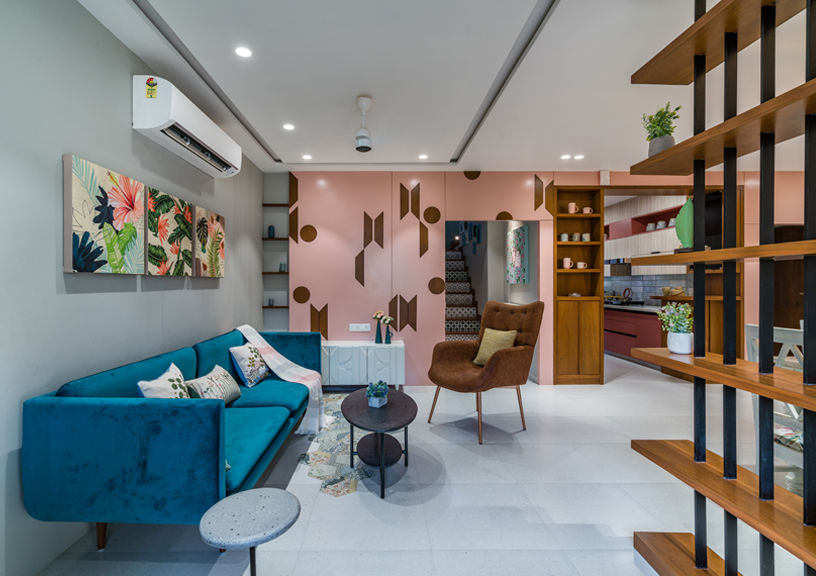 It captures essence of tremendous functionality throughout the apartment. Open wooden shelf with vertical metal supports divides the dining area and formal living room making corner stand out. Grey monochromatic dining table giving all composed and sophisticated feels. The light fixture used above dining table has a character of its own and uplifts the entire look of space. Further, it is seamlessly connected with the kitchen creating continuity to the open layout of the space. The combination of distinct elements such as furniture crafted laminate, duco paint finishes, create an intricate interplay of texture in kitchen. Besides dining, deceits the master bedroom attached with a kid's bedroom. A spacious bedroom with a low height platform is carved as per client's requirements keeping the overall ambience low-key as kid's beds is done vivacious and playful.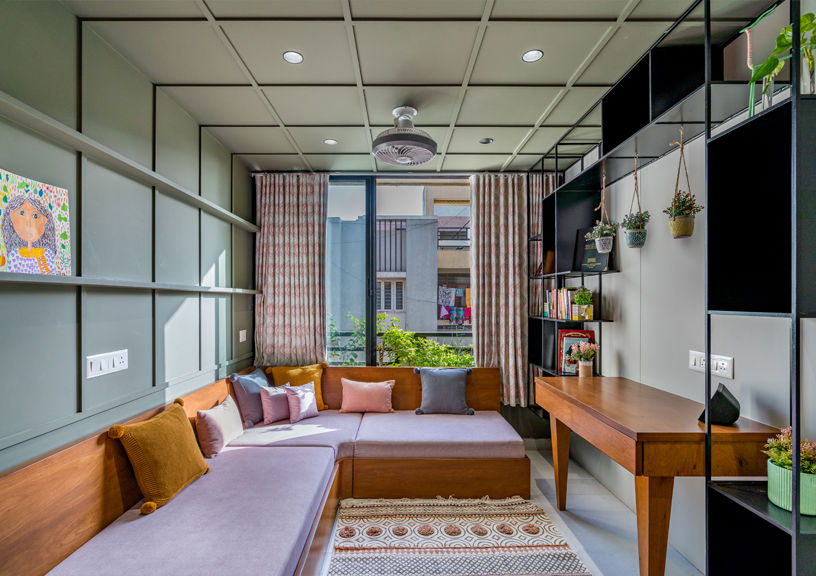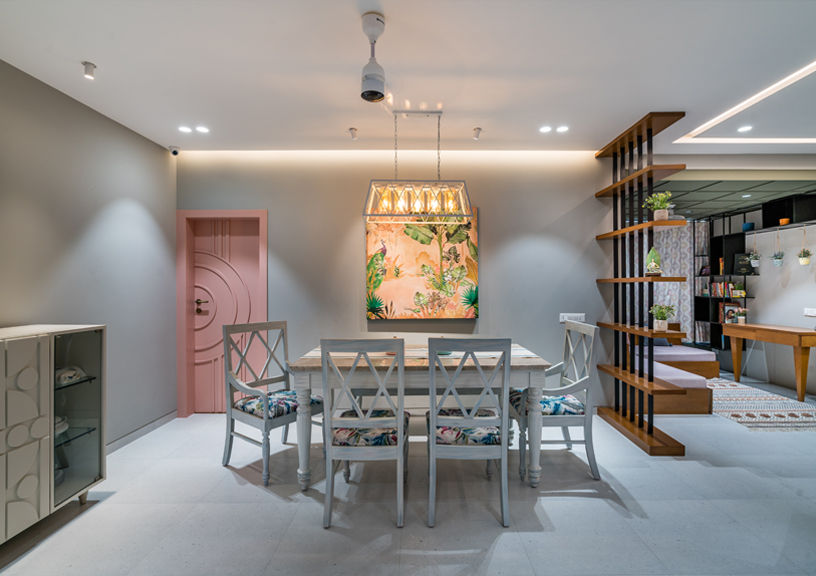 Kids' room is designed in a way that they get enough space to play, study and for other activities like reading and painting as kids love it. Creative wallpaper design, fascinating color play in wise measures add a vital dimension to this design story in addition to elements like customized photo frames to hang kids' handmade paintings, an interesting playhouse, PU finish arch shaped wardrobes, study chair. Common washroom was merged with Monochromatic master washroom to make it spacious. Parents cum guest bedroom is kept subtle colors along with veneer and PU finished wardrobe and bed highlighting space with amazing Modern art painting along with spotlights.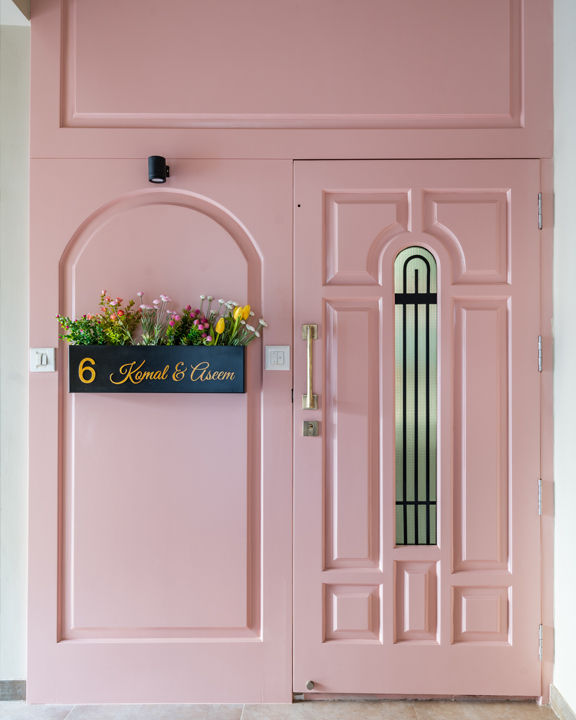 Every drop by these lights creates a warmth in the otherwise understated space. Bathroom is designed with customized handcrafted tiles giving it character. Further going upstairs, the openness of the pergola with seating allows for extended gatherings and family events. It replicates simplicity, monochromatic palate with a color used as an accent. Sofa and center table is made from shipping pallets. In all the space speaks calm and soothing.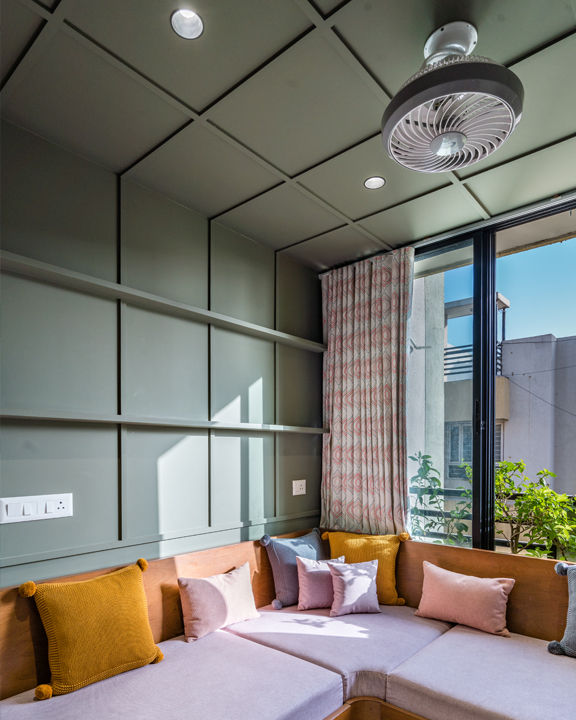 Concluding it all, each space is given distinctively crafted surfaces that bestow its individual character. Room after room brings out outstanding interior design and intricate detail that is magnificent and functional.