The Grey House by Sivè Design interior studio aims to create a harmonious, minimalistic yet luxurious living space for a modern family living in Gurugram. By blending a sleek, neutral color palette with carefully curated design elements, the goal was to establish a serene and comfortable environment while exuding a sense of understated elegance. The project encompasses all living areas, bedrooms, front & backyard and functional spaces, catering to the family's lifestyle and preferences.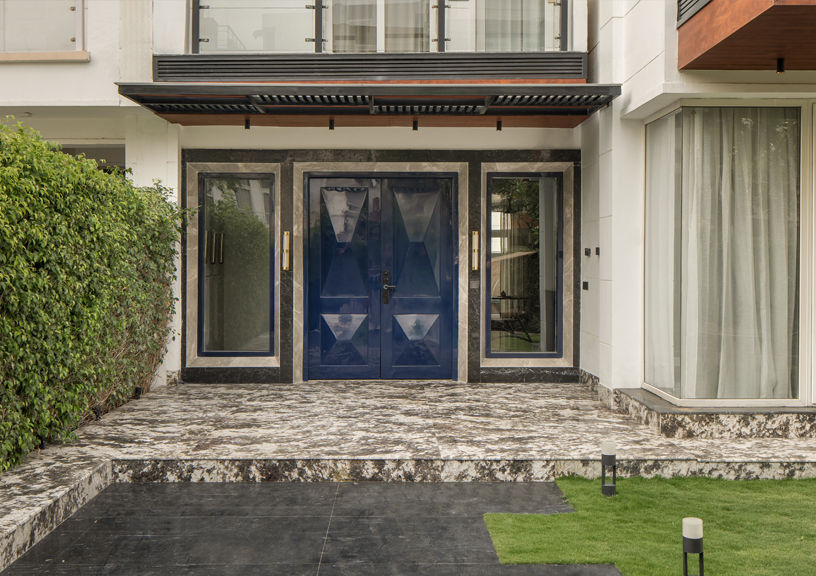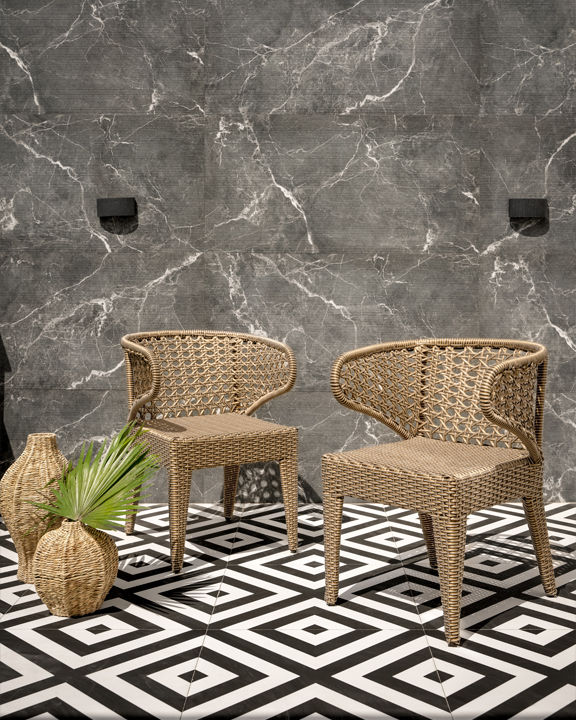 Headed by founder and interior designer Silky Verma, the firm's hallmark lies in skillfully harmonising function and aesthetics, curating spaces that not only allure but also elevate the inhabitants' experience.The central design concept revolves around using varying shades of grey as the base color, complemented by accents of muted pastels, warm woods, and metallic finishes. The intent was to create a timeless and versatile interior that provides a relaxing retreat while maintaining a refined, upscale feel.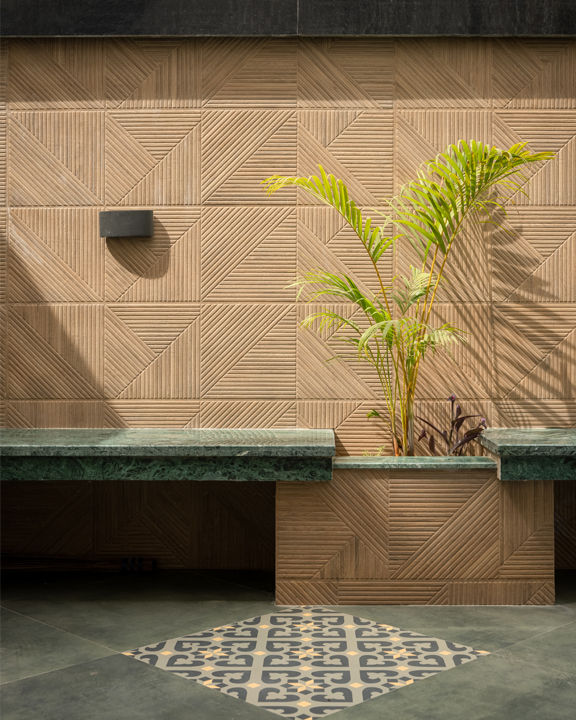 The villa's design showcases a diverse array of materials, starting with its exterior where a harmonious blend of two distinctive granite types, Rivera White and River Black, creates a striking yet complementary front yard.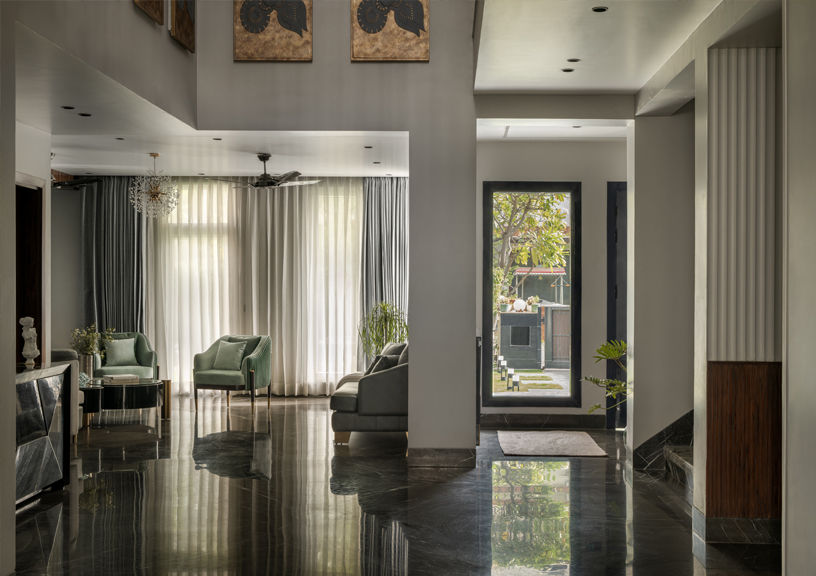 As one steps inside this exquisite and meticulously crafted haven of opulence and tranquility, the fusion of granites creates an artful yet cost-effective design that beckons you towards a sprawling garden, an oasis of natural beauty. Moving onward, you find yourself in the inviting foyer, a departure from the norm. Soft hues of white and blue permeate the space, bestowing a serene ambiance that sets the tone for the entire villa.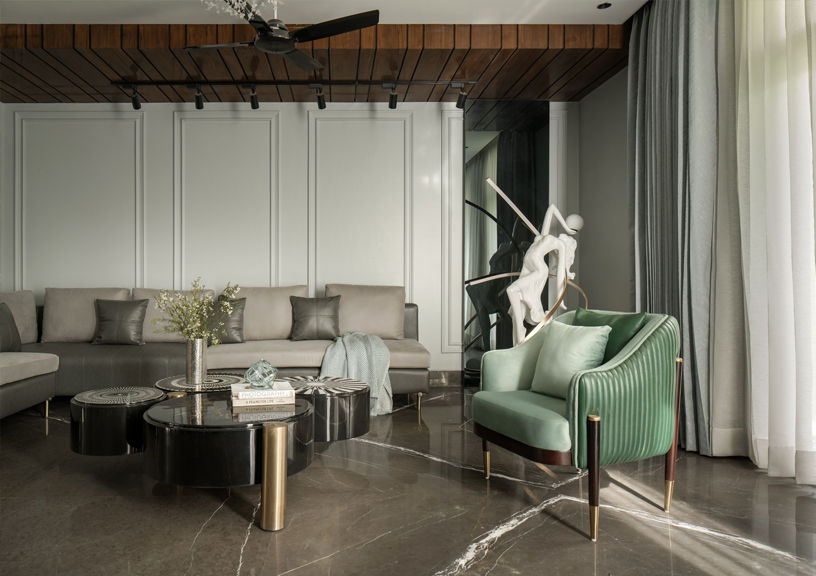 The foyer gently ushers you into a double-height expanse, an empty canvas that imparts a sense of boundless depth. This emptiness extends to the formal living room on one side and a cosy, familial sitting and dining area on the other, an intentional choice to foster comfort and unity. Adjacent to this harmonious dining space lies the kitchen, a realm of subtle aesthetics. Dark tones of veneer, light grey finished acrylic and pristine white quartz have been juxtaposed in creating a neutral backdrop that welcomes culinary creativity in this particular kitchen setting.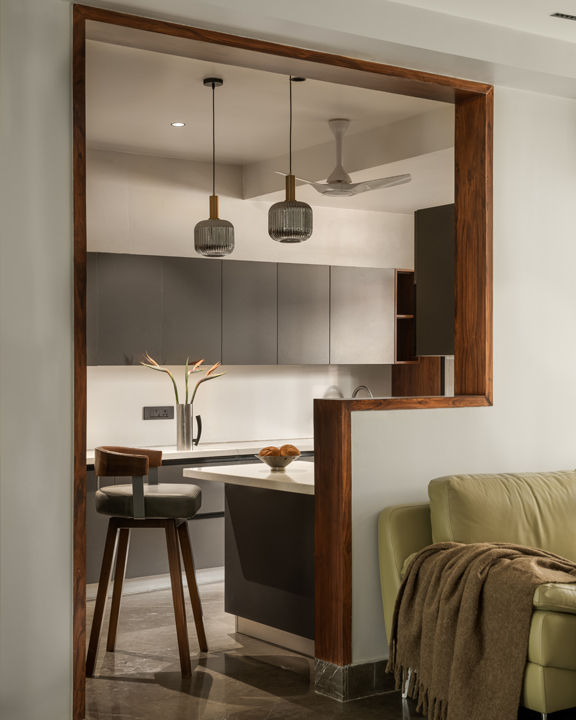 The kitchen and dining seamlessly connects to an earthly-toned backyard, a retreat adorned with lush green plants, imparting a rustic charm that harmonizes with the environment. Ascending to the first floor, a delicate and understated mandir graces the common area, reflecting the villa's fusion of modern luxury and tradition. A daughter's bedroom, bathed in soothing blues, and a master bedroom, a sanctuary of tan and grey tones, beckon. An adjoining home office space caters to practicality and inspiration.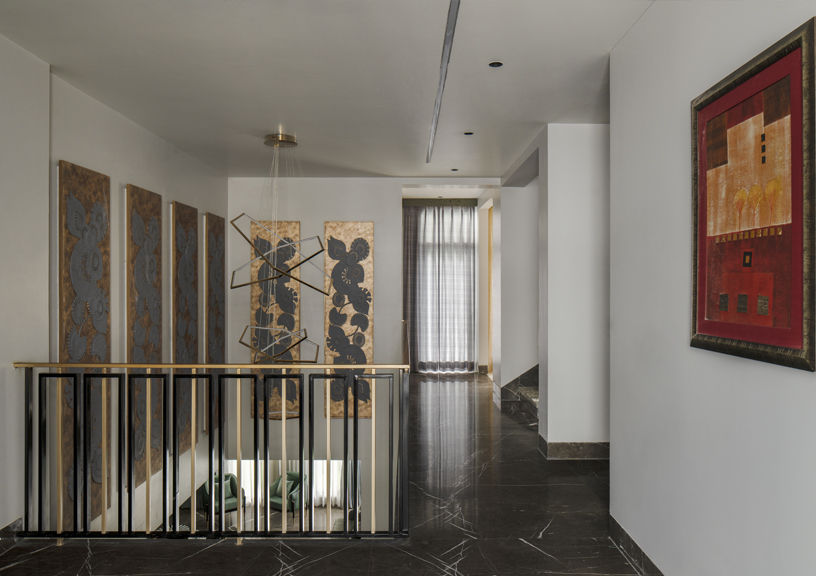 Both bedrooms open onto generous balconies, offering vistas of the surroundings. Climbing to the second floor reveals a blend of elegance and functionality. Concealed by glass-paneled veneer shutters, a sizable wardrobe/pantry adds a touch of sophistication. Here, you'll discover a theater & sons room that embodies a captivating dream, adorned with an array of refined black finishes that seem to stretch into eternity , and a guest bedroom harmonized with a spacious terrace, forming an exclusive retreat. Finally, the third-floor terrace embraces simplicity, a canvas for grand gatherings. This multi-layered tour through Sivè Designs' villa showcases an aesthetic blend that seamlessly fuses comfort, luxury, and nature, redefining the art of living.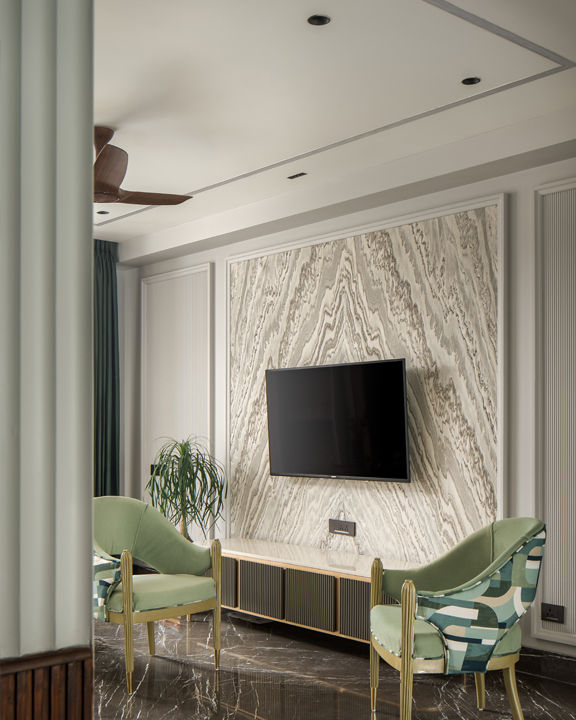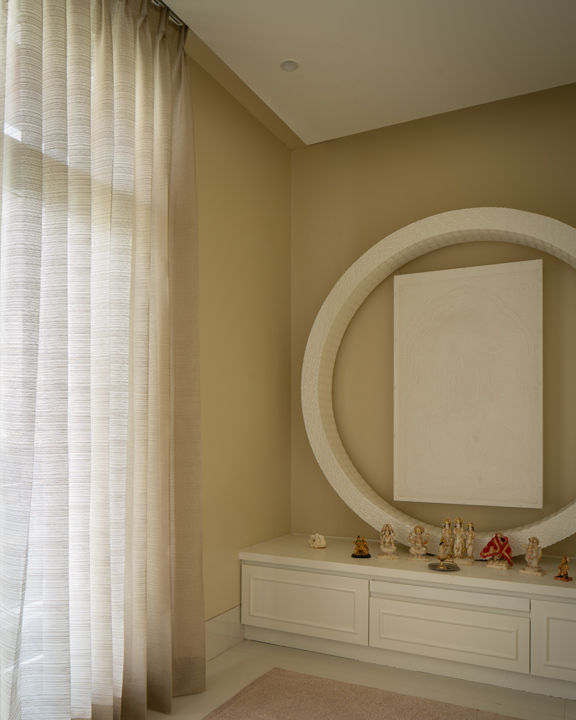 The project's theme draws inspiration from the refined interplay of black, grey, and white tones, creating an environment of monochromatic harmony that exudes sophistication. In every corner of the villa's interior and exterior, you'll encounter a harmonious blend of dark and light shades encompassing grey, black, and white. These tones are tastefully accompanied by touches of natural/dark polished wood finish and subtle pastel hues, skillfully complementing the overall scales and aesthetics.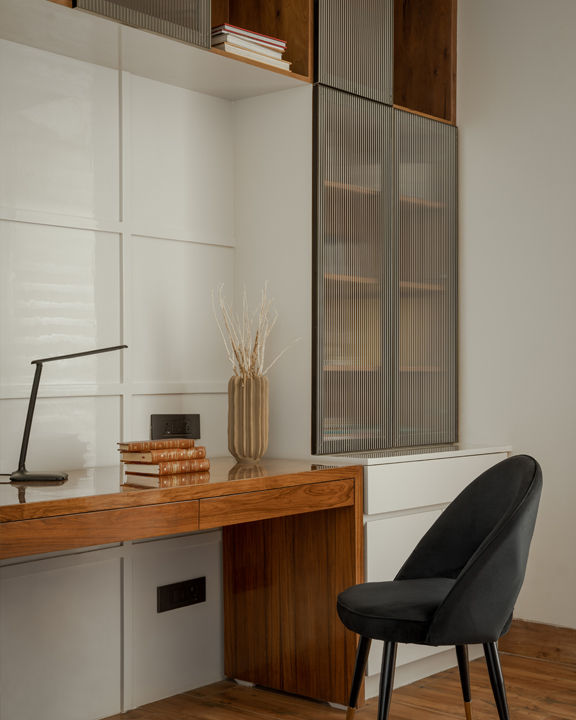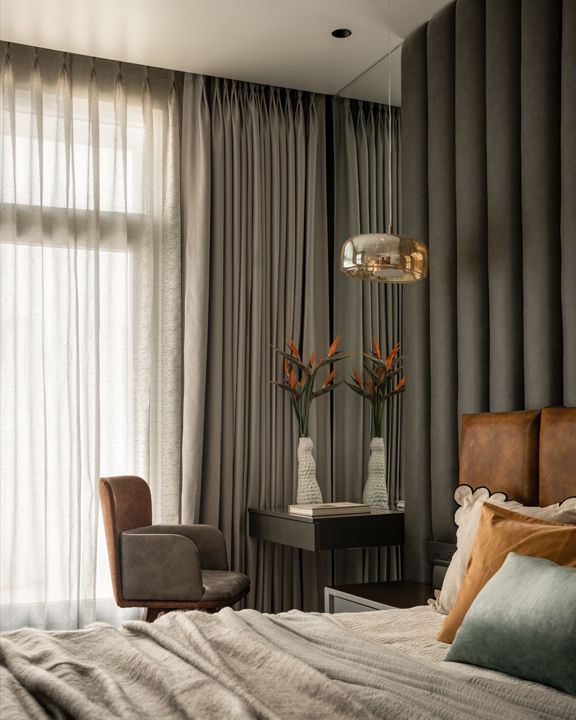 The selection of a grey and black color palette for the residential villa's interior and exterior is truly a stroke of design brilliance. This aesthetic choice reflects a level of sophistication and elegance that transcends trends, creating a timeless ambiance that will endure the test of time. The deliberate use of these muted tones showcases a deep understanding of the art of subtlety and minimalism, speaking volumes about the homeowner's refined taste.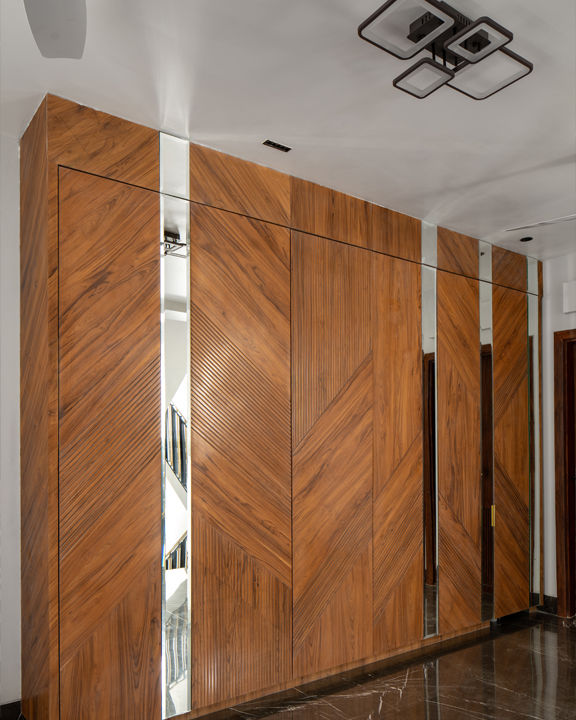 Ultimately, the choice of the grey and black color palette showcases a visionary approach, blending sophistication with contemporary aesthetics. It reflects an unwavering commitment to creating a space that balances timelessness with modernity, where every line, texture, and hue has been thoughtfully curated to form an exquisite tapestry of design excellence.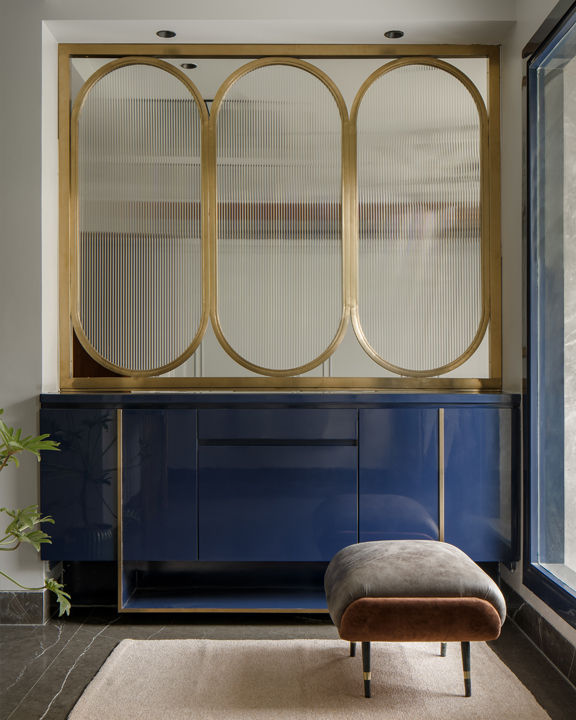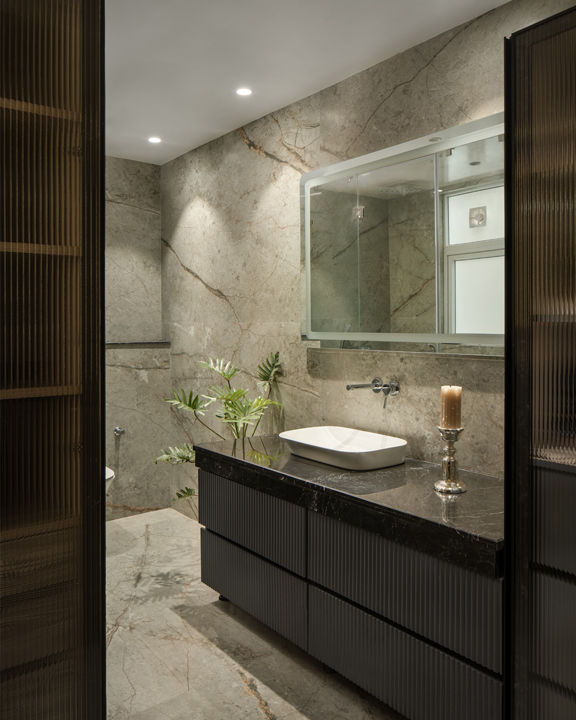 FACT FILE: 
Name of the project: Ebony Essence 
Firm Name: Sivè Designs 
Design Team and Designation: Silky Verma (Interior Design Head and Founder) 
Location of the project: Tulip Ivory, Sector 70, Gurugram 
Area (Sq.ft): 5,000 sqft 
Interior Stylist: Rahul Kukreja  
Photographs by Ekansh Goel