Four Designers, Four distinct styles, this Diwali add a designer touch to your festive evenings. Opulent or understated, ethnic or fusion, we bring to you design tips from the best in the industry. Happy Diwali!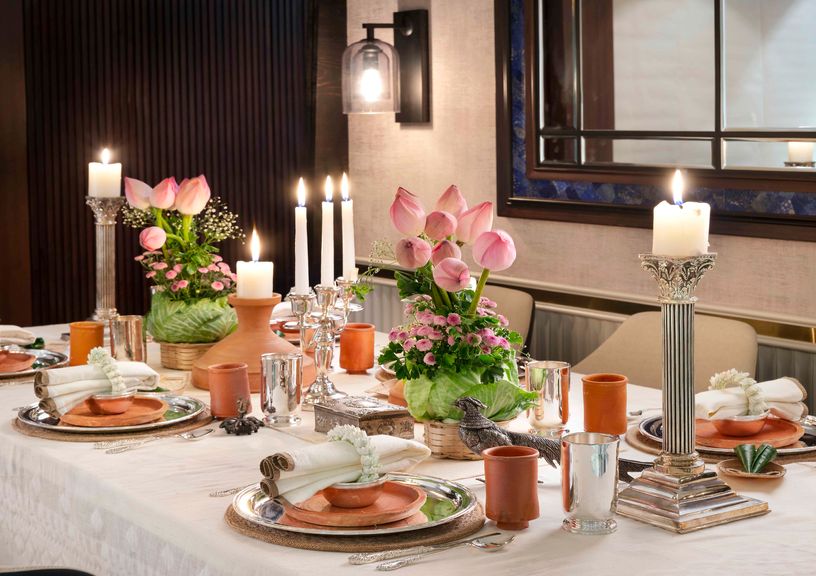 Keep it Simple, yet Scintillating
Ajay Arya, Founder, A Square Designs
Run up to the festivals are rife with what kind of new ideas you could include while decorating your home. Designer Ajay Arya presents some original ideas here as he successfully mixes the humble terracotta with opulent silver for table setting, and uses indigenous lotuses, jasmine (juhi) and rose flowers in abundance to fill the home with fragrance and freshness. At the same time, precious silver accessories and semi-precious lapis lazuli, become part of the décor bringing regal touches to the interiors.
An Indian Flavoured Table Setting
By fusing precious silver with earthy terracotta, the designer achieves an exclusive original look. He uses native flowers like lotuses for accent and jasmine (juhi) for napkin rings, and even the leaves of the vegetable cabbage to add a natural flair to the rich setting. Graceful silver and terracotta candle stands both contrast and complement each other. The dinnerware also is a similar mix, creating harmony and delight.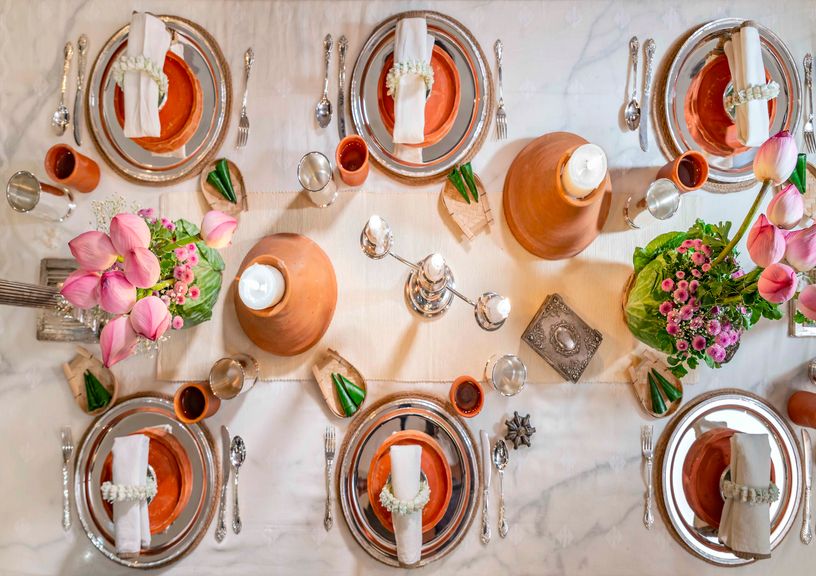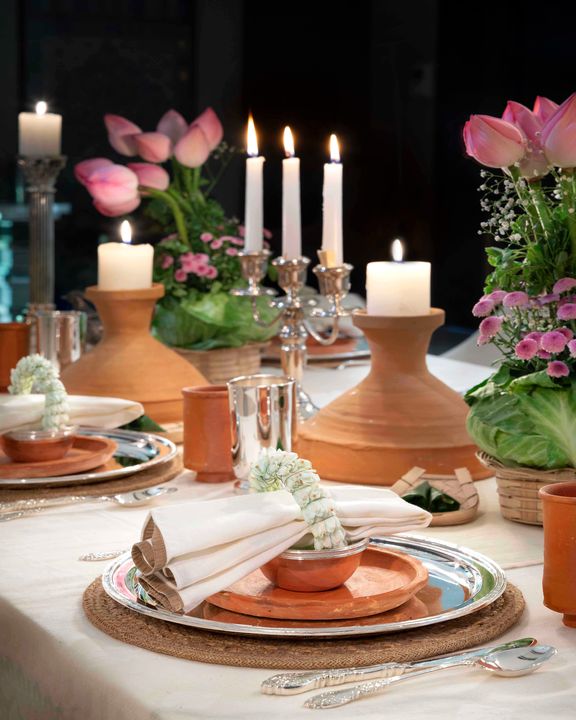 A Glowing and Welcoming Foyer
An ornate Antique Silver French mirror sets off a grand classic vibe, as a silver urli filled with lotuses offers a colourful welcome. The hurricane candle lamp and string lights enhance the positive energy of the room. Simple, yet enchanting décor that is very inviting.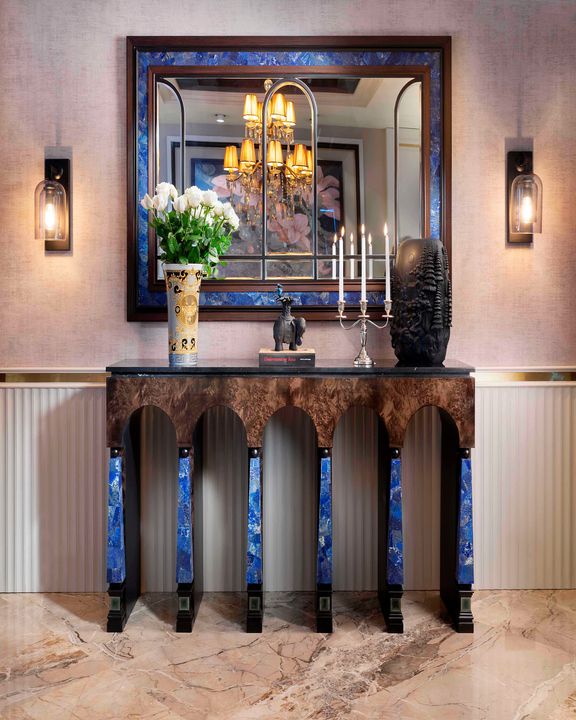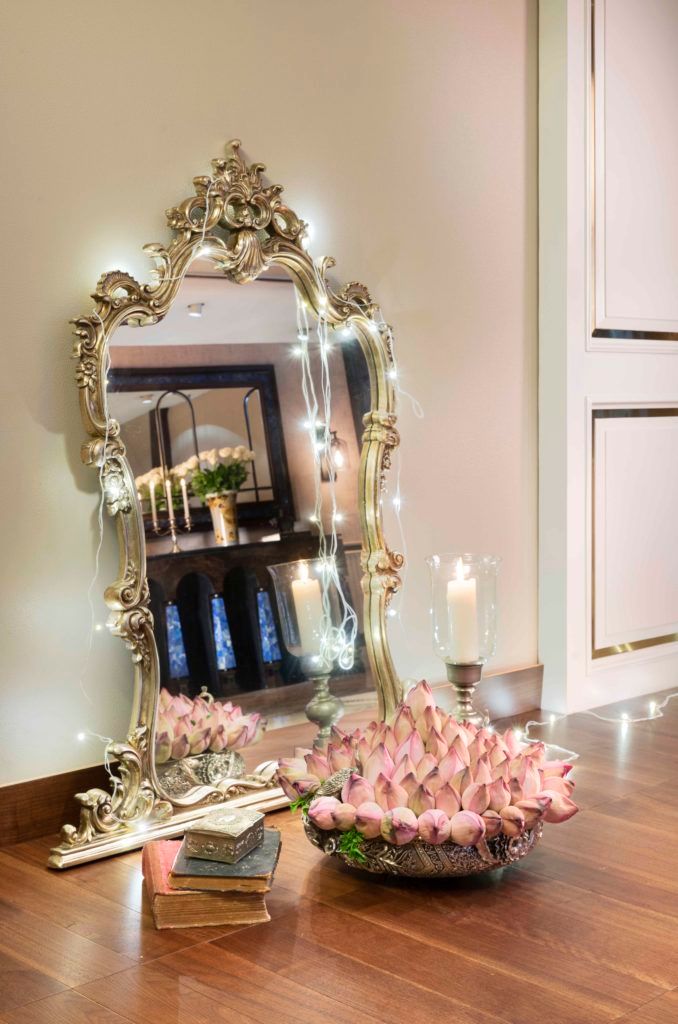 Elegant Living Room
The living room is furnished with an elegant couch in seige green colour in velvet from Ochre at Home's new furniture line. The two-seater sofa with carved details has the back upholstered in an exquisite art deco print from the brand, Zoffany. The centretable is made of geometric pattern burl veneer, the two extra side tables not only complement the coffee table, but also can be easily combined with it to make it easier to serve appetizers, etc. Tall candle stands in raw wood and brass add the perfect festive touch. A vase of fresh Bangalore roses, a coffee table on Royal Palaces and some select accessories complete the vibrant look.
Along the adjacent wall stands the Egyptian console from Ochre at Home. A charming piece of furniture with graceful arches, its tall pillars are decorated with the semi precious lapis lazuli. The bevelled mirror matches the console perfectly. The vases and candle stands are by Jean Boggio by Franz.