In the heart of the bustling city, where functionality meets opulence, lies a metro apartment meticulously crafted by lead designers Ar. Shruti Joshi & Ar. Ajay Geevarghese of Terraform Architects, that caters to the needs of a loving family of four. The client's brief was clear: design a space that harmoniously accommodates individual needs yet fosters togetherness, all while providing the perfect backdrop for their cherished family and friends' gatherings. The challenge was to infuse contemporary neoclassical, opulent, and minimal design elements into distinct areas of the apartment, ensuring a seamless blend of styles and functionalities.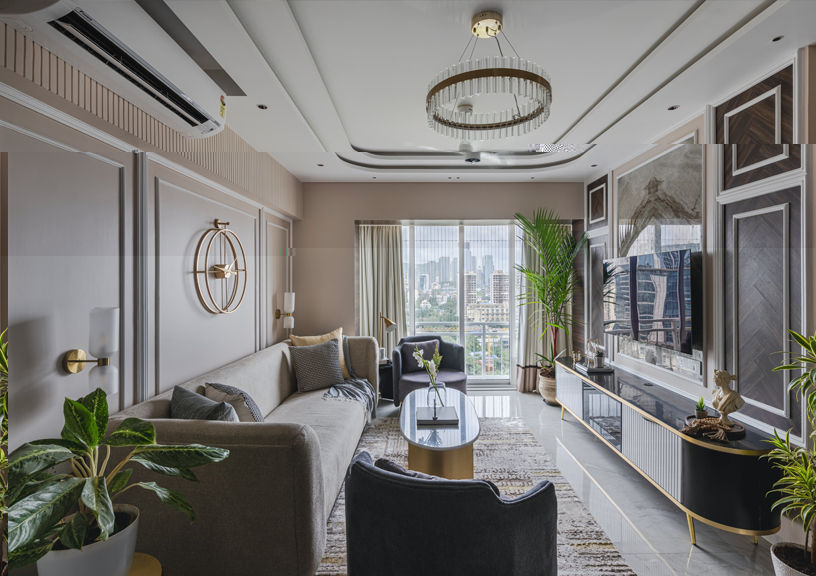 The living and dining area welcomes you with a subtle drama, where dual-colored walls adorned with desert dream finish and absolute white moldings create an elegant contrast.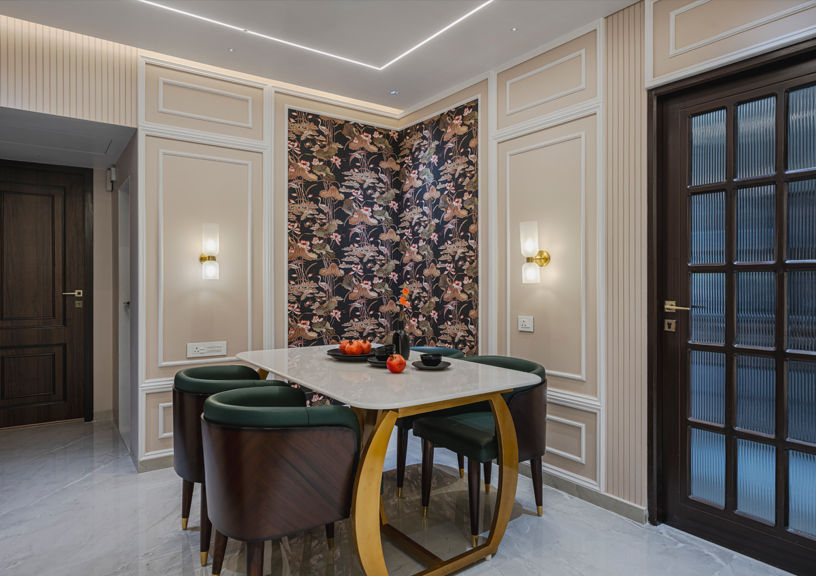 Marble textures, dark wood, and brushed gold finishes enhance the room's allure, making it ideal for both serene family moments and lively gatherings. Custom draping in a 2-tone setup adds a touch of sophistication, while strategic lighting completes the ambiance.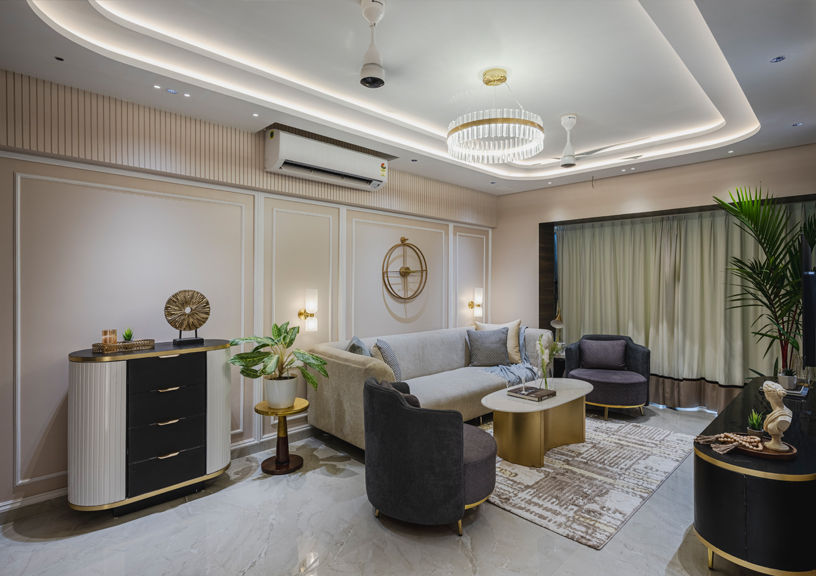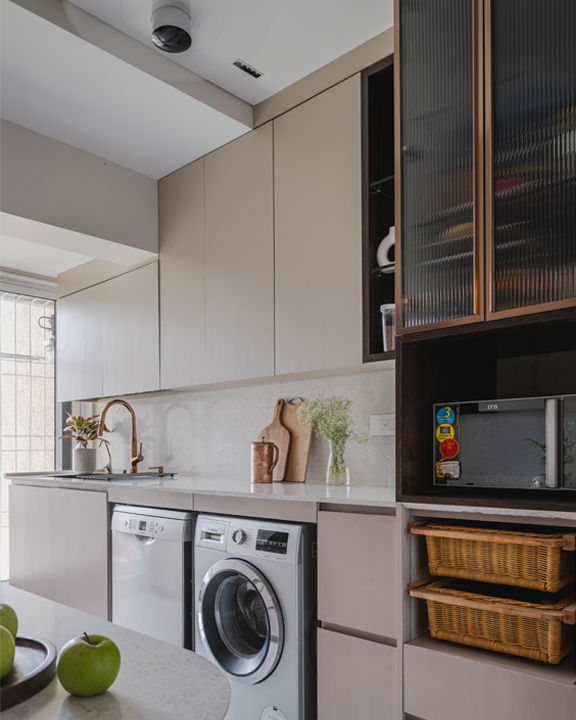 The efficient parallel kitchen boasts a deluxe composition with beige and coffee tones, complemented by crema gold quartz countertops and rose gold finishes. This culinary haven not only caters to the foodie couple but also exudes warmth and functionality.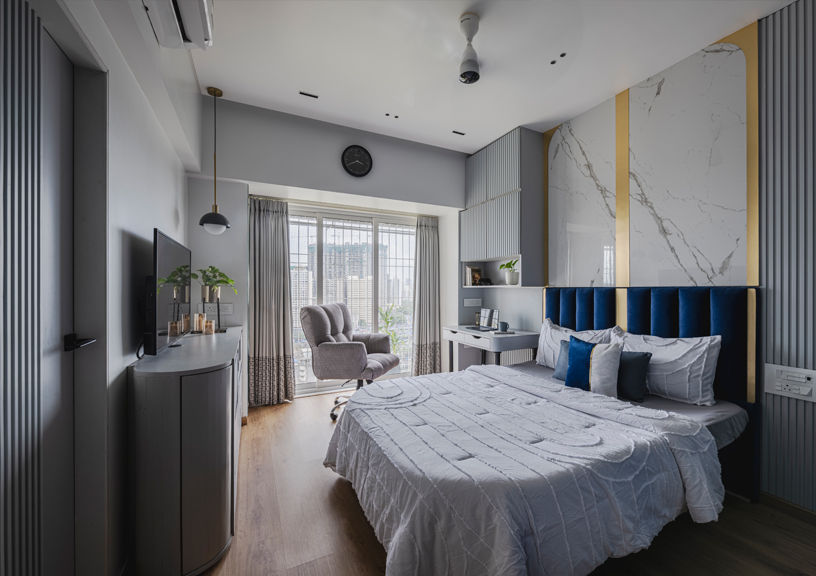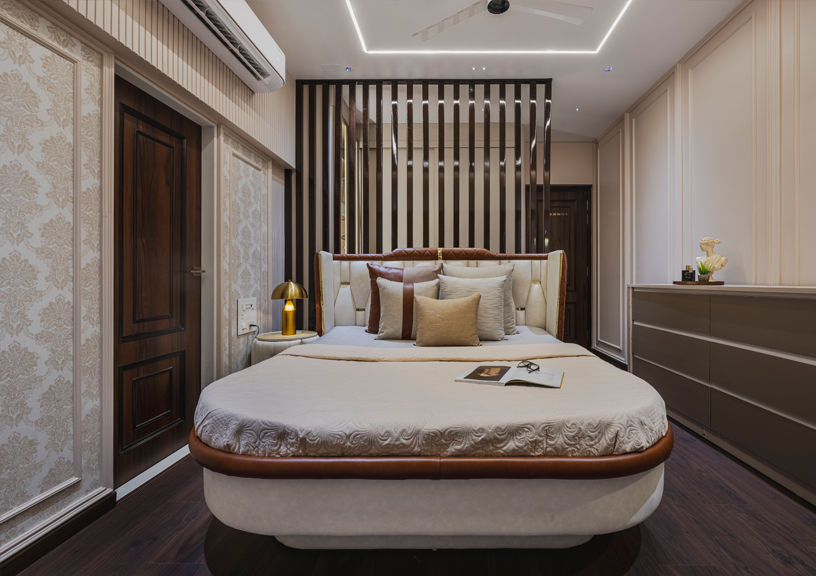 With a touch of desert dream color, walnut finishes, and damask self-print wallpaper, this master bedroom emanates luxury and humility. The walk-in wardrobe, featuring clear glazed brushed gold aluminum shutters, enhances the room's sublime quality. The balcony, adorned with a minimal white planter and a Christina Ficus plant, offers a peaceful retreat.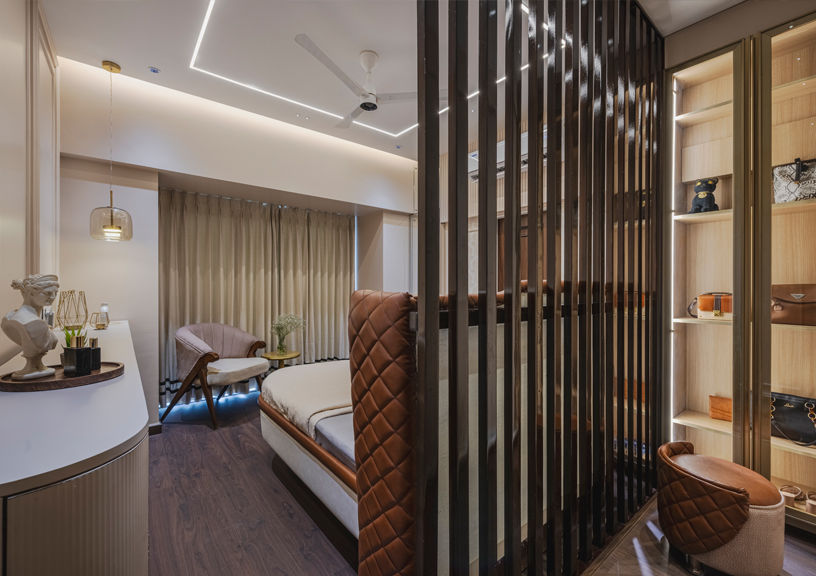 Designed with rounded edges and energizing midnight blue and dove grey finishes, this room radiates vitality. The soft velvet bed and statuario texture accentuate the opulence while creating a dynamic space for the son to thrive.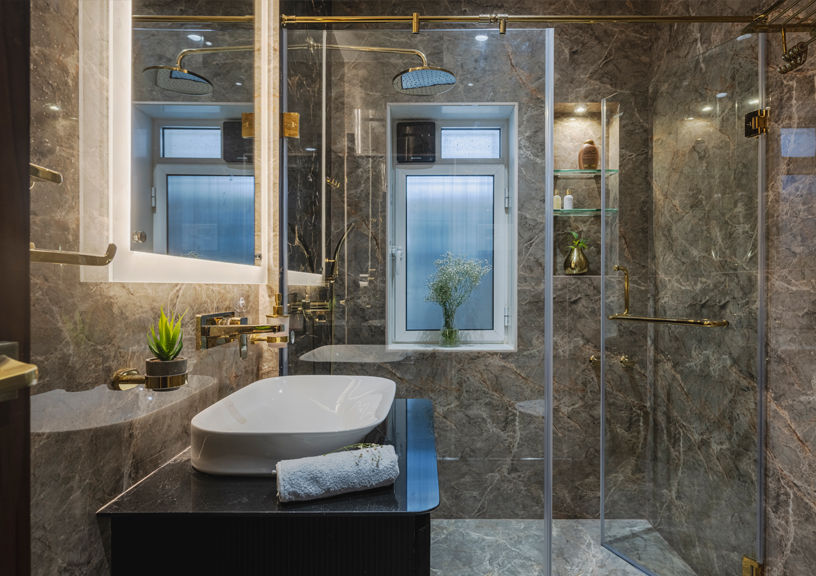 The master toilets showcase a blend of marble textures and French gold fixtures, ensuring a luxurious experience. The children's bathroom, designed with veined black and white elements, prioritizes safety without compromising aesthetics.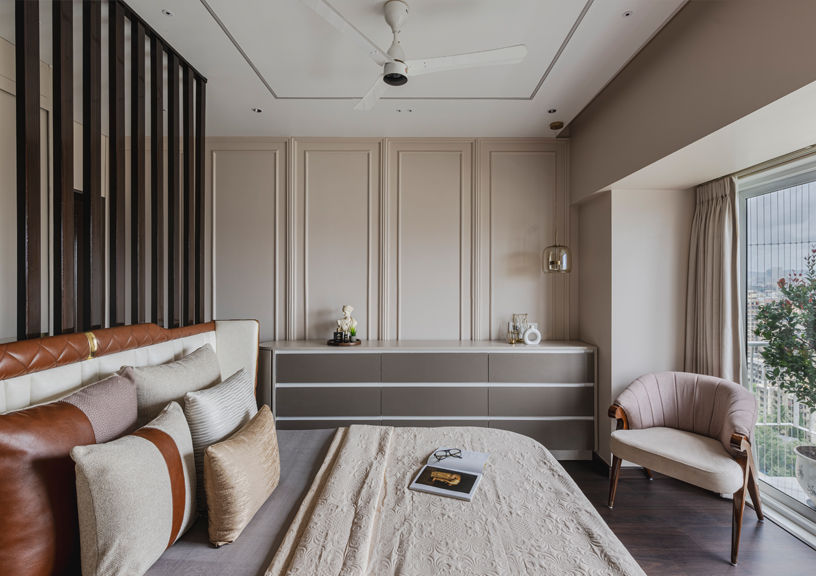 Embracing a monochromatic theme with Irish crème finishes and sand oak laminate wood flooring, this bedroom offers a minimalistic sanctuary, highlighting simplicity at its best.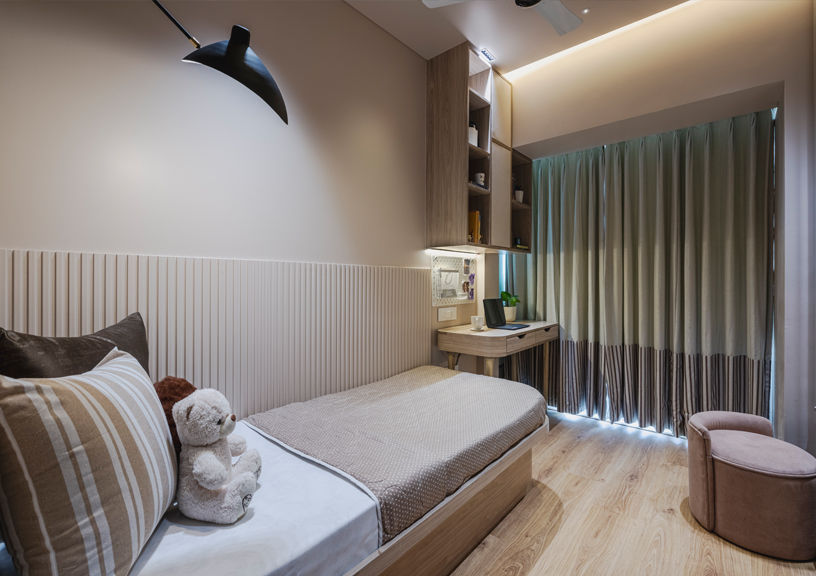 The powder toilet, adorned in Toronto grey marble finish, mirrors the elegance of the living-dining area. The entrance door, a walnut-finished masterpiece, sets the tone for the luxurious space within. A shoe storage unit, dressed in brushed gold accents, and a towering raphis palm create a grand welcome.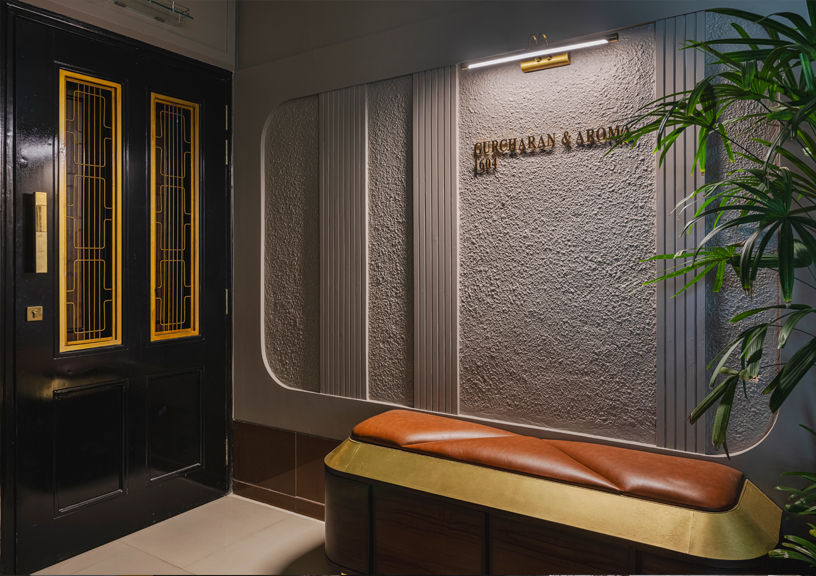 The architects overcame the challenge of designing within existing residential restrictions, showcasing their expertise in blending various design styles seamlessly. The living room, with its TV wall and city-view seating area, stands out as a favorite element.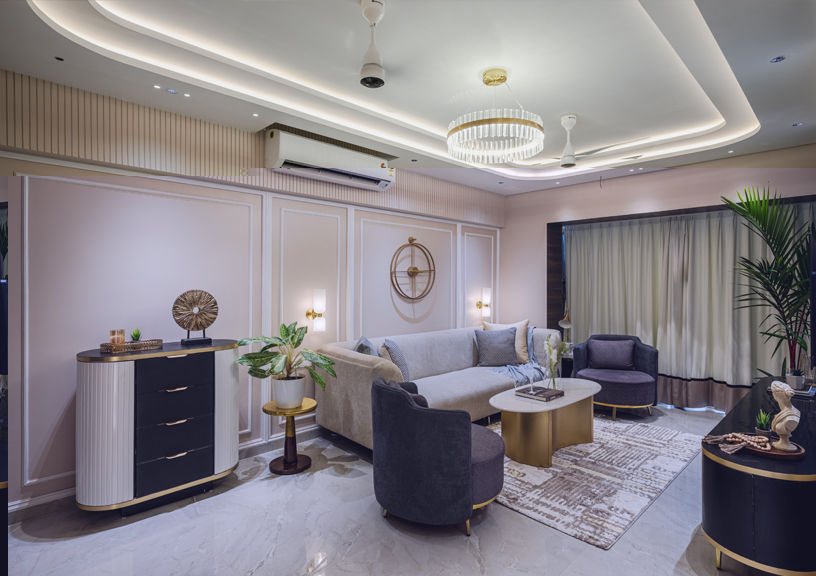 The unique selling point of this project lies in its ability to incorporate diverse design styles without overwhelming the space. Through careful planning, impeccable use of tones and textures, and a deep understanding of natural and artificial lighting, the designers have created a haven that feels both lavish and inviting.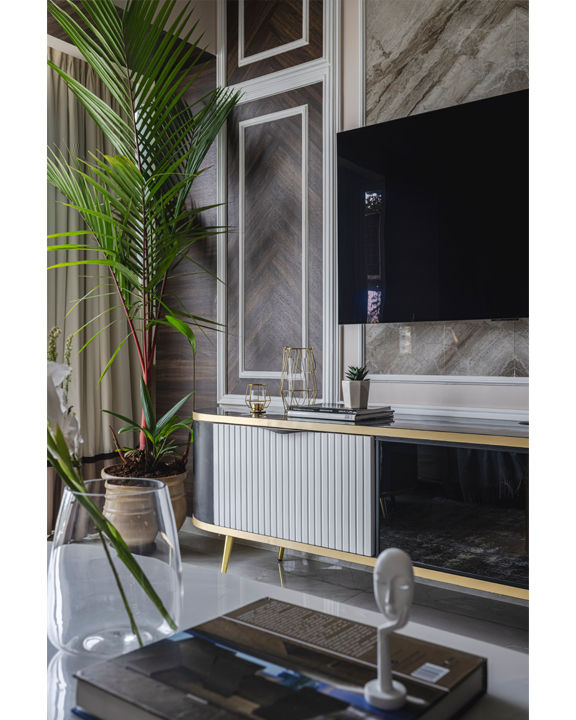 In this metro apartment, opulence meets functionality, and contemporary neoclassical design harmonizes with minimalism, resulting in a space where the family's love and warmth are truly at home.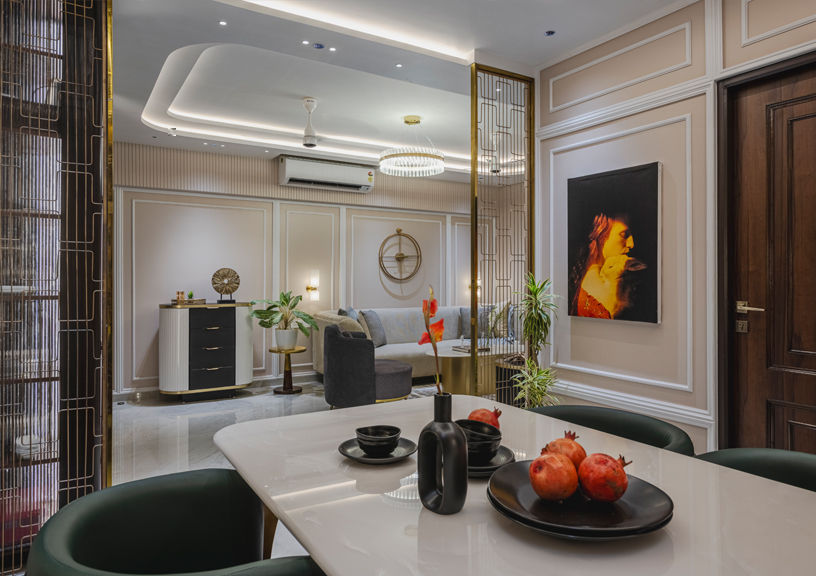 FACT FILE
Name of the project: Modern Neo-classical Abode  
Location: Rustomjee Ozone, Goregaon West, Mumbai, MH IN  
Total Area: 940 sq ft 
Design Firm: Terraform Architects 
Lead Designer: Ar. Shruti Joshi & Ar. Ajay Geevarghese 
Styled by Devika, Founder of Black White Blue Studio
Photography by Prashant Bhatt