A splendid play of light, space, and verdancy reigns in this New Delhi farmhouse created by Attico Homes
Attico Homes, renowned for their expertise in constructing bespoke luxury residences, have skillfully combined modern aesthetics with lush greenery, abundant natural light, and grand ceilings to create a captivating narrative that engages all senses. The melodious chirping of birds and the gentle ripples of the swimming pool, set against spacious balconies offering scenic views and panoramic windows in every room, bestow a radiant aura upon the home.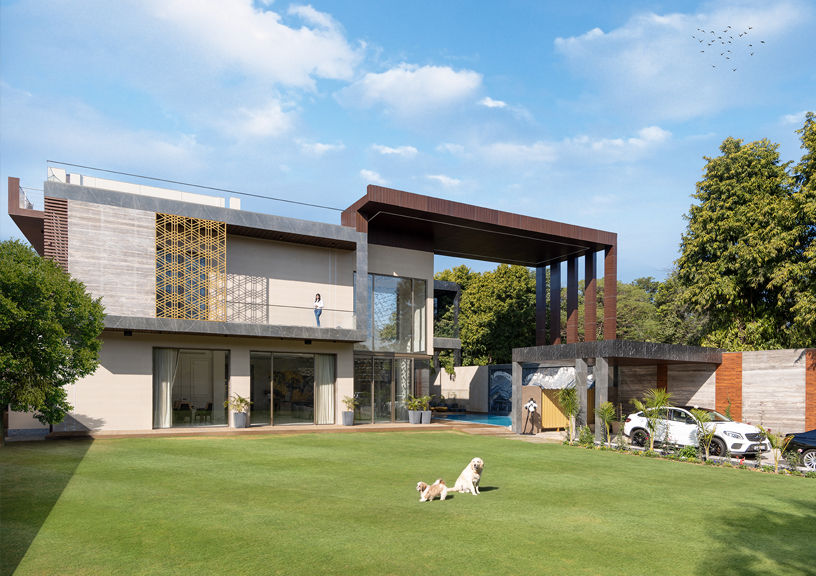 This sanctuary eloquently expresses contemporary refinement through a harmonious blend of timeless marble flooring and wall claddings, contemporary furniture in subtle tones, adorned with a touch of golden accents, an exquisite fusion of elegant embellishments, cherished mementos, and mosaic artwork, curated to craft an enchanting atmosphere.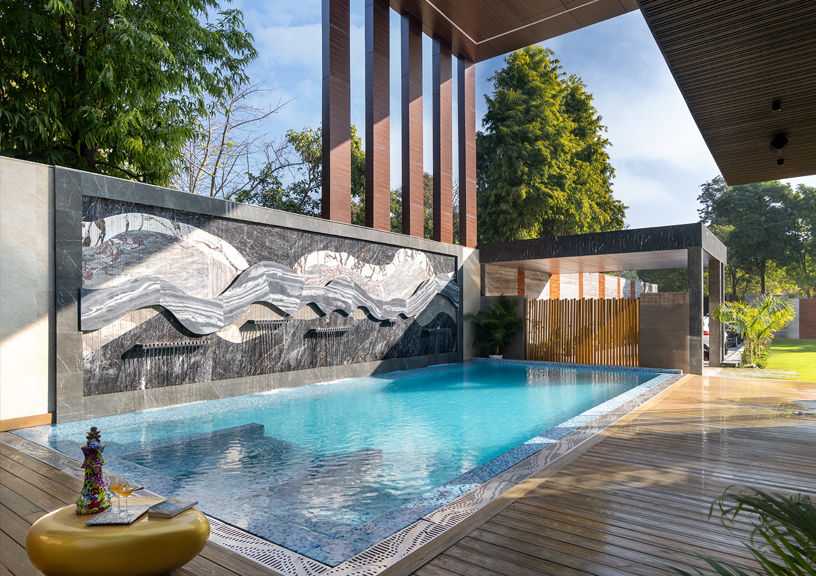 Led by the talented brother-sister duo, Harshil Kapur and Parnika Kapur Julka, under the guidance of their father, Deepak Kapur, Attico Homes provide comprehensive solutions for crafting personalized dwellings that resonate with the unique personalities of their clients. Situated in the serene Forest Lane Farmhouse area in Ghitorni, New Delhi, this 11,250 square feet gem sits on a 19,800 square feet plot.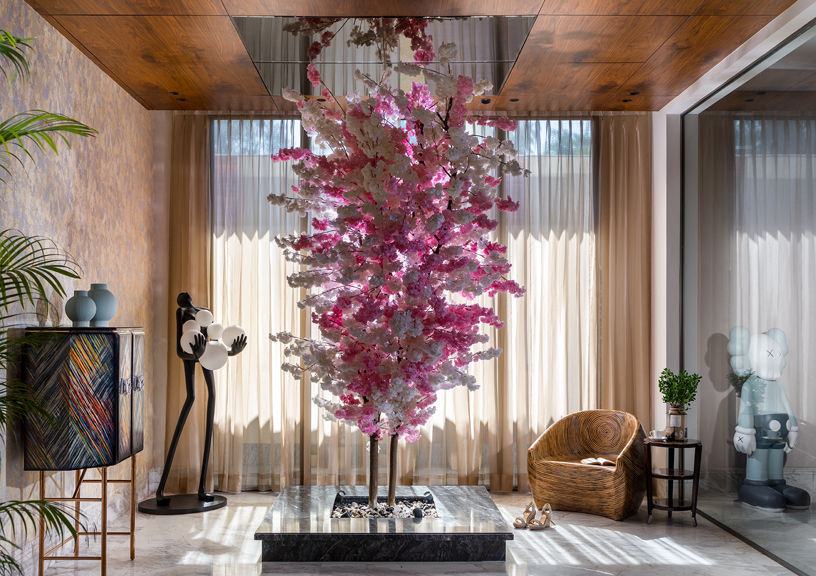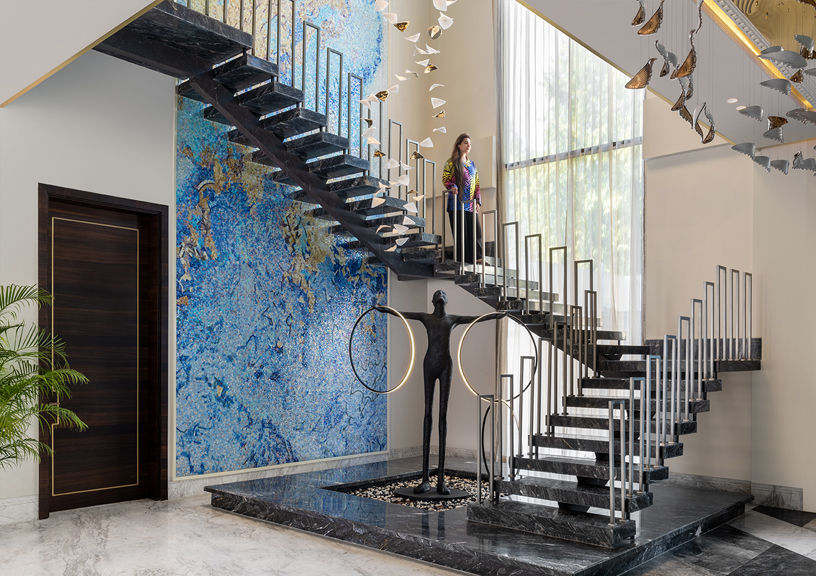 The construction encompasses a total carpet area of approximately 8,250 square feet, while the landscaped area covers an impressive 12,000 square feet, with a front lawn occupying 5,000 square feet. The surrounding lush greens and the abundant natural light further enhance the beauty of this stunning abode, making it an ideal retreat for those seeking tranquility in the heart of the city.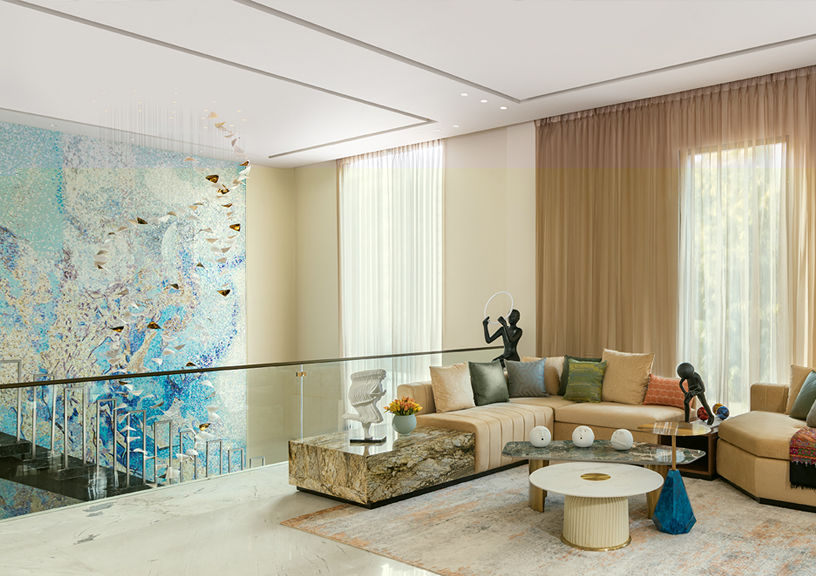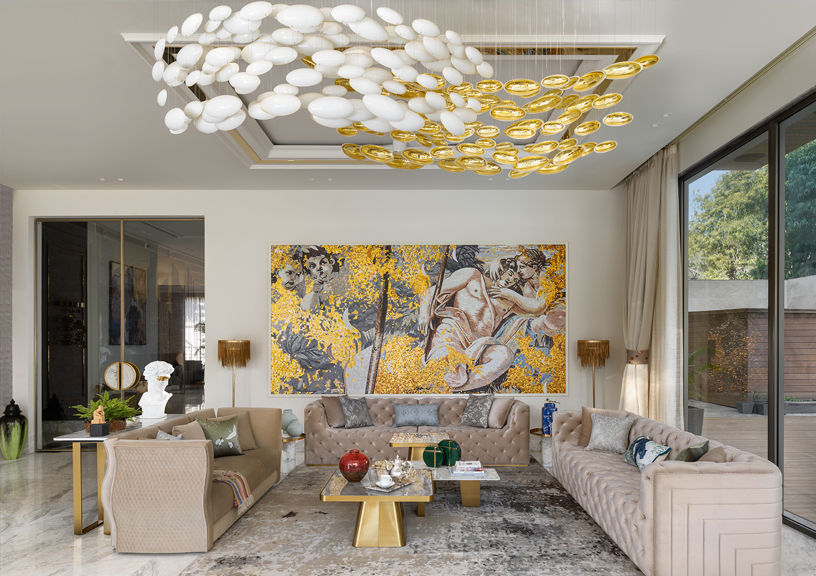 The vision of the family of four for this expansive five-bedroom space was to create a lively home exuding a sense of openness, spaciousness, and vibrant colors. A generously proportioned drawing room, strategically designed to open up to the picturesque lawn and swimming pool, caters to the client's inclination for hosting large gatherings and social events.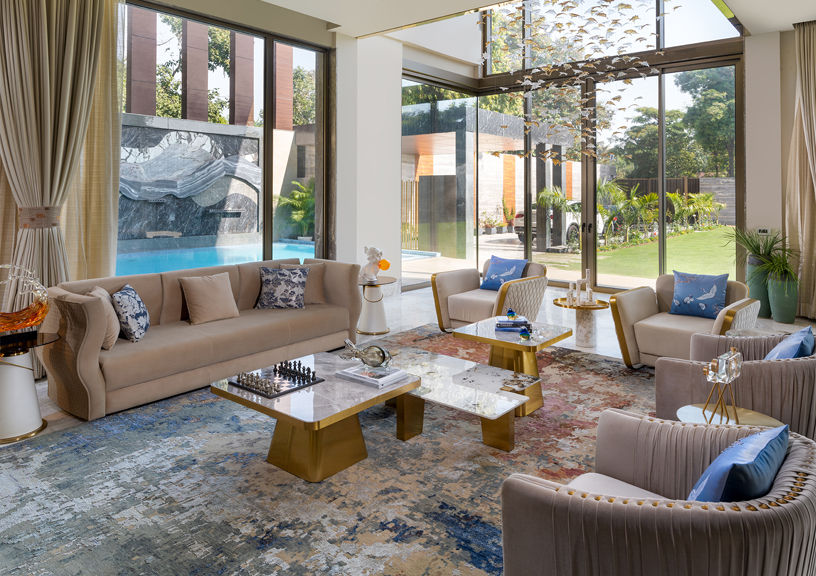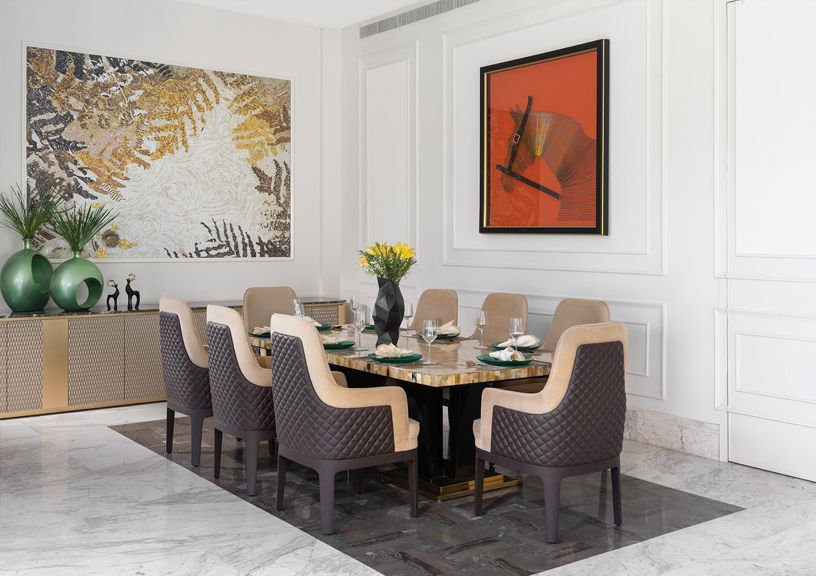 An architectural marvel, this home bathes in exuberance at every turn, as natural light effortlessly filters through the panoramic windows. A captivating wall adorned with a variety of marble stones mimics the flow of a meandering river, running parallel to the swimming pool, creating a tranquil ambiance with delicate fountains and a Jacuzzi.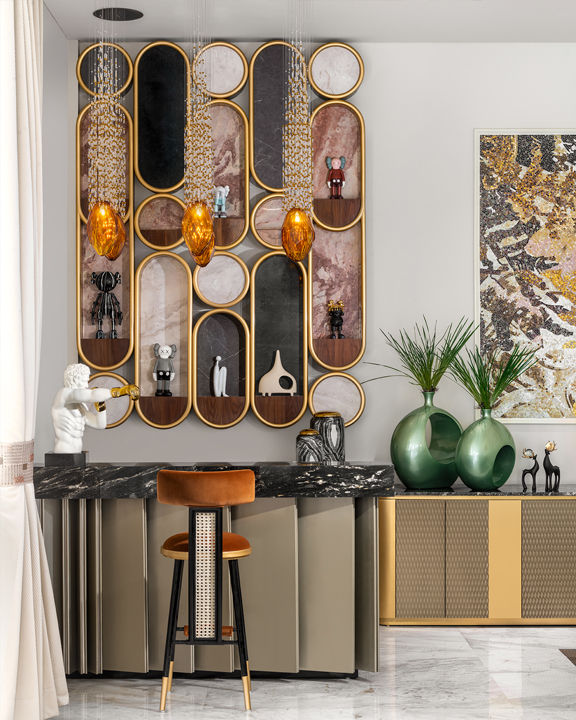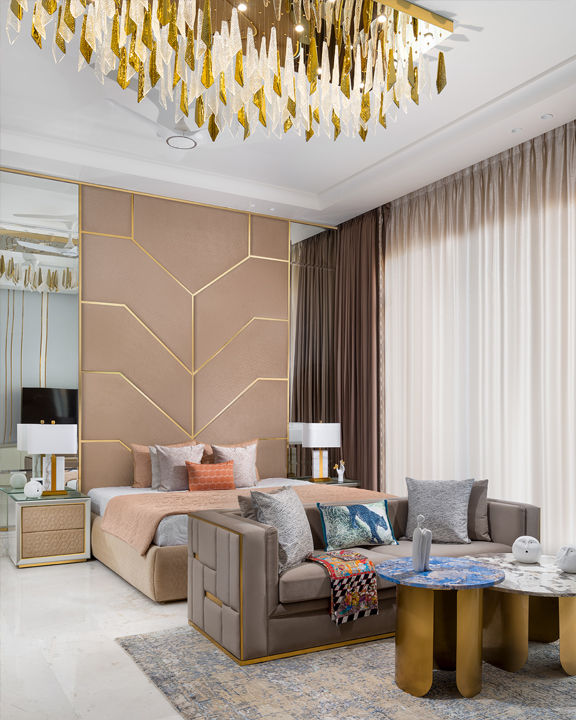 Strolling through the lofty 24-foot-tall porch, one encounters the entrance door, clad in wood finishing. This structure, crafted from MS, cleverly creates an illusion of a single-level door with its double-height design. Inside the house, a striking cherry blossom tree takes center stage, serving as a reminder of the farmhouse's original state and now serving as a focal point within the home, positioned adjacent to a majestic double-height staircase.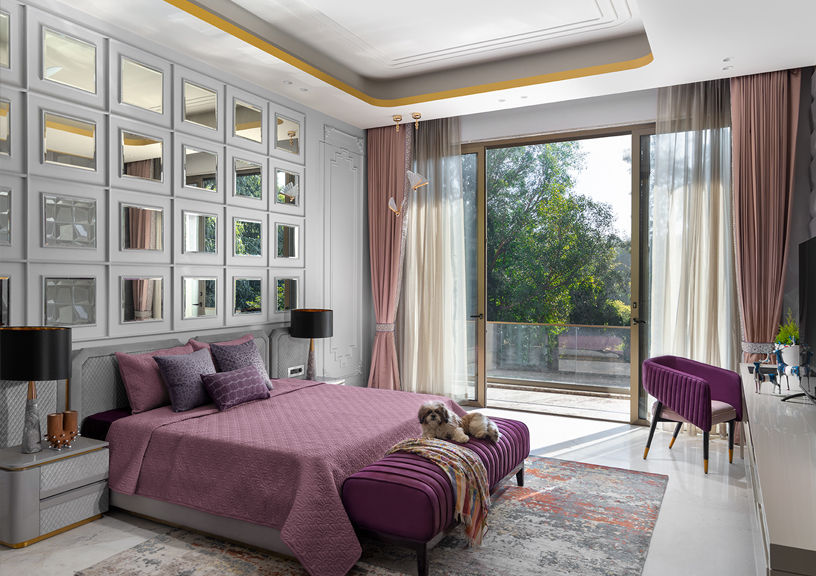 The marble steps of the staircase appear to float against the backdrop of a dramatic mosaic wall, which also provides a vantage point to admire the sweeping expanse of the lush surroundings. Moving through the voluminous drawing room, an intriguing fireplace utilizing biofuel stands proudly against a majestic wall, boasting an artistic fusion of marble and metal. A unique artwork by Hermes faces the veined marble-topped dining table, accompanied by a black and beige bar, establishing a quintessential atmosphere in the formal entertainment area.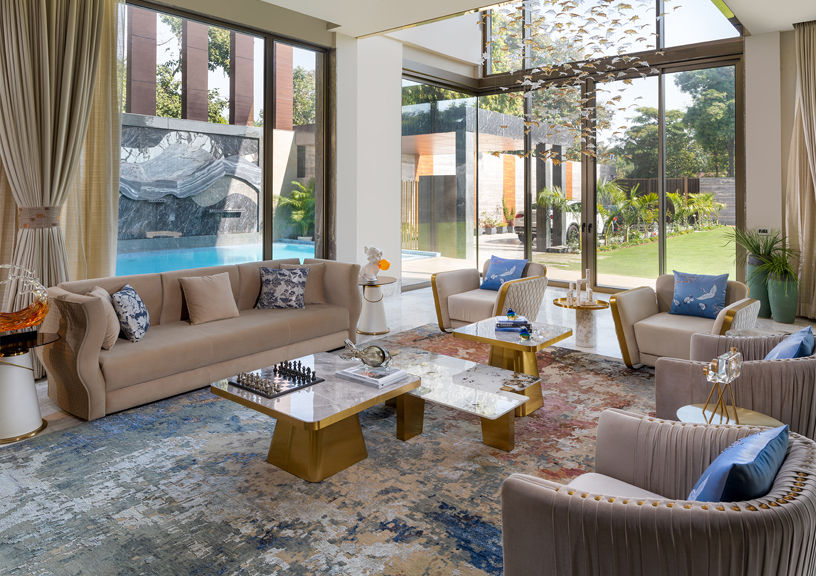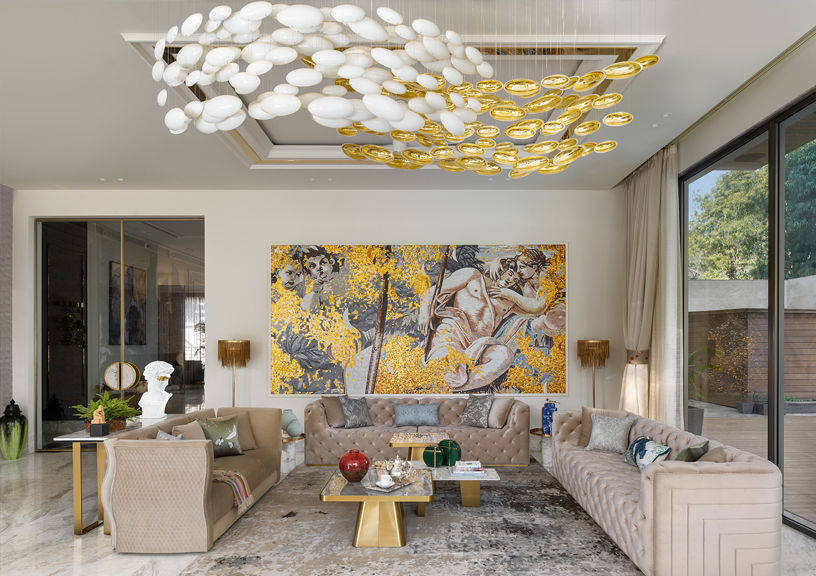 In the family lounge, a life-size statue of Kaws, part of the family's collection, makes a captivating statement, overlooking the cherry blossom area through an exuberant window, creating a cozy corner for cherished family moments. The powder room offers a regal illusion, featuring a striking green onyx statement wall and gold-finished metalwork that extends from the ceiling to frame the vanity, offering a view of the verdant foliage through a panoramic window.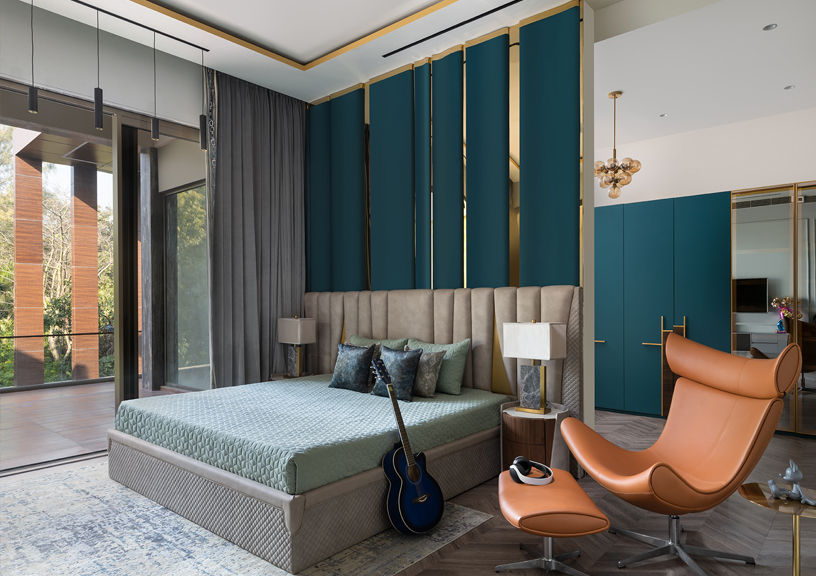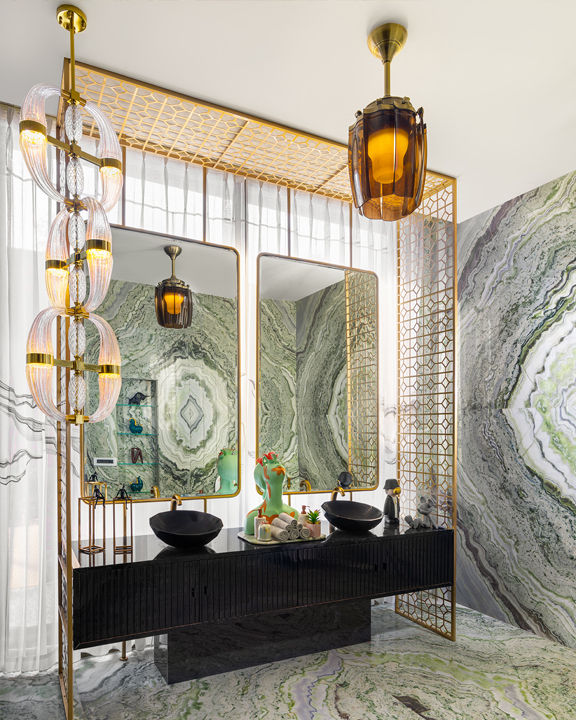 Ascending the surreal staircase, one is greeted by a beige sofa and revolving statement chairs, providing a comfortable space for familial bonding. The master bedroom exemplifies a sophisticated fusion of beige and white, while touches of powder blue inject vibrancy through an accent chair and marble table. Sunlight filters into the room through the expansive wall-sized window, delicately illuminating the luxurious bed backdrop and the exquisite console.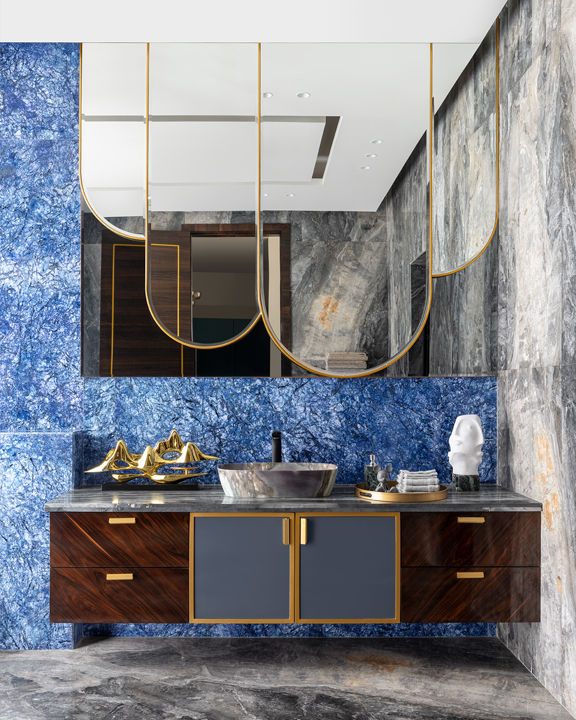 The en-suite bathroom and dressing area present a dreamlike sequence with glass elements and brushed gold-finished wardrobes, where a captivating suspended mirror in the center separates the vanity from the intimate space.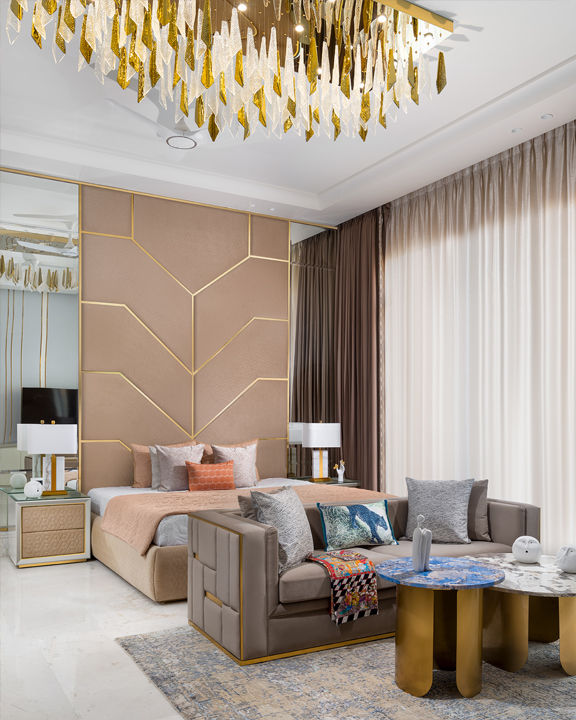 "We conceived this expansive home around its lush landscaping, combining contemporary aesthetics with our distinctive use of wall moldings, gold metal finishes, and opulent furniture to achieve a vibrant ambiance as per the client's vision. We maintain a comprehensive design approach, paying meticulous attention to detail while infusing the space with character through elements such as the cherry blossom tree and dramatic interplay of elevations, lighting, and dimensions," says Parnika Kapur Julka and Harshil Kapur, co-founders at Attico Homes.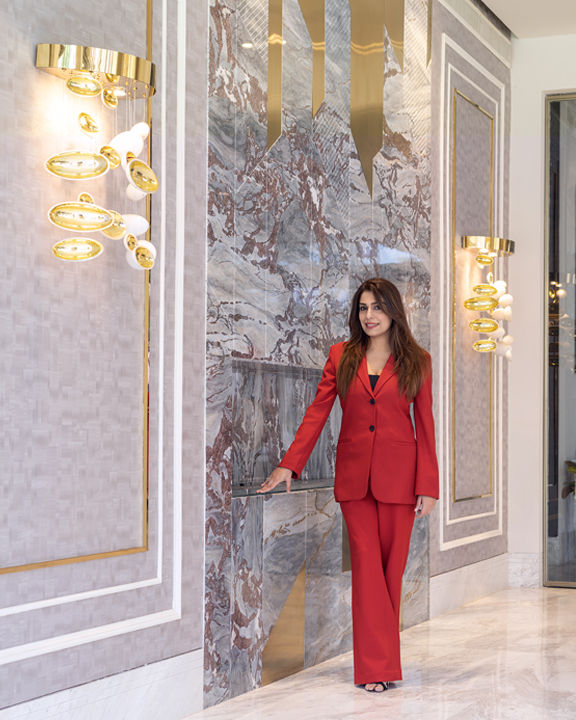 Fact File: