A predominantly neutral palette offers a clean base for the elegant design features in this Delhi home by Pramod Group
Pramod Group's Nadora project was conceived to offer the most distinguished lifestyle to its owners. And the Nadora: Chapter 2 – B 256 apartment embodies all that was envisioned. A charming blend of exquisite interiors, superior comfort and indulgent features are not just privileges here, but a way of life.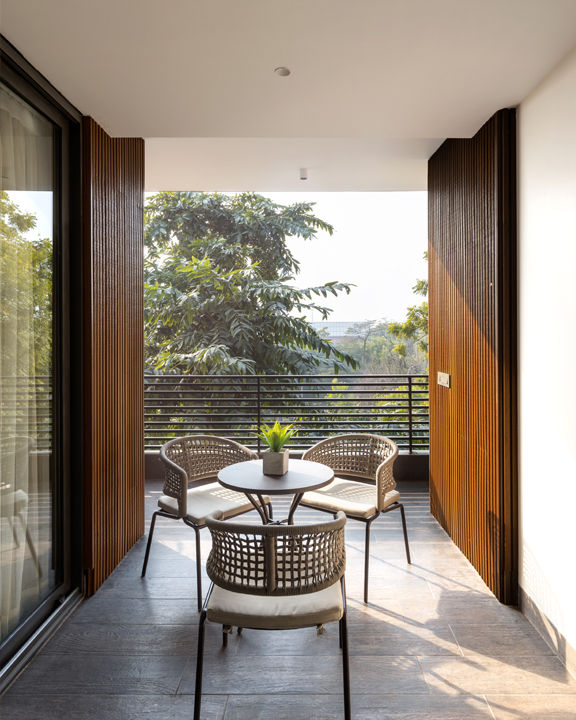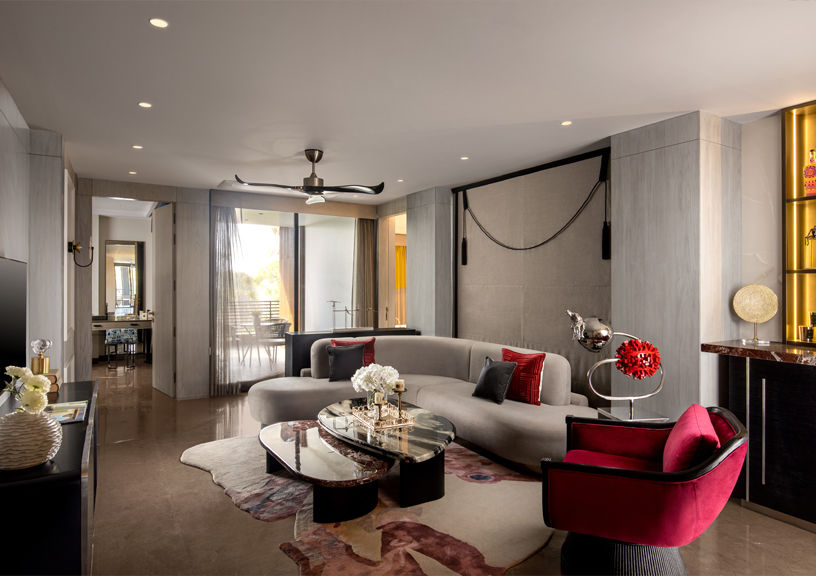 The best part is that the luxury city apartment is thoughtfully designed according to Vaastu principles to connect with its natural surroundings through landscaped balconies and courtyards. The architectural plan also incorporates four huge shafts into the layout, ensuring that the 400-sq yard home receives sufficient daylight and ventilation.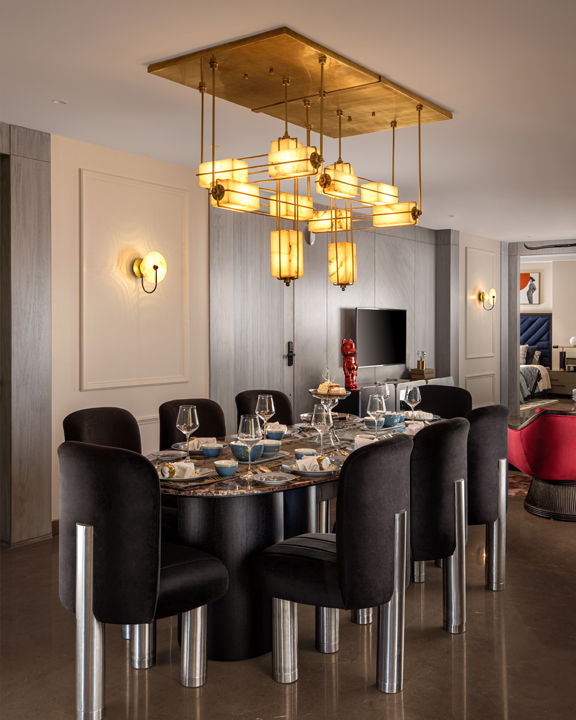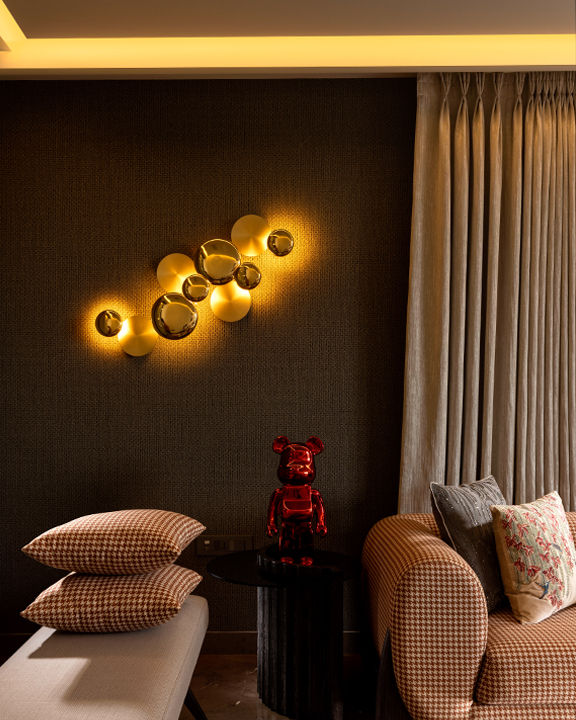 The apartment is configured in such a way that the spaces flow from one into another creating an expansive feeling as if you are in a villa, yet retaining privacy in each area. From the living room you walk towards the left into the dining space, and ahead of that lies the family lounge. The four bedrooms open into the dining and family lounge areas.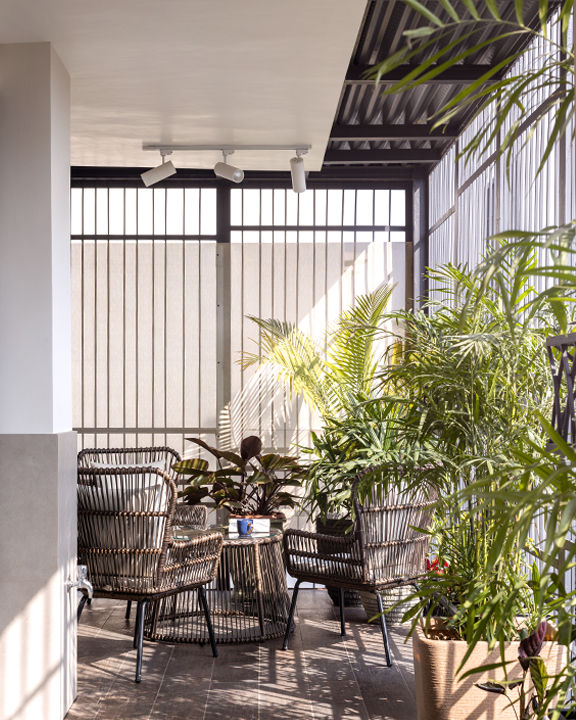 A predominantly neutral palette offers a clean base for the elegant design features and an array of art forms – paintings, sculptures, artworks, etc. Italian tiles and stone used for the flooring evoke a sophisticated seamless environment.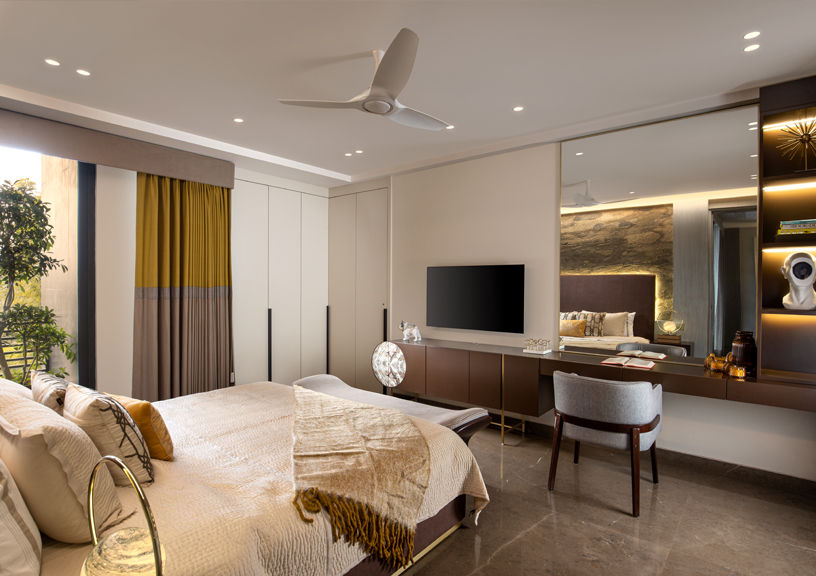 The living room is carefully furnished with a blend of lavish sofas, stylish accent chairs and ottomans, that not only spell comfort, but also immense visual interest. Large coffee tables make a statement of style, while chic fabrics and lights add to the modern allure. A work by artist Devender Shukla commands much attention in the living room.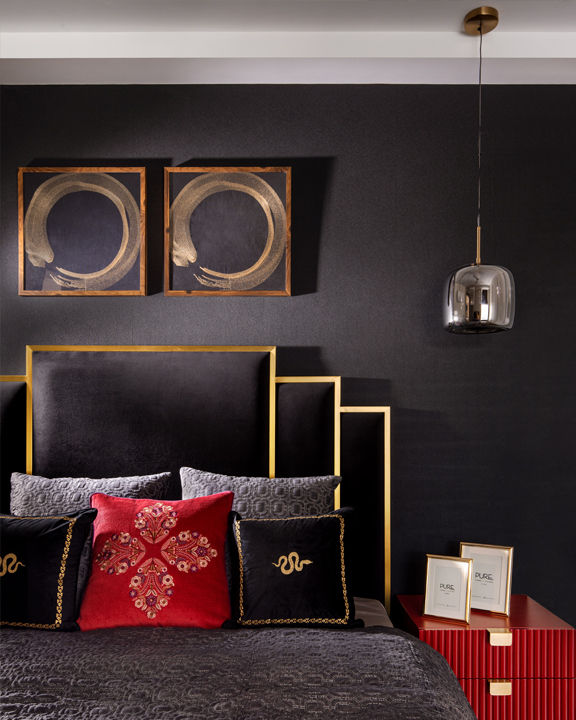 Elegant mouldings and wall panelings, along with the earthy tones of colours used, evoke a detailed and cosy environment. The spacious lounge area combined with a sumptuous dining space and bar area form a charming venue for entertaining with families and friends.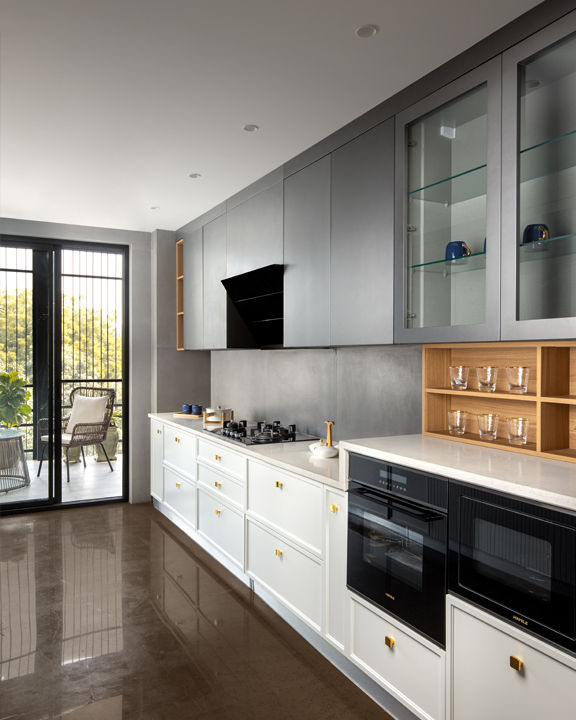 The curved sofa in the lounge is an everyday invitation to feel at home and relax, while the lux coffee tables and pink armchair impart chicness to the space. The white and grey open kitchen looks sleek with German appliances and gadgets. The minimal mandir is conceived in Corian indicating purity and serenity.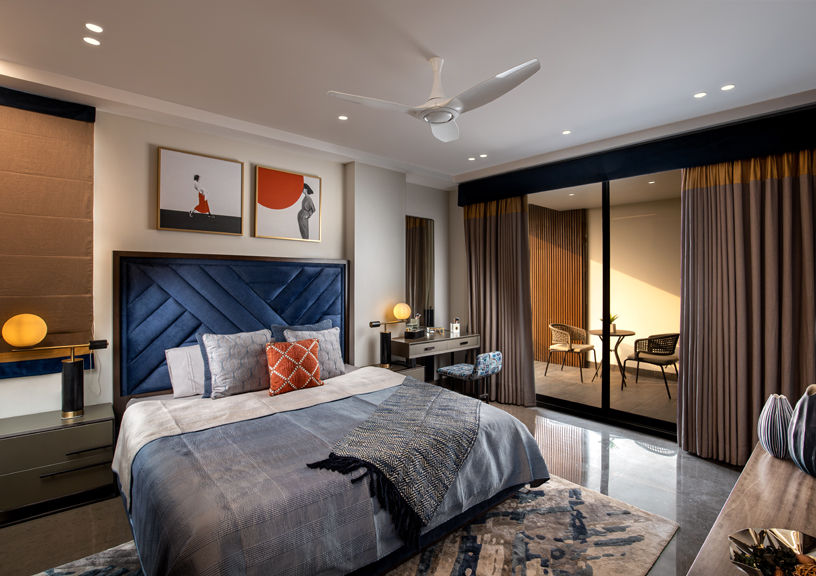 Each of the bedrooms is designed to appeal to the specific sensibilities of their owners. A stone backdrop with a back-lit headboard in the master bedroom introduces a charming earthy look in the luxurious space. A striking headboard with gold accent imparts a lux vibe in another.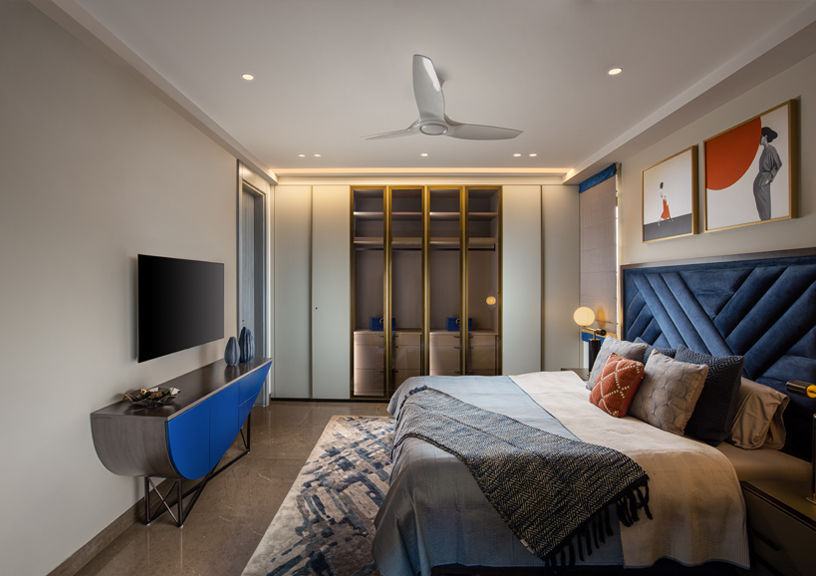 A modern headboard in blue stitched to create abstract geometric patterns and a TV unit in the same shade introduce excitement in yet another. The kid's room comes alive with a stunning botanical wallpaper used as a vibrant and stimulating backdrop.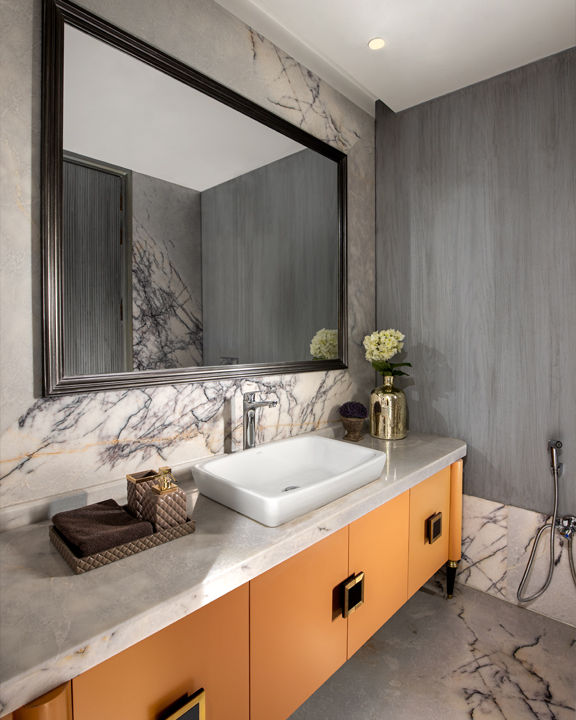 The bathrooms follow a material-rich, yet minimalistic style, creating serene and peaceful spaces to rejuvenate in. From earthy natural stones to wooden flooring, from the glorious veins of exotic marbles to fluted surfaces, subtle details create a luxurious atmosphere.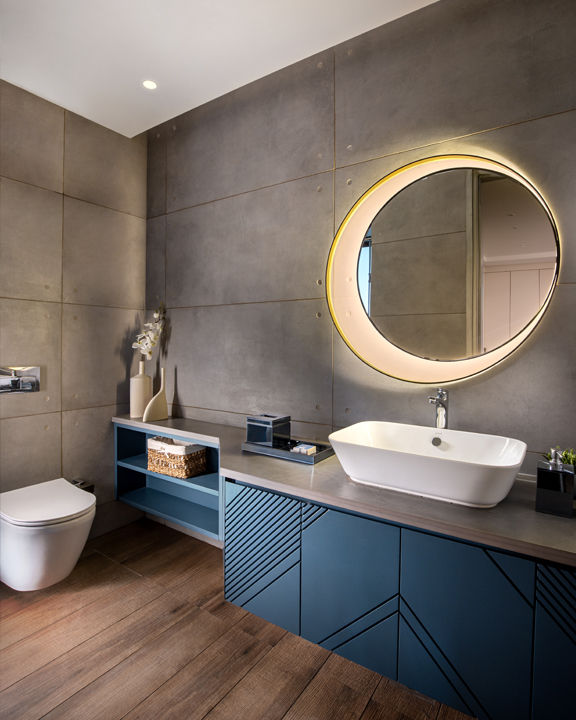 Overall, the home exudes a sense of balance and harmony, ensuring that luxury is inherent to the interiors, rather than in-your-face, thus letting the artistic flair and wellness factor take over.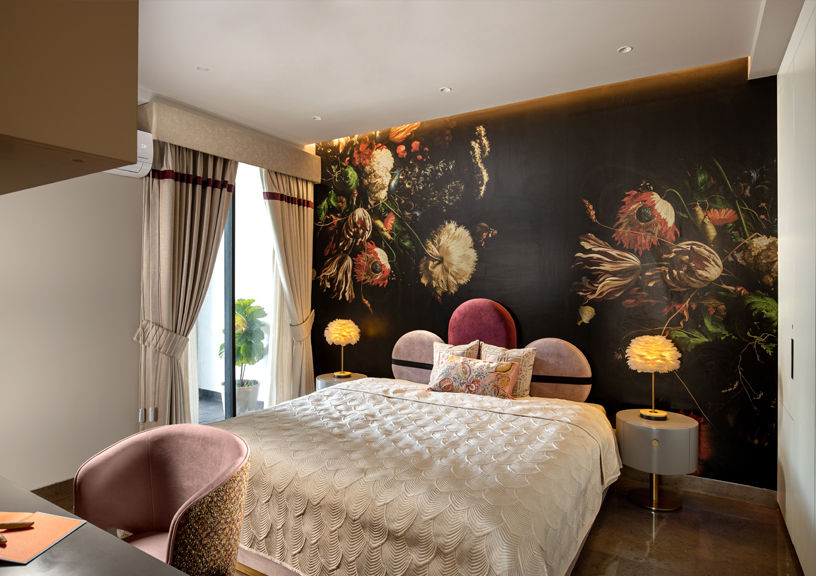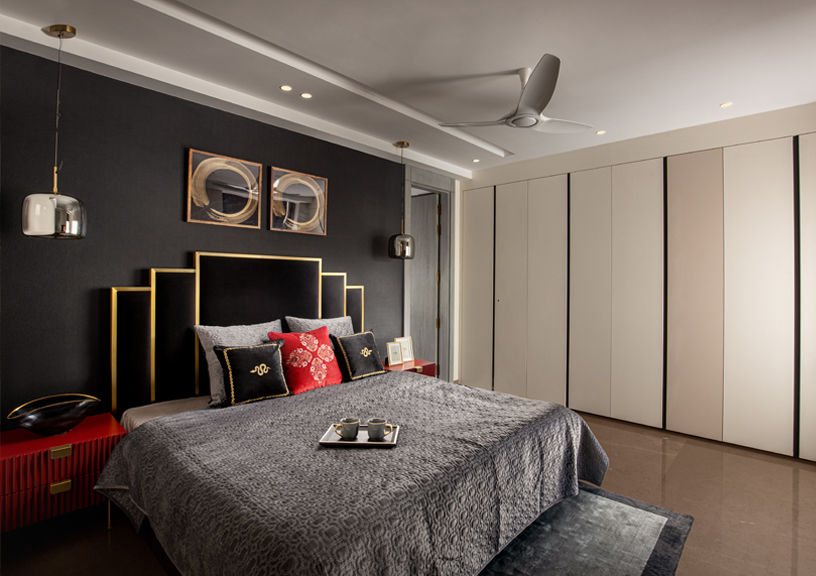 FACT FILE
Property: Nadora: Chapter 2 – B 256 – a four-bedroom luxury apartment
Location: Yojna Vihar, Delhi
Area: 400 sq yards
Architecture and Interiors: Pramod Group
Principal Designer: Ritu Gupta 
Design Theme: Modern Contemporary