A harmonious confluence of styles and elements articulate grandeur in this luxurious abode by Altus Luxury Living
A quintessential Indian home, designed by Altus Luxury Living, helmed by Adetee Sawhaney is an artful fusion of modern contemporary ethos with a maximalist design vernacular. The result is a synchrony that breathes the timelessness of the current and coruscating aesthetics of opulence, to create a novel experience that is bold and beautiful. The client, a connoisseur of style, wanted a space enveloped with grandeur, a luxurious and distinctive haven that inspires awe with its splendour.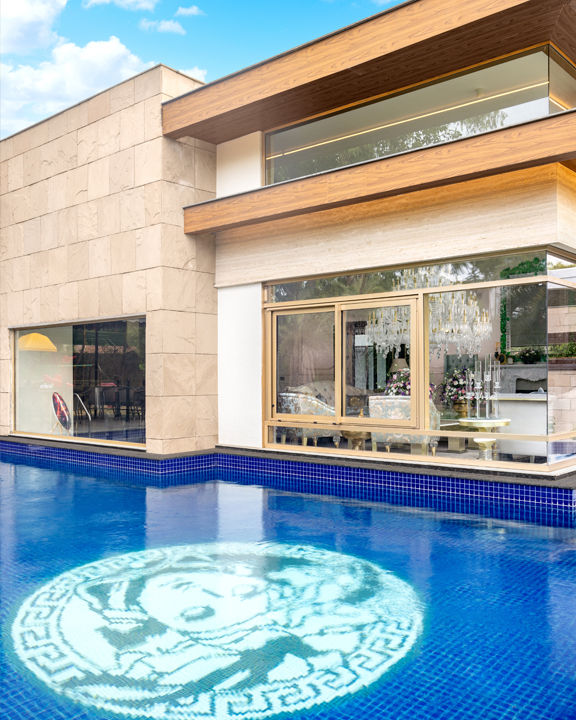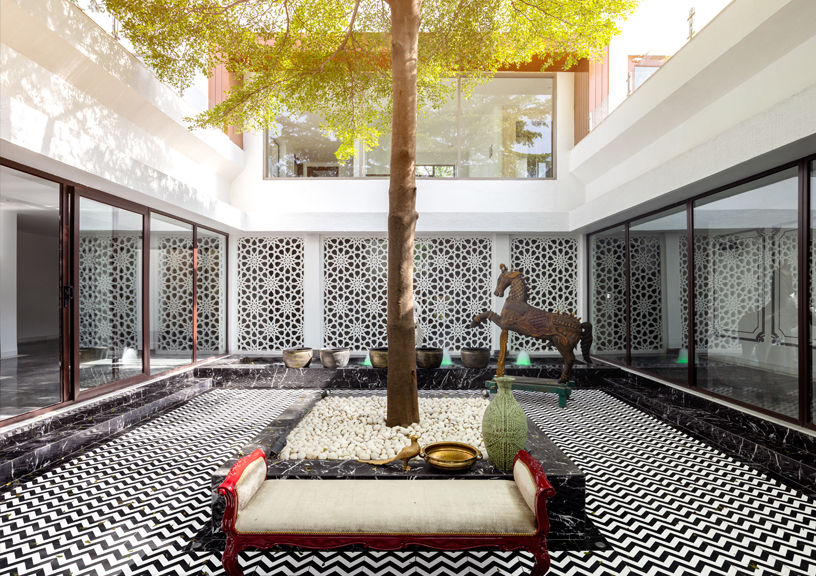 The sprawling farmhouse, in excess of 15,000 sq ft, stands nestled in Delhi's most coveted neighbourhood, Chattarpur Farms amidst lush verdant greenery. Envisioned over layers of dialogue, amalgamating their need to entertain a wide gamut of guests and decadent interiors that blend harmoniously with their lush exteriors.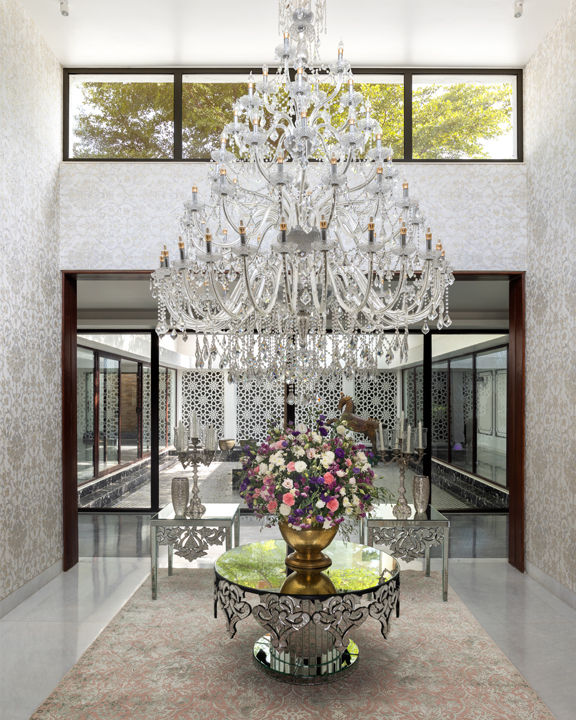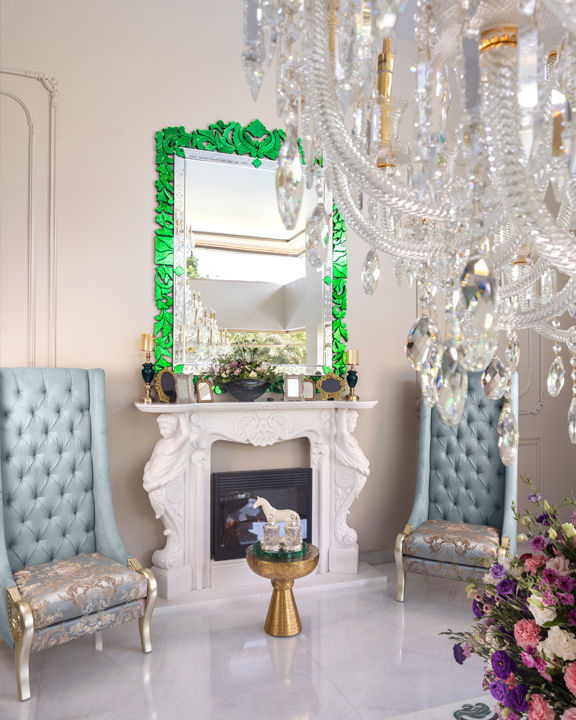 Designing an extensive sense of space with high ceilings and sumptuous natural light cascading through panoramic windows, rich juxtaposing hues and luxurious materials were the cornerstones to confer the abode with a palatial vibe. Furthermore, an interplay of eclectic furniture, stupendous chandeliers, exquisite artworks, artistically finished walls and ceilings along with an unapologetic use of gold, enhances the palatial vignette.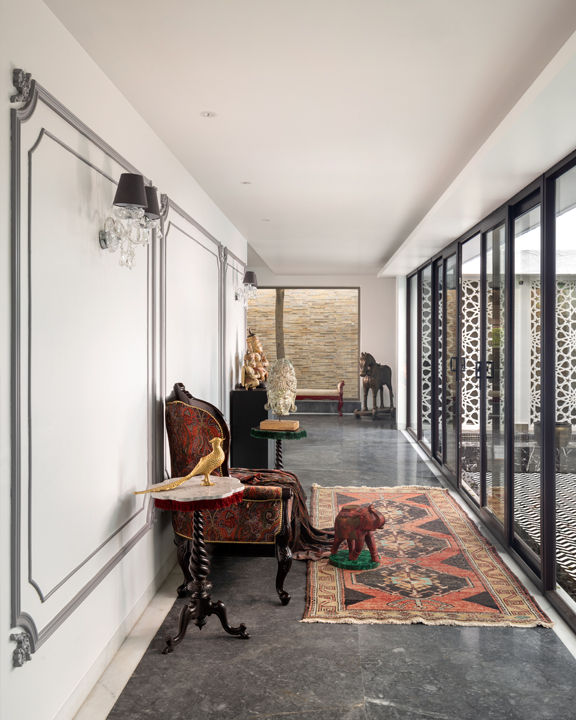 Stepping into the grand architecture, the whiff of opulence strikes you in the courtyard itself, where a lofty tree stands encompassed within a monochromatic black and white marble flooring in a chevron pattern that reflects light and charm. A vintage horse stands tall in the company of artistic sculptures, a cosy red chaise lounge and an intricately cut marble jali wall that plays hide and seek with air and light.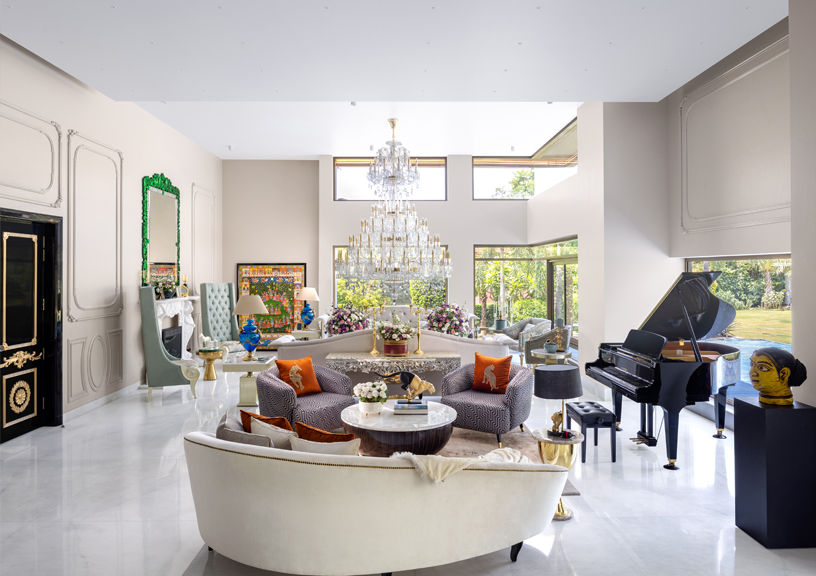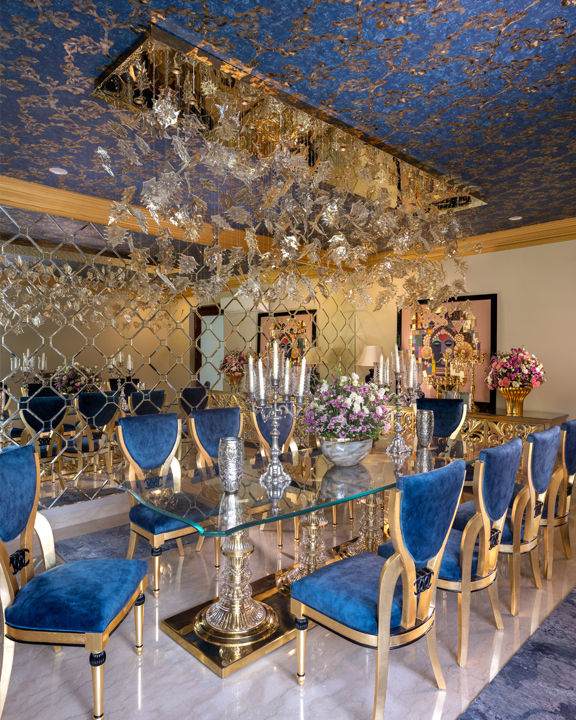 Overlooking the picturesque courtyard are the living room and dining room, resplendent with ornate mouldings, tall columns, elegant arches, colossal chandeliers and bespoke furniture that articulates a fusion vocab. Stepping through the entryway, a 15 feet tall exotic chandelier droops to the glass and mirror tables adorned with flourishing blossoms and the saga of the extravaganza begins.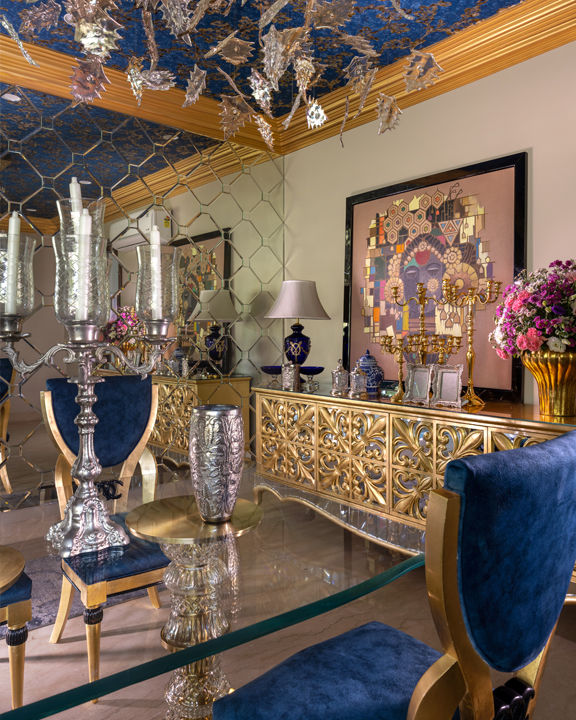 A magnificent modern bar in striking black and gold with sleek countertops and a wide array of glassware stands stationed at one end of the room, twinkling under ambient lighting. The gravitational force during soirees, the bar, stands parallel to an informal seating arrangement for those casual tete-a-tete's where an ascetic ivory-toned curved sofa competes with a selenite stone-topped table.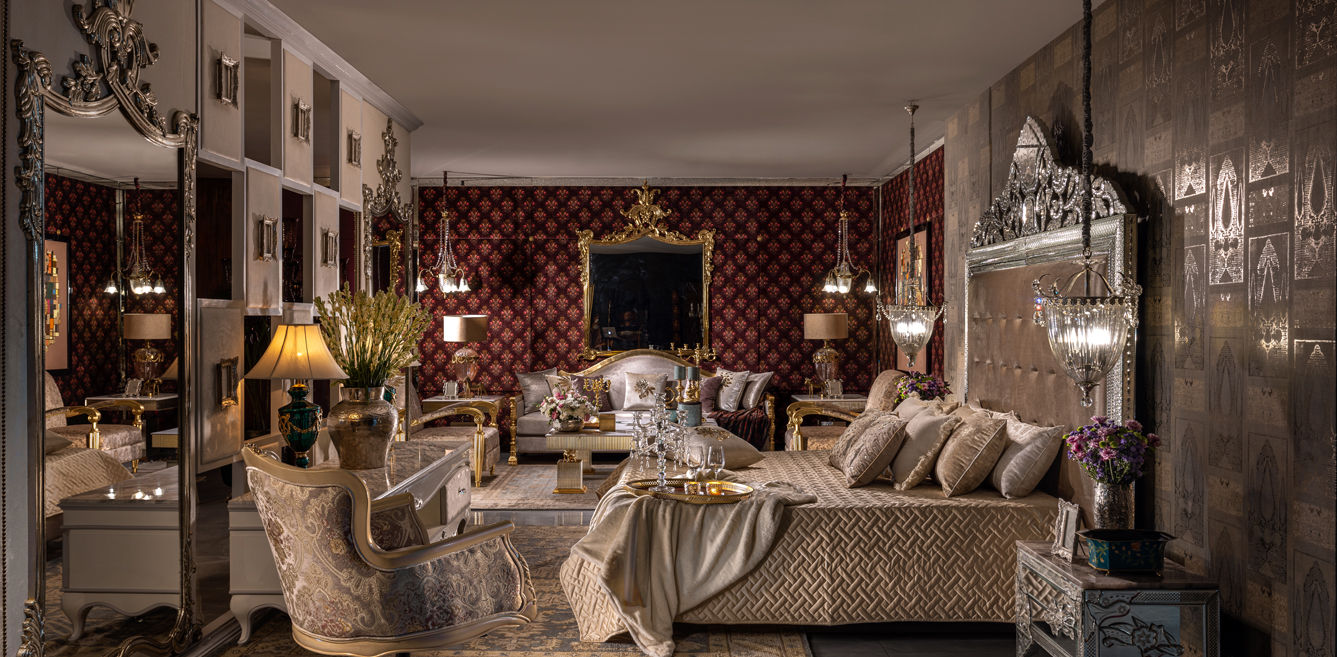 Elevated with plush handcrafted cushions in deep orange embellished with leopard print, the sofa is accompanied by black and gold printed contemporary chairs. The formal seating embraces maximalism to the hilt, with a fireplace, a grand piano, a stately chandelier and classic contemporary furniture in muted tones peppered with gold, to cast a spell of immersive lavishness.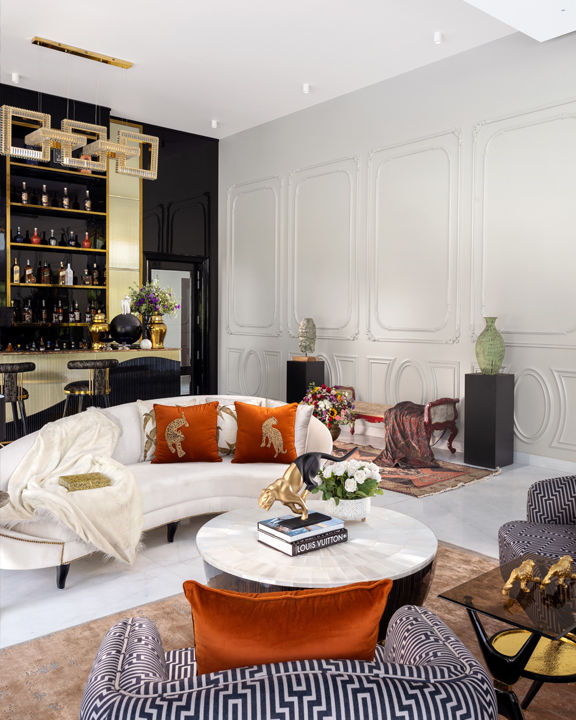 Regal blue and gold aesthetics, an imposing 10-seater glass dining table set upon impeccably carved legs with gold borders preens on its reflections in the octagonal mirror-panelled walls imbue the dining room with a palatial aura. A mesmerising play of light and shadow from an ostentatious crystal leaf chandelier that floats down from rich blue wallpaper-embellished ceilings. The bedrooms perpetuate the maximalist narrative, immersed in royal jewel tones to serene pastels, elaborately patterned luxurious bedding, textured upholstery on the walls and statement mirror headboards. The en-suite bathrooms are like luxurious retreats, boasting bold stone patterns, gilded fixtures and indulgent amenities. Assortment of eclectic artwork and accents thoughtfully curated stand positioned to add character to the interiors.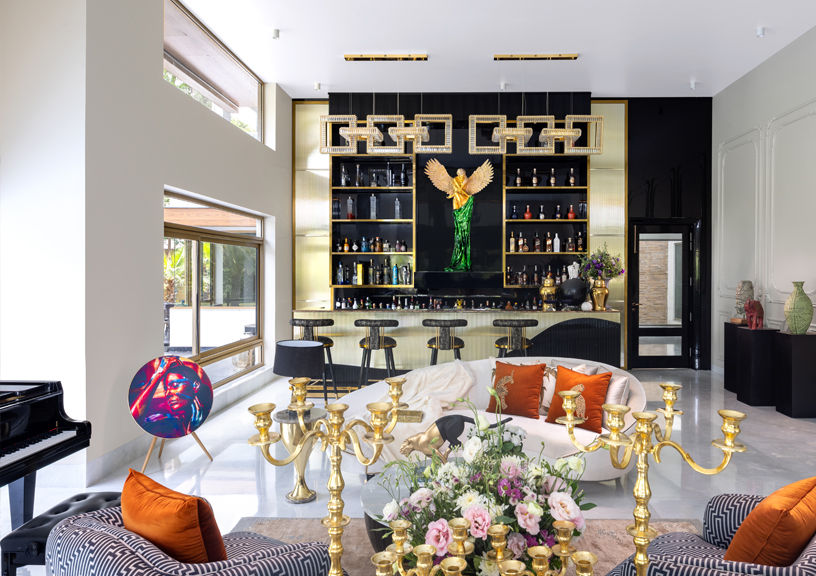 An interplay of the timeless beauty of marble, the gilded allure of gold leafing, the exclusivity of precious stones, the warmth of brass, the shimmer of crystal lighting, the depth of scintillating mirror work and the sophistication of glass, all add to the captivating decadence of the space. Natural light through large windows and skylights, with accent lighting and statement fixtures, is positioned to highlight the key architectural features. Indoor plants, organic textures, biophilic prints, and a sultry swimming pool keep the scenic outdoors in view, infusing tranquility into the space. A wide spectrum of hues, each strategically juxtaposed, imbue the space with personality and the specific mood board needed for the area.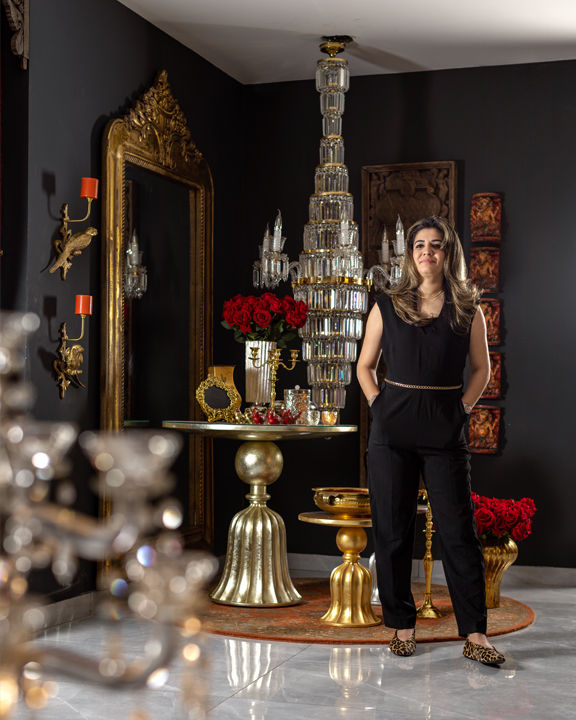 "In the realm of luxury design trends, maximalism has made a resounding comeback, hence we blended the opulence of the past and the boldness of the present in this palatial abode. The narrative goes beyond limitations in designs as it rethinks luxury through a harmonious fusion of different design vernaculars, creating different experiences within a space yet strung together as an aesthetic whole." says Adetee Sawhaney, Founder and Creative Director of Altus Luxury Living.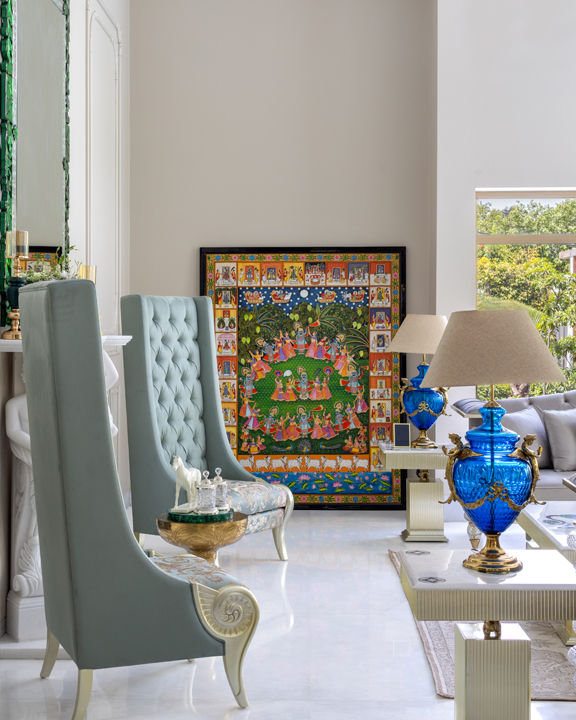 Fact File: 
Project Location : Chattarpur, New Delhi 
Typology and Square Footage : Private Residence, 15,000 Square Feet 
Design Firm : Altus Luxury Living 
Principal Designer and Founder : Adetee Sawhaney 
Photography Credit : Atul Pratap Chauhan