This residence designed by Keerthi Tummala is an eclectic blend of the past with the future
Designed by Keerthi Tummala, Founder and Creative Director, Sage living, Bloom is an eclectic blend of the past with the future, creative experimentation with myriad materials and skilled craftsmanship, to create a one-of-a-kind sensorial space.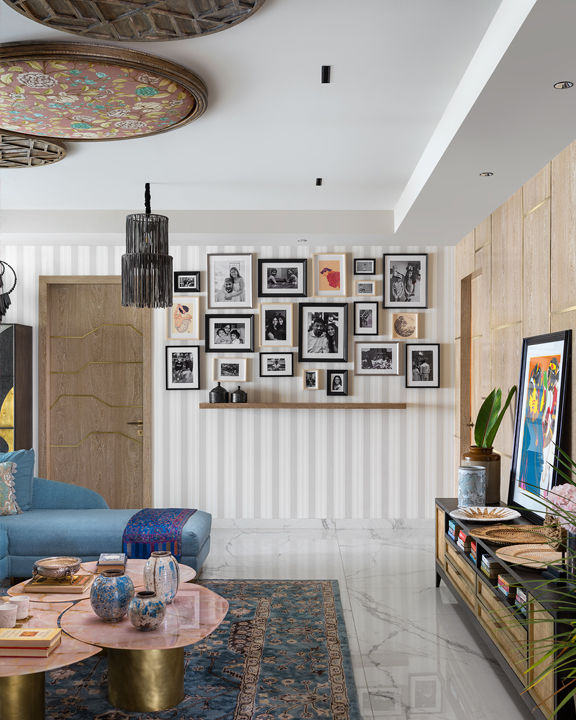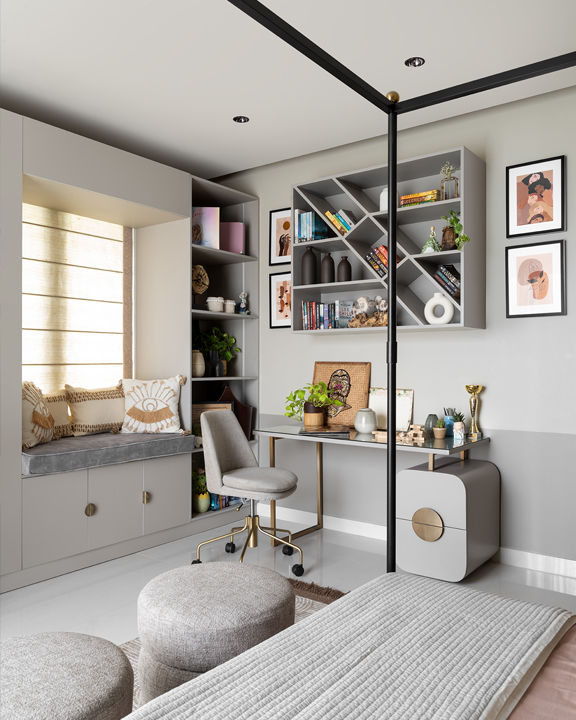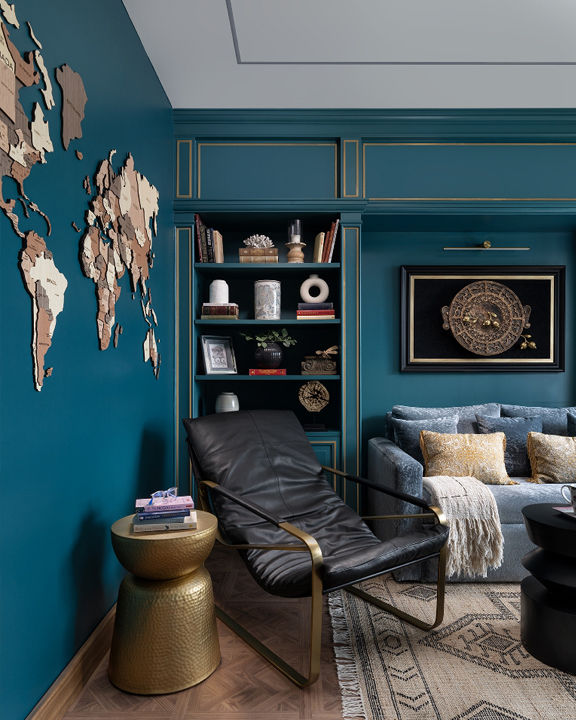 The project is a dialogue between contemporary designs flavoured with Indian nuances, creating a visual panorama of exquisitely layered interiors complemented with distinct detailing and statement furniture. The 4,500sq ft apartment hosts two living rooms, three bedrooms, a library, a dining area, a kitchen and a balcony. Old-world charm chairs, harmonized with modern wall art, vintage urns and lamps, and greenery emanate the design philosophy of 'India modern aesthetics'. The living room has a muted colour palette and elegant curvilinear furniture, dotted with rich brass accents. The crane embroidered wallpaper with a subtle pop of colour showcases exquisite Indian craftsmanship. The modern Indian mother sculpture by artist Naman underlines the softness and femininity of the room. Facing the lounge is an ornamental gold mirror juxtaposed against a black stone wall over a console that takes one to a cosy family room.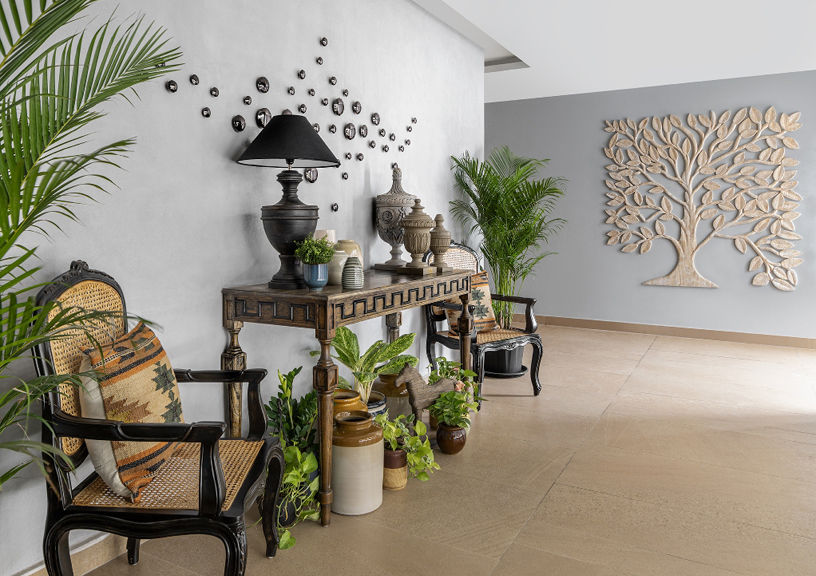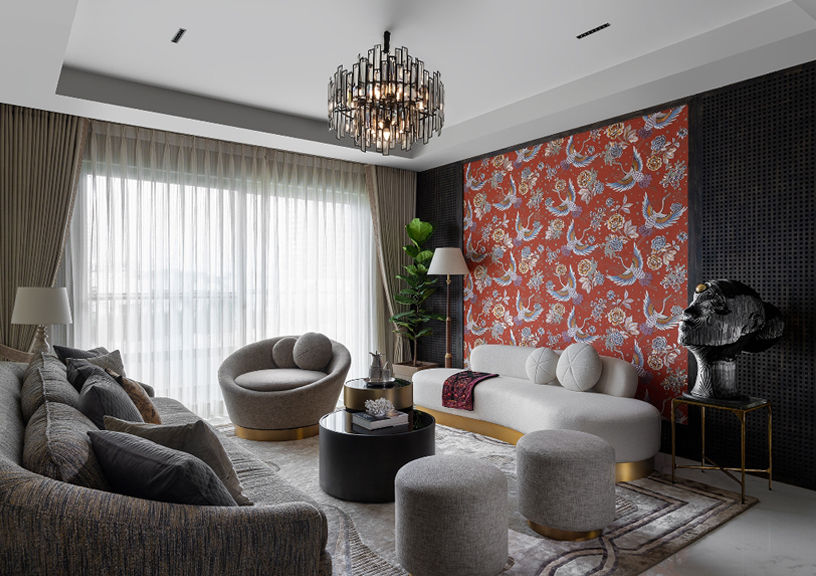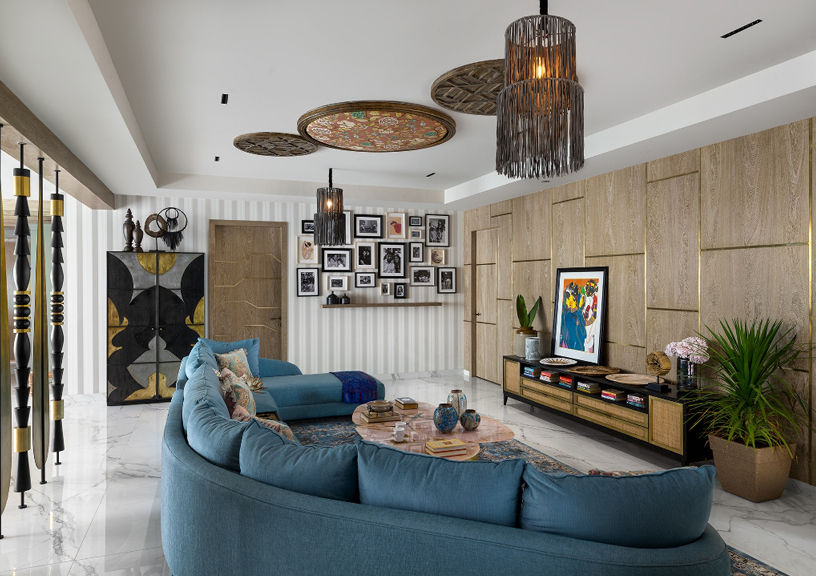 The old Veena in the family room, an heirloom piece belonging to the lady of the house, is evocative of her nostalgic moments with music. It is crowned with a traditional Pichwai painting above, next to a French boiserie in a muted palette with Cambridge stripes that faces an eye-catching blossom wall mural. They all anchor a blue sofa with a custom-made rug exuding an enthralling ambience. The family room flawlessly transitions into the dining room, which further seamlessly flows into the kitchen and a mandir. A 7-ft tall Tanjore of Lord Balaji blesses the house from the temple, protected on the exterior by a patterned sandstone and fluted wood wall. A sleek dark oak dining table and conic chairs, complemented with an ombre-finished flame bar unit elevate the visual landscape. Even though modular, the kitchen has a cosy countryside appeal with exposed beams, soft sage cabinetry and Moroccan print tiles.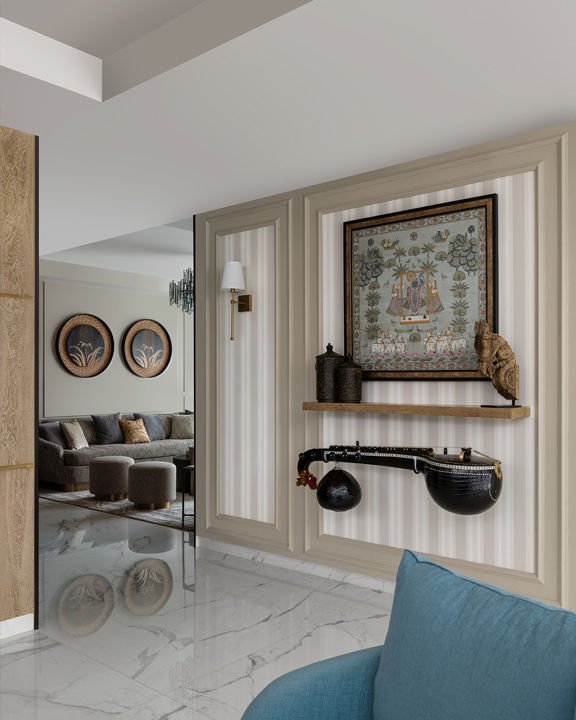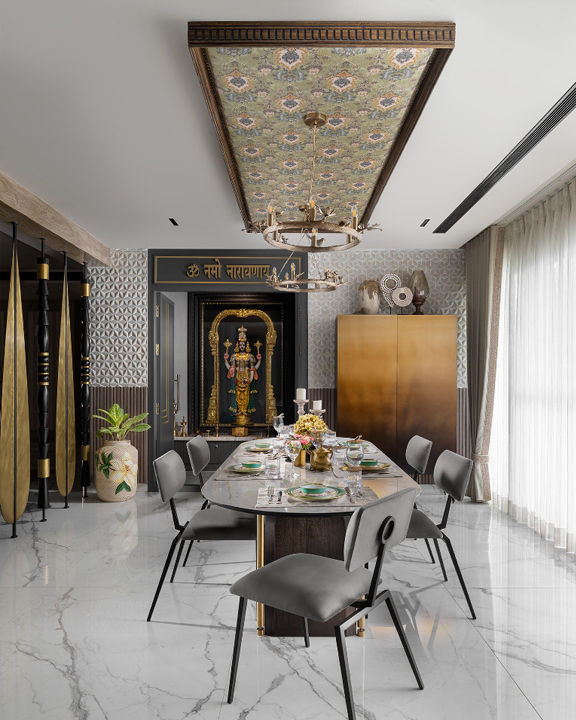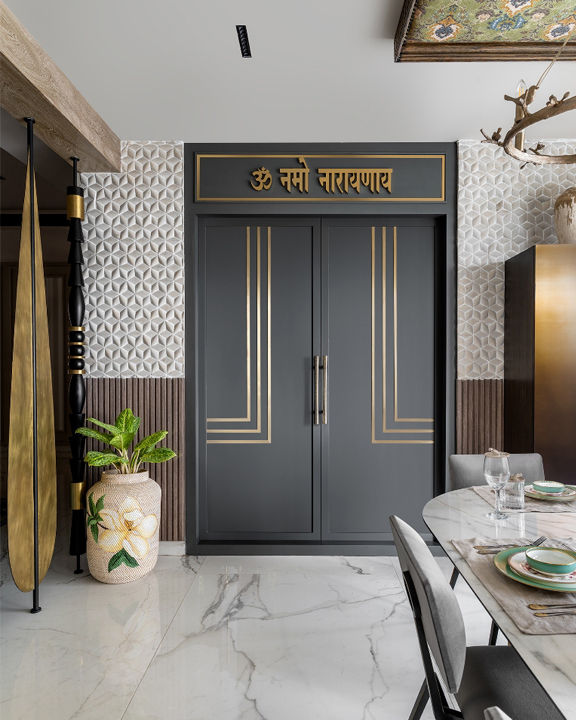 Each bedroom weaves a unique story of individual personalities. Textural details populate the grand master suite. The crowning jewel is the exquisitely embroidered cane backdrop, a ruby red striking hempstead and brass accent furniture that breaks the monotony of lacquered timber panelling on the walls and mahogany wooden flooring. The son's room is the coolest in an all-encompassing black, gaming, 'Star Wars' theme with superheroes splattered around, and modern and clean lines. In contrast, the girl's room is a haven of serenity, a muted colour canvas, French poster bed and touches of dull gold.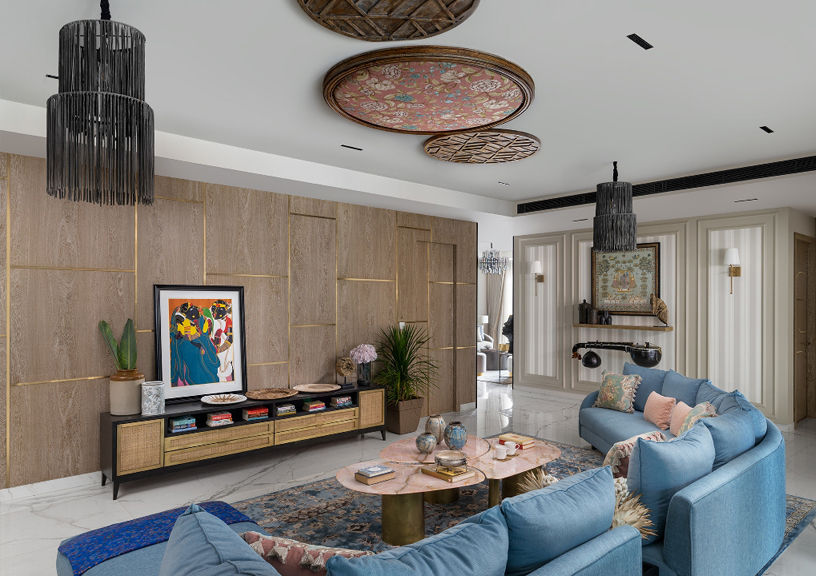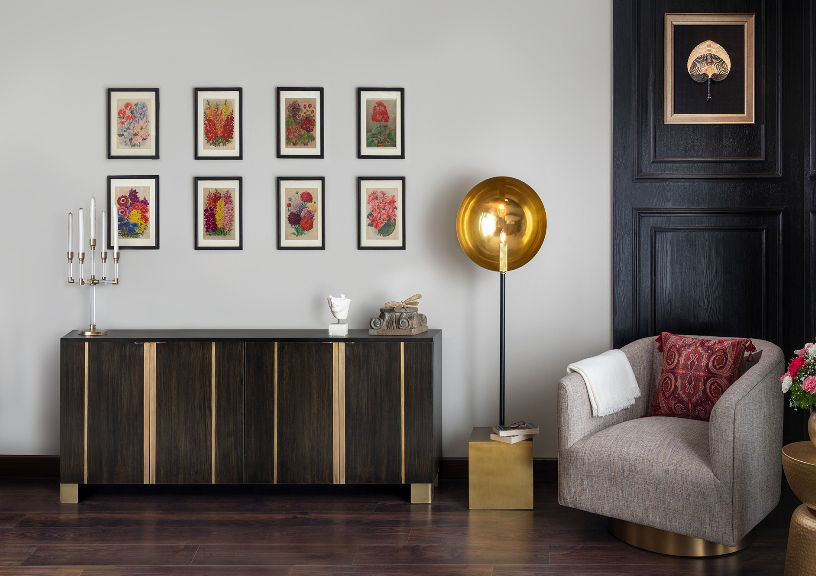 A library or workstation that is a perfect backdrop for zoom meetings is done in norm-defying bold teal hues with a metal frieze working desk facing a picture window. The tour does not end without breathing in the fresh air on the balcony with teakwood furniture and rustic, vibrant cushions. The mesmerising highlight of the interiors is the natural light that seeps in from large windows and translucent curtains in copious amounts. Plants peep through all nooks of the home, keeping it organic. All internal doors and ceilings are in contemporary wooden patterns along with fabrics and flowy hanging lights for minimalistic yet sophisticated look. Traditional brass accents keep the ethnic cognizance alive.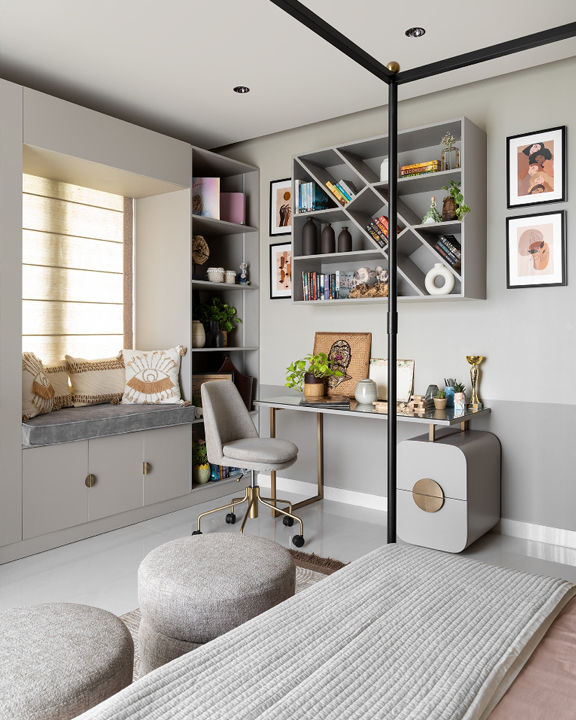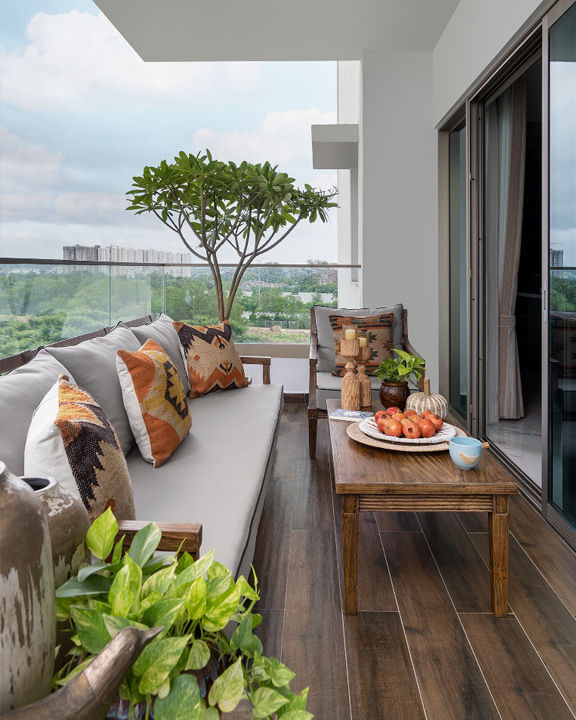 "We like to experiment creatively with styles, materials, textures, and colours, which explains all the contrasting pieces in the home that still sit wonderfully together. The trifecta of luxury, Indian craftsmanship and modernity is the core," said Keerthi Tummala, Sage Living Founder and Creative Director.
Photo courtesy: Deepak Aggarwal 
Factfile-
Project: Bloom, Hyderabad
Architects: Keerthi Tummala; Sage Living
Client: Srinivas & Bindu Karuturi
Founder/Principle Designer: Keerthi Tummala
Furniture: WA Bespoke & Sage Living
Lighting/Mirrors: Sage Living
Styling By: Keerthi Tummala
Built-up area: 4,500sq ft
Year of completion: 2022