Consolidating a quest of experiences within the walls of a home, this opulent Mumbai apartment combines visual spectacle with automated functionality
Crafted for a family of four, Suave Suite in Mumbai's Hiranandani is a display of tasteful modern luxury softened by a subdued palette of materials. Catering to the client's brief of "maintaining an understated austerity", this home is designed as a classical-contemporary duo. The visual spectacle spans from Indian prints to imported furniture, functionalized with automation and marking the fusion of themes with fundamentals. This 2,200 sq ft apartment sculpts a progressive yet rooted parade through design.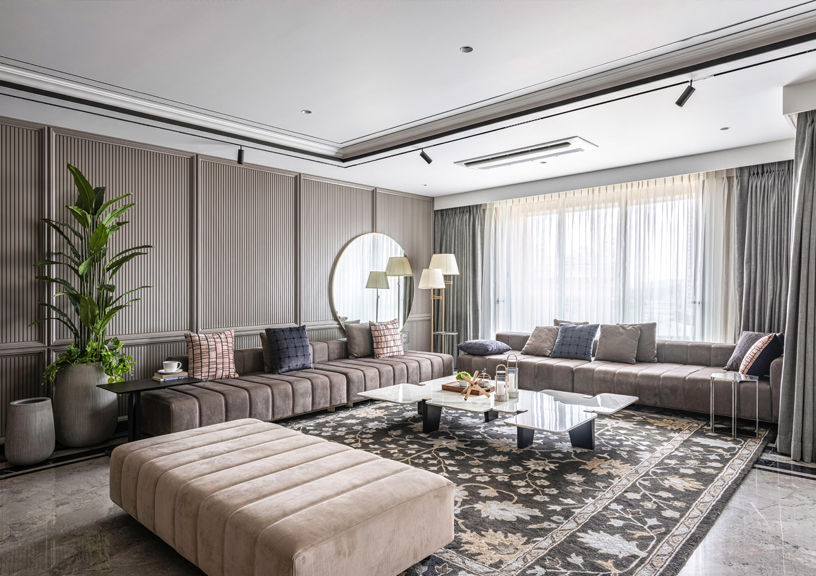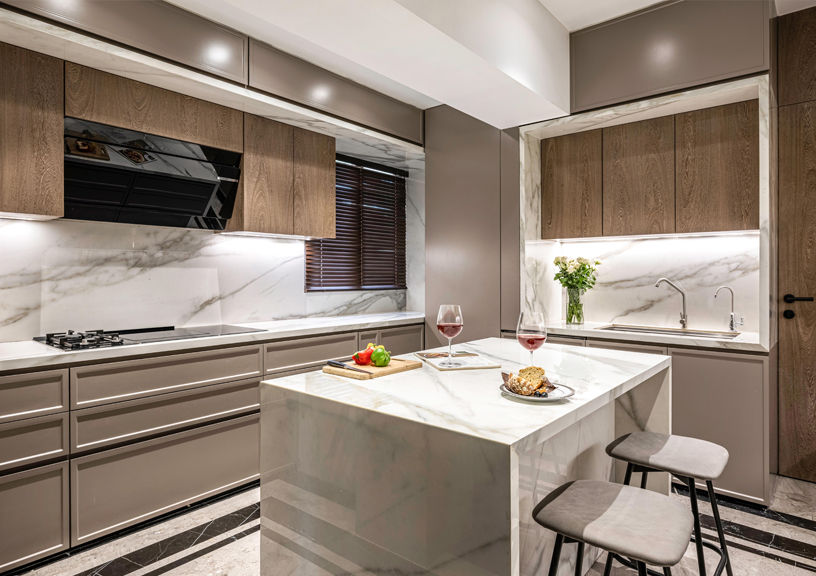 An expansive living space with glimpses of creative corners reflects the sense of spatial luxury within the home. A panelling in charred grey with wainscoting detail form the backdrop of this lounge-like living space. With the approach of maintaining an indo-classical ambience, black marble inlay work is chosen for flooring design. Articulate use of lighting with pertinent lux levels set a tone of opulence throughout the spatial ambience of this haven. A handcrafted blue and gold rug overlaps with imported pieces of furniture, directly displaying the traditional plus modern vibe derived from the home. A gallant wall of wooden veneer with a black marble TV unit jutting out gives a civil character to the elevation.
While the larger opening subtly sits alongside the lavish living, another window beams natural light on to the interactive dining space. The unique built-in wall in foil laminate and wooden veneer brings your eye to displaying personal artefacts and collections. A custom-made imported chandelier in porcelain floats above the classic dining table as the crown of the show. Mobile and comfortable dining chairs upholstered in velvet green add vibrancy to the space. Tying with the contemporary ambience, the custom-made Shrinathji frame in gorgeous black sits on an intricate ribbed marble wall.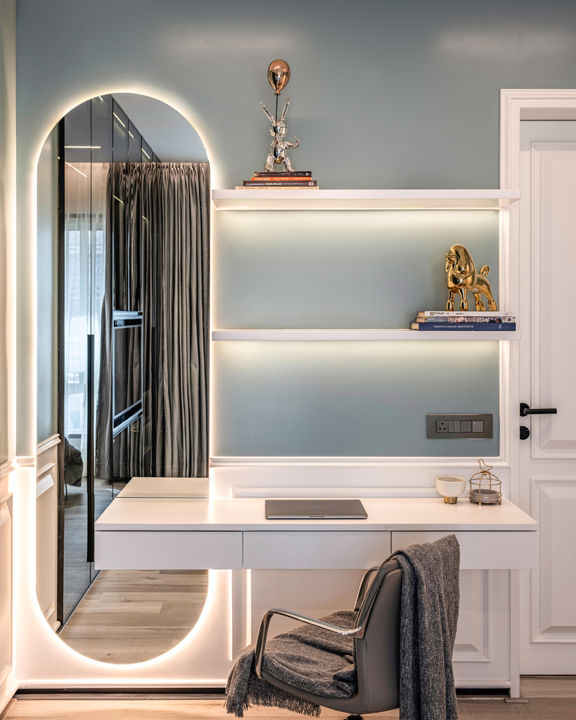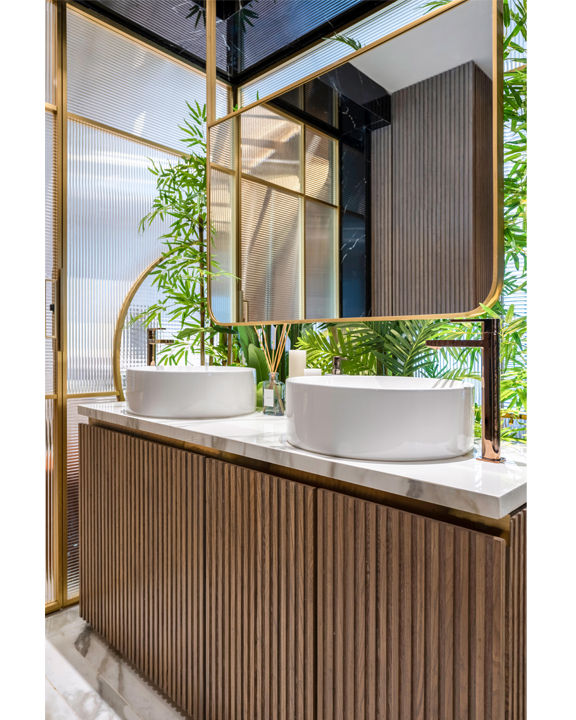 The nooks and nudges of the architectural layout are cleverly occupied with hidden storage, services and wiring conduits to maintain the seamless look and feel. For example, a high-tech air-conditioning packaged unit with slim modules is concealed within the conventional 6-inch false ceiling to avoid loss of clear height. In its entirety, this living room is a spectacle of diverse detailing with elements like low-height seating, large accent pieces and extravagant intelligent home features.
A flexible glass door takes one to the gorgeous kitchen space of this elegant abode. The plan is designed in such a way that it gives a holistic and assertive experience. A beautiful island in white marble is enveloped by counter space on all three sides. Ample storage, easy-to-maintain surfaces and pockets of functional appropriation make this kitchen a dream come true. Moreover, appliances like a touch-screen refrigerator, high-tech coffee machine, teppanyaki or a custom-control wine chiller add to the impressive statement of luxury devised for the family. Additionally, a gorgeous base space contributes to the upscale splendour intended for the habitants.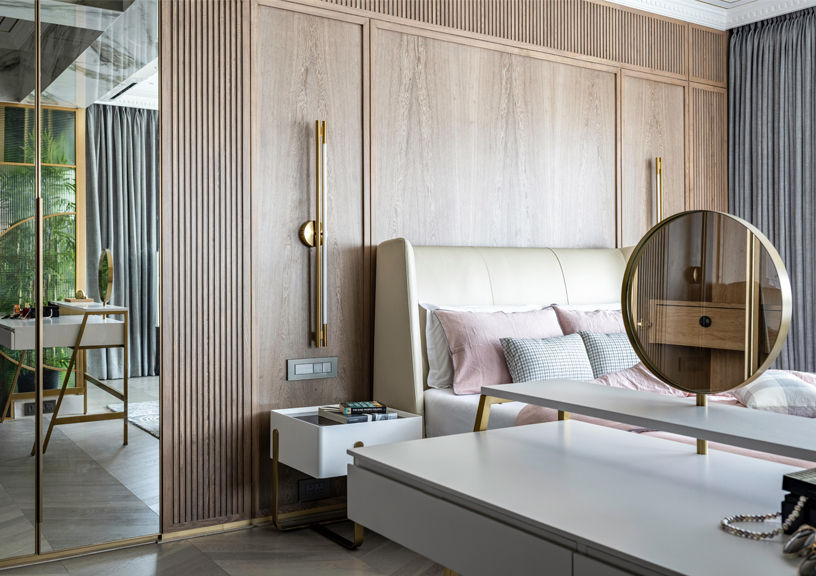 Effortlessly camouflaged in the living room elevation is the door to a guest bedroom meant for family elderly or other company. This bedroom showcases a modern relish of brown and shades of grey on a white canvas of edgings and details. The focal bed wall in brown walnut veneer is stalled with a concealed headboard in soft grey. Two movable single beds demonstrate the optimal planning of this space. Sliding reading lights, minimal nightstands and comfortable fabric choices give a cosy and simplistic experience.
The master bedroom is an exorbitant checklist of luxurious amenities and experiences. Cladded in soft veneer, gold inlay ceiling, classic wooden flooring and unique planters, this suite is accentuated with undertones. A beautiful custom king-sized bed interacts with edge-to-edge wall treatments and a freestanding advanced television. The closet area is demarcated with a charming marble ceiling for visual separation. A grand closet with glass shutters and a custom-made vanity dresser with a velvet ottoman provide a celebrity greenroom-like experience. A tried and tested detail for the bathroom partition made from planters closed inside fluted glass adds to the luxurious persona of the primary suite. The intricate detailing in brass and gold throughout the bedroom and bath space seamlessly connects the spatial expanse with ease.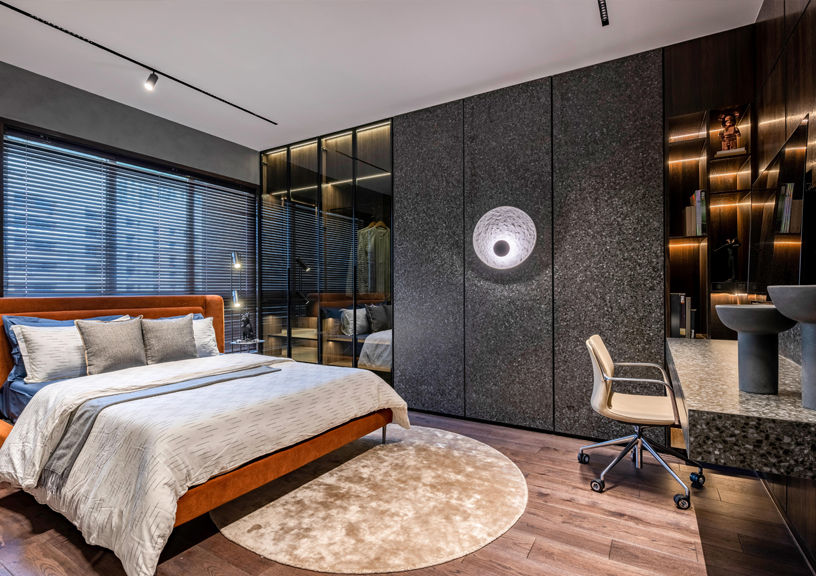 The son's bedroom is a robust palette of terrazzo stone with contemporary shades like matt black and tangerine. In addition, this room showcases unconventional sensibilities like a window as a bed-back, a corner library unit and minimal accents. While the son's space has a sober and earthy vibe, the daughter's bedroom is a fresh wave of brightness from the blue and white. The full-length closet cleverly hides civil changes to incorporate lavish and efficient storage. The gorgeous study table extended as the dressing is the star element for this room. The intelligent home modules of lighting and audio systems are replicated in the bedroom space for optimal functionality.
Intended for a well-travelled and distinguished hotelier client and his family, the name 'Suave Suite' is a projection of a hotel suite's luxury and home fundamentals. With no compromise on decor pieces and conscious mindfulness of the choice of materials and mechanisms, this home is a result of a balanced design process.
Factfile
Project: Suave Suite, Mumbai
Architects: Open Atelier Mumbai
Client: Chetan Parekh, Parekh Group
Principal Designer: Rahul Mistri
Design Team: Rahul Mistri, Rakesh Sharma, Vinayak Bochageri, Parth Soni
Site Area: 2200 sq ft
Year of Completion: 2022