Municipal Toy Library at Dólar is a Playful Space created by Carlos Quevedo Rojas / Carlos Peinado Madueño
A low-cost project that derives elements from the region's popular architecture, the Municipal Toy Library in Dólar is designed to promote movement in children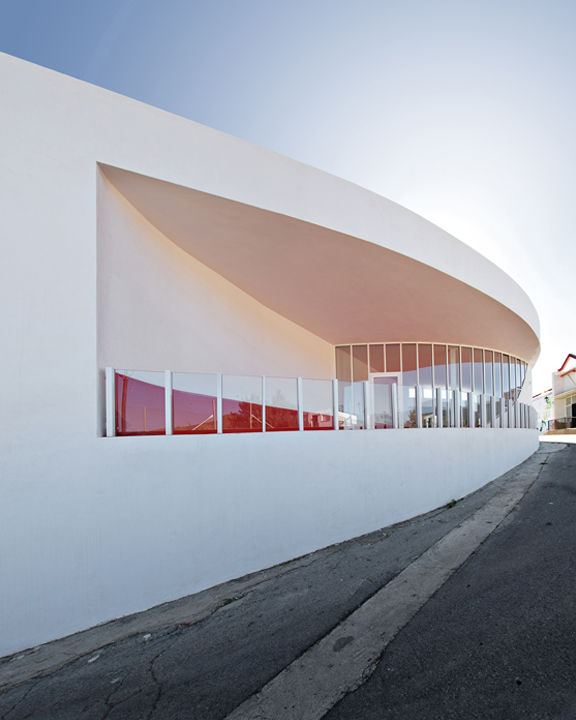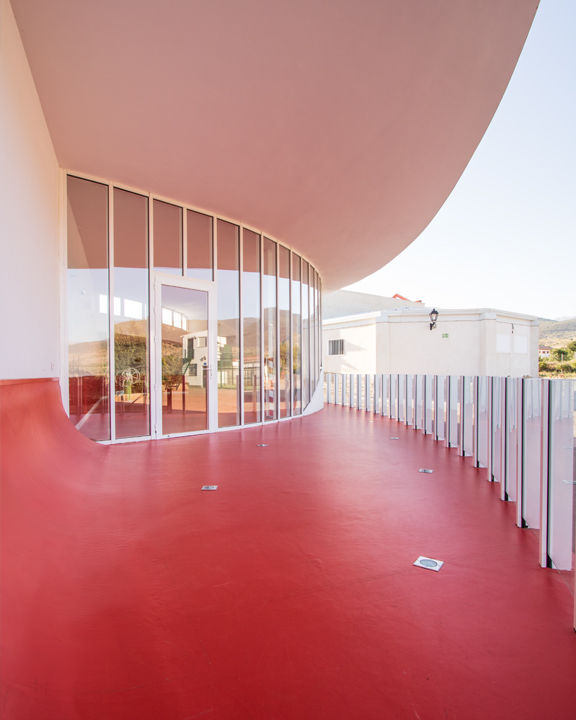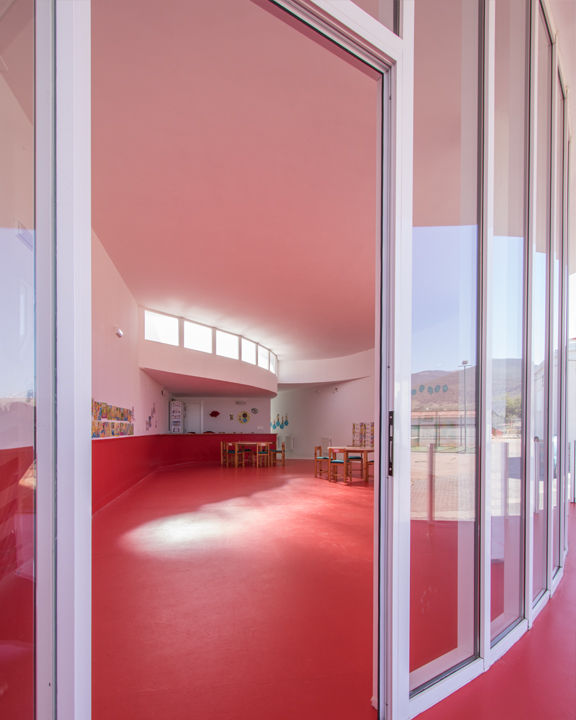 The quaint municipality of Dólar in Spain's Granada province has a population of a mere 640 inhabitants. Located along the south perimeter of the municipality, the Municipal Toy Library has been projected with a low budget of 450 €/sq m. This was subsidized with funds of agrarian employment for unemployed people. The plot is positioned such that it forms a kind of arch that is open to the rural landscape at the skirt of Sierra Nevada and that is also leaned along one property line.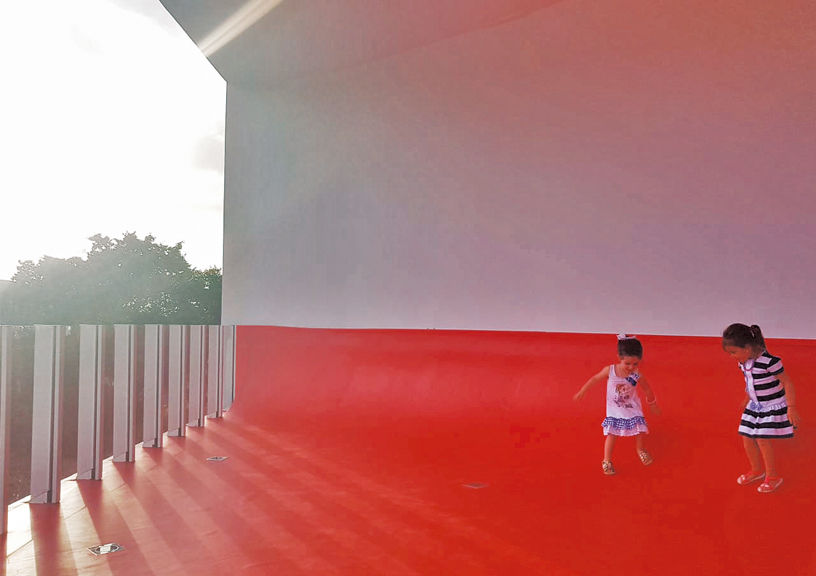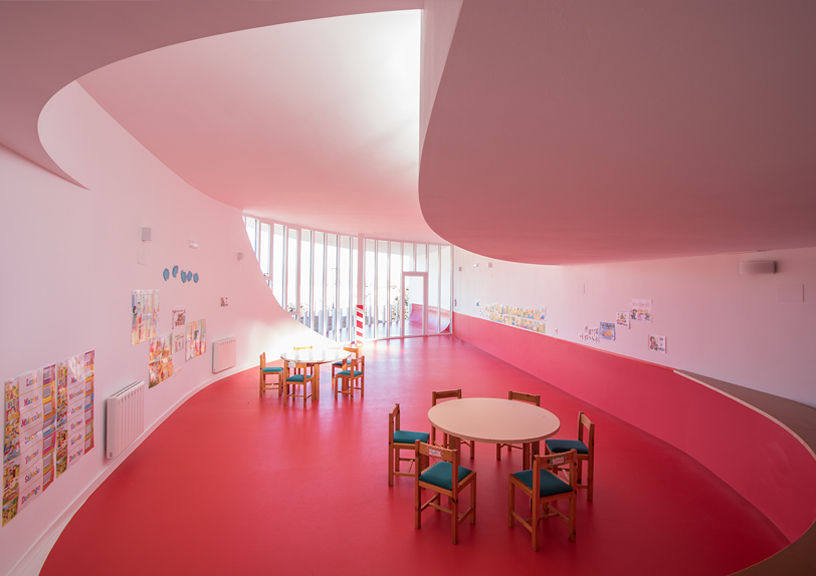 The horizontal roof of the building is typical of the popular architecture of the nearby Alpujarras region. Called terraos, these roofs retain the snow in winter and create a superior space, wherein the terrace is used for laundry or grain storage. Following the organic tracing, the main form is displayed to create an exterior space linked with the central core of game space. The pavement of red and white linoleum establishes the zoning of the program. To provide it with a major spatial quality according to its function, the flat cover has been fragmented following a composite scheme, introducing
natural light and ventilation to the principal core.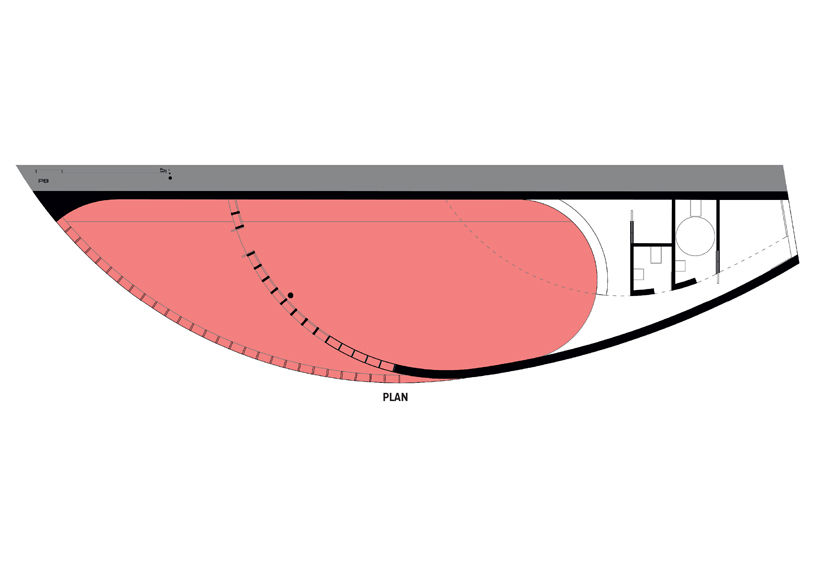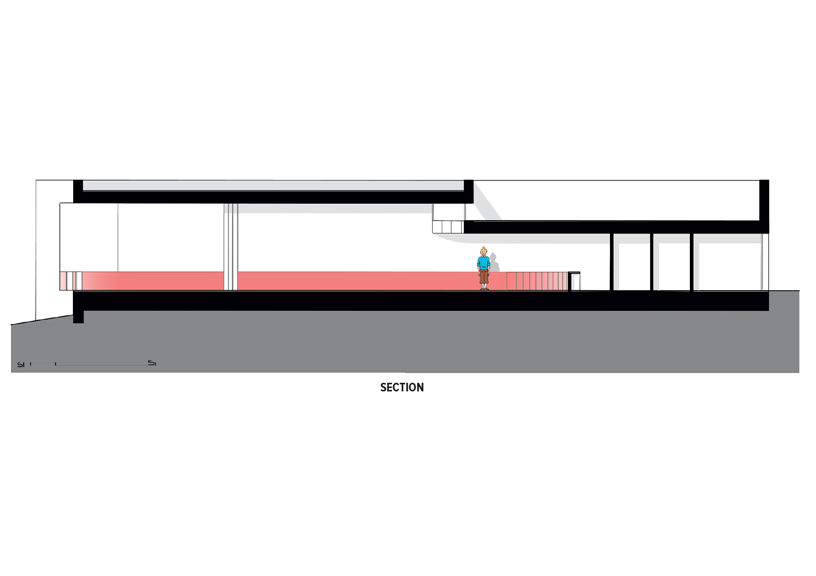 In the building, regarding the popular architecture of the region or terraos, the horizontality has a sense of parallelism to it. It also makes a line that underlines the urban landscape. The construction has been materialized with a low budget and local materials—mixed structure of steel and concrete, closings with local 'termoarcilla' and coatings with local mortar of lime, plaster and linoleum in the floors. The facilities are basic and necessary, concealing the exterior units above the low roof, so they are integrated in the urban and natural landscape.
The main red and white colours of the pavements, along with the plasticity of the material linoleum have been chosen in relation with the use of the building—to create a new atmosphere that is attractive for the children, and which can promote game and movement.
Photo credit: Carlos Koblischek
Factfile
Project: Municipal Toy Library, Dólar, Granada, Spain
Architects: Carlos Quevedo Rojas / Carlos Peinado Madueño (Carquero Arquitectura)
Client: Ayuntamiento de Dólar
Collaborators: Miguel Rodríguez Muñoz / Donatella La Riccia (Architects)
Technical architect: Jorge González Herrera
Contractor: Ayuntamiento de Dólar (Program of Promotion Agrarian Employment)
Built area: 12,388 sq m
Year of completion: 2018