#aplusdhomes: Mixing good old classic elements with opulent materials, Krish Kothari of KKD Studio embodies the homeowners' personality into this luxurious abode
Taking cues from classical-contemporary design, this 3,800 sq ft home in Mumbai features clean lines, organic forms, and luxury in copious measures. Thoughtfully designed by Creative Head and Founder of KKD Studio Krish Kothari, a sense of softness permeates this home which is further balanced with a hint of suave.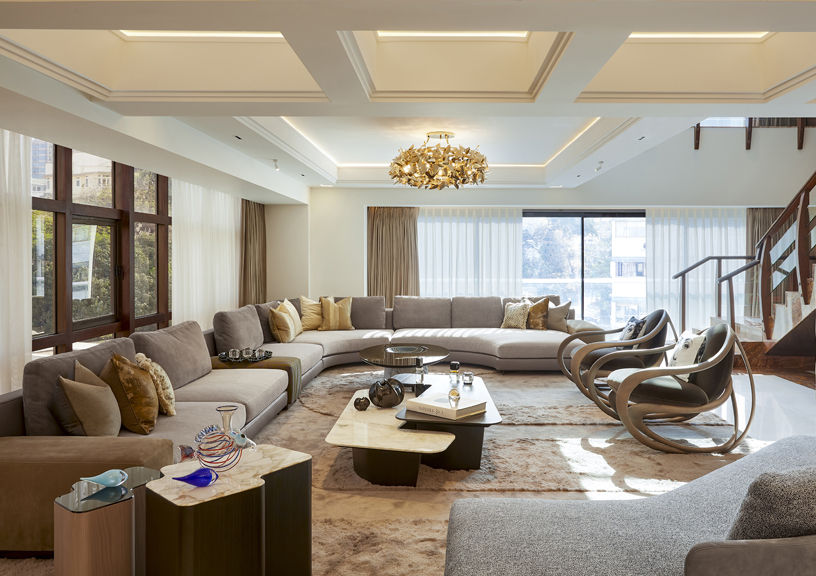 Expressing their dissatisfaction with the previous design, which felt stand-offish despite its sophistication, the homeowners' brief was on-point—they wanted an opulent, lavish yet inviting space. But before digging deep into this home's characteristics, let's take a glance at Krish's design ethos, "We believe in crafting spaces that not only evoke awe but also seamlessly integrate functionality into the design, resulting in exceptional living environments."  
In response to the homeowner's brief, KKD Studio implemented suede velvet wallpaper with leather panels—heightening the tactile experience and adding a touch of grandeur. The entry foyer, accessed through a private lift, packs a punch with Grey Fitto marble and subtle bronze accents.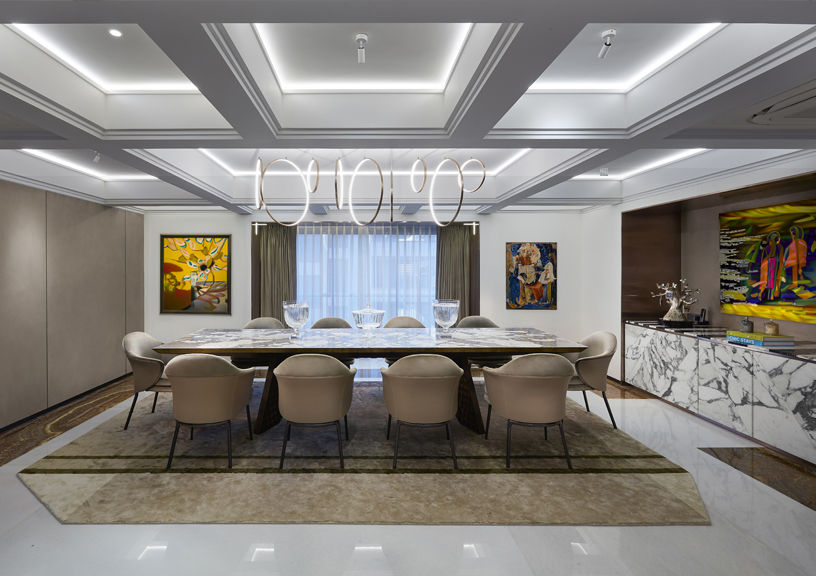 As one steps inside, a coffered ceiling and Nubuck leather walls with panels create a French moulding with a contemporary twist. The flooring features a traditional diagonal border with Australian white inset, incorporating onyx and marble combinations. "The aim was to incorporate warm and dark neutrals with select standout materials," further elaborates Krish.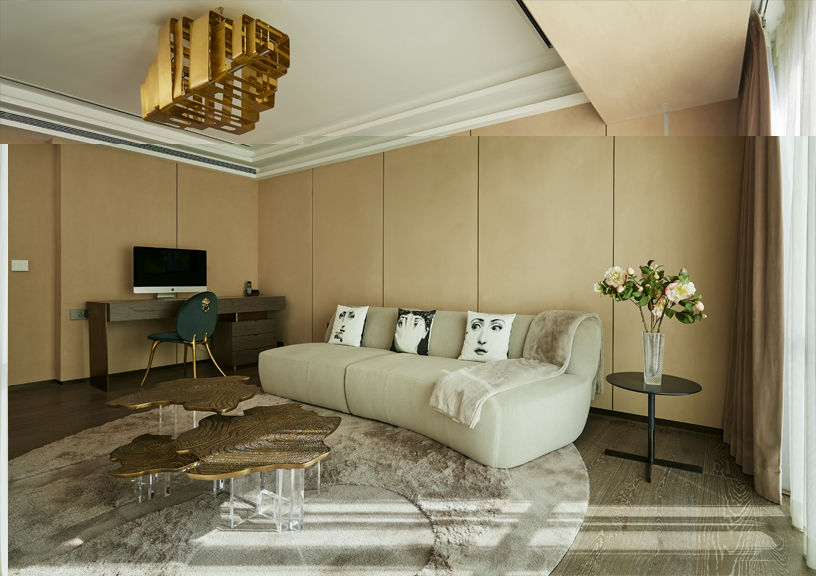 A striking architectural feature, the double height area offers a clean and open ambiance, with a staircase combining wood and marble. However, the star attraction of the house (surprisingly enough) is the powder bathroom. Describing it as one of the USPs of this project, Krish explains the approach they undertook while developing it, "It stands out as a one-of-a-kind space that I believe has not been replicated elsewhere. Interestingly, during the design process, we intentionally avoided any external references. Instead, we approached it with a raw and organic mindset, focusing on how the space should evoke a particular ambiance and deliver a distinct experience."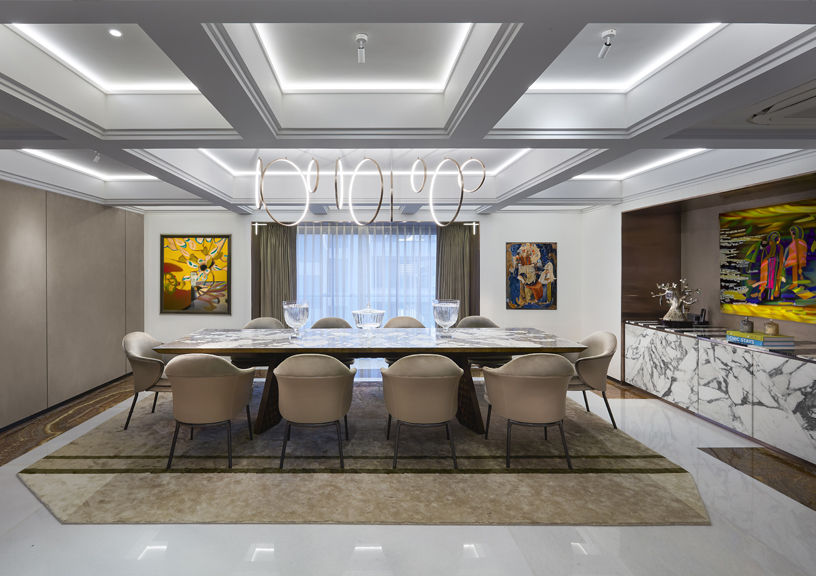 The bronze metal ceiling with fiber optic lines creates an illusion of infinite depth while the standout Newton washbasin from Boca do Lobo adds an eccentric touch, ensuring an unforgettable experience for the clients' guests. 
Moving to the seating zone, the living area grabs undivided attention thanks to the Daniels sofa seating system from Minotti and Move armchair from Giorgetti. But designing this splendid area was no piece of cake. Talking about the challenges he faced while working on this project, Krish reveals, "The presence of beams in the living room that extended quite low into the ceiling space posed a problem as lowering the entire ceiling would have compromised the overall living space."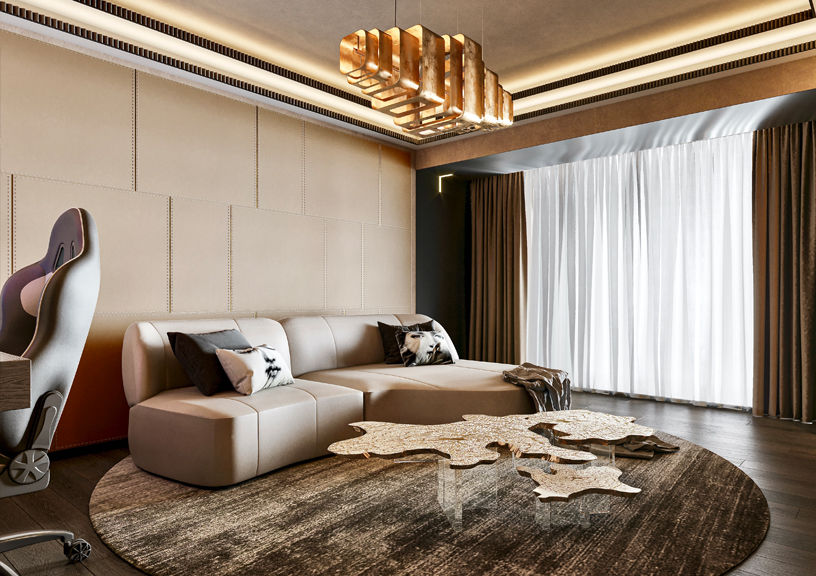 To mitigate this challenge, they engineered a coffered grid. The central portions of the coffer were recessed upwards, while the lower level of the coffer, which incorporated the beams, formed a flat portion that extended throughout the house. Transitioning to the living room, the coffered ceiling in the dining area adds a touch of geometry and symmetry, connecting the sitting and dining spaces.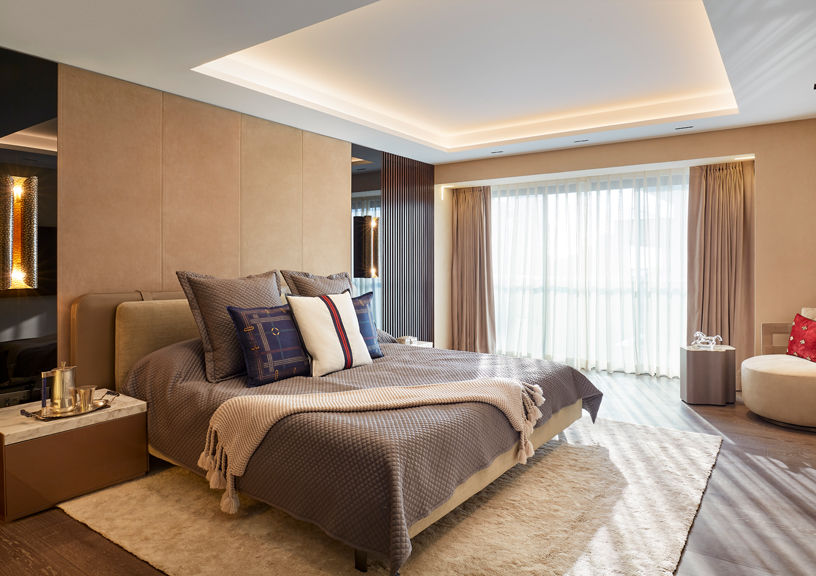 With velvet wallpaper and midnight gray wooden flooring from Germany, the master bedroom is crafted with utmost elegance and panache. The bed and Tatlin sofa bed, both from Minotti, accompanied with other utilitarian furniture further equip the room. Featuring a combination of Dalmata marble in a Book match pattern on the vanity and back wall, the master bathroom is furnished with Gessi sanitary ware, and a high-pressure Noken rain shower. The walk-in wardrobe, with its black glass shutters, enhances the overall depth and aesthetic appeal.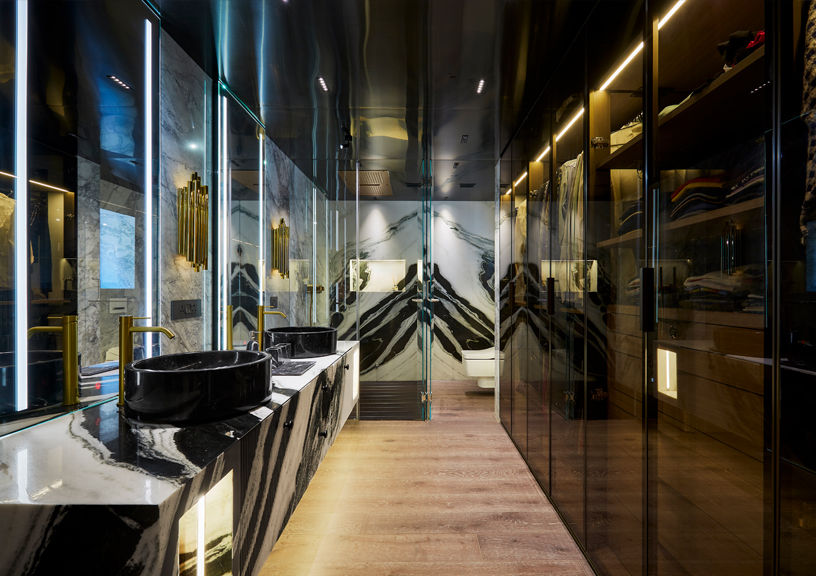 When it comes to the success of a project, it goes beyond superficial aesthetics and luxury—context, individuality, and personalisation are the cornerstones that can make or break any project. "We believe that when we strike the perfect balance between these three aspects, that's when a project truly thrives," concludes Krish.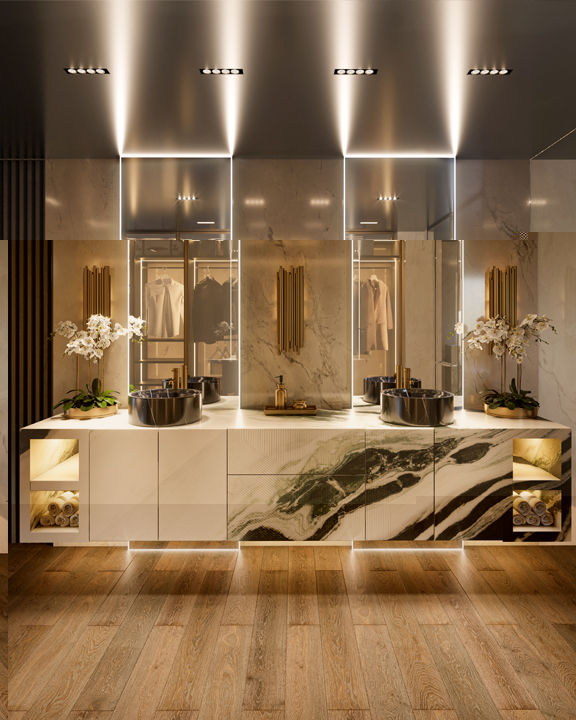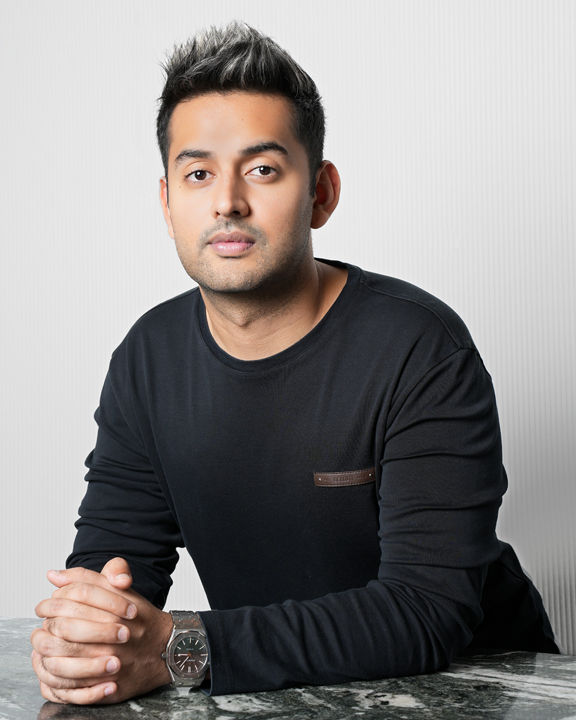 Photographs Courtesy: Kaustubh 
FACT FILE 
Location of the project: Peddar Road, Mumbai. 
Area (Sq.ft): 3,800 sq ft 
Firm Name: KKD Studio 
Design Team and Designation: Krish Kothari (Creative Head, Founder), Ruchir Panwar (Architect)