Studio Acis has been recently awarded the 'Elite 40 under 40' and 'Trendsetter Architect and Designer of India 2022' for their recently completed residential project- the 'Harris Residence'.
Founded in the year 2011, studio acis is based out of Cochin, Kerala. "Experiencing architecture strengthens one's sense of being in the world, as it engages multiple human senses, and essentially becomes an extended experience of the self. Perceiving architecture with more than mere vision allows a deeper sense of connection with the built space, and good design must strive to provide this experience to the visitor. For this residence, it was key that the planning cleared away any feeling of detachment, within or outside the residence. With a transition of uncontrolled to controlled landscape, a second skin encasing the house and tackling the senses, a variety of architectural strategies help remove any feeling of disconnection felt within the space."- explains Ar. Rakesh Kakkoth, Principal architect, Stduio Acis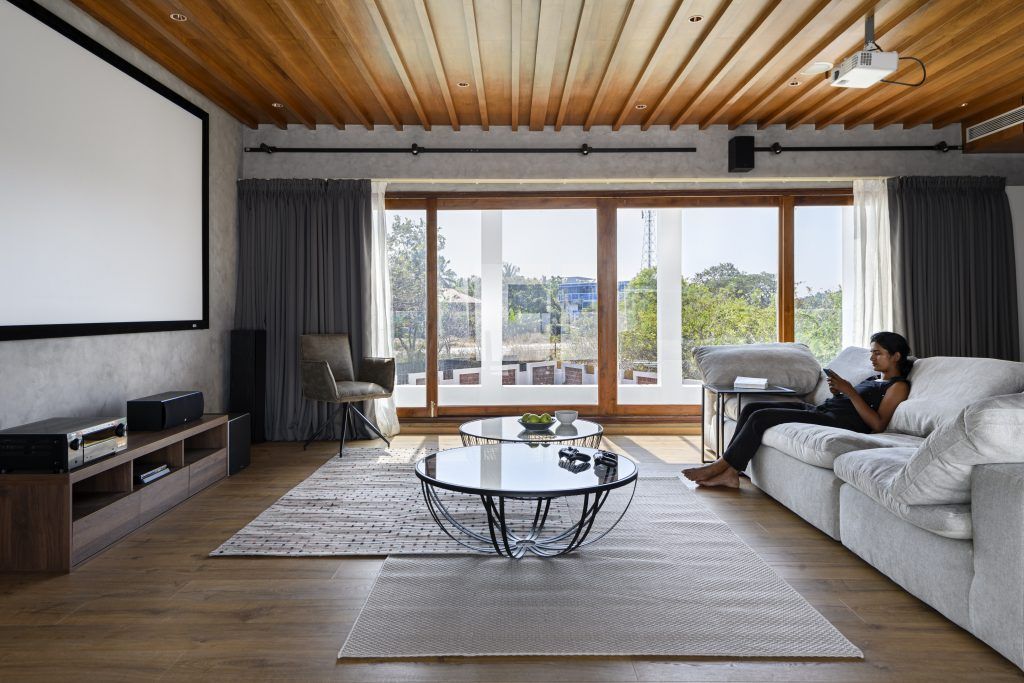 In a detailed interview with Architecture + Design, Ar.Rakesh Kakkoth discusses their recently completed project 'Harris Residence', located in Kerala
Nikitha Sunil (A+D): What were the design considerations that were specifically opted for the users of Harris residence?
Ar.Rakesh Kakkoth (SA): For all our projects we primarily consider how efficiently it responds to the varied climatic conditions of the respective site. And for the 'Harris residence,' we introduced a second skin to protect the house from direct western sunlight. Also because the western part of the house is located in the rear area, we have accommodated large planters and vertical gardening in the family living area to enhance greenery. Since it was a large home we also had to ensure that users inside the house were more connected and not in isolation inside their own private spaces. Therefore, this was another essential parameter we kept in mind.
To ensure adequate light and ventilation throughout the house, a 2-meter wide courtyard has been designed inside every room. As the northern side does not generate harsh heat and light, common activity areas, like the swimming pool, ladies' dining area and other family rooms have been aligned towards the North.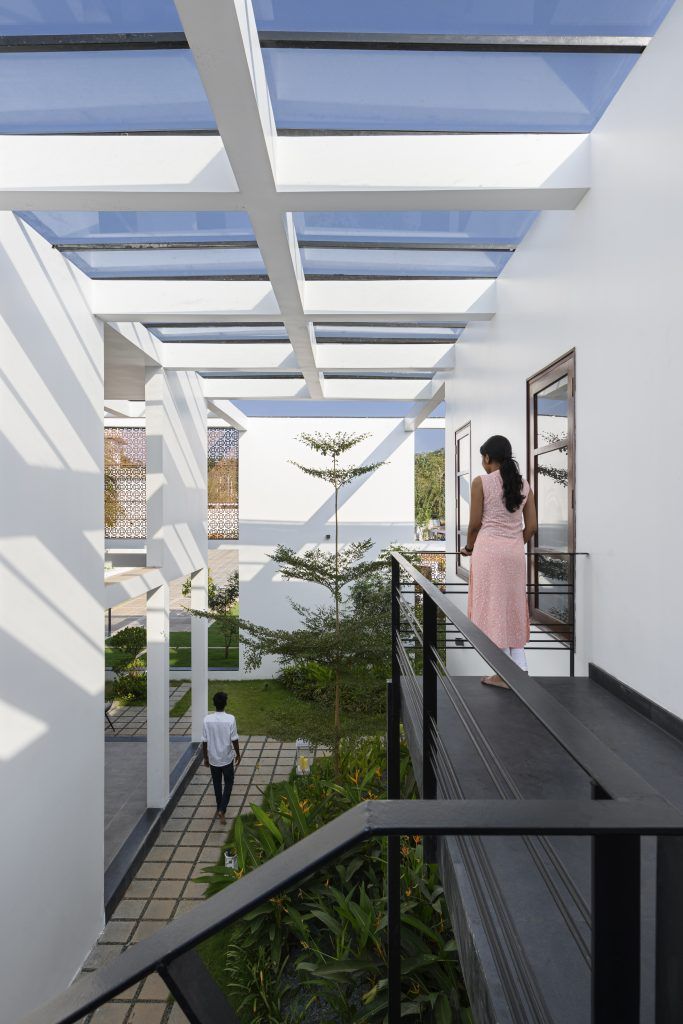 Nikitha Sunil (A+D): How was the facade treatment planned and designed as a whole?
Ar. Rakesh Kakkoth (SA): The western side as mentioned above, comes with an additional second layer skin. Also then to minimise unwanted entry of heat and light small openings have only been provided there. Meanwhile, on the northern side, there are large openings toward the outdoor area, while also capturing a view of the swimming pool.
On the eastern side, lies the entry of the house and therefore it had to be both private and welcoming in nature. A visual connection has been carefully maintained towards the sit-out from the outside while the detached landscape from the stout that sits in between the second skin and the actual wall of the house has been designed with Islamic Jaali's.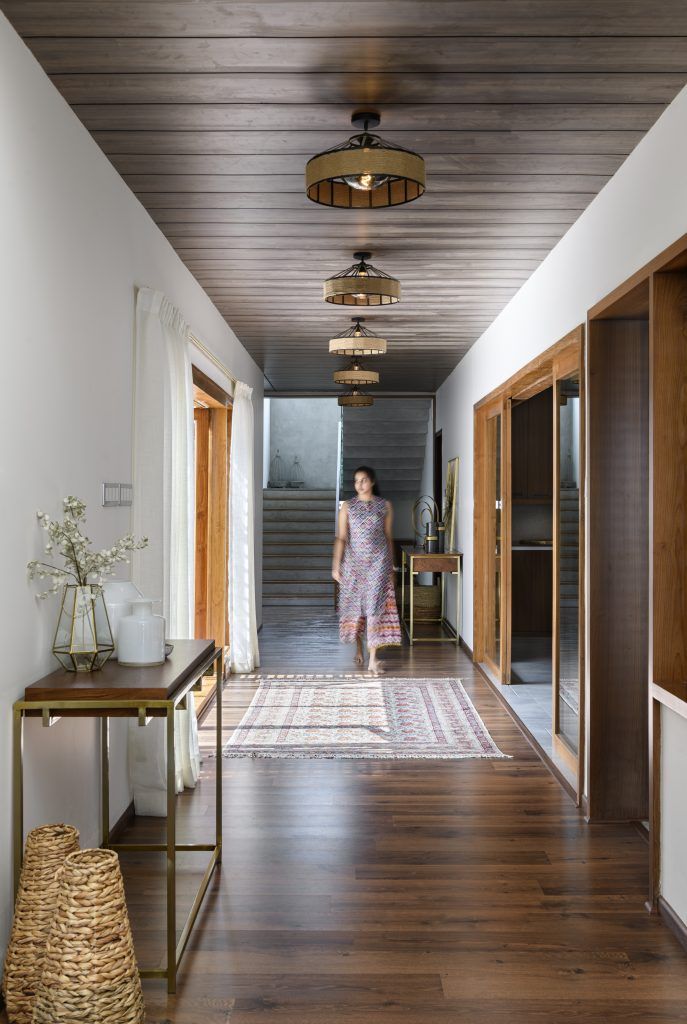 Nikitha Sunil (A+D): Can you elaborate in detail about the kind of furniture and fabrics chosen for Harris Residence?
Ar. Rakesh Kakkoth (SA): As the homeowners are Muslims and entrepreneurs who mostly reside mostly outside India- in the Middle East, they preferred to vibe with similar luxe interiors that were already familiar to them from that region. Therefore we have accordingly matched the colour palette, fabrics and textures that relate to a rich gold theme with mostly glossy surfaces.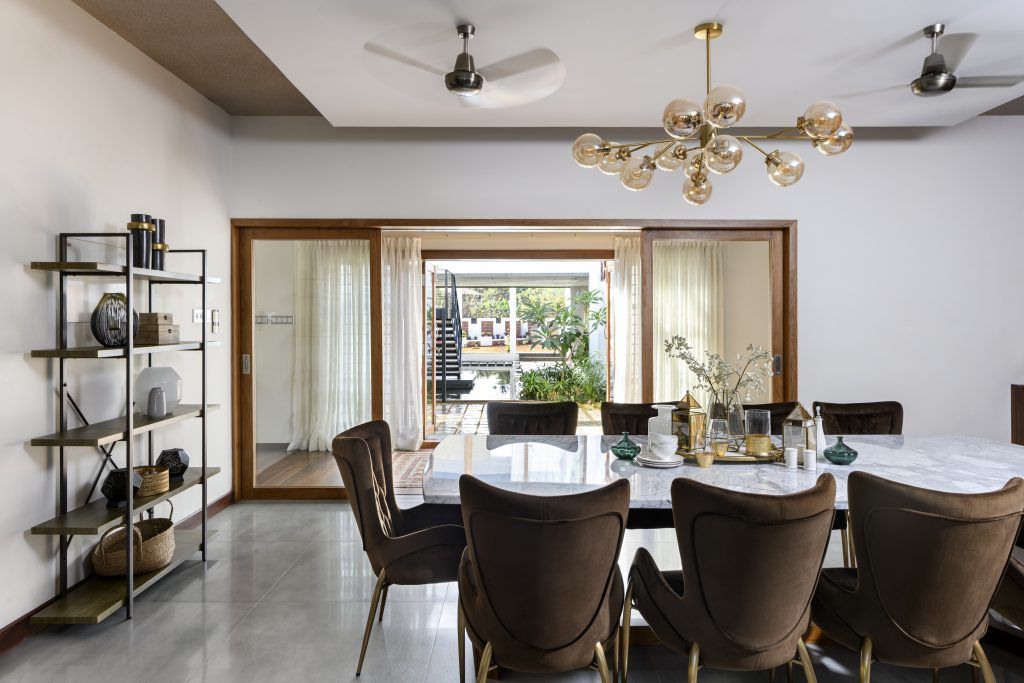 Nikitha Sunil (A+D): Being the principal architect of Acis, which feature or space do you find most interesting in the Harris residence?
Ar. Rakesh Kakkoth (SA): Harris residence has been designed on the basis of a grid pattern with a second skin. A second skin can be often related to many architectural concepts including that of traditional architecture. We tend to see sloping roofs with extended overhangs that go on to form a "Chuttu Verandah". Traditionally this acted as a buffer for the entry of light and heat to the internal walls. A similar concept has been vertically conceptualised for this house and it centrally works around the aspects of privacy, visual and climate conditions.
Personally, I find the in-between spaces enriched with the landscape, various openings and jaalli's that enable intimate conversations and gatherings to be most interesting. During the daytime, one can use the internal courtyards and in the evenings one can comfortably spend time outside towards the entrance of the house, as it falls on the eastern side.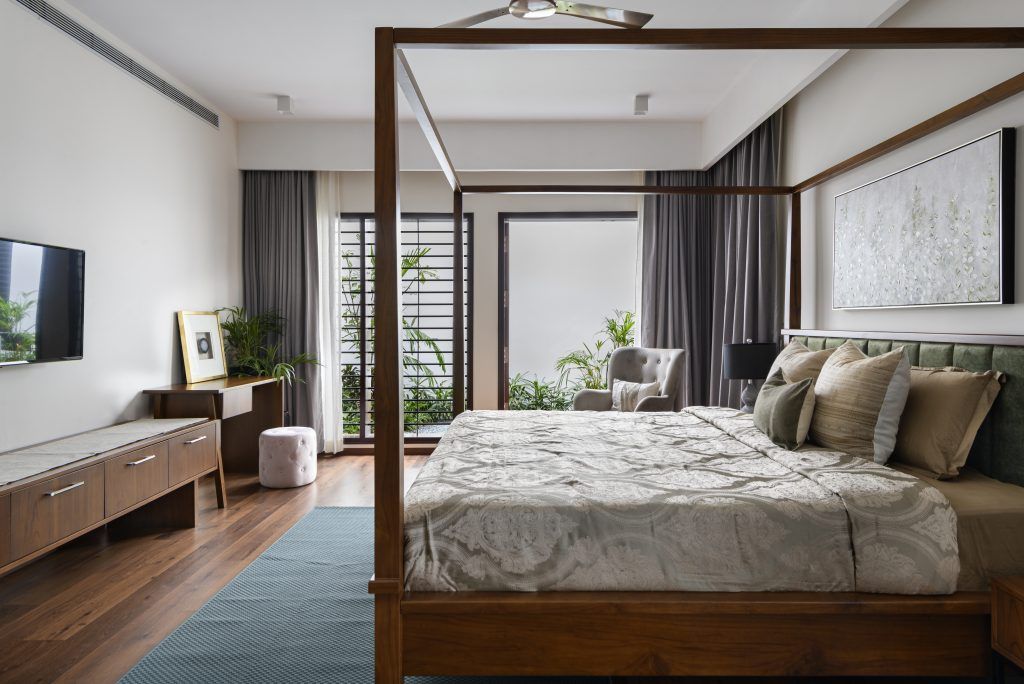 Nikitha Sunil (A+D): How easy and challenging has it become to have a partner involved in home interior styling?
Ar. Rakesh Kakkoth (SA): Varsha, my partner who is an interior design and stylist also runs her own brand under the name 'Chestnut Homestyles' and surely she has been a great addition to the team. As a studio we have learnt and attempted many things together which might not have been fun or easy if done in isolation. Further, being able to develop a colour palette or theme and then to be able to finally match the furnishing and accessories accordingly were the most crucial aspects that was envisioned and taken care of by Varsha . I have personally been able to realise the extend of influence of shades and tints on a space only through our conversations.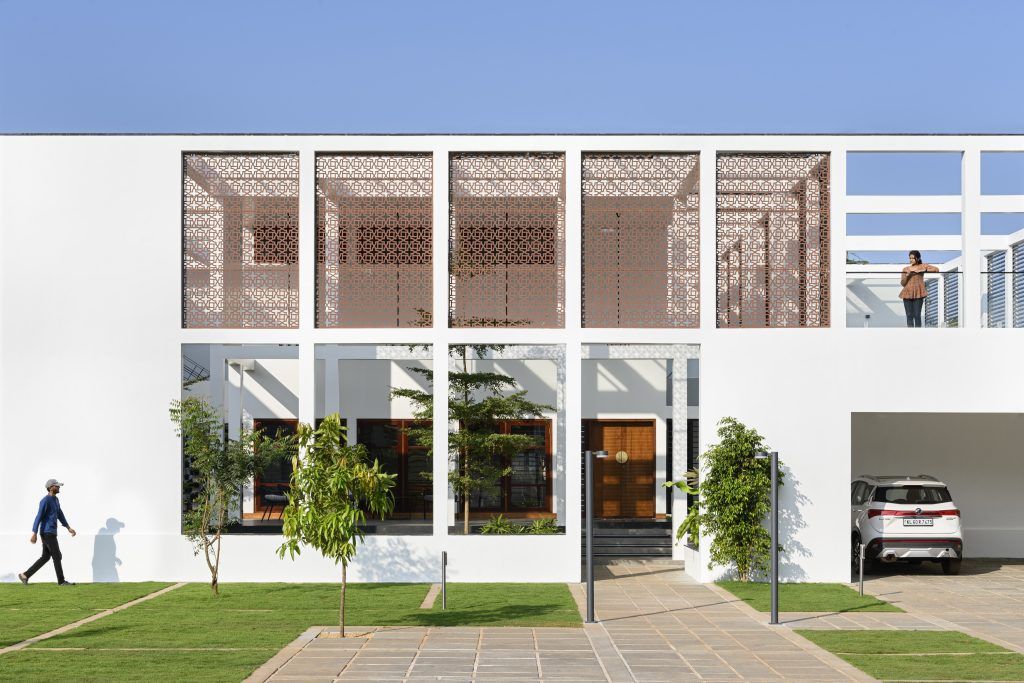 Nikitha Sunil (A+D): Studio Acis, as an architecture studio holds an elaborate portfolio of residences, how has your journey transformed over the years? What have been the most important learnings and discoveries?
Ar. Rakesh Kakkoth (SA): Given a site, a context, a client and his requirements, design process to me is all about discovering something beyond its metaphysical existence. It essentially then becomes a short personal journey that the site unfolds.
I am a person who is in a constant state of excitement and I always prefer to live in the moment and seek happiness from it. Once this session is over, I have to go to my site. Afterwards, I need to head home to my family, which makes me equally excited too. I don't believe in stressing about what the future might or might not bring. I don't usually compare my projects, every work is a new experience regardless of how much it pays, with equal potential for fun and a great scope to learn something new. When I interact with people, I choose not to be prejudiced between the young and the old. Age is not a factor when it comes to interesting conversations. You can learn something new or gain a whole new perspective from anybody. My friendships have no barrier and I don't perceive a person to be lesser or greater than I am based on their age. I don't get to be authoritative over a person just because I was born earlier. And I feel we must all mutually respect each other. For me, the best source of knowledge is accessed while I teach and I am obligated to practice what I preach which in turn helps me stay true to myself.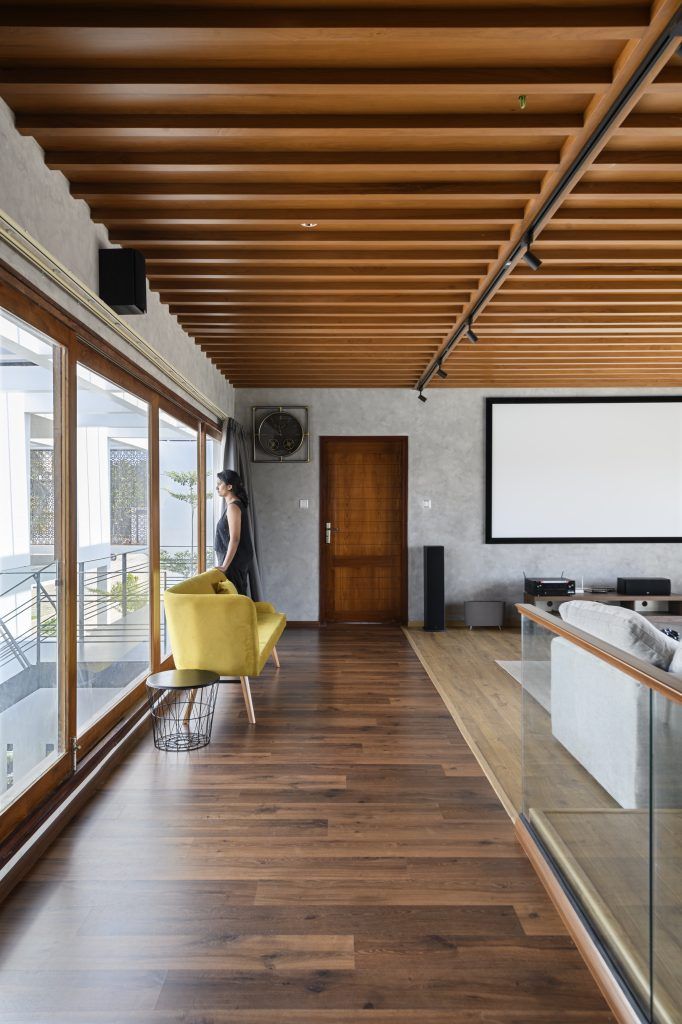 While I work on or handle a project, I perceive architectural design as programming. I do not believe in "accidental design". Once I get a project, it is followed by a process that typically extends for about 1-2 months. I do not wake up one fine morning spontaneously with a design idea. My architecture is developed by solving various parameters like the site, client and context. I truly understand what might work well here cannot essentially be of any good on another site for another project. However, my philosophy does not change from project to project but it grows. It grows through the years, branching out, and realizing new creations that break free from conventional methods. There is no right or wrong. 
Is it that "Less is more" (Ludwig Mies van der Rohe) or "Less is a bore" (Robert Venturi)? Both could be right or wrong, it is just contextual. Books like 'Thinking Architecture' by Peter Zumthor speak of the importance of memory in architecture and that idea has influenced me a lot. I believe that in order to bring the factor of memory into architecture, we must respect history. My architecture never ceases to forget the value of historical and cultural aspects. Incorporating the cultural and historical elements, and the existing materials while considering the site context and bringing forward a climate-responsive design that stays true to my ideologies.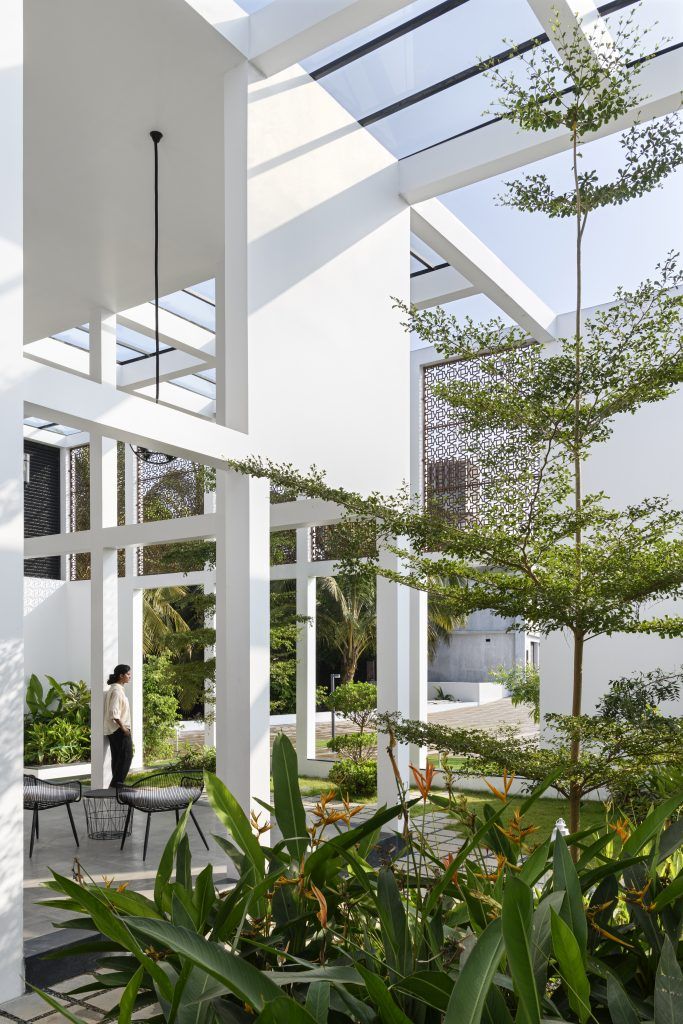 FACTFILE:
Project name: Harris Residence
Architects: Studio Acis
Plot Area: 1.52 acres
Built Area : 9570.6 sq.ft.
Project Location: Kanhagad, Kerala, India
Photography: Justin Sebastian
INTERVIEW: Nikitha Sunil Vallikad | Contributor, A+D