Designed by Zaha Hadid Architects, the Beeah Headquarters in Sharjah, UAE, draws inspiration from the desert's dunes
Emerging from the ever-shifting desert sands of Sharjah, UAE, the innovative new headquarters crafted by Zaha Hadid Architects for BEEAH Group has recently opened its doors, marking the culmination of an eight-year odyssey of design and construction. Back in 2013, the commission for this architectural marvel was bestowed upon the late visionary architect Zaha Hadid and her eponymous firm following a rigorous architectural competition.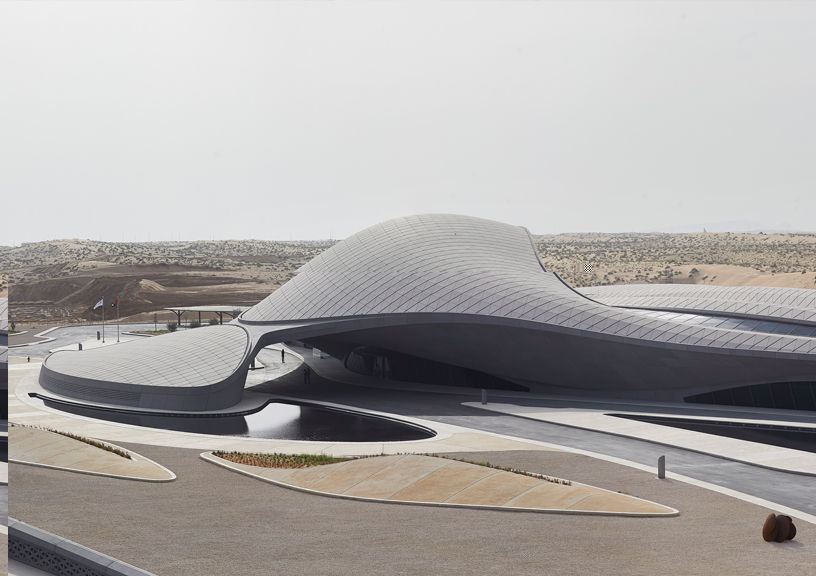 Spanning an impressive 9,000 square meters, the research center seamlessly blends the organic contours of the desert with avant-garde aesthetics, marking a new era in sustainable design. Nestled adjacent to the Al Sajaa industrial area, the building's sinuous curves, reminiscent of paired sand dunes, stand as an emblem of Zaha Hadid Architects' hallmark parametric design approach.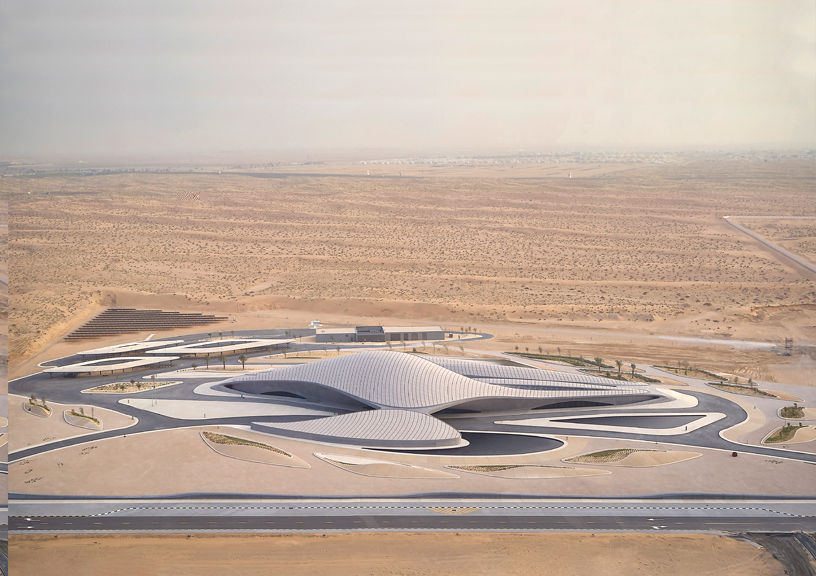 Beyond its striking aesthetics, the headquarters has set its sights on net-zero emissions, concurrently serving as the nerve center for BEEAH Group's administrative and managerial functions, meticulously adhering to LEED Platinum standards. It seamlessly encapsulates BEEAH's twin pillars of sustainability and digitization, which underpin the organization's multi-faceted initiatives spanning waste management, recycling, clean energy, environmental consultancy, education, and green mobility.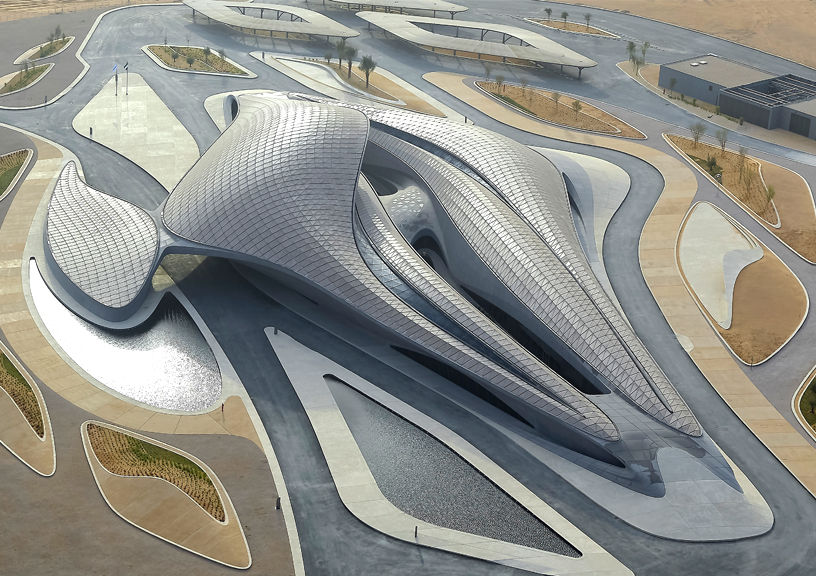 Drawing inspiration from the desert's organic formations, particularly the undulating profiles of interwoven sand dunes, ZHA unveiled the project's conceptual blueprint back in 2019. The landscaped facade, graced by pockets of dunes interspersed around an inviting plaza with water features, elegantly navigates interior spaces with abundant natural illumination, while judiciously limiting solar exposure. Clad in glass-reinforced fiber panels arranged in an intricate diamond pattern, the exterior plays a pivotal role in solar heat attenuation.
Access to the sprawling 9,000 square meter expanse is granted through a soaring 15-meter dome, whose organic curvature facilitates a seamless interplay of natural ventilation and diffused daylight, harmoniously coalescing with the surrounding desert vista.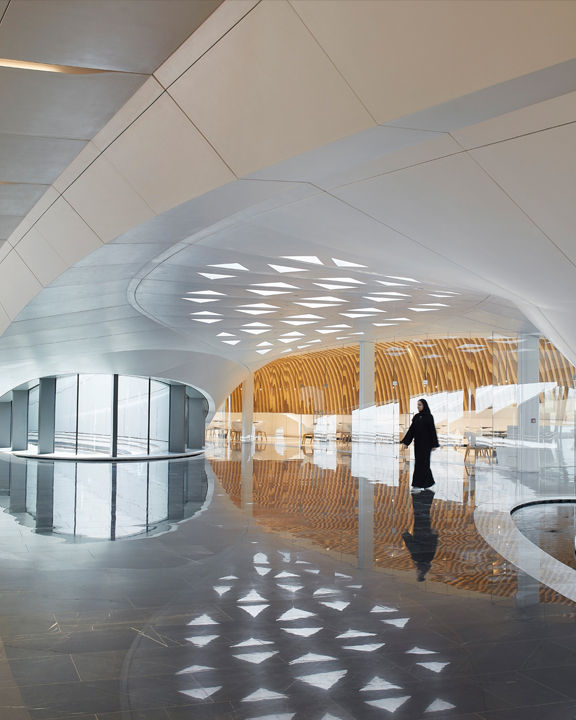 In the words of Zaha Hadid Architects, "The headquarters marks a pivotal juncture for BEEAH Group, serving as a beacon of its relentless pursuit of innovation not just within Sharjah, but on the global stage. The edifice crystallizes BEEAH's ability to harness technology in amplifying sustainable impact, effectively setting a blueprint for the cities of tomorrow, where intelligence harmonizes with sustainability."
Collaboratively brought to life with the expertise of sustainability engineers and consultants Atelier Ten and Buro Happold, project managers Matthews Southwest, construction contractor Al Futtaim Construction, and MEP engineers Al Futtaim Engineering, the building incorporates ingenious smart building technologies from Microsoft, Johnson Controls, and BEEAH's own digital venture, EVOTEQ.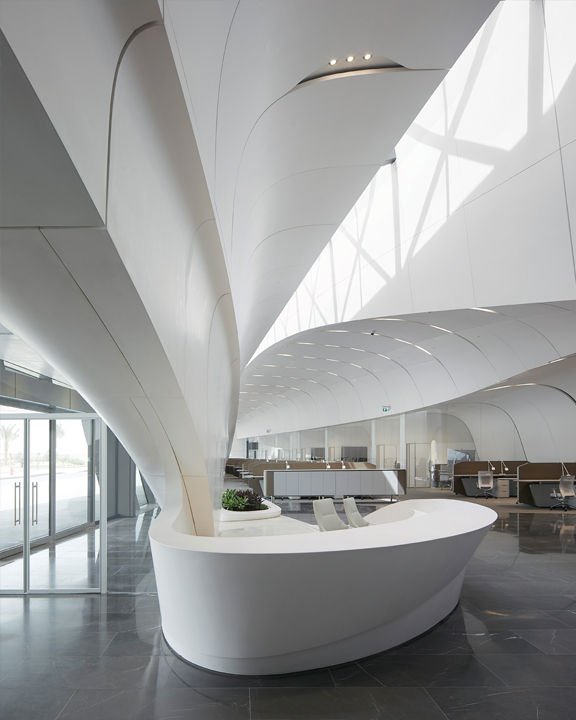 The heart of the structure is flanked by public and management sectors within the twin dunes, interconnected by a foyer that engenders an oasis-like ambiance, an integral facet of the natural ventilation strategy. The building's interior continues the fluid design ethos, showcasing a central sculptural staircase cascading down from the upper floors.
Within this modern-day marvel, immersive visitor spaces, intelligent meeting chambers, an auditorium, and contemporary open-plan offices weave together. Touchless walkways, automated ambient lighting and temperature management systems, a virtual concierge, and an app-driven orchestration of daily tasks converge to create an unparalleled user experience. The design holistically accommodates diverse work arrangements, seamlessly accommodating remote and hybrid scenarios.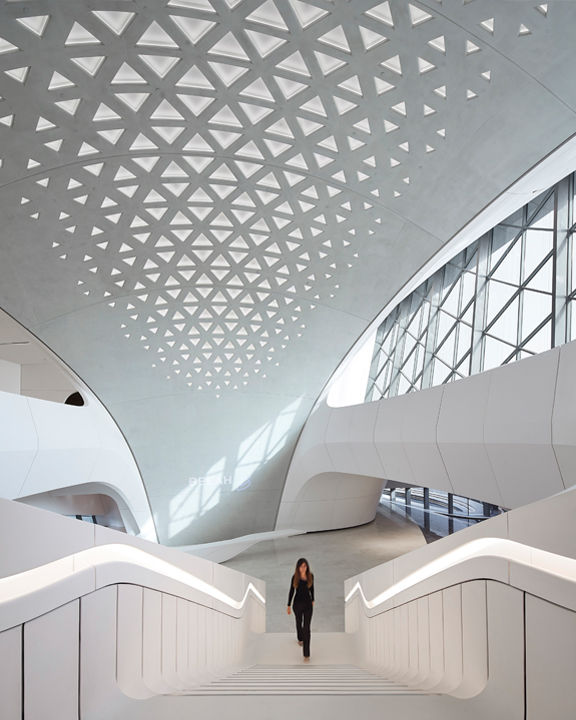 Beyond passive design strategies, the edifice incorporates sustainable attributes, including on-site water treatment tailored for the arid climate, a pioneering solar farm that bestows vitality upon Tesla battery packs, and substantial integration of locally sourced building materials. Its solar farm charges Tesla battery packs, meeting energy demands around the clock, generating excess electricity during off-peak months to contribute energy back to the grid.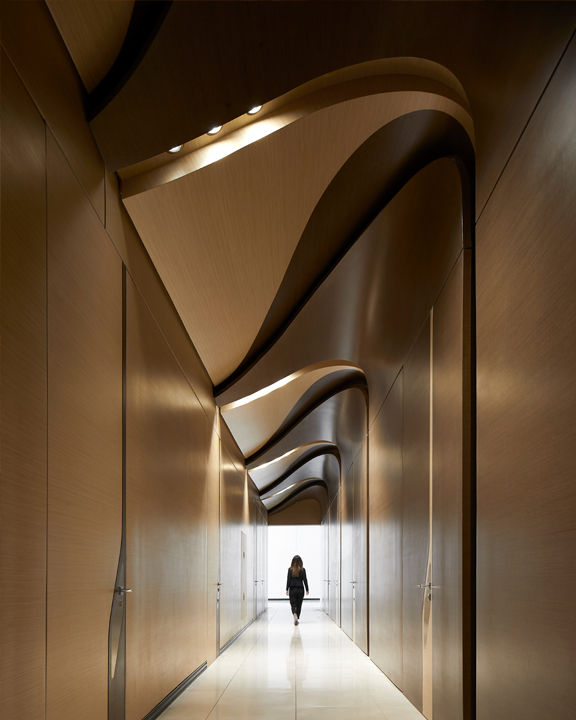 Moreover, glass fiber-reinforced concrete cladding panels mitigate solar gain, while innovative cooling technologies regulate interior temperatures, enhancing occupant comfort in an eco-friendly manner. Zaha Hadid Architects' creative ensemble asserts, "BEEAH Group's headquarters stands as a pivotal milestone, encapsulating the organization's evolution from a regionally anchored environmental crusader to a global force spanning industries intrinsic to forging a sustainable future."
In the midst of a world grappling with the consequences of environmental neglect, Zaha Hadid dared to dream of a different future. The Beeah Headquarters is not merely a building; it's a living embodiment of Hadid's audacious vision. The structure rises from the desert like a symphony, a harmonious composition of form and function. But this symphony is no mere cacophony of design elements – it's a carefully choreographed dance between nature, technology, and human ingenuity.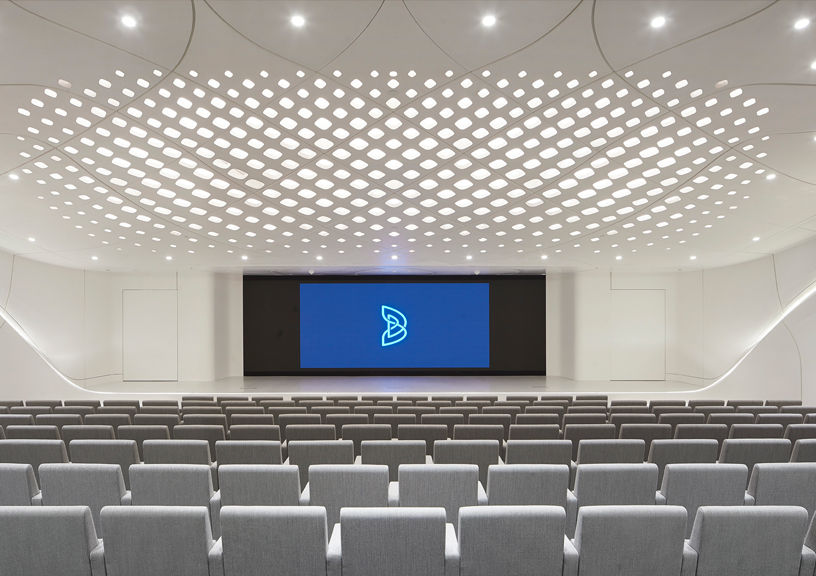 FACT FILE
Client: BEEAH Group
Architect: Zaha Hadid Architects
Design: Zaha Hadid and Patrik Schumacher
Location: Sharjah, UAE
Status: Built
Size: 9,000 sq mt
Photo credit: Hufton + Crow