Architect Akshat Bhatt proposes a cost-effective solution to bring affordable medical services to vulnerable communities.
India's health infrastructure is facing one of its biggest crises in the post-Independence era. For many years, the country has fared poorly on health infrastructure indices—the Human Development Report 2020 shows a national ratio of only five beds per 10,000 people. Existing facilities are highly privatised and expensive. These limitations were exacerbated further by COVID-19 and the stress it exerted on our public health systems. Smaller, grassroots level medical facilities that provide subsidised services and are quickly deployable are a viable solution to this crisis, bringing affordable care to a broader population.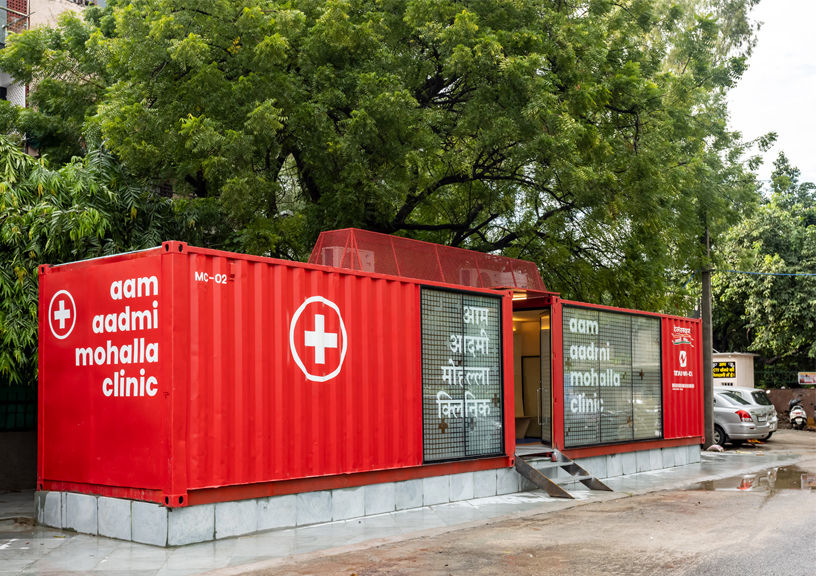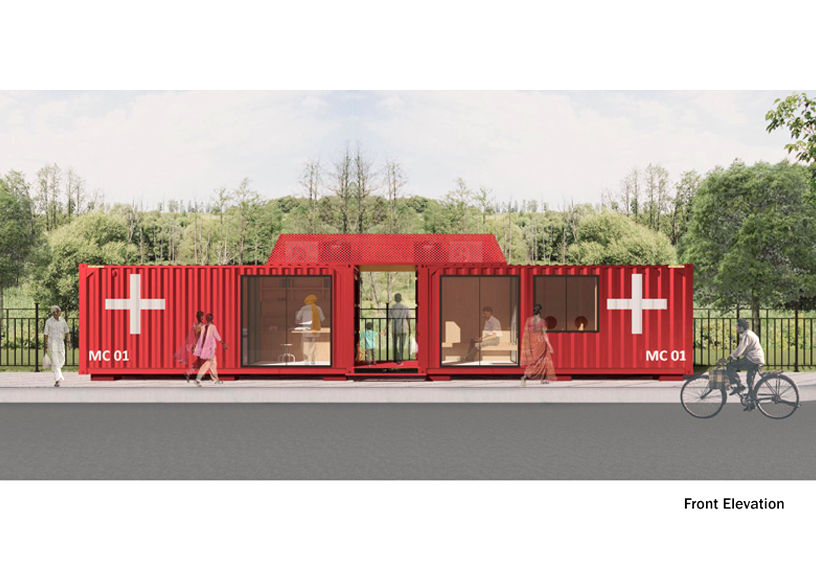 The Mohalla Clinics by Architecture Discipline is one such solution that aims at accessibility, immediacy of care and affordability, along with a socially integrative approach to health and well-being. "The prototype for a primary care centre is built out of used shipping containers salvaged from various container yards in Delhi. It is developed on pro bono basis for the Delhi Government's Aam Aadmi Mohalla Clinics programme with financial support from Tata Power's CSR wing. In the first phase, 20 units were deployed in various urban settlements in Delhi, this will scale up to 500 units in upcoming phases," said architect Akshat Bhatt, Founder, Architecture Discipline.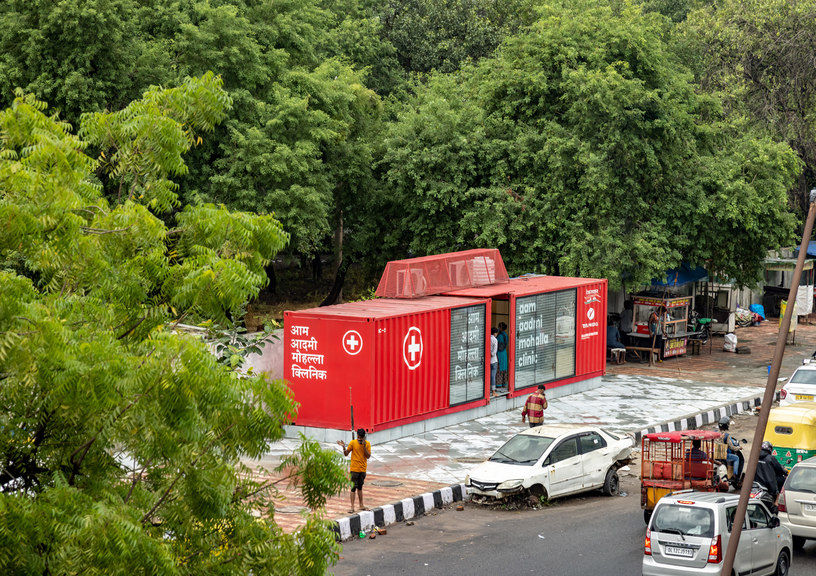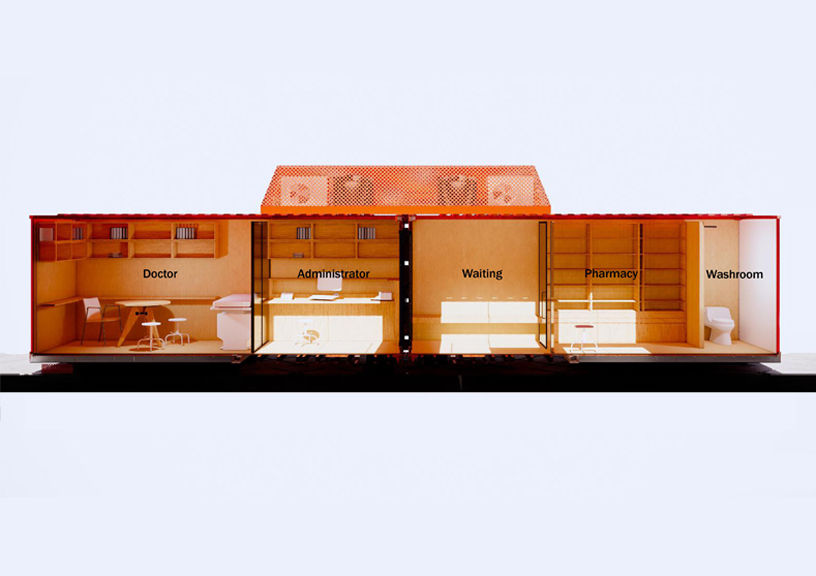 Two unit models have been developed for the Mohalla Clinics. Type A comprises an examination room, a reception and waiting area, a pharmacy accessible from outside, and a washroom, making it suitable for routine health checks, testing and medicine purchasing. Type B is a variation of this model, with a digital reading room on the upper level and an adjoining terrace accessible through a spiral staircase. This model provides a quiet space for study in dense settlements where such facilities are limited. As they are manned 24/7, they are accessible at all times of the day and can act as rain shelters when they are not in use.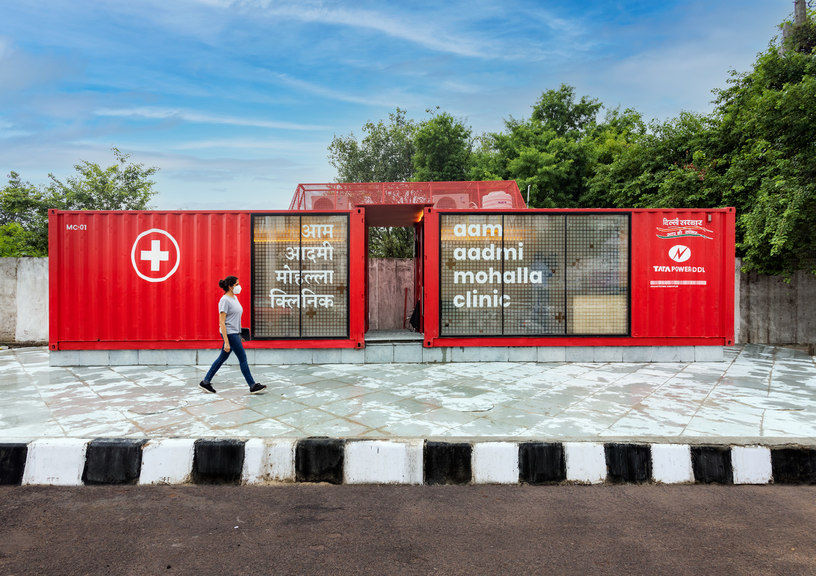 The clinics are composed of two 20ft-long containers separated by a 1.2m-wide metal deck that also serves as an entryway to the two halves. To protect the clinic's interiors from Delhi's searing heat, the containers are enveloped with micron insulation consisting of non-woven thermally bonded fibre, a non-flammable and hypoallergenic material. Glazed wall sections consist of hermetically sealed double-glazed units with aluminium frames, allowing the clinics to be naturally lit while preventing heat ingress. The units are anchored in place with small concrete pile footings that cause minimal impact to the ground.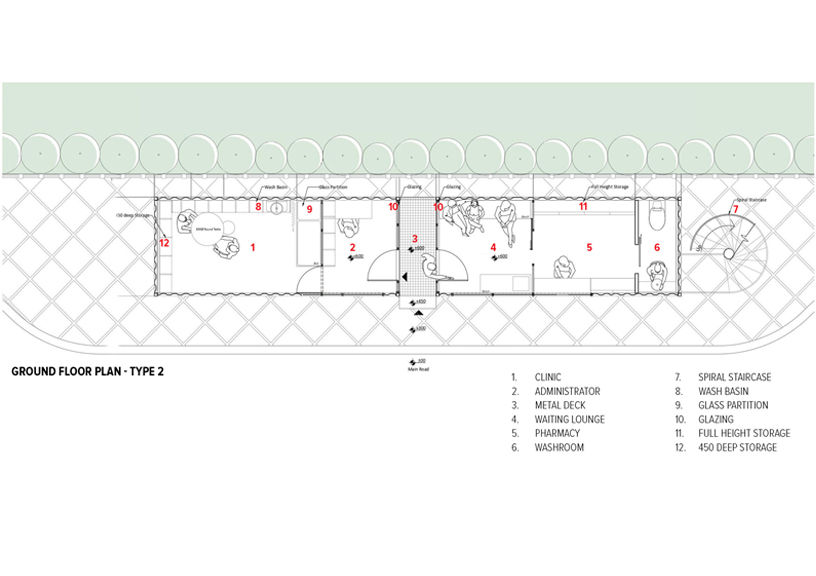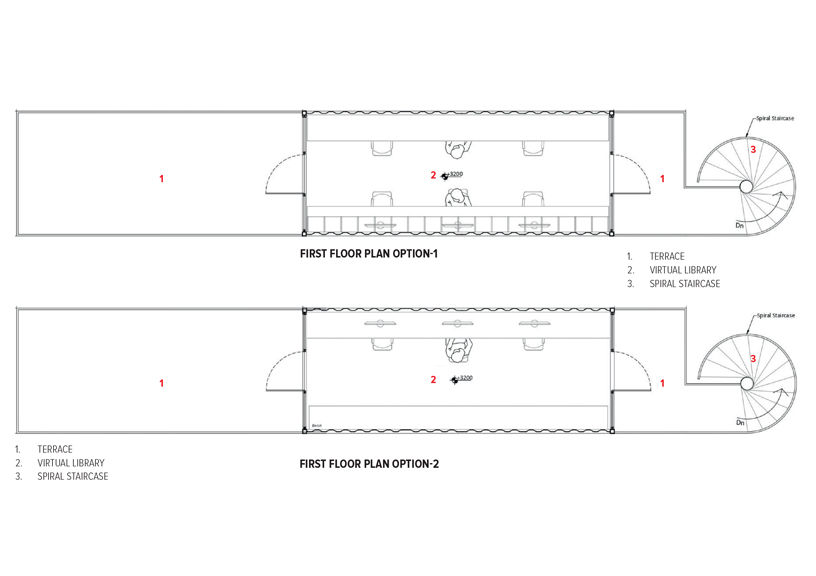 The interior finishes create an optimistic and clean environment for patients, using materials and fixtures that are patient-safe and easy to maintain. Walls are panelled with Volatile Organic Compound (VOC), free ply, pasted birchwood, and the floors are covered with hospital-grade vinyl flooring. Insulated drywall partitions separate individual spaces, with an opaque glass partition screening the pharmacy from the waiting lounge. The clinic is equipped with essential furniture, like examination beds, wash basins, desks, tables and chairs, seating benches and storage space. Connected to the waiting lounge via the pharmacy, the washroom features a medical-grade stainless steel counter with a foot-operated wash basin, along with water-conserving plumbing fixtures.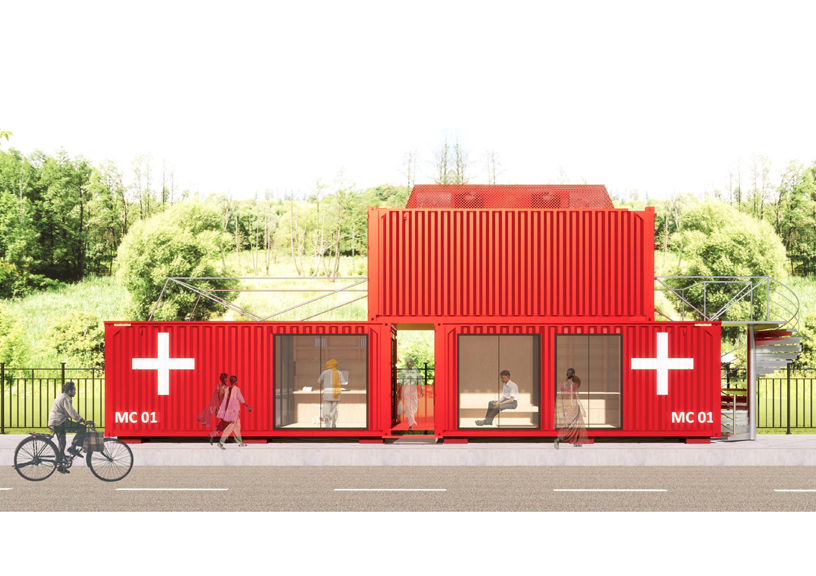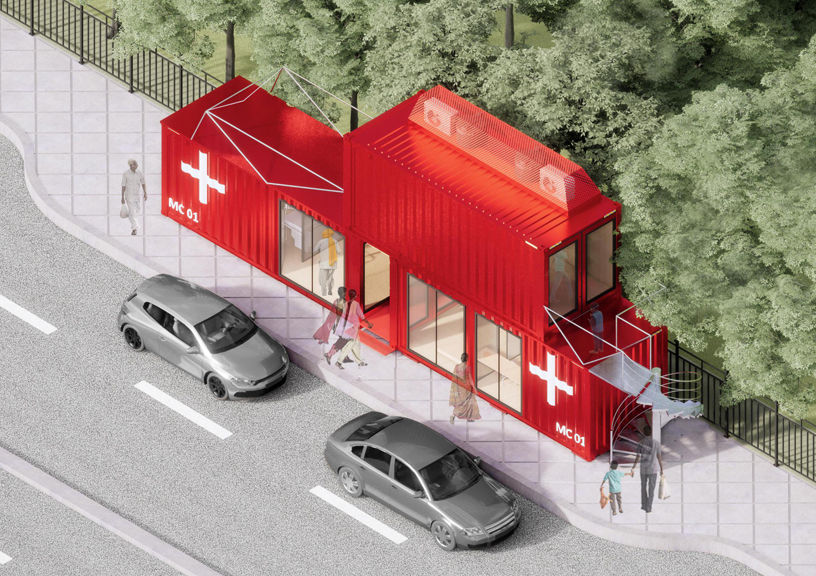 To create a seamless plug-and-play operation, server rack power strips are incorporated into the clinic. The facility is lit with under-lighting strips concealed with pelmets, and is cooled with 1.5-tonne air-conditioners whose outdoor units are located on the rooftop. The air-conditioning units include microfilters to create a dust-free internal environment. The water requirements for the washroom are fulfilled by a 200-litre water tank on the clinic's roof. The services on the roof are concealed with a galvanized iron mesh, painted to match the clinic's external appearance. The clinics can be entirely prefabricated and transported to their locations with a forklift, requiring minimal on-site assembly. Prefabrication allows for greater quality control and precision in finishing, minimizing pollution due to construction activities and on-site errors.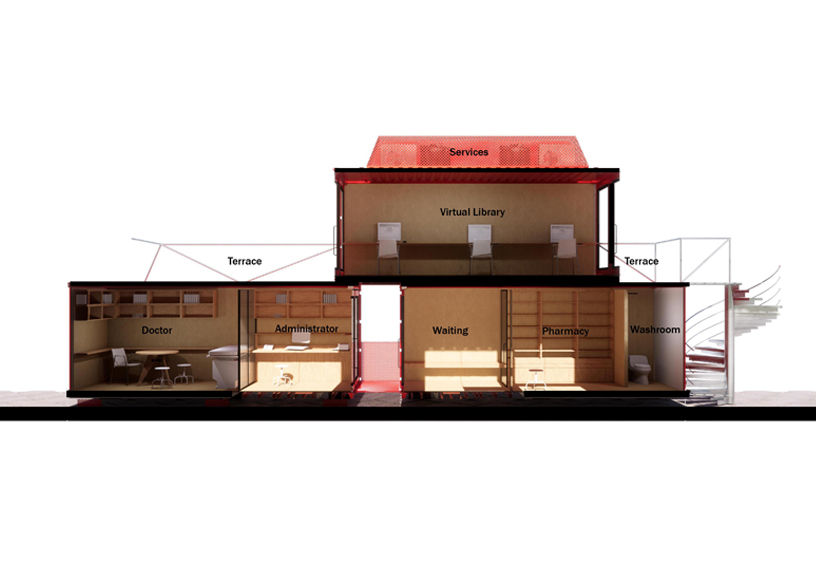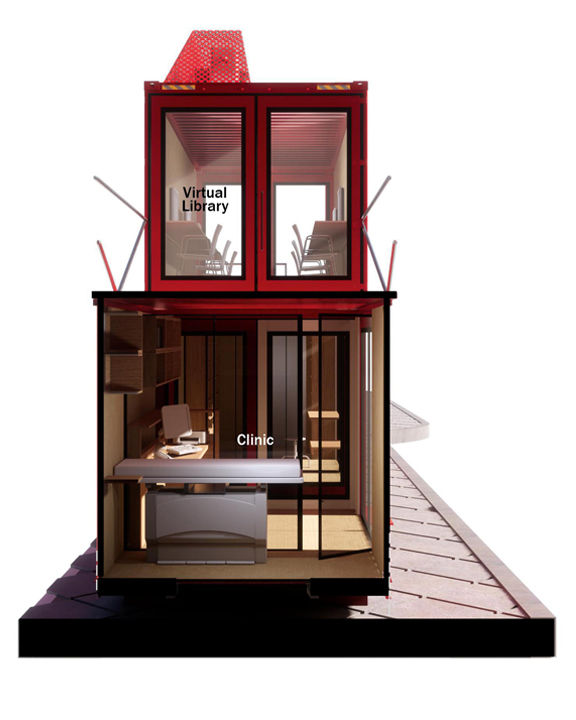 The quick construction of the prototype allows it to be deployed virtually anywhere, with the possibility of airlifting the units to emergency situations like disaster-struck regions or war zones. The clinic's design capitalizes on the structural strength of a discarded shipping container and works with it as a module, reducing the need for costly modifications or custom-built additions. In this manner, it redefines post-industrial waste as a medium for the equal distribution of affordable health services, integrating them into a circular model of reuse. By taking something forgotten and giving it a new lease of life through the clinics, the architect proposes a sustainable solution for the health infrastructure crisis in our country.
Factfile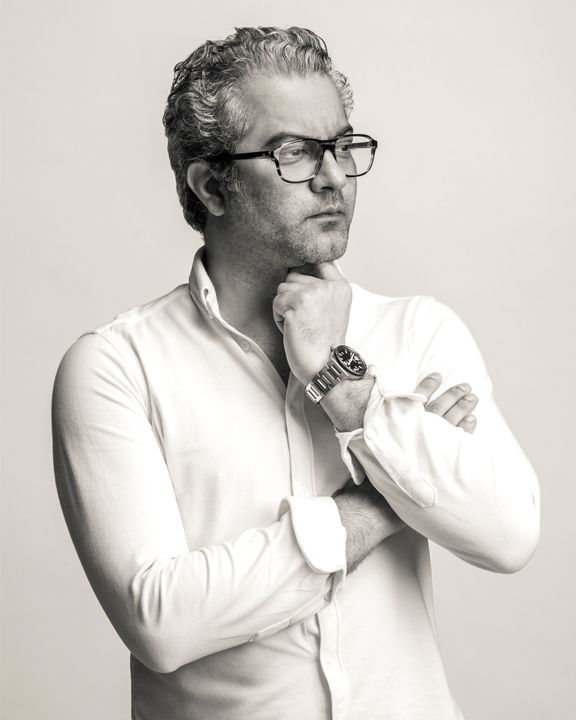 Project: Mohalla Clinics, Delhi
Architects: Architecture Discipline, Delhi
Team: Akshat Bhatt, Heena Bhargava, Jishnu Murali
Area: 500sq ft
Year of completion: May 2021 (First unit)