B-Hive 11 by Studio Bipolar is a coworking space accentuating a lively, spirited and refreshing atmosphere
The project is a coworking space fabricated around the concept of establishing an inspirational and motivating environment for the young millennials. Bright and soft colours amalgamate with extensive artworks throughout this space, characterizing a vivid and open office setting. One of the essential features of the project includes the functional embodiment of artificial light to enhance the aesthetics of space, despite the presence of abundant natural light.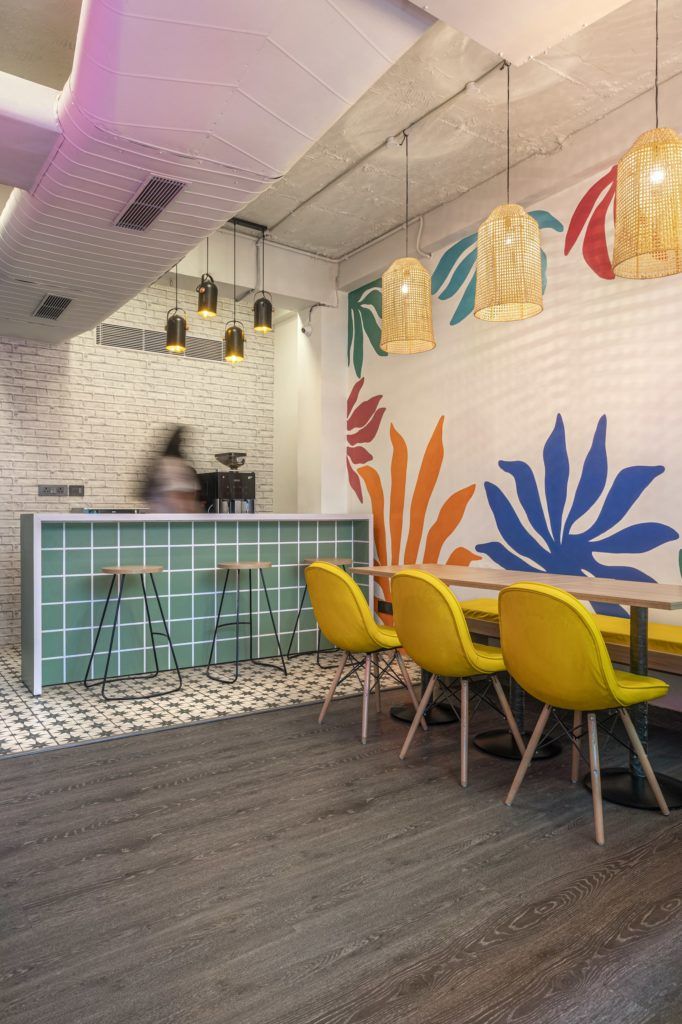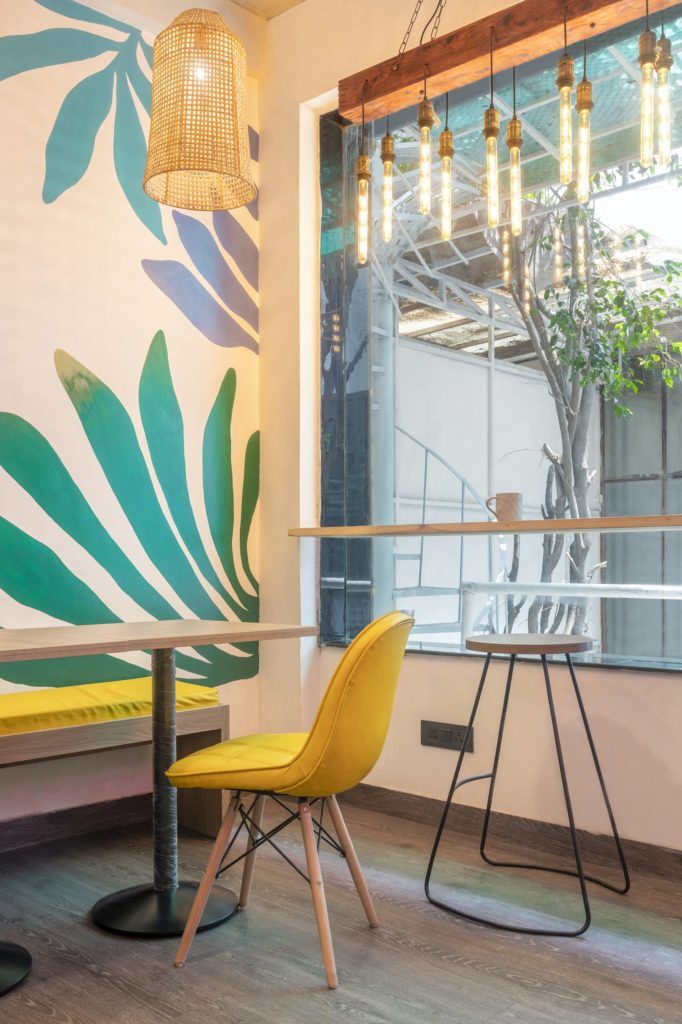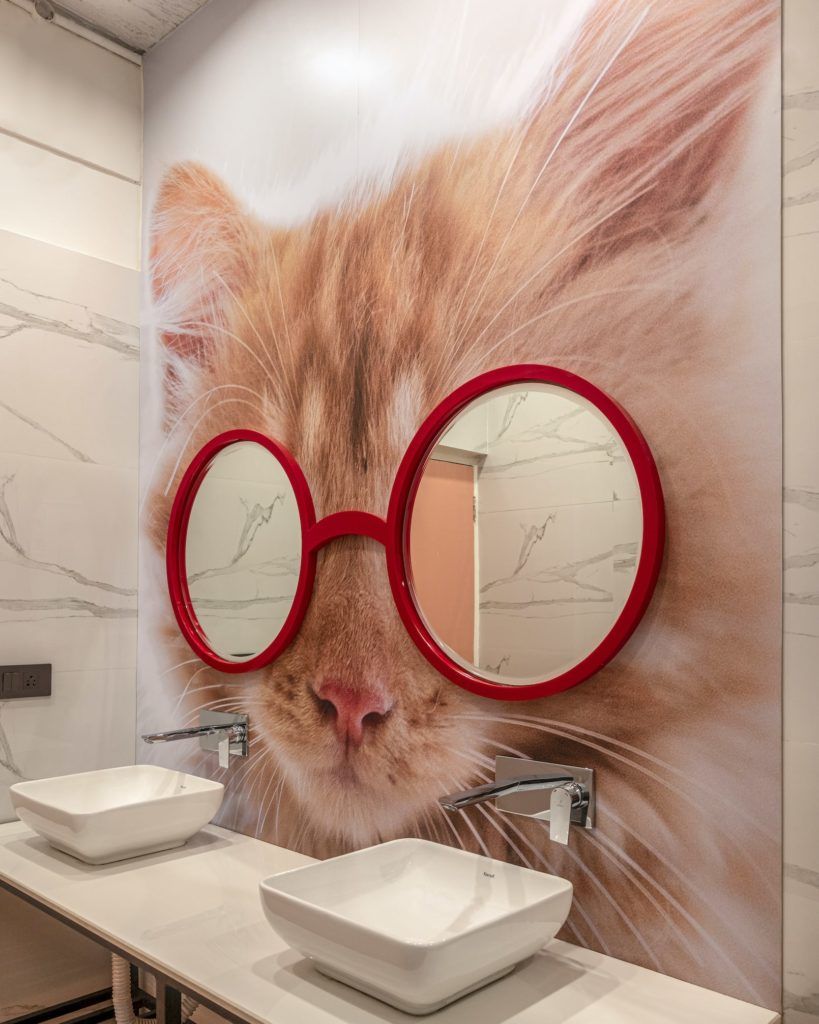 The play of contemporary artificial lighting fixtures amplifies the overall surroundings while complementing the copious artworks present. The design intent of this project is to bring together elements that stimulate an innovative workspace and profoundly balance the work-life.
The main area, also called the hotdesking space hosts uniformly arranged rows of desks, segregated by half-height partitions. Plants embrace these half-height dividers and help manifest a nurturing, sensory and semi-private atmosphere for their employees. Here, the design composition combines with natural and rational forms; furniture and flooring patterns in warm wood blend with novel lighting fixtures, an open HVAC system running along with a shade of bright yellow, and walls that narrate words of encouragement.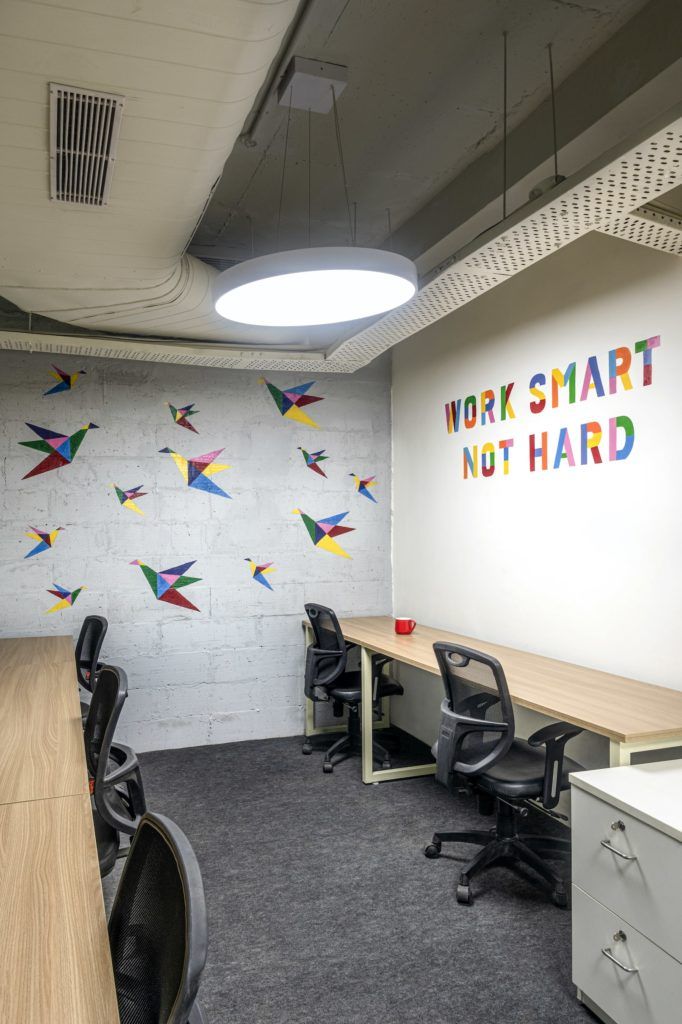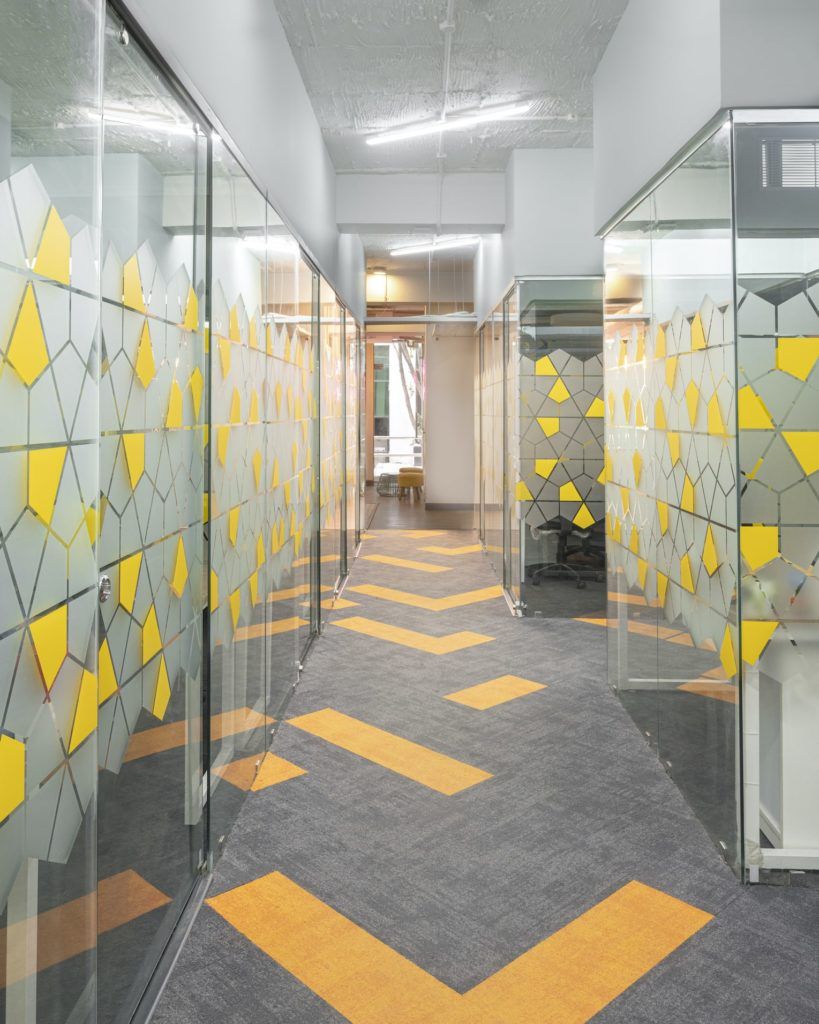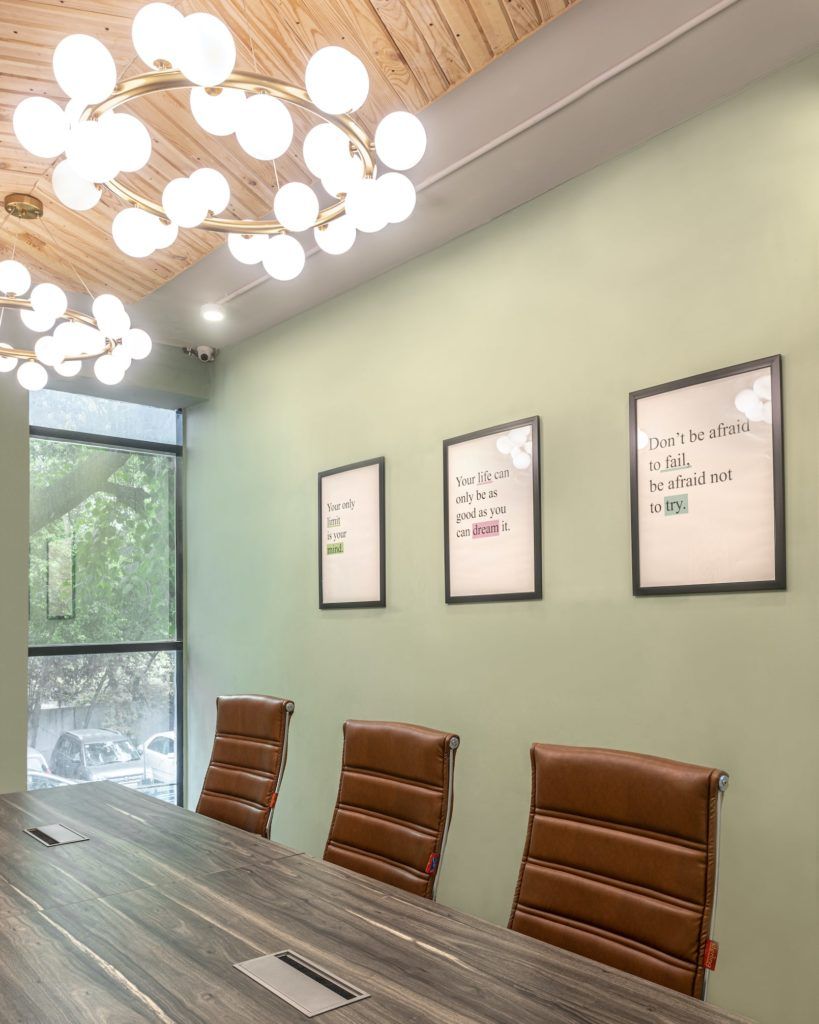 The two meeting rooms, located towards the right end of the hotdesking area, display diverse interior styles, forming a luxurious space with pops of pastels. The first meeting place envelops a mint-coloured wall with bohemian art and mirrors and is merged with brown leather chairs, providing a contrasting, corporate character to space. A chevron ceiling in raw wood with two contemporarily designed chandeliers adorn the room, adding to its unique elements. The second conference room is an exemplary paradigm of elaborately interwoven components like the birdcage chandeliers and the faux-plant ceiling. A statement wall painted with murals juxtaposes with eccentric prints and artwork, elating and accumulating dashes of colour and vibrancy to the room.
Situated towards the left end of the principal coworking area is the long hallway, edged with private cabins on either side. These intimate cabins constitute glass partitions, ornamented with geometric frostings in shades of yellow to maintain privacy whilst not making the spaces feel confined at the same time.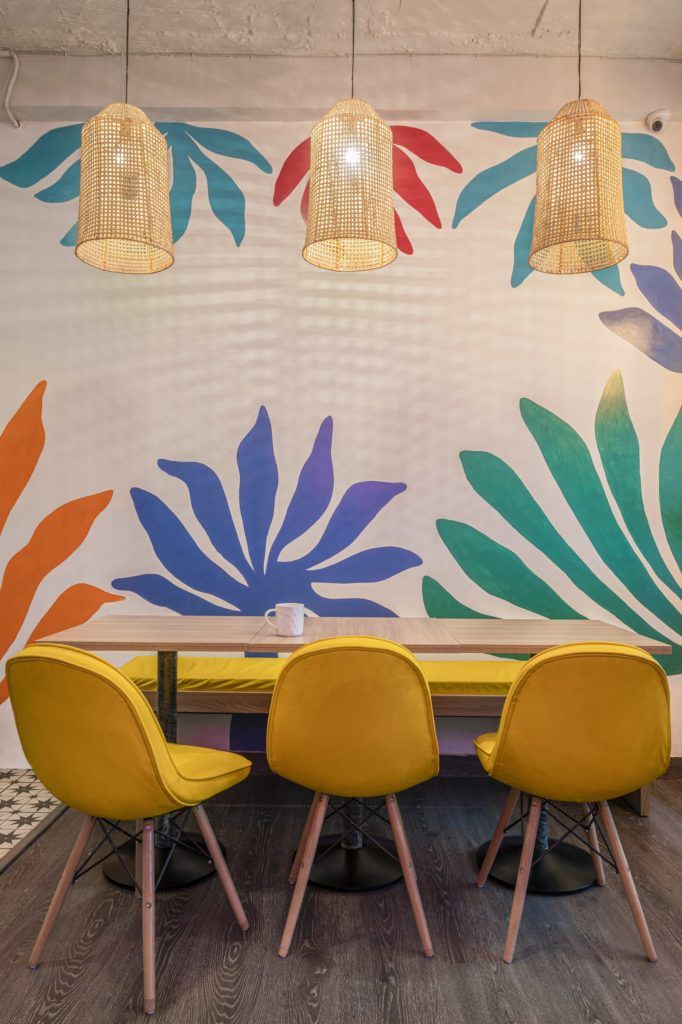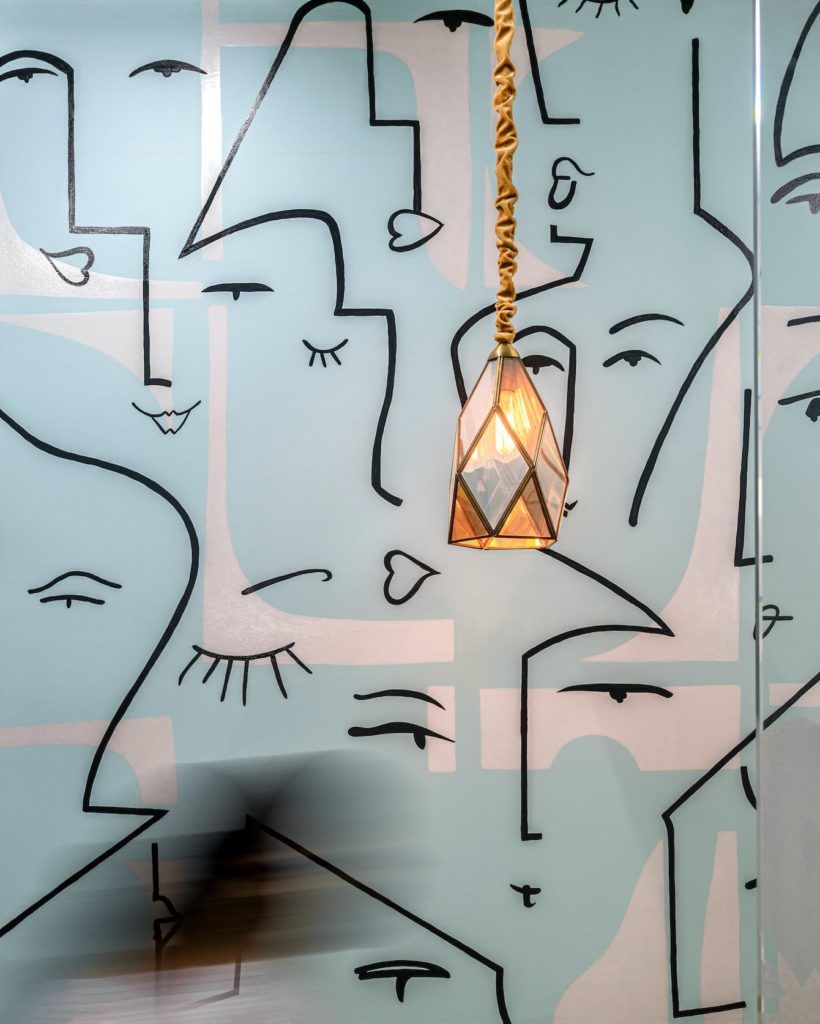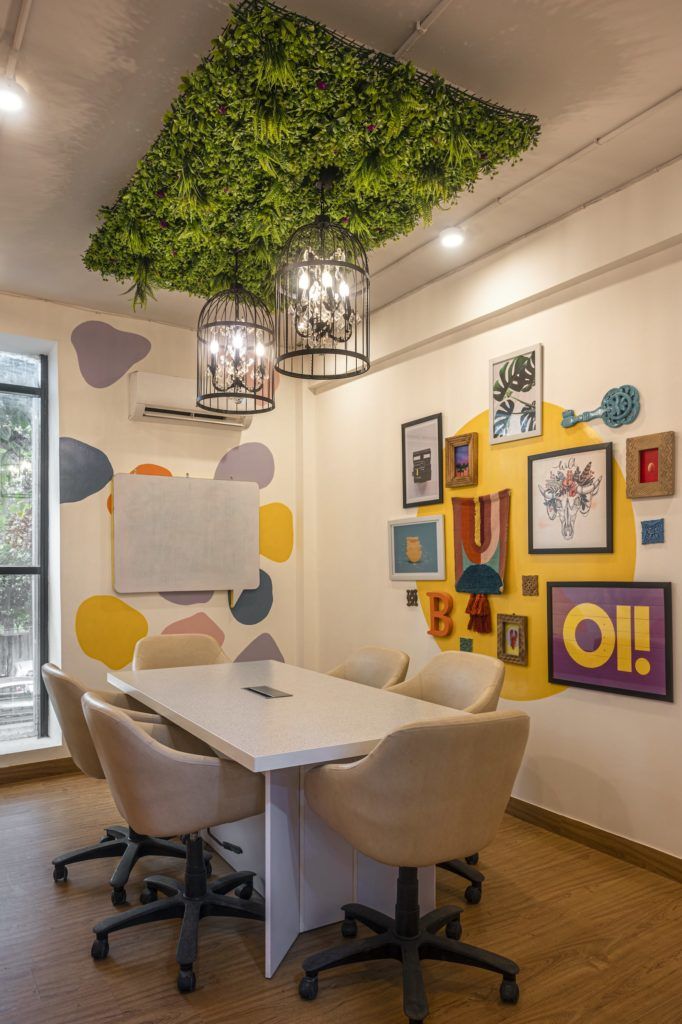 The long hallway finally leads to a communal area that includes the pantry and restrooms. Constructed with a nuanced approach, also lies an exquisite courtyard nestled between the two buildings. The design aesthetics of both the pantry and the washrooms intertwine with the overall narration followed in the office. A brightly lit, expansive space perfect for networking and socializing, the pantry contains a wall-to-wall mural. The pantry space here renders the idea for employees to relax in a pleasant environment. The women's bathroom consists of a quirky wall-art of a cat, with mirrors as sunglasses for the cats' eyes.
Overall, the design scheme echoes the colourful and rejuvenating qualities of the youth today.
Photographer: Anmol Wahi
Factfile-
Project: B-Hive 11, New Delhi
Architects: Studio Bipolar
Client: B-Hive 11
Principal Architects: Sanjana Mathur, Ujjwal Sagar
Built-Up Area: 4500sq ft
Year of Completion: 2021