The proposal for the Corporate Headquarters for Doctors Without Borders by Batlle I Roig Arquitectura, transforms an existing building in the 22@ District of Barcelona, into a new functional and biophilic space designed for the people.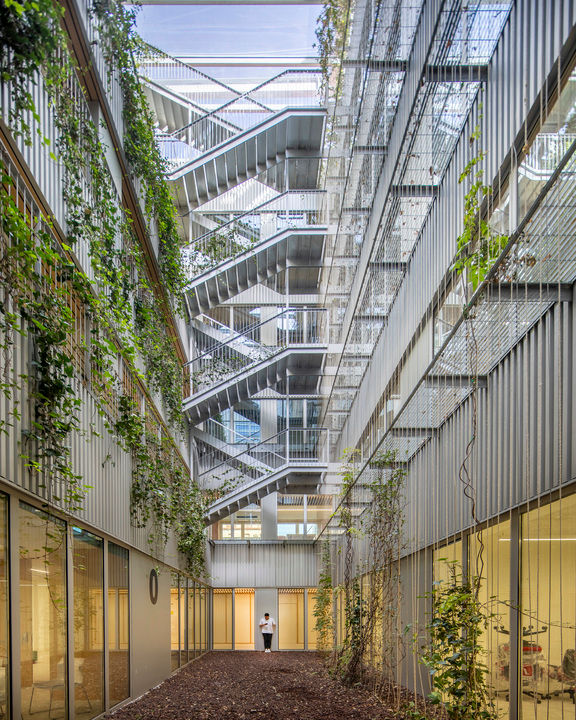 The existing building was a ground floor plus four and rooftop industrial building that had undergone several transformations in its lifespan. The most relevant change took place in 2003, when the building experienced a total renovation shifting its use from industrial to office space. The communications and service cores were modified to fulfill the standing regulations disregarding the resulting conditions in the workspace. The building occupied almost all of the lot's surface, generating very deep spaces with hardly any natural light or ventilation. The rooftop was devoted exclusively for machinery.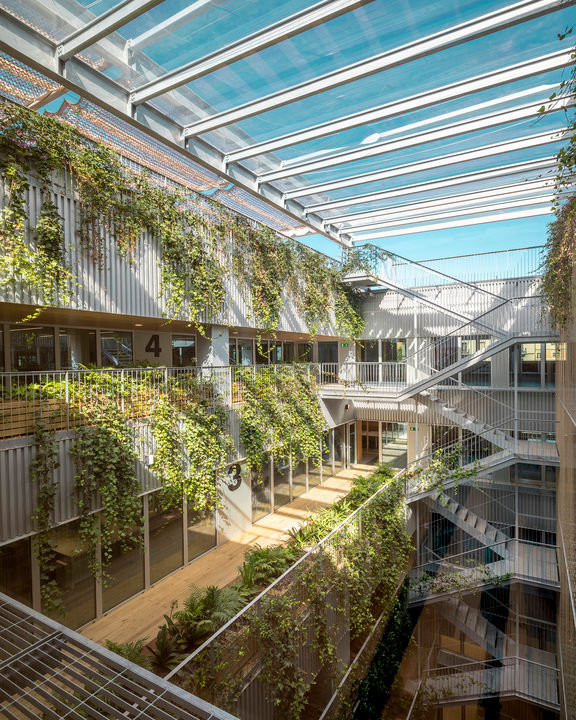 The project now adds different strategies to upgrade the building's existing conditions. A new tiered green patio improves lighting and ventilation of interior spaces. The tiered section improves lighting to all levels and generates terraces that extend the work areas with new meeting and working spaces. A staircase is added to the patio, strengthening the connection between floors and fostering healthy habits. Vegetation becomes the main character of most exterior areas, fostering biodiversity and generating biophilic spaces.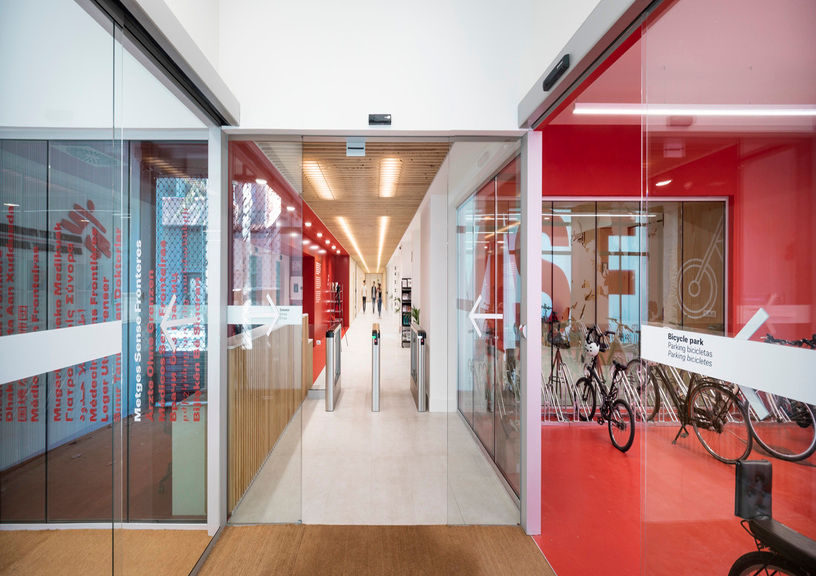 The ground floor is understood as an extension of the street, relating directly with the main elevation and access to the building. The main lobby is designed as a multifunctional space incorporating different elements of the program—a bicycle parking and front desk at the building's main entrance, an auditorium and foyer directly linked to the entrance, and a green patio as a backdrop.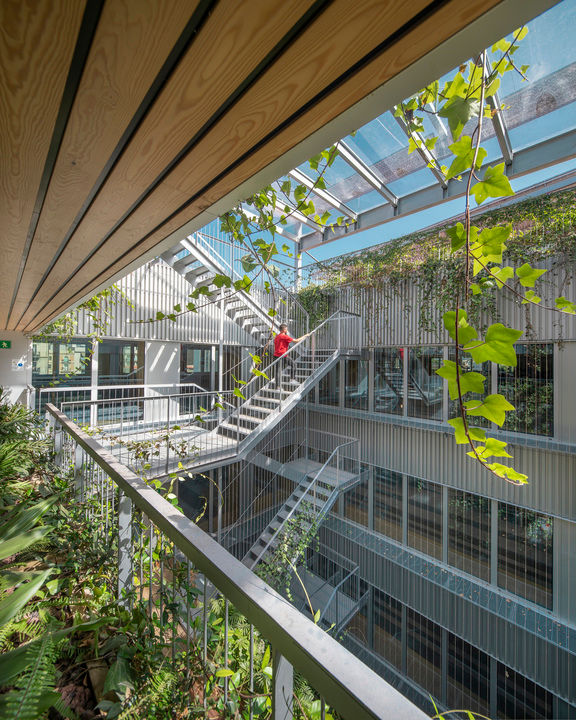 The flexible workspace is placed on the four floors organised around the new central patio, fostering relation with the terraces and vegetation. The floor-plans are arranged with a large open central space hosting the workspace and two lateral stripes, placed along the building's party walls and hosting vertical communication cores, hygiene chambers, closed meeting rooms and offices, and resting areas. The new productive and dynamic rooftop generates exterior meeting and production spaces. It has two main areas—the main terrace linked with the central courtyard, and the main elevation hosting the living and meeting spaces lushly planted and protected by mobile awnings. Features such as the photovoltaic panel pergola and mobile canopies improve the space's comfort attributes. The other area is destined to the building's technical services, taking advantage of existing elements such as the metal pergola to add photovoltaic panels.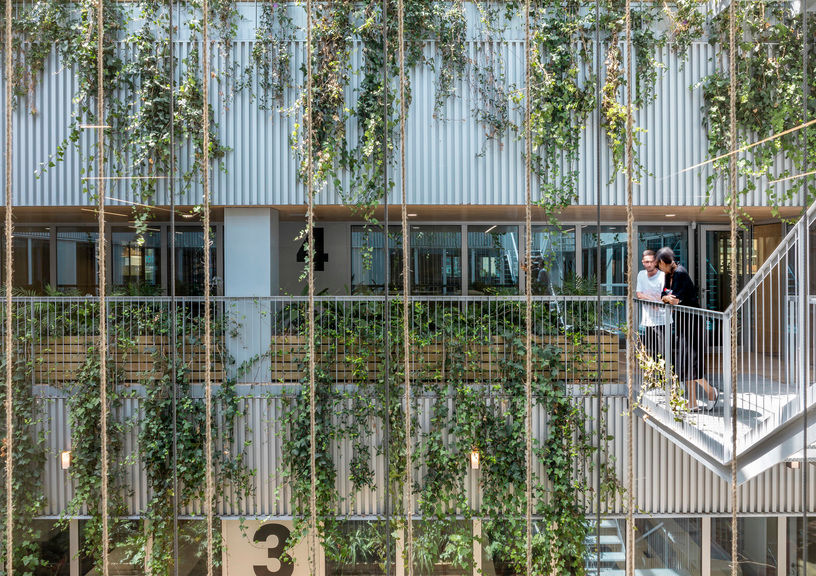 The project is developed according to the following sustainability criteria:
Urban recycling and renovating the building has had less than half of CO2 emissions compared to tearing it down and building it again.
The building adds fostering biodiversity by designing a biophilic building where vegetation prevails on elevations, roof, patio and interiors improves people's health, air quality and biodiversity of our cities.
Recycling and reusing rainwater within the building, fostering circular economy. Water collected by the photovoltaic pergola is stored in tanks on the rooftop to irrigate vegetation. n Sustainable mobility is encouraged by placing the bicycle parking on the main entrance.The building adds to the city's new sustainable mobility network.
Strategic elements are placed on the rooftop such as mobile canopies, or refreshing surfaces with lush vegetation that help mitigate the city's heat island.
The use of locally-available, recyclable and environment-friendly materials is promoted. Certified wood is used as the main material of the project.
Passive strategies are developed to accomplish minimum energy demands. Roof and facade insulation is increased, and joinery is renovated improving the building's thermal envelope's efficiency.


Photograph: Antonio Navarro Wijkmark
FACTFILE
Client: MSF – Médecins Sans Frontières
Authors: Batlle i Roig Arquitectura, Enric Batlle, Joan Roig, Albert Gil
Team: Miriam Aranda, Annabel Barba – Architects /Joan Batlle – Landscape Architect / Diana Calicó, Elisabeth Torregrosa – Building Engineers / Dolors Feu – Agriculture Engineer and Landscape Designer
Project partners: STATIC Ingenieria SA – Structural Engineering / PGI Engineering – MPE Engineering / Dos54 – Facade Consulting Builder: Vesta Rehabilitación S.L.
Area: 8,230 sq m
Year of completion: 2019
Text: Provided by the Architects