This residence envisioned by founder of Nivasa Rohit Kapoor is a rich ode to the pinnacle of design excellence in luxury living 
Nestled within the prestigious enclave of DLF Magnolias in Gurugram, lies a residence that redefines opulence and modern living. This remarkable home is a testament to the seamless fusion of contemporary design and luxurious comfort, where every detail has been meticulously crafted to create a haven of sophistication by Rohit Kapoor, founder of Nivasa.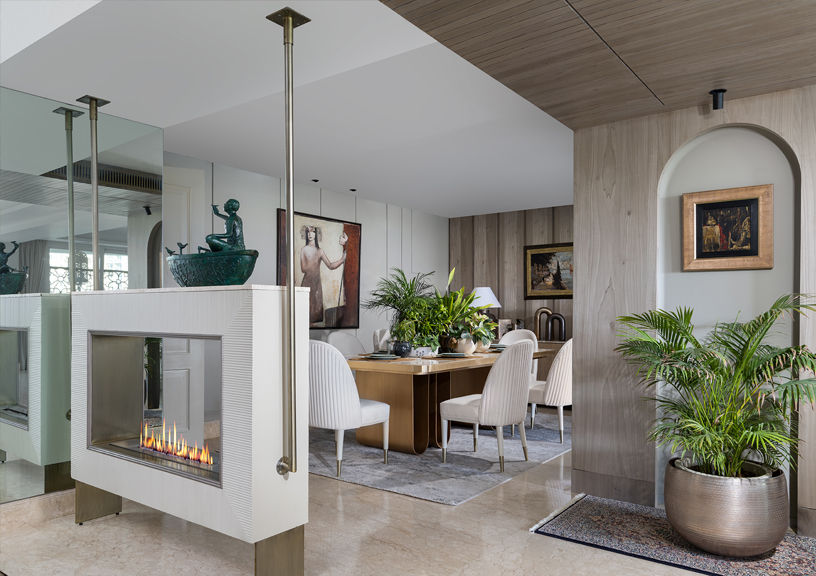 It unfolds with an open-plan design encompassing the living, dining, and bar areas, complemented by a generously sized media room, a study-cum-yoga space, a meticulously appointed kitchen, a tasteful powder room, and three luxurious en suite bedrooms—one for the owner and the other two for their cherished sons. Throughout the home, the designer's delicate touch resonates vividly, evident in the carefully chosen monotone palette, understated accent hues and textures, gentle curves, and clean linear patterns that breathe life into every corner.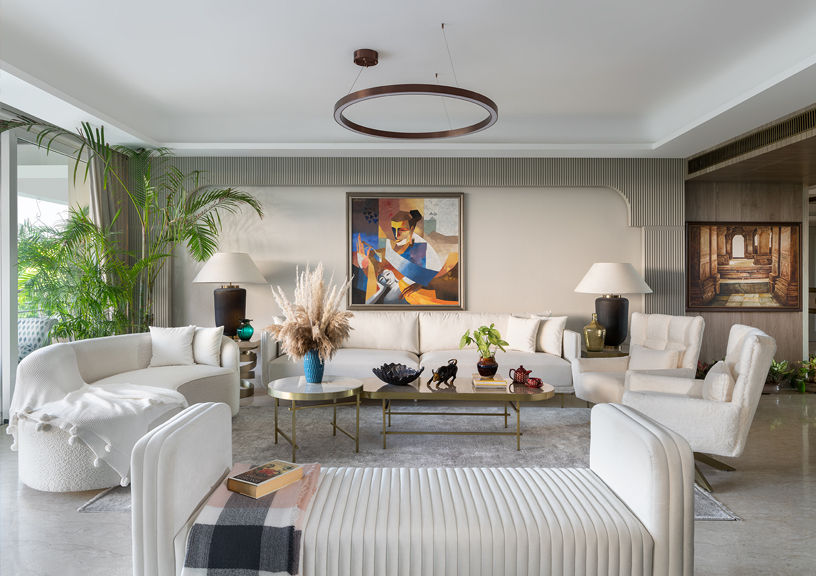 A subdued shade of olive sets the stage, providing a radiant backdrop for a symphony of tonal shades, punctuated by occasional hints of opulent gold that exude an aura of luxury. Upon entering the home, one is enveloped in an ethereal atmosphere, heightened by a striking suspended fireplace artfully crafted to grace the entrance lobby. Rohit Kapoor, the Founder of Nivasa, explains its dual purpose: "The clients wanted a divider between the entrance and the living and dining. Instead, we came up with the design of a smoke-free, oil-based fireplace which serves two functions –creating privacy for the interior areas of the home, while also keeping the home warm and cosy in a stylish manner".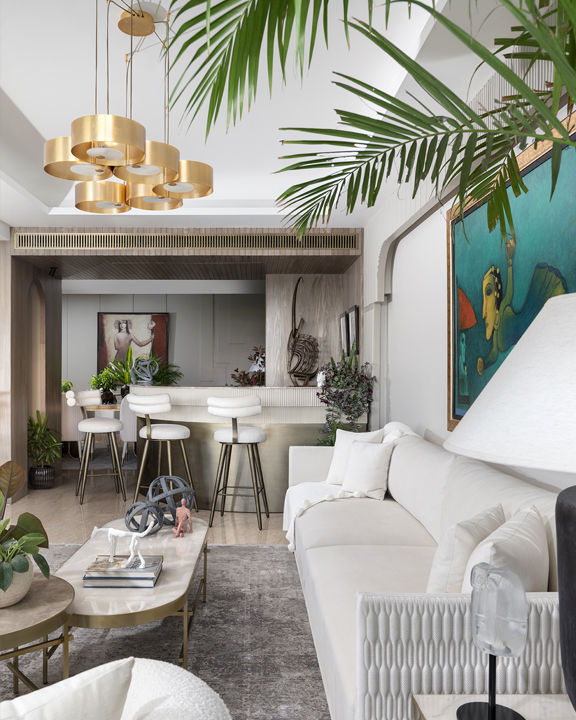 The living room embraces an all-white ensemble, with exquisite contours of furniture pieces, rich fabric textures, and linear stitching adding layers of interest. Even the dining table boasts a selenite stone top in pristine white, complemented by matching chairs. Yet, the showstopper of the space is the semi-circular bar—an astonishing feat of design with an impressive 11.5 ft length. "Even the clients were surprised how such a huge bar could have been planned and designed in the single available nook of the living room ", Rohit revealed enthusiastically.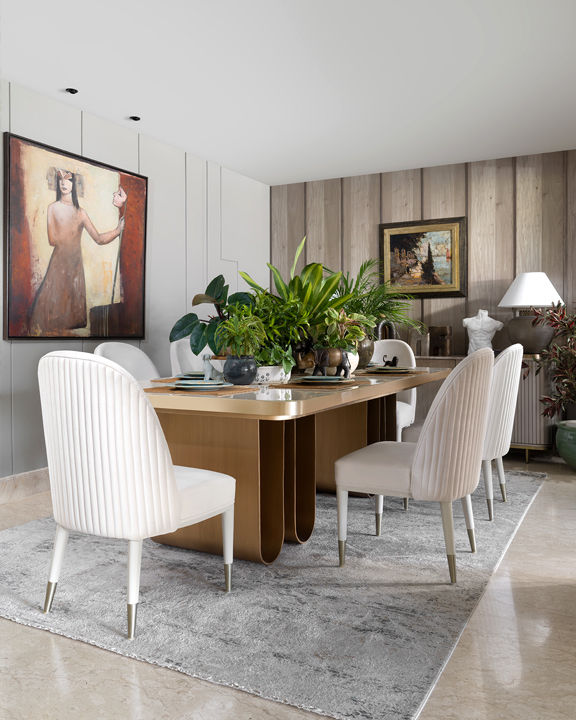 Sculptural plants and captivating artworks infuse vibrancy into the living spaces, while the powder room stands as a testament to innovative artistic design. Rohit elaborates, "The clients eschewed a conventional mirror, so we adorned the wall above the basin with a captivating black stone sculpture. Mirrors, angled on the sides, provide a unique touch." 
The master bedroom is a true masterpiece, bathed in soothing steel grey and adorned with nuanced design elements. A leather-paneled wall lends a touch of class, concealing a door leading to a spacious walk-in closet and master bathroom. A slightly deeper shade of greyish blue graces the credenza, adding a touch of magic. Specially imported lights, suspended on either side of the bed, complete this exquisite picture.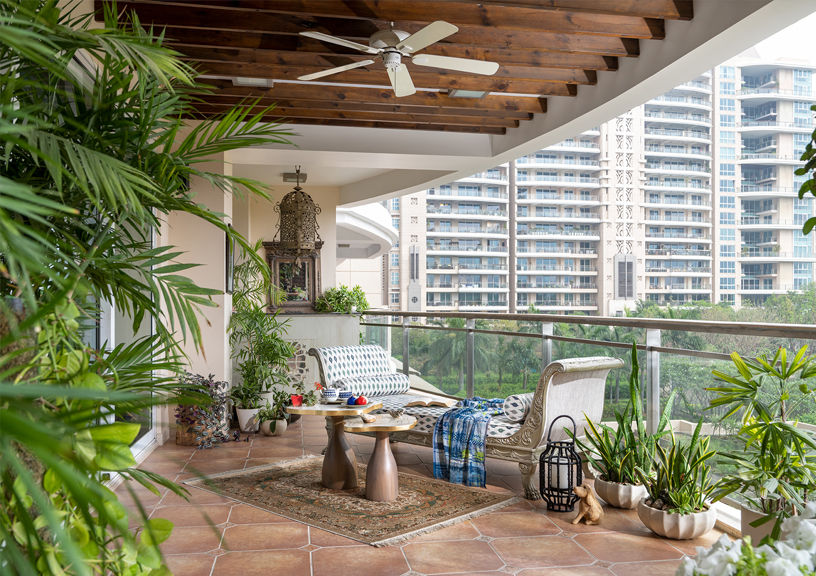 The media room is a haven of comfort, furnished with plush sofas, Nivasa Black Swan rotating chairs, and a stunning 6ft by 6ft table crafted from green quartz semi-precious stone. Coupled with state-of-the-art audio-visual equipment, it promises a world-class cinematic experience.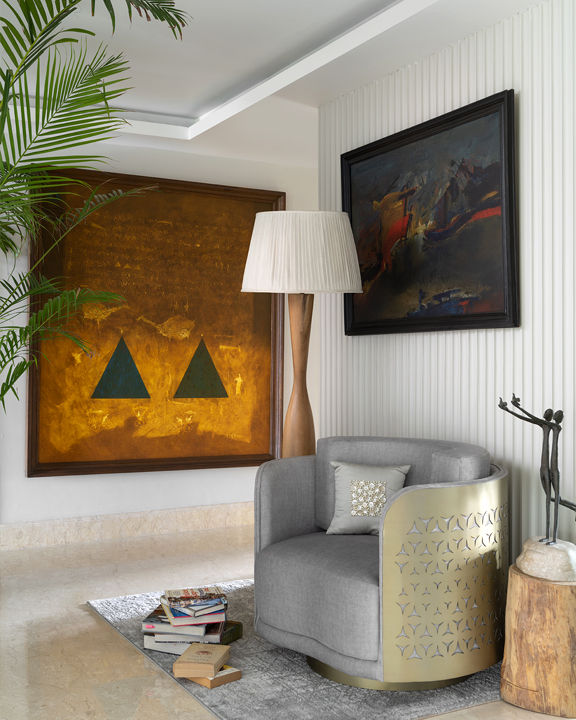 The kitchen epitomises modern chic, featuring an engineered stone countertop in pristine white and high-tech appliances, including a sleek chimney hood controlled by a touch remote. Real PU finishes adorn the overhead cabinet shutters and select other areas, lending the kitchen a glossy finish. The balcony, bathed in earthy tones and dotted with potted plants, provides a charming space for relaxation.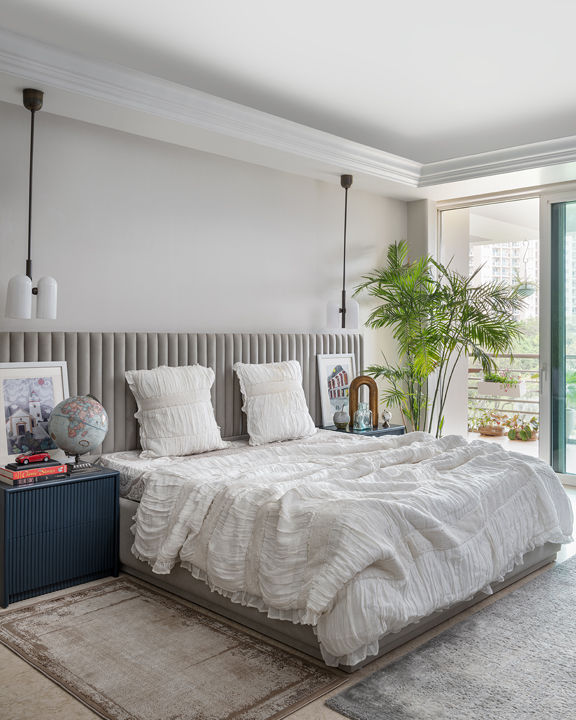 With a consistent design sensibility weaving through each space, this home offers dreamlike environments that evoke a sense of tranquility and serenity—a meticulously crafted retreat for the homeowners!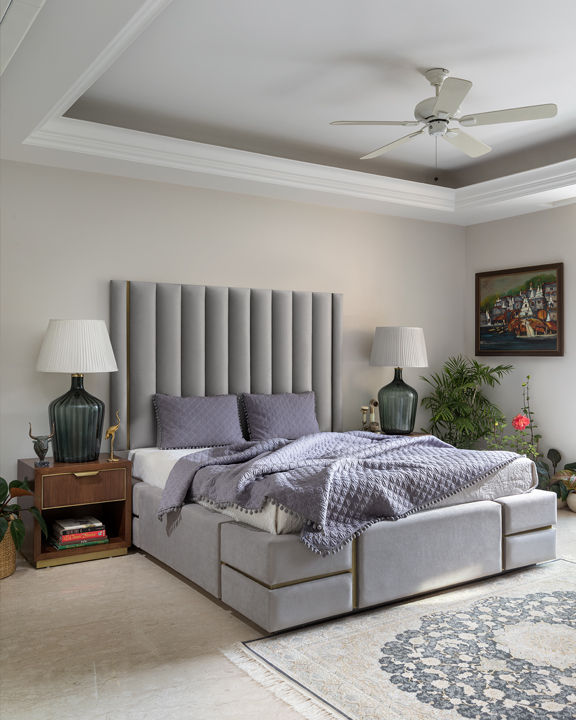 FACT FILE:  
Location of the project: DLF Magnolias, Gurugram 
Area (Sq.ft): 10,000 sq ft 
Name of the project: Magnolias 
Firm Name: Nivasa 
Design Team and Designation: Rohit Kapoor, Founder, Nivasa 
Website: www.nivasa.com