In Conversation With Ashwini Sulakhe Thorat: The Visionary Behind the Noida International Airport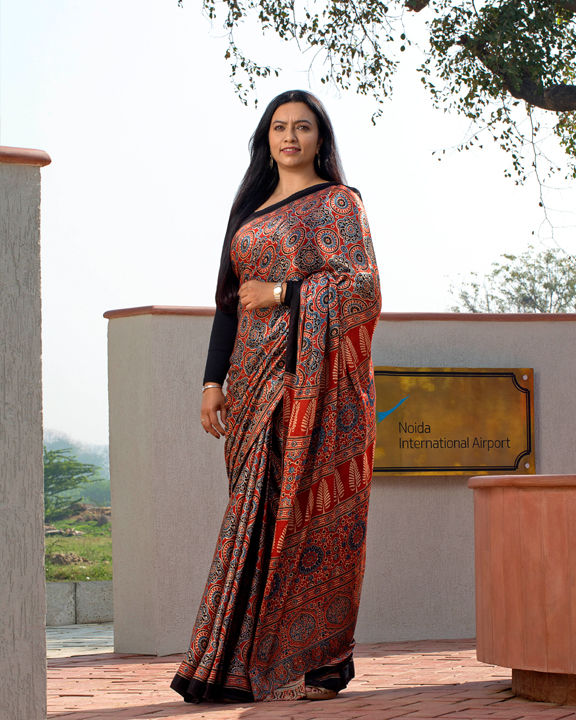 She designs airports for a living! Ashwini Sulakhe Thorat, Lead Architect of Yamuna International Airport Private Limited (YIAPL), is perhaps helming one of the biggest and most complicated projects in the country at the moment. The foundation stone of the much- publicized Noida International Airport at Jewar in Uttar Pradesh was laid by Prime Minister Narendra Modi in November last year. The airport, sanctioned to be the largest in India, will cater to 12 million passengers upon completion under Phase 1, which will be spread across 1,334 hectares of land.
The scale sounds impossible, yet Ashwini remains unfazed by the seemingly gargantuan task. After all, this is her job. This is what she comes back to every single morning. Ashwini traipses through the barren land with self-assured confidence, educating us about the topographical nuances, the geographical concerns of the greenfield, and how she intends to navigate the airspace. Once Noida International Airport (NIA) becomes operational, the national capital region will have the distinction of hosting two international airports within a 100-kilometre radius. In the past decade, Ashwini has helmed the designs of Bengaluru Airport and the Navi Mumbai Airport.
She has to her credit, airports in Indonesia and Bahrain as well. Ask her what her dream project is and she poses a rhetoric instead, "Well, I've built airports. It's almost like developing a city. Within the airport, I've designed skyscrapers, I've built metros and roadways. What more can I build? My focus is now on building best airport for India!"
Here's an excerpt from the rest of our conversation.
FROM ARCHITECTURE TO AVIATION ARCHITECTURE: THE TRAJECTORY
Seema Sreedharan (SS): To start with, I haven't met too many aviation architects. What is aviation architecture? Is it a stream of architecture that you can study? Or is it something that you learn on the job?
Ashwini Sulakhe Thorat (AT): Aviation architecture is a highly specialised field that can only be learnt on the job today. I started designing airports in 2005 and have worked on many airports in India and abroad to understand that no two airports are the same, so it's natural that it cannot be taught in four semesters.
While airports are megaprojects and take several years to design and build, I have been lucky to see most of my projects to completion, designed and built over the last two decades. As they say 'proof of the pudding is in the eating', so for me, my advancement in aviation was when my projects were completed and inaugurated by VIPs, when my terminals got more than 10 million users in a year, when they got audited by bankers and regulators, refurbished to adapt to changing times, and modernised with technological advancement.
Unlike other public or private spaces, airports have a proper feedback mechanism. So, I get real-time input on their performance as a public space, commercial entity and asset, which need 24×7 maintenance and upkeep for all my projects. I learn how my users perceive the design intent, how architectural materials sustain round-the-clock use and how my planning helps the organisation earn revenue. But most importantly, I am constantly learning how what we build consciously impacts users, as well as how our designs unconsciously shape businesses and their users. This is how I am learning and mastering aviation architecture.
Today, the Indian Aviation sector is growing exponentially and needs many designers and engineers to build next-generation airports. There is high demand but only a handful of experts are in aviation architecture. So, I wish architecture colleges would collaborate with professionals from the field and establish design studios dedicated to aviation architecture, where the fundamentals of this field can be introduced to budding architects. I would love to coach and mentor those in this profession or those willing to plunge into aviation architecture. I hope my journey inspires more talent to explore this niche segment that is promising, exciting and rewarding.
SS: Being a woman, did you face any challenges in your field? Tell us about your experience.
AT: I am first an architect and planning professional. I used my feminine qualities of empathy, the virtue of patience, and the ability to multitask as a professional. I have always been able to deliver in challenging situations because of these qualities. And in my experience, my male colleagues have noticed and appreciated these qualities that I naturally possess. I feel fortunate to have been treated as a professional first and get recognised for my work.
I want to mention that I missed the company of my female tribe when I was on project sites or meeting with authorities, presenting in board rooms, negotiating and working late nights in general. There were always boys' clubs but rarely any girl gangs. I was positively surprised when I started working on Indonesian airports and met many women leading various portfolios through airlines, airports, air navigation and security. I was in awe of the Indonesian work culture for its diversity and focus on grooming future generations. Today, I am proud to be part of Noida International Airport, which breaks the bias by choosing women for leadership roles and setting an example in Indian Aviation.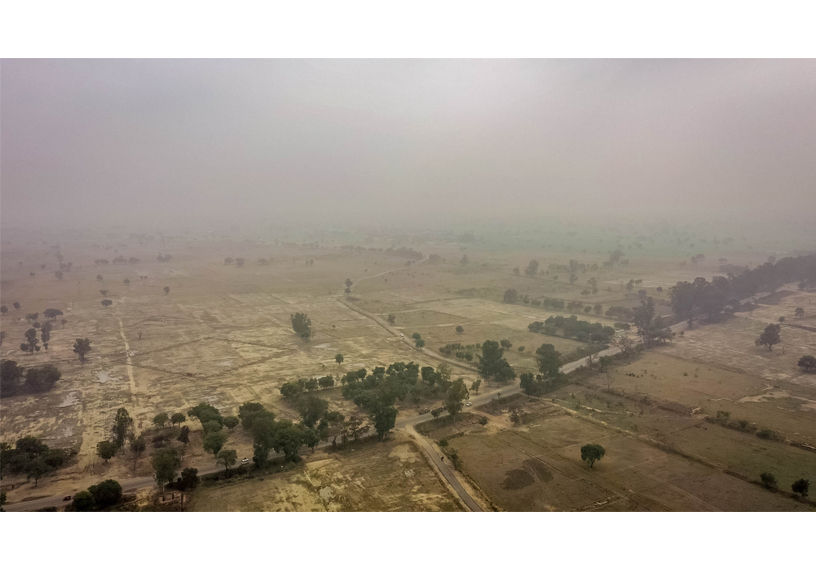 THE BIRTH OF AN ARCHITECT
SS: Did you always know that you wanted to be an architect? Take us through your journey. How did you venture into aviation architecture?
AT: I was studying to be a doctor back in the 90s, as my parents always wanted a doctor girl and engineer boy. However, they had an egalitarian lifestyle and were very liberal with me. I was creative, curious, free and a bit of a rebel child—all ingredients needed to be an architect, I would say. But back then, I wasn't even aware of Architecture as a stream or a profession. After my 12th board, I read Ayn Rand's Fountainhead that introduced me to Objectivism. The novel's protagonist, Howard Roark, is a young architect fully committed to artistic integrity and innovation. That's how I was introduced to architecture and to the work of great architects Frank Llyod Wright and Le Corbusier, who were inspirations not just to the author but who also inspired me to become an architect.
In the early 2000, India saw multinational firms set their sights on Bangalore, and it started becoming the Silicon Valley of India. It was also then that India opened its skies to new airlines like Kingfisher, and the aviation sector started booming. New airports were proposed under the PPP scheme at Bangalore and Hyderabad to support air travel demand. Bangalore International Airport Limited (BIAL) was the first PPP airport organisation with Zurich Airport as an operational partner. I was on sabbatical then wondering what to do next, when my ex-colleague working with Bangalore International Airport called and asked, "Do you want to build an airport?" I was super excited with just the question and with the thought of designing an entire airport. I joined them the next day and have never looked back since then.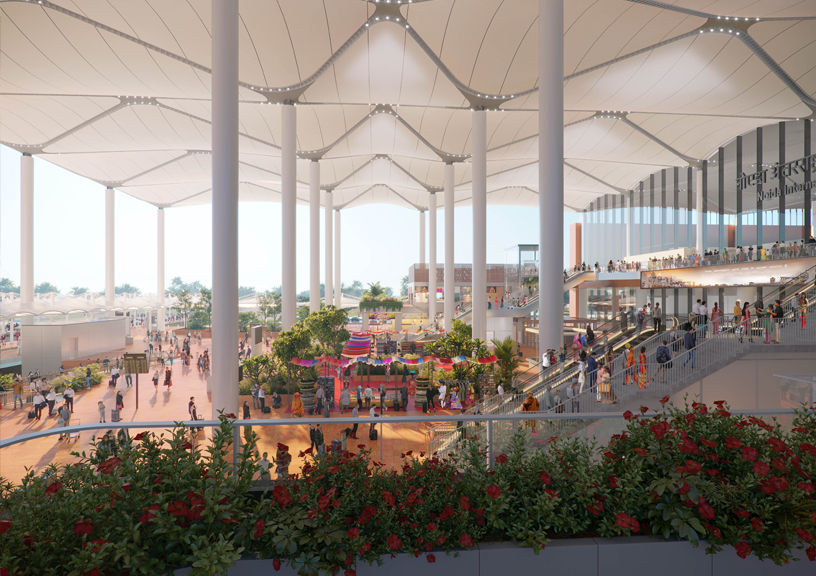 SS: What and who inspires you?
AT: I am most inspired by nature and our relation with it; I can observe nature for hours and keep learning. I am fascinated by nature's diversity yet balance, newness in a set pattern, how everything in our environment is connected, its set mechanism and its beauty, its impact on humans and how you can never be bored by anything natural. The philosophy of nature and the natural in architecture is my favourite.
In aviation, I was always in awe of Sanjay Reddy, Founder and Vice Chairman of the GVK conglomerate, who spearheaded the development of Mumbai, Bangalore and Navi Mumbai airports. He always said good design is good business. He inspired architects and planners to produce unique designs like Mumbai Terminal 2, which was envisioned to create a sense of pride amongst its users. Bangalore Terminal 2 was designed as a garden terminal to restore the image of Bangalore as a garden city. At the same time, Navi Mumbai airport is proposed to showcase the new and free next-gen India. Mr Reddy encouraged us as designers to amalgamate art, culture and nature into architecture.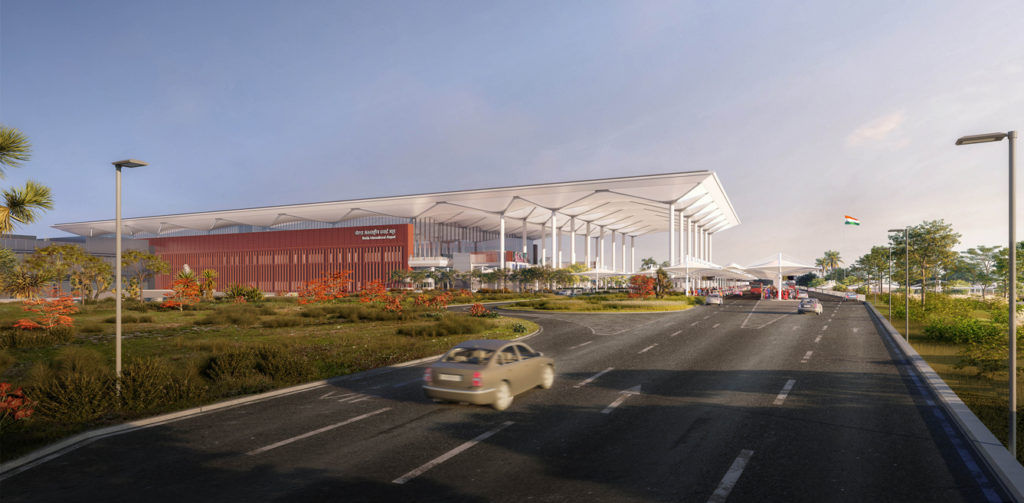 AVIATION ARCHITECTURE: NAVIGATING THE CHALLENGES
SS: Yours is a stream where multiple stakeholders are involved—starting from the government and trickling down to the various contractors, designers and workers. How do you negotiate the challenges involved? Tell us about your experience of being a woman in a man's world?
AT: Overall, my experience has been good, and I haven't been treated differently in any way. But when you ask this question and reflect, I think certain things I observed were never fair for women, but no one complained because we have accepted this unknowingly. To give you an example, something like bank work, paying bills, checking stock exchange, smoking or even watching the game score are well-accepted activities in an office environment, but probably checking a cooking recipe, talking to the cook and instructing them for dinner, guiding your child on his homework or watching fashion isn't considered the same. I used to do the latter and deal with male colleagues calling it out or taunting me about it.
I also realised that we avoid assigning challenging assignments to the women workforce, be it working late shifts or out of station travel or heavy-duty work. It was mostly done out of genuine concern, but what needed to be done instead was to make the work environment conducive and convenient for women rather than alienating them. I urge that we work on building equality in aviation architecture and the construction industry. This subtle but obvious disparity has made me tough, but I have always cherished my virtues as a woman. Today, what satisfies me the most is that I have made my family proud with my work, and my parents lovingly ask me to use my maiden name.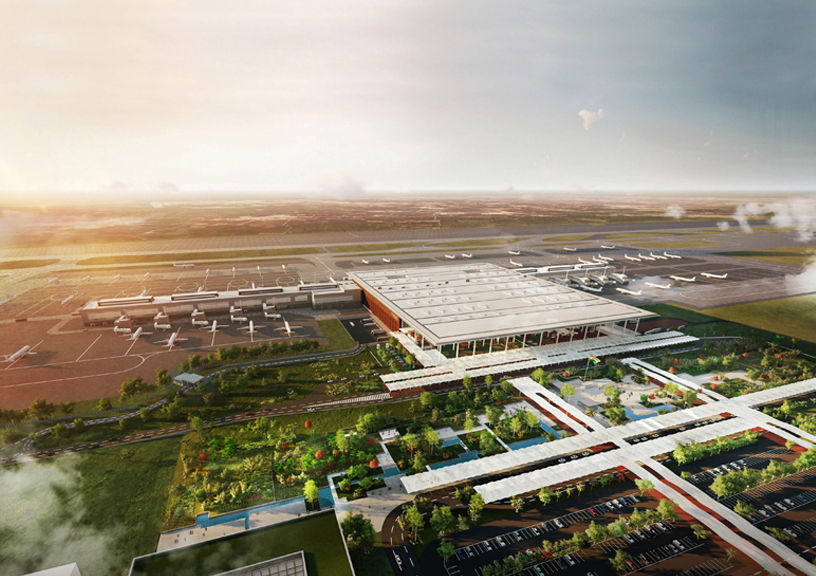 SS: What excites you about aviation architecture?
AT: Airports are like mini cities. An airport has everything that a city would have: Flyovers and tunnels, skyscrapers, hotels, multi-level car parks, rail stations, huge public plazas, water bodies, commercial and office complexes, and the runway, taxiway and apron for aircraft. It allows me to do urban planning for over 1,000 hectares and parallelly work on an art project for the terminal. I am confident there is no other segment where an architect will get such variance as in an airport.
I experience what I read in Fountainhead—"No two sites are alike. No two buildings have the same purpose." No two airports are the same either. One of my airports was land constrained, one had airspace restrictions, and some had underground geological restraints. This makes aviation design and planning very tricky and very interesting. In the last 17 years of my aviation career, I have looked forward to designing an airport every day. The variety is what excites me.
Airports reflect the era when they are built as well as provide a glimpse of the future. They demonstrate leading-edge construction techniques and materials; they house the most sophisticated technology and constantly evolve. I have seen airport design get more complex with every incident related to aviation. After aircraft hijacks, airside was permanently restricted; after 9/11, terminals got tighter security; with the Glasgow airport attack, the landside of terminals were highly secured; employee screenings got stringent with time and metal cutlery inside aircrafts started disappearing. The latest for us is managing unwanted drones in the airspace or airfield. These evolving conditions keep me challenged, balancing the airport's design form and functional aspects.
Last but certainly not the least, aviation architecture is essential to me as airports are gateways to nations or cities; they are the reflection of society. They are the first and last impressions of the destination, and hence the identity of a place. They reflect the city's history and provide a peek into its future, basically a 'future present'. Conceptualising design that justifies the sense of place and helping build icons for our nation is what keeps me in aviation architecture.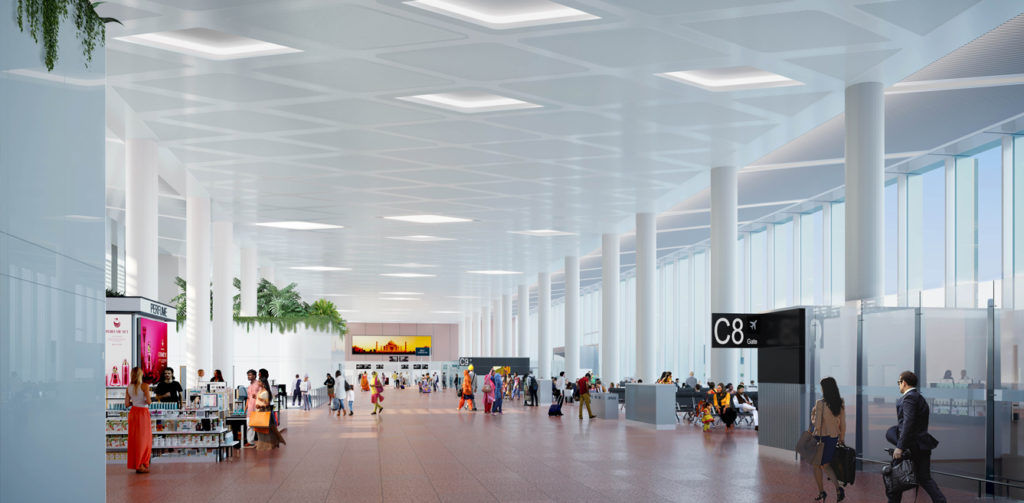 BUILDING THE BIGGEST AIRPORT OF INDIA: THE NOIDA INTERNATIONAL AIRPORT
SS: Your current project is the Noida International Airport. Considering design and technology, how different is it from the rest of the airports in India?
AT: Noida International Airport (NIA) is being developed by Yamuna International Airport Limited, a Zurich Airport International Company. After creating India's first greenfield PPP project of Bangalore International Airport in 2005, this will be Zurich Group's second greenfield airport in India. NIA is spread over 1,334 acres and will have two runways to cater to 70 million passengers per annum. With an overall investment of INR 5,730 crores, the airport's first phase development will commission the north runway and Terminal 1 for 12 million passengers per annum.
It will be India's first multi-airport system airport. Like London or New York, the National Capital Region of India will operate two private airports, the existing Indira Gandhi International Airport and Noida International Airport. It will serve the fast-developing Yamuna Expressway Industrial Development area between Delhi and Agra. As an airport of the 21st century, it focuses on technology and sustainable development. We are developing Noida International Airport as India's leading airport in customer service, operational efficiency, digital services, and with a commitment to minimal environmental impact. It will showcase the blend of Swiss efficiency and Indian hospitality and design.
The terminal responds to the region's cultural aspects and climatic conditions with a light and white ceiling reflecting the musical form of water at the confluence of the Ganga, Yamuna and the mythical Sarasvati rivers. The fabric ceiling provides relief in summer and sufficient daylight throughout the terminal. An extensive landscaped forecourt serves the meters and greeters arriving at the airport to say goodbye to their loved ones and a destination for locals to hangout. The terminal design echoes the vernacular architecture, with a central courtyard designed as a place for people to share experiences. Along with this, the terminal's design will include architectural elements and materials from the rich cultural heritage of Uttar Pradesh. The choice of materials and finishes, such as stones and the extensive forecourt in
front of the airport, will reflect local heritage.
Thanks to the support and collaboration of the UP government, this airport will be known in the future for its multi-modal transit hub, the Ground Transportation Centre (GTC) housing stations for the metro and the regional high-speed rail, like Zurich Airport. This GTC will interconnect different modes of transport and provide seamless connectivity between terminals and public or private transport means.
We are also focused on developing a digital airport. NIA's differentiators will be ease of wayfinding, supporting contactless travel and optimum dwell time for passengers. The digital airport will also provide a 'Plug & Play' environment for airlines to maximise passenger experience, minimise start-up cost for the airline, provide overall cost and operational efficiency.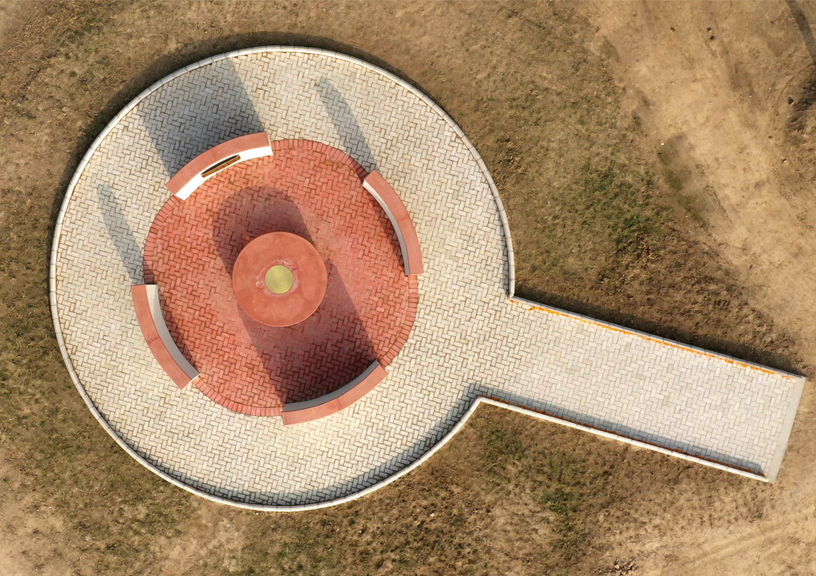 SUSTAINABILITY: IT'S NOT WHAT WE BUILD; BUT HOW WE BUILD
Sustainability is no longer an option; on the contrary, it's imperative that every built project is sustainable to ensure that it actually makes a difference. Take us through the measures you have taken to ensure that the Noida International Airport scores high on the sustainability quotient?
It's no longer about what we build but about how we build it. As a responsible corporate, NIA, Noida International Airport is focused on sustainable development and will be India's first net-zero emissions airport. From the outset, sustainability was an essential consideration in our design. Sustainability and environmental impact were some of the key criteria based on which we selected the airport architects in our design competition.
The central landscaped courtyard I mentioned earlier is not just a representation of the local architectural style but is designed to bring in daylight and ambient air. This would be the first time when within the core of a terminal, you could experience an outdoor environment. In the terminal, passive measures such as the use of natural lighting, natural ventilation and glare protection will help improve passenger experience and reduce CO2 footprint and energy costs. All major buildings within the airport will have IGBC Platinum rating, and the airport itself will be India's first IGBC green campus.
The airport planning, construction, operation, and further development will be undertaken while minimising the environmental impact of airport operations. There are also plans to implement technologies and processes like zero-emission fuels and electric vehicles, waste and waste-water management systems, and environmental management systems to realise this goal. With the zero-emission philosophy, NIA will be a green airport. NIA conducted a unique carbon sequestration study for 1,334 hectares of land. The study mapped more than 11,000 existing trees and geotagged them. We will also make investments in PV for solar production, which will reduce CO2 footprint and lower energy costs in the long run. We want NIA to be a role model for sustainable infrastructure and operations in the country.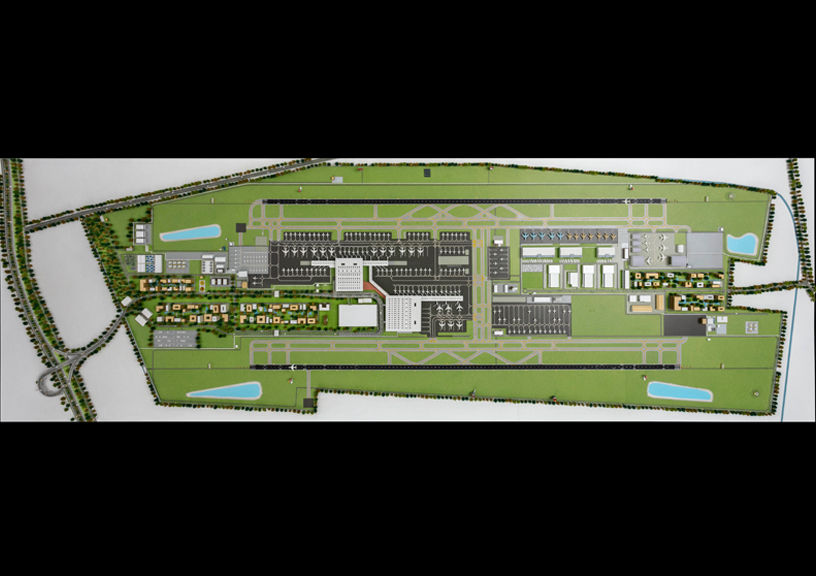 SS: You mentioned it being Net Zero, Energy Efficient, and with Geotagging of existing vegetation to ensure that the natural landscape of the location is maintained. Please elaborate.
AT: A carbon sequestration study was conducted to understand the density, diversity, distribution, and carbon sequestration potential of the trees present within the campus, above-ground biomass, below-ground biomass and soil organic carbon. This provided us with a tree inventory that recorded each tree's girth, height and GPS position. We have further developed our landscape concept on the principle of NIA-CAN! that stands for Culture, Aspiration and Nurture.
Contrary to other manicured airports, our landscape reflects the rugged agricultural culture of the region and its blooms; we aspire to either preserve, conserve, or reuse the trees and green cover in our campus, and lastly, nurture the
well-being of users with our public amenities.
The campus landscaping is designed not just for aesthetic purposes but is planned for utilitarian value. As planners and designers who support the energy efficiency cause, the entire development at Noida International Airport is intended to build a timeless 'Unique Airport Neighbourhood', because our plans don't just reflect our organisation, they will shape the organisation. For the first time, an airport is being planned on this 21st century approach to connect all functions with the airport through a matrix of green spaces and pedestrian network, have all building components standardised to achieve efficiency and sustainability within every individual facility within the campus, and lastly plan for life cycle costs. All concessionaires and partners developing within the airport will adhere to these principles laid out for service quality, user experience, sustainability, and digitalisation. With these measures, NIA plans to achieve a cohesive and sustainable Green Campus development in the coming years.
SS: When it comes to airports, it is about designing for a diverse demographic, taking into cognisance technical details and safety concerns. Which has been your most exciting project so far? And why?
AT: All my airports are very special to me. Bangalore International Airport was my first greenfield airport, and I experienced this for the first time in aviation architecture. I still remember the landing of a trial flight on a newly constructed runway and the goosebumps I got before the first aircraft's touchdown. This one will always hold a special place in my heart, like first love. The interactions I had on this airport with design firms such as Foster and Partners, Skidmore Owings and Merrill, and HOK from Hong Kong remain very special. The learnings from Foster's designs of mastering engineering and staying sustainable with minimalistic design is something I cherish the most.
I also enjoyed the challenge of working on the greenfield Navi Mumbai International Airport, which was awarded to Zaha Hadid Architects. Especially visiting her last designed airport, the Beijing Daxing International Airport, experiencing the spaces in her famous Galaxy SOHO and Wangjing SOHO building complexes, the adventure of the iconic Vitra fire station, and working in her design studio in London, was an eye-opener for me. Understanding her rebellious style and mastery of the curved façades that represent freedom and futuristic architecture was simply beautiful.
Lastly, amongst my international projects, my work at the new Bahrain International Airport and Jakarta Airport are most memorable as they helped me expand my horizon and learn about various cultures, the response needed in design to honour this, and the understanding of how airports need to vary from region to region to reflect the society and shape the users.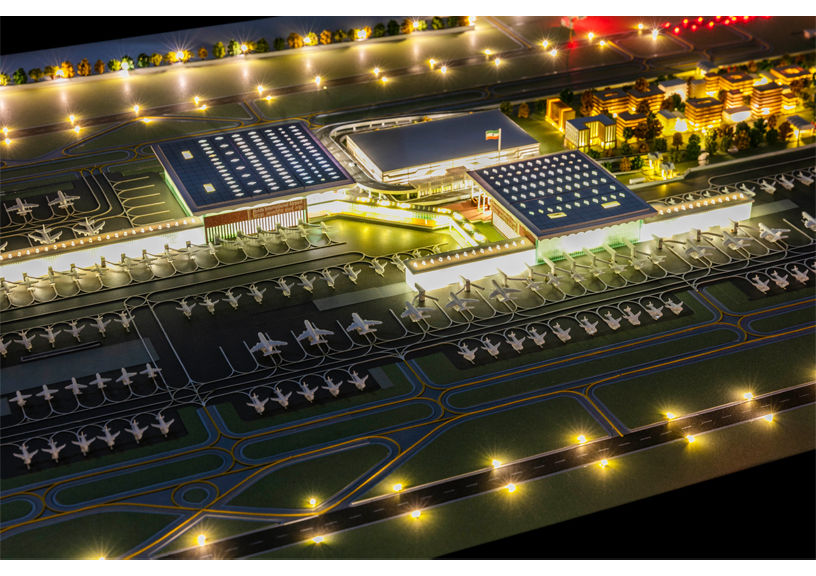 SS: Which has been the most challenging project? And why?
AT: My current greenfield development project at Noida International Airport remains the most challenging one due to the lockdowns of the Covid pandemic. The challenge here was not technical but psychological. I joined an organisation virtually for the first time; due to lockdowns and restrictions on air traffic, the entire team was scattered and working without ever having met or interacted in person.
I was employee number 3 and I had to build a design, engineering and planning team of more than 20 from scratch, depending purely on my instinct and video call interviews while continuing to design. The most challenging part was building a rapport with this team, coming together for the first time and aligning them to a brand-new company culture virtually. Despite these challenges, I am fortunate to have a committed team and supportive management at Noida International Airport that has helped us deliver every milestone before time.
What advice would you give to young aspirants?
AT: Architecture teaches you to analyse data, solve a problem and create solutions. The fundamentals of the design process it teaches will change how you approach anything in life. This design process forms the foundation for many professions, be it product design, stage design, landscaping, or aviation planning. Choose what scale of work you like, whether it is the product or the vastness of the land, and decide what environment works for you to thrive—corporate, boutique firms or freelance assignments.
Start your career with those who will teach you how to deliver, then learn how to sell your designs this way; you will have the needed know-how to become an advisor. I urge young aspirants to explore practical worlds while in academics till they find what they enjoy the most. My mantra has been following my passion and doing what I enjoy the most. I would advise the same to any budding architect.
SS: You've worked with such scale, worked on such complicated subjects. What's next? What would be your dream project?
AT: I dream of designing my version of an airport terminal. Like Apple changed the way phones were built by thinking outside in, I desire to deconstruct an airport and redesign an Outside-in Airport. A futuristic airport designed around the human experience using the latest technology, one which feels more comfortable than one's home. There has been a lot of evolution in the way we fly since the Wright brothers. Today, we have aircraft flying on solar power, aeroplanes with folding wings, passenger drones… However, terminal architecture is still the same, driven by processes and procedures of moving people and bags. My dream terminal design is designing a space that helps users create memorable and enjoyable flying experiences. A new age airport is about sustainable aviation, building consciously to reduce carbon footprint and providing intelligent building solutions. At NIA, we have a similar approach focussed on the well-being of society.
SS: Did you design your own home?
AT: Ever since I have seen the Fallingwater house of Frank Lloyd Wright, I have wished for that kind of home. This project hasn't taken off yet since I am busy building airports, but I have the perfect location and design for this personal project. I hope that I will be able to create my dream home soon.
SS: Who would you like to collaborate with?
AT: I would like to collaborate with an artist on designing my home. I believe architecture is the art of combining beauty with functionality for human purposes. And a collaboration with an artist will help create the perfect experience.
SS: What do you do when you are not designing airports?
AT: An architect is an artist dreaming before becoming realistic and returning to the human world. So, when I am free, I do some art, soak in things around, or dream and conceptualise new ideas. I have found myself enjoying coaching, mentoring and advising too. Since my mother was a teacher, I feel I have the genes of an educator. I get immense satisfaction in guiding young minds, the future of this nation, in architecture because, as they say, "Those who know, do. Those that understand, teach."