As the Surat Diamond Bourse surpasses the Pentagon to become the world's largest office building, we meet principal architects Sonali and Manit Rastogi of Morphogenesis to understand and decode the design process and prowess behind this magnificent project.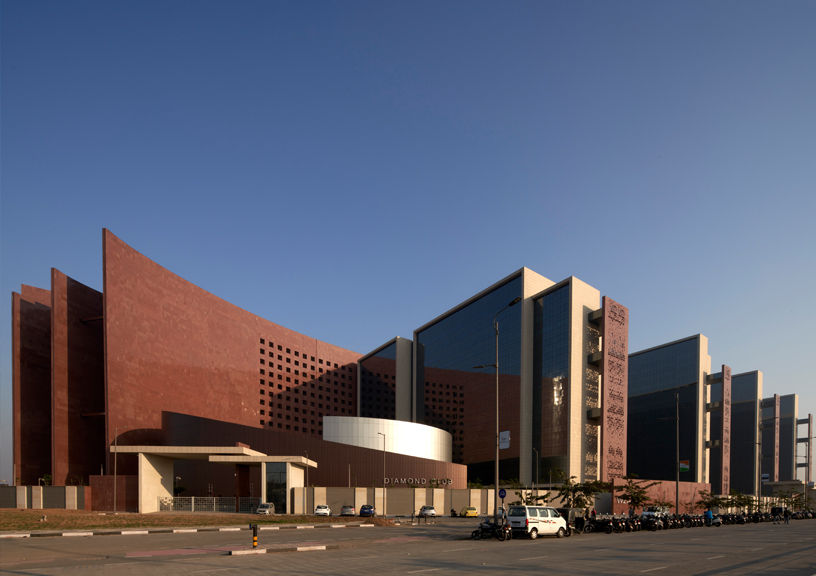 Over 90% of the world's diamond pieces are cut in Surat, Gujarat, with the city playing host to the world's largest community of diamond workers. Most traders were forced to commute over 250 kilometres daily by train to reach Mumbai for their business, significantly impacting their cost of living and commuting as well as access to a healthy quality of life. The Surat Diamond Bourse brings this vast community together, uniting all activities of cutting, polishing and trading under one roof. With a built-up area of 7.1 million sq. ft. occupying a 35.3-acre site, the design of the Bourse redefines the conventional office building typology while establishing new sustainability benchmarks within the hot and humid climatic context of Surat. In a first of sorts, this is an office built by the community for the community. Designed as a city within a city, the building is intended to be iconic and not overpowering.
"The core concept for the Surat Diamond Bourse was to create an architecture that equips the world's largest community of diamond traders to empower themselves," informs Sonali Rastogi, Founding Partner, Morphogenesis. "It was vital for us to create a building responsive to their lifestyle and how they conduct business. We tried to do this by carrying out detailed case studies on how the community worked, be it in the informal way that transactions were made, in the importance placed on social interaction and much more," explains Sonali.
The Bourse now surpasses the Pentagon as the world's largest office building. It brings together 67,000 professionals under one roof, with independent and consolidated functioning for 4,717 offices, making it a city within a city. This was a unique project in more ways than one and had multiple challenges to navigate. From being a building built by the community for the community, to surpassing the Pentagon as the world's largest office building, the Surat Diamond Bourse is an exemplar for many firsts. In an in-depth chat with architects Sonali and Manit Rastogi, Co-Founders, Morphogenesis, we decipher what went behind the scenes in conceptualising and building this iconic piece of architecture.
Here's an excerpt from the interview: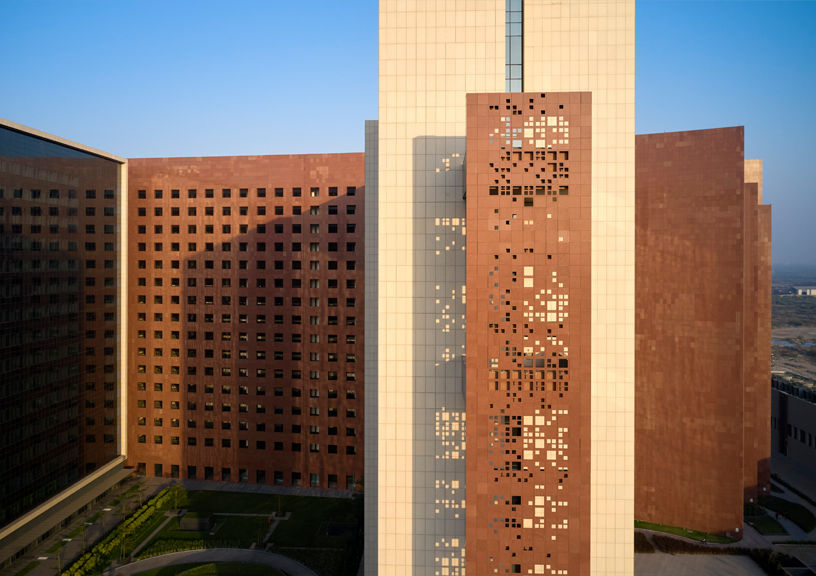 Seema Sreedharan: The Surat Diamond Bourse has now earned the title of the world's biggest office building. But when you set about designing the space, were you aware of that? Was it a determining factor?
Sonali Rastogi (SR): It didn't begin with the intention of creating the world's largest office building. Instead, it began as a project initiated by a close-knit community working together to realize their collective vision. Being a part of a narrative that involved diamond merchants uniting to bring a project of such magnitude to life, conducting an international competition to select the architect they wanted to collaborate with – the entire process was undeniably thrilling.
Manit Rastogi (MR): No, not at all. When we started the project, we were more concerned with the challenges that came along with the design brief. The building had to bring together 67,000 professionals under one roof, with independent and consolidated functioning for 4,717 offices ranging from 28 sq m to over 10,500 sq m, parking for over 5,000 cars, a retail plaza, over 8,000 sq m of health and wellness infrastructure, conference areas and banquet facilities. It was like designing a city within a city. We were rattled with the logistics of designing something of this scale.
SS: Like you mentioned, the Surat Diamond Bourse was not designed for an individual or an organisation, but for a community. We are intrigued about the process. Give us an insight!
MR: The process was truly fascinating. Prior to this endeavour, we were yet to tackle a project of such monumental proportions. While we had experience working with major conglomerates, this was our first foray into a project with a community as our client. To make things even more intricate, we found ourselves collaborating with approximately 4,700 clients, each of whom had specific office size preferences firmly in mind. Comprehending and accommodating these diverse factors within the project's scope took considerable time. The primary challenge, undoubtedly, was the financial aspect; it's worth noting that this project was entirely self-funded from the outset, without any bank financing. Within the building, we had to create 4,717 offices for a total of 67,000 diamond professionals, including cutters, polishers, and traders. The security demands for a structure of this scale were staggering. Therefore, the initial brief itself was nothing short of extraordinary, presenting a unique challenge we had never encountered before. We had to draw upon our collective experience dealing with similar issues, albeit on a smaller scale in various previous projects.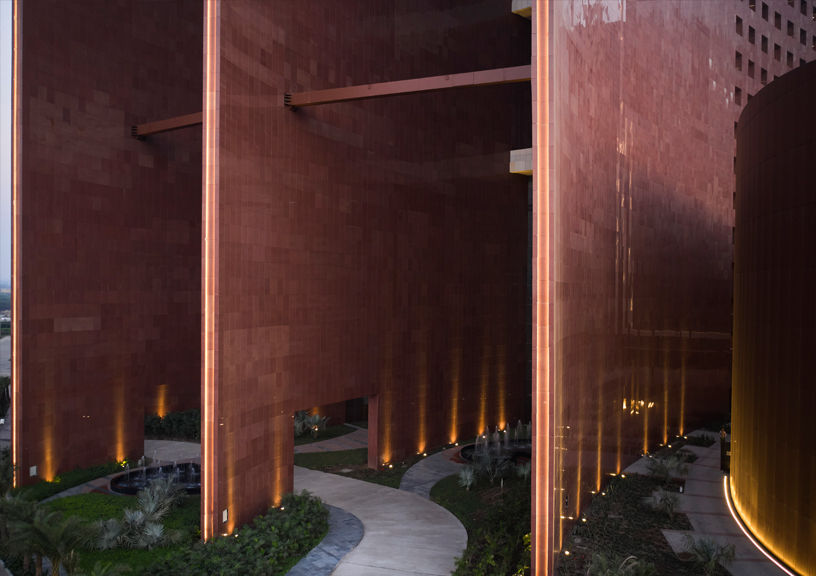 SR: Our foremost priority was to craft a building that harmonised with the lifestyle and business practices of this community. To achieve this, we conducted meticulous case studies to gain insight into how the community operated. We delved into the informal nature of their transactions, the significant emphasis they placed on social interactions, and many other facets. This endeavour revolved around comprehending the collective aspirations of the community. Additionally, we had to determine the intricate logic behind the coexistence of various businesses under one roof. These businesses were, in essence, competitors, yet they also collaborated for larger objectives. The overarching goal was to create a scenario where, in the event of a substantial order, several of them could come together and function as a unified entity, but they could also operate independently when necessary. In essence, this building served as the embodiment of an organic ecosystem composed of numerous smaller components that could seamlessly combine or separate as needed, effectively responding to the community's requirements.
MR: The process flowed quite smoothly, thanks to their well-structured approach. They had established various committees, and at specific intervals, they organised presentations attended by all 4,700 stakeholders. It was a remarkably democratic process, ensuring that even the most minor shareholder had an equal say and vote in the proceedings.
SS: Morphogenesis puts a lot of emphasis on sustainable design practices. When you were working on a project of this scale, how difficult was to make it as sustainable as possible and how did you achieve it?
SR: As you correctly pointed out, the core foundation of all Morphogenesis designs adheres to the SOUL philosophy, encompassing Sustainability, Optimization, Uniqueness, and Livability. It is an inherent mandate for us to prioritize sustainability in our work. Given the nature of this client, the specified budget for constructing the building, and our established approach to project management, it was evident that sustainability and the reduction of energy consumption were the sole viable paths forward.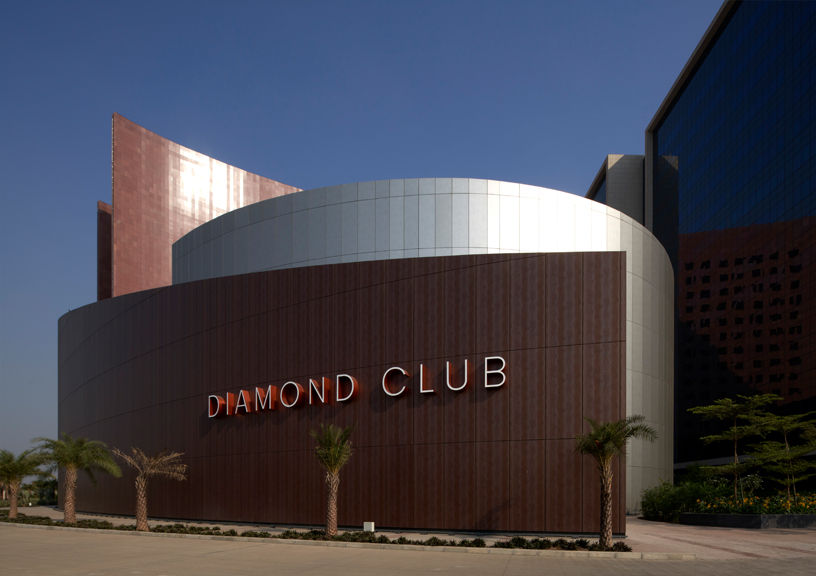 SS: It is a well-known fact that the building industry is the largest contributor to global emissions of greenhouse gases. A lesser-known fact is that there is no bigger energy guzzler in the building industry than the office typology. This is attributed to the high density of users in this typology and the fact that they consume a tremendous amount of energy for air conditioning and lighting. How did you approach these challenges?
SR: The building exemplifies a commitment to sustainability in various ways. 100% of the community and circulation spaces, equivalent to 30% of the total floor area, benefit from natural ventilation and passive cooling. The building's design flares out at both ends and leverages the Venturi effect to channel prevailing winds. Even on windless days, staggered atria interrupt the building's spine vertically, facilitating the escape of accumulated hot air through stack effect, thereby maintaining a comfortable internal microclimate. These atria also serve as green lungs, fostering a pleasant indoor environment without the need for mechanical cooling. The presence of gardens distributed along the entire axis of the structure acts as natural air filters, enhancing indoor air quality.
Moreover, the building boasts one of the most extensive installations of radiant cooling, with approximately 20 kms of radiant pipes per floor, coming to a total of around 300 kms. This energy-efficient system cools 40% of the building's volume by circulating chilled water through the floors and ceilings. The north-south orientation of the office blocks, combined with the narrow depth of the floor plates, ensures that more than 75% of interior spaces receive natural daylight, significantly reducing the reliance on artificial lighting. Common areas are powered by solar energy throughout the year.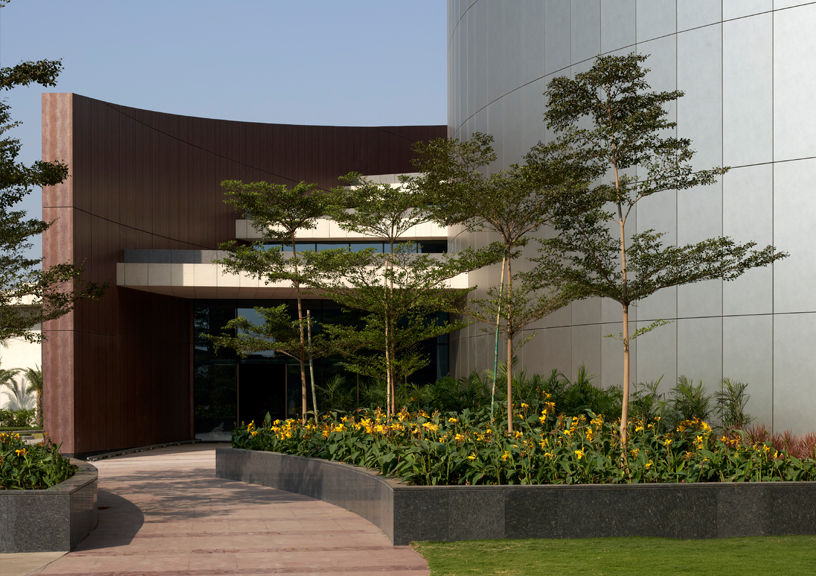 A meticulous focus on energy efficiency has resulted in the building consuming 50% less energy, with a performance of approximately 45 kWh per square meter per year. This stands in stark contrast to industry green benchmarks, which typically average 110 kWh per square meter per year as per the Energy Conservation Building Code. These remarkable interventions have earned the building the coveted Indian Green Building Council (IGBC) Platinum rating.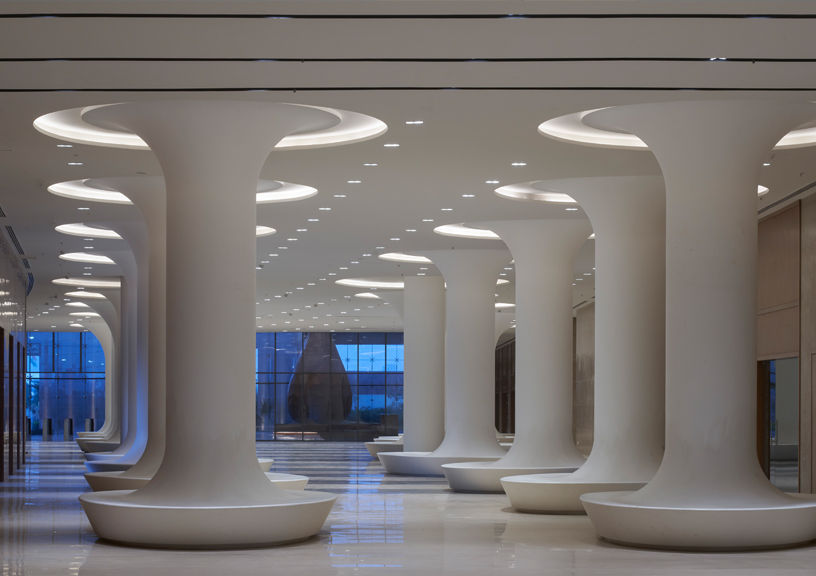 SS: That's amazing. But there's one more aspect that intrigues me. The fact that there are 67,000 people using this facility… how did you factor in the commute, the mobility aspect of the building
SR: We consider mobility as an integral component of sustainability. The effectiveness of sustainability is contingent on seamless mobility, a design element which is evident in our urban landscapes. Our endeavour commenced with the question of how to efficiently move 67,000 to 70,000 people in and out of the building within a 7 minute timeframe. This quest led to the development of a specific architectural layout that, in some respects, mirrors the functionality of the vertebral spine—a highly efficient medium for transmitting nervous system signals.
At the heart of this design is a central axis that serves as the building's anchor, providing horizontal and vertical connectivity across all levels. The Diamond Club stands as a monolithic structure on the site's northwest, seamlessly extending from the flowing lines of the central axis to maximize its visibility. Nine office towers radiate outward from this central axis, interspersed with shaded courtyards that offer spaces for relaxation and recreation, available year-round. The orientation of the 15-storey office towers from north to south effectively screens against the harsh western sun, ensuring that 75% of the workspaces are bathed in diffused natural light throughout the day.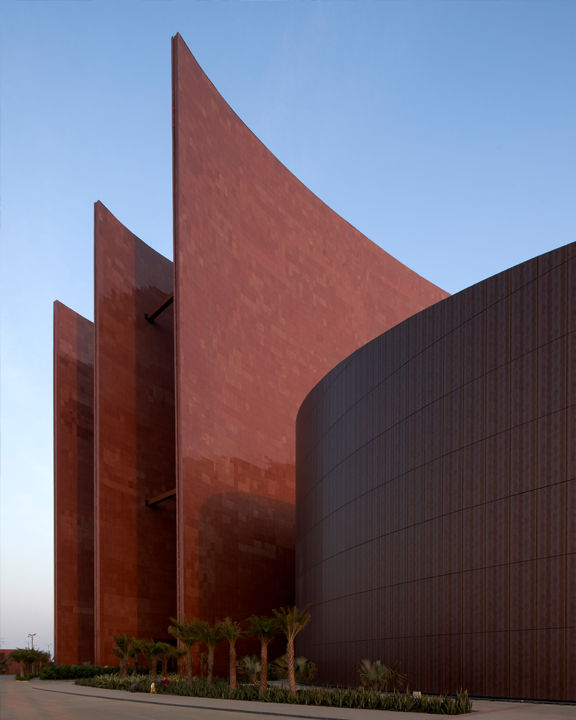 To read the full interview, subscribe to Architecture+Design!