An embodiment of her design philosophy, this farmhouse transformation project in Pune by Roheena Nagpal is a story of metamorphosis
In the intricate web of human connections, there exists a profound beauty in the way individuals come together, not just to support each other but also to create something truly extraordinary. The Bhide Oasis, a farmhouse in Pune crafted by Roheena Nagpal is living proof of these connections, weaving a tale of friendship, trust, and shared passion for elegant, nature-inspired living spaces.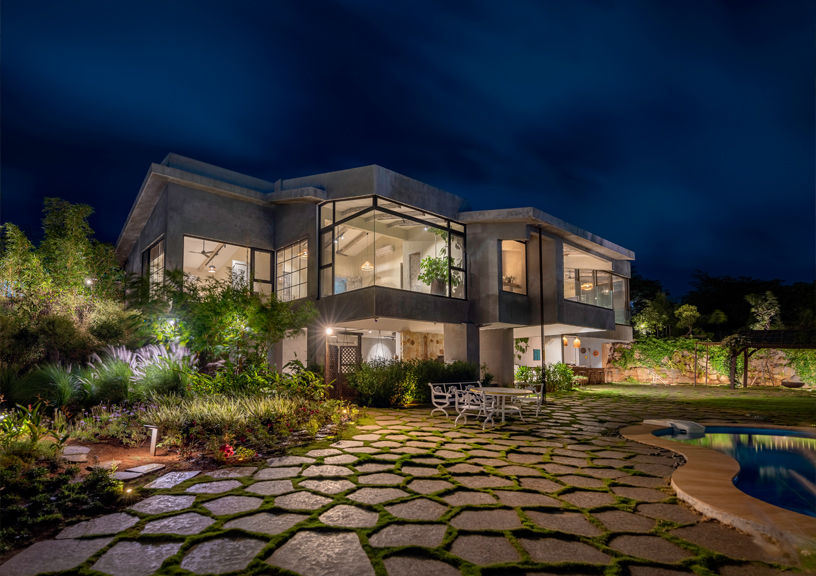 What started as a professional relationship with Sharmila and Anupam, her clients, quickly blossomed into a cherished friendship. Roheena embarked on the renovation project not just as a designer but as a friend, deeply understanding the essence of their vision. The threads of trust and camaraderie intertwined seamlessly, allowing her to delve into the depths of her creativity.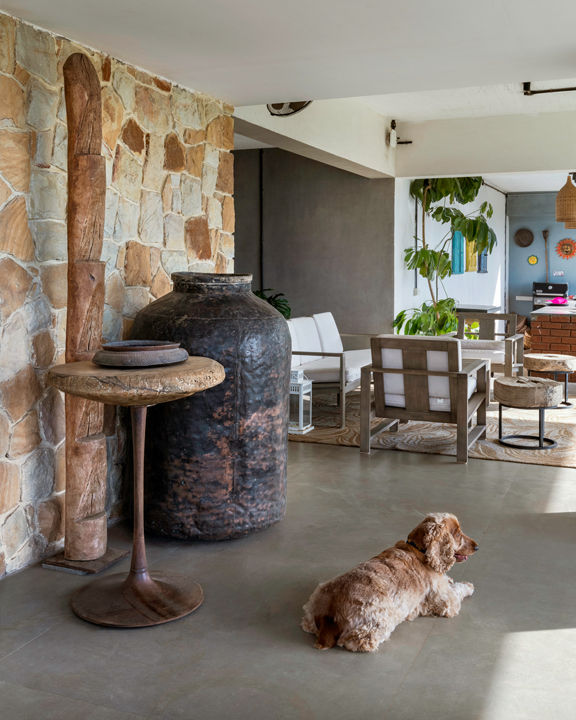 In this exceptional farmhouse, the entrance adorned with Gokak stone in neutral tones whispers tales from the South of India. Majestic palm trees stand tall, soon to be embraced by creeping vines destined to create a natural tapestry over the roof, a living masterpiece that will unfurl with time. Passing through a meticulously crafted double-door entrance from Jodhpur, Rajasthan, simplicity takes center stage. Each plank, painstakingly burnt to achieve exquisite black detailing, reflects the thoughtfulness invested in every design element. Every addition was questioned for its necessity, adhering to the principle that less is indeed more.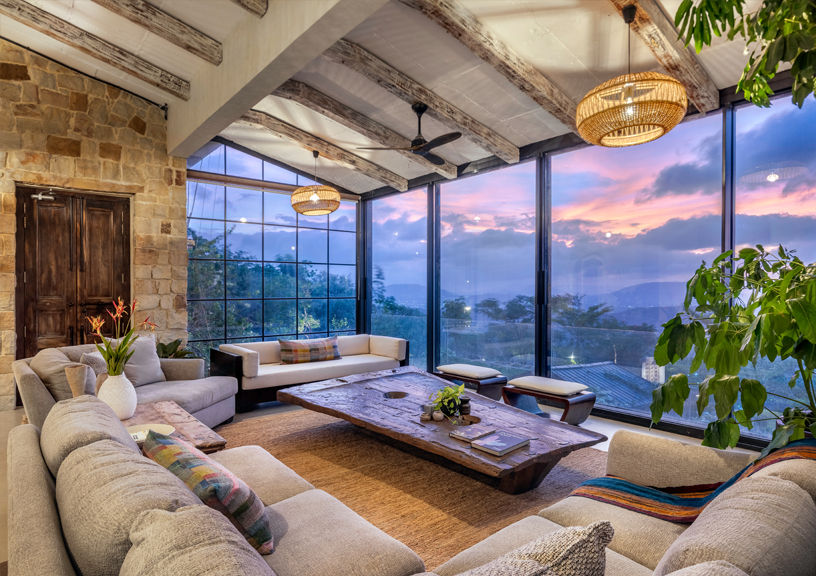 Countless discussions and debates with Sharmila contributed to the creation of this space. This entrance isn't just a doorway; it's a tangible reminder of the shared journey in crafting a design that perfectly harmonises elegance with practicality. Upon entering the home, artificial ceilings are noticeably absent, a conscious choice preserving the integrity of the raw slab, coated with lime paint in alignment with their organic design ethos. Challenges arose with the windows—towering and expansive, constructed in only four sections, positioned atop a hill, necessitating the ability to withstand formidable wind pressures. The strategic south-facing layout, with minimal openings in the north, maintains a cool interior even during the hottest months. Double-layered northern walls create a cavity, insulating the home from heat. Every detail, every decision, embodies the blend of practicality, aesthetics, environmental consciousness, and comfort. The result? A home that not only looks stunning but feels inherently right.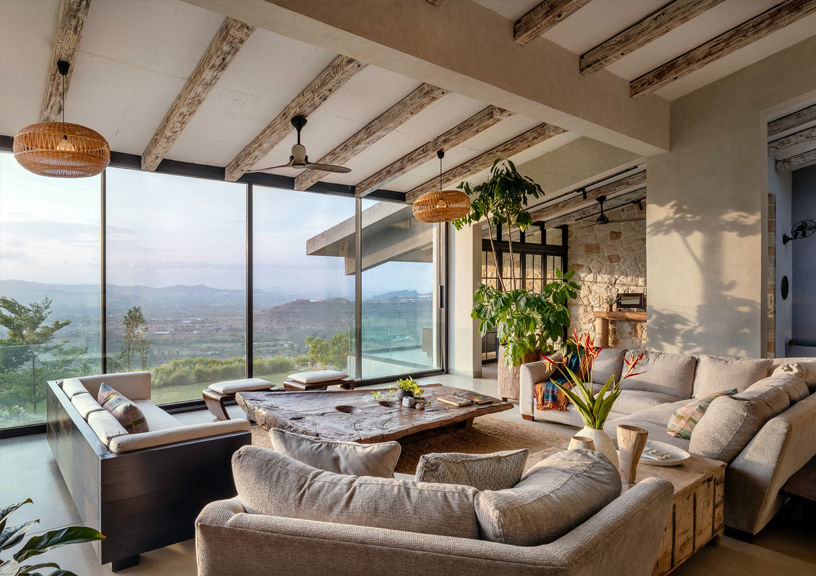 The focal point of this home is undeniably the breathtaking valley view. Constructed with this panorama in mind, the house features an expansive glass frontage replacing conventional walls. Step inside, and the boundaries blur further, aided by lush indoor plants mirroring the verdant outdoors. At its heart lies an exceptional Naga table, an exquisite piece dating back over two centuries, a testament to timeless beauty.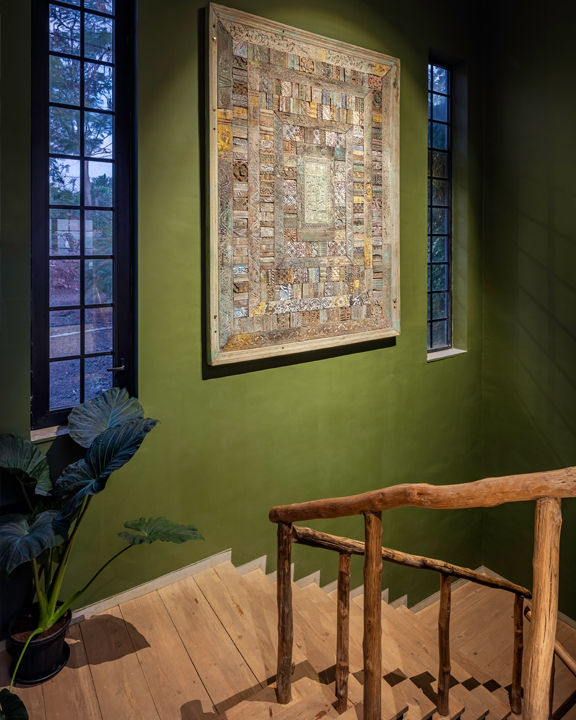 Illuminating the home are handwoven lights crafted from cane sourced from Nagaland. They hang like jewels from the ceiling, adorning solid wooden rafters brushed with rustic, white lime paint. This home isn't just a structure; it's a celebration of organic elegance and ingenious design. Antique charm meets modern sofas, ancient trunks are repurposed into side tables, merging the past with the present, tradition with innovation.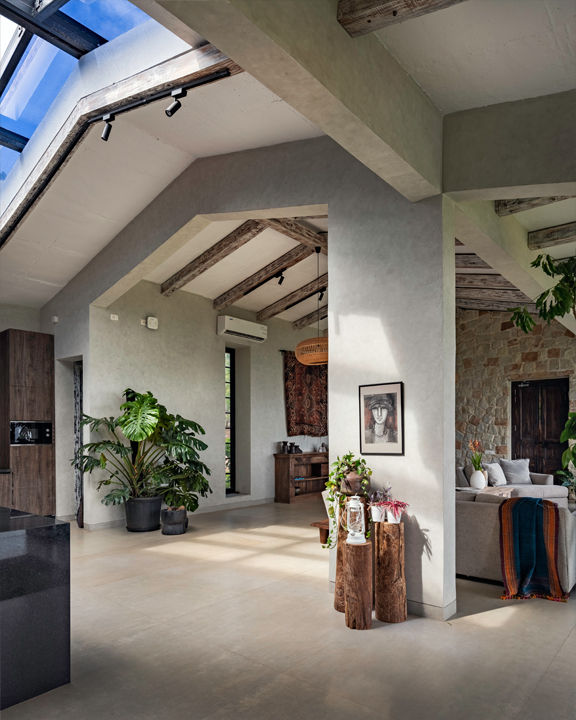 One captivating composition features a Gokak stone-clad wall, hand-chiseled to perfection, serving as a backdrop. An antique mirror frame leans against it, adding an unexpected touch. Vintage copper utensils, their patina hinting at shared history, sit against the stone wall—their brown tones echoing the warm hues of the wall and enhancing its rustic feel. Greenery infuses life into the scene, while an Indian fan hovers above, ready to stir a cool breeze, enhancing the charm of this quaint corner. A transitional space exhibits character with a wooden staircase descending to the lower level, adorned with a bamboo railing for an open, airy feel. A 25-foot olive-green wall, flanked by symmetrical windows, serves as the backdrop. Traditional Rajasthan blocks adorn the wall, merging traditional artistry with modern design.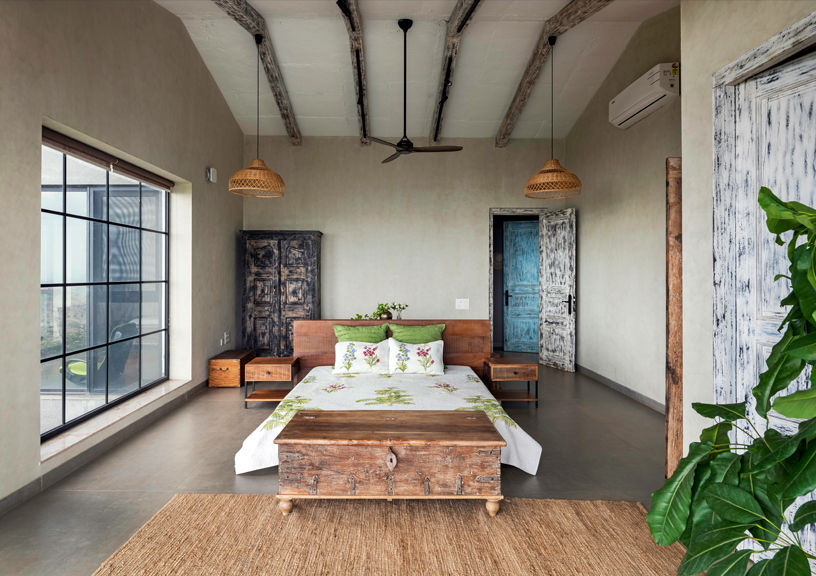 A grey lime-textured wall forms a stark contrast with a rustic green console and a verdant plant, creating a visually striking scene. Another delightful nook features a large swing inspired by an heirloom, complemented by a repurposed trunk, adding both history and character. Jaisalmer stone from Rajasthan forms a seating ledge along the view, offering a picturesque spot to admire the pool, lawn, and valley. Centerstage, a modern kitchen island stretches out, a formidable structure of 10 ft by 6 ft crafted to perfection by Plank And Weave. Its surface, a luxurious expanse of black natural Indian granite, offers a stark contrast to the wall, its dark sheen adding a touch of refined elegance to the rustic setting. A playful splash of colour is introduced by a pair of blue rustic doors, their unique hue serving as a delightful contrast to the otherwise white rustic doors scattered throughout the home. This strategic pop of colour enliven the space and contributes to its dynamic and multifaceted personality.
The exterior showcases a two-tier structure with wooden rafters, resonating with nature's branches. Against the backdrop of a dark blue sky, the home's lights twinkle softly, casting a warm glow. An ancient door frame from Jodhpur stands proudly, weathered but captivating, amidst the wilderness. A small iron railing four feet in width stands at the edge of the lawn, marking the boundary between the cultivated lawn and the wild valley. Its industrial aesthetic contrasts with the natural grass, adding complexity to the scene. Despite its modest size, it invites viewers to peer over and appreciate the valley's beauty.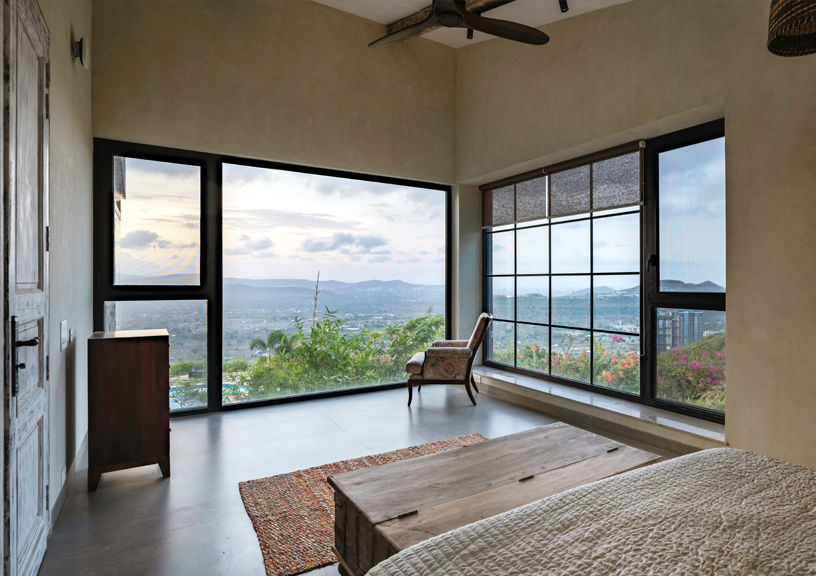 Adjacent to the pool, an ancient door frame repurposed as a shower entryway adds a touch of drama. Its weathered wood and ironwork create an intriguing contrast against nature's backdrop, providing a moment of delightful surprise and sensory delight. Finally, gazing at the home from the lawn's edge reveals a welcoming structure, with its double-layer design embodying strength and elegance. Lush pampas grass and vibrant greenery frame the view, emphasising the blend between the organic landscape and architectural lines.
The Bhide Oasis isn't just a structure; it's a home infused with life and personality. It stands as a symbol of refined, organic design amidst Pune's verdant landscapes, and also as a beacon of inspiration for interior design enthusiasts, reminding us of the boundless possibilities when creativity meets nature's canvas!
FACT FILE
Name of the project: Bhide Residence, Bhugaon, Pune
Firm Name: Roheena Nagpal Design
Design Team: Roheena Nagpal
Website: roheenanagpal.com
Area: 2000 Sq ft on 2 acres
Photographs by Ritesh Ramaiah
Roheena Nagpal
Principal Designer, Roheena Nagpal Design Studio
Roheena Nagpal shines as a symbol of innovation and creativity in the realm of interior design. As the Design Director of Plank And Weave, a leading name in luxury furniture and decor, she has been instrumental in steering the brand towards unparalleled heights. Her keen eye for detail and relentless pursuit of perfection have been the driving forces behind the company's success. Parallelly, Roheena wears the hat of Principal Designer at Roheena Nagpal Design Studio, where she crafts bespoke interiors that resonate with elegance and functionality.